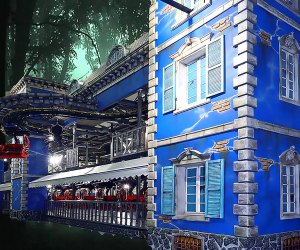 New Mystery Mansion Ride to Open at Long Island's Adventureland
Soon there will be one more reason to visit Adventureland, the popular Long Island amusement park that's been thrilling families for more than 50 years: Mystery Mansion, a brand-new, two-story dark ride, will be up and running early this spring.
"We felt our guests were looking for a change so we thought we would go out and find something that is very different for Adventureland and for Long Island," Adventureland's general manager Steve Gentile said. "We're bringing to Long Island the first two-story, suspended dark ride. We're calling it the Mystery Mansion because each time you come to the park you many find something new inside."
Adventureland opens for the 2018 season on March 24. In the meantime, for more entertainment inspiration see our guide to family fun on Long Island.
The search for the ride that replaces the Ghost House took the owners all the way to Italy, to the Italian ride company Gosetto, which designed and manufactured Mystery Mansion. Over 2½ years the owners traveled back and forth checking on the progress of the ride. It was assembled in Italy, then dismantled, and is currently being shipped to Adventureland.
"As a matter of fact, parts of the ride are being delivered today and we're going to see more deliveries in the next two or three weeks," Gentile said in February 2018.
RELATED: Guide to Long Island amusement and water parks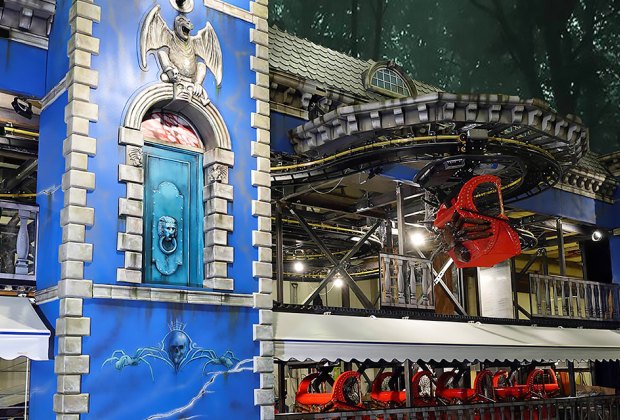 Red ski-lift style seats carry riders inside and outside of Mystery Mansion.
Mystery Mansion is restricted to riders 48 inches and taller. As guests sit in red, floorless ski-lift-style seats, they'll travel through the many rooms of the mansion, where they encounter animatronics and special effects that can take the shape of skeletons, haunted piano players, werewolves, scary dogs, or funny clowns, all of which change from time to time.
"The exciting part of the whole ride is you'll be sitting in a ski chairlift, a type of a gondola ... and you'll find yourself elevating through the ride," Gentile said. "At one point in time, you'll come outside the ride over our midway. You'll be able to see the midway, the different rides in the park, and then go back in, into the Mystery Mansion."
Gentile explained the ride is not a typical haunted house. "It's going to be a mystery not knowing what you'll encounter, but we don't want the kids to leave there scared," he said. "The past years, the room was dark and the little kids would come out screaming. We don't want you to scream. We don't want the little guys to be scared, to be upset. It's a Mystery Mansion: They'll get that experience, but they'll get a fun experience at the same time."
Gentile said he expected Mystery Mansion to open soon after Adventureland opens for the season. In the meantime, there are plenty of other family-fun events planned at the park on opening day, including an egg scramble, "Bagels with the Bunny," and BOGO (Buy One POP Band Get One Free).
Top photo: Adventureland's new ride was constructed in Italy, then dismantled for shipping to the East Farmingdale amusement park. Photos courtesy of Adventureland Amusement Park