Top 10 Stroller Hikes in Houston and the Suburbs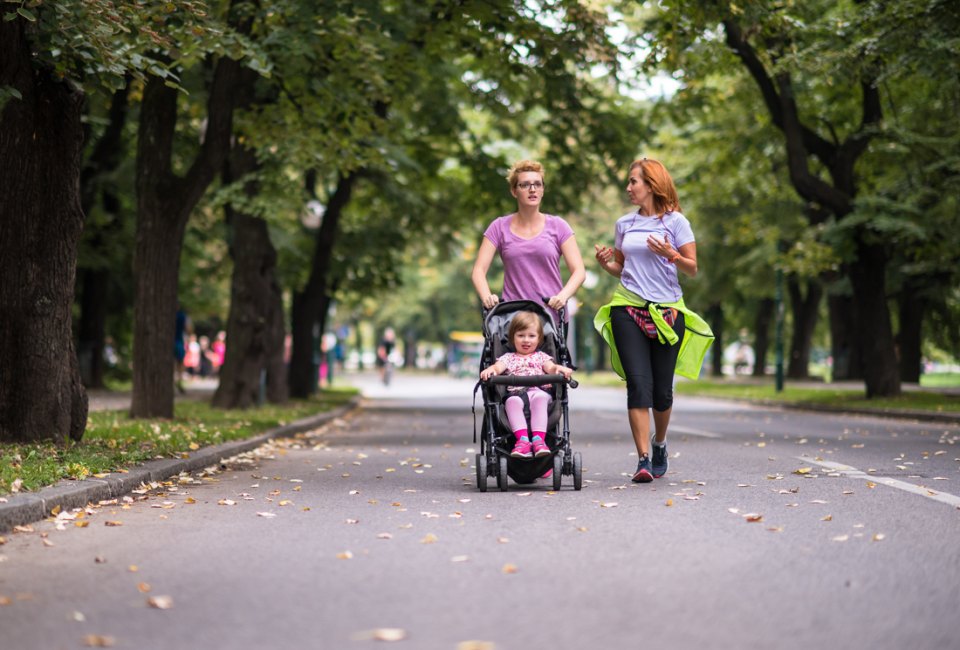 1/28/22
- By
Sarah Banks
Fresh air is one of the best antidotes to a grumpy toddler or baby. Entertain them, distract them, and tire them out with a trip to one of these great stroller hikes in Houston and the surrounding area. Even if your toddler can start off walking, these flat, surfaced trails mean you can push along the stroller for when they run out of steam. Sit your kiddo in their seat and get yourself some exercise at the same time.
Houston is blessed with many parks and paths that provide visual stimulation with rivers, trees, wildlife, and more. Many of them have playgrounds, bathrooms and refreshments to make it an easy and fun trip out. Here's our guide to some of the best trails you can hike in the Houston area. And if you're into parks with playgrounds, don't forget to check out our Best Houston Playgrounds and Parks for Toddlers.
Stroller Hikes in Houston
Memorial Park covers over 1,400 acres, with about 30 miles of trails and paths to push your stroller along. One of our favorites is the Seymour Lieberman Exercise Trail, which is flat and wide, and of course, provides access to all the other delights of Memorial Park. Just by the trail, you can head to the Vale-Asche Foundation playground, which is designed to include children with disabilities.

The outer trail at the Houston Arboretum and Nature Center is a great stroller hike in Houston. Photo courtesy of the center
At the southwest corner of Memorial Park, the arboretum provides 5 miles of wooded trails. After your walk, you can head to the playground for some more fun. You can also head indoors to the nature center's discovery room. The Arboretum grounds and trails are open from 7 a.m. to dusk, daily. The Nature Center runs a regular activity for children 18 months to 3 years, when with a parent they can join a naturalist for a story reading, a simple nature activity or craft, and a stroller-friendly hike on the beautiful Arboretum trails. Enjoy an interesting new nature experience each week with themes such as raccoons, spiders, eggs, and fungi!

Russ Pitman Park offers stroller hikes and playgrounds. Photo courtesy of the Nature Discovery Center, Russ Pitman Park, Facebook
This lovely mile-long loop winds through woodland, wetland, prairie, and by a pond, so you can experience a range of habitats in a short amount of time! Half-way round is the nature play area, with sand and other natural delights to play with. Check out the sensory garden and discover more about nature in the Nature Discovery Center.
This 2-mile trail winds along Heights Boulevard, with art pieces and benches to keep you entertained and well-rested. Donovan park, with its wooden play equipment, provides another entertaining stop-off. Enjoy the historic and family-friendly neighborhood of The Heights with your stroller on this trail!

Marvyn Taylor Exercise Trail photo courtesy of houstonpublicmedia.org
Another 2-mile trail, which is almost completely shaded, flat and wide, loops around the scenic Hermann Park. Of course, that means in the summer you can cool off at the Hermann Park splash pad, go to the zoo, or make a day of it and explore Hermann Park to the fullest.
Enjoy the beautiful architecture of Rice University, and check out this 3-mile running trail that circles around the campus. Although next to roads, it provides a lovely circuit and has a flat path. The Rice University campus also has a range of artwork you can view.
Stroller Hikes in Houston Suburbs
Head south of Houston and enjoy Tom Bass Regional Park loop - just over a mile long around a lovely lake. The park contains a variety of other paths, so you can keep going if you have more energy!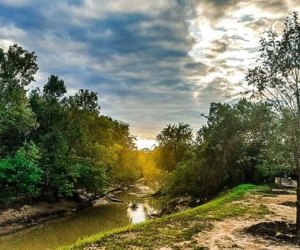 The Quail Trail, photo courtesy of htxoutdoors.com
The Quail Trail is just one of a number of trails named after birds in the beautiful Terry Hershey Park, to the west of Houston. You can always check out the Cardinal, Blue Jay, Mockingbird and Robin trails too. The Quail Trail is an out and back trail, featuring a river, and if you go to the end it is around 4 miles long.
This trail is a loop nearly 4 miles long, including a section that borders on Lake Houston. Bring your fishing rod and see what you can catch after your walk. There are also a number of playgrounds in the park to provide further entertainment and exercise. Not too far away, you can check out Mercer Arboretum and botanic gardens, which has some beautiful spots for family photos. Old Macdonald's Farm is another nearby destination with an outdoor park, petting zoo barns (with animals including goats, sheep, pigs, cows, deer, llamas, and emus), pony rides, a duck pond, a train ride, and play forts.

Spring Creek Greenway offers some longer stroller hikes near Houston. Spring Creek Greenway trail map photo courtesy of tekbiker.net
With more than 19 miles of trails, this pathway to the north of Houston winds along Spring Creek, with forests and riverside beaches to enjoy. You can join in a variety of locations, including Dennis Johnston Park, home to a pond for fishing and a butterfly garden.
Click Here to Sign Up!
i