Kids Get Up Close and Personal With Animals at Old MacDonald's Farm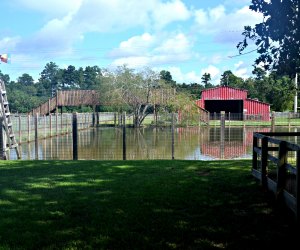 Old MacDonald's Farm is the perfect place to take the kids when you want to get outside and experience something different. Located off FM 1960 on the northeast side of Houston, this 15-acre farm is tagged as "A Children's Paradise." And after taking a trip down there with my best friend and our two sons, I can emphatically agree. Here are a few tips we picked up from our trip to the farm to help you and your family plan the best possible visit.
Get there early
Old MacDonald's Farm opens at 10 a.m. daily from Feb. 1-Nov. 30 with various closing times based on the season. During December and January, it is open on weekends only. We arrived shortly after 10 a.m. on a Saturday morning to a relatively empty farm, which was perfect because we never had to wait in any lines for the train or to ride the ponies, and the kids had the playgrounds essentially to themselves. We left around lunchtime, and at that point, it was starting to fill up with visitors and birthday parties. Getting there early and beating the crowds was definitely worth it.

Bring bug spray and sunscreen
Because the farm does not have much shade, I definitely recommend wearing sunscreen and bringing bug spray to fend off mosquitoes. Sunscreen was the one thing I didn't pack, and after spending over two hours walking around in direct sunlight, it's something I won't forget next time. It is also worth checking the weather forecast to make sure your trip doesn't get rained out.

Wear comfortable clothes and shoes
You're going to do a lot of walking, either in the grass or through sand and dirt, so wear comfortable clothes and shoes. Closed-toe shoes are probably your best bet because of all the dirt pathways and grass.



Be prepared to get dirty
Aside from the general aforementioned walking around the farm, the kids will most likely get dirty, so plan and dress accordingly. There's a large barn filled with hay that the kids can run around in, the animal petting stalls full of farm animals that will eat straight from your hand, pony rides that circle around a dirt track, and Sand Mountain that just screams to be climbed. Your kids are sure to love all of these attractions, so there's virtually no chance you will leave with a clean child in tow.

Pack snacks and drinks
Although you can buy food and drinks at the concession stand by the front entrance, you are also able to bring in your own picnic lunches and drinks. There are picnic tables throughout the farm with some situated under pavilions and others out in the open. We brought our own food and drinks, and having snacks and water on hand was a great money saver. It was also perfect for when we needed to take breaks from walking and let the kids cool off.



Have extra cash on hand for tips
Admission to the farm is $10 per person plus tax (children 18 months and younger are free), and it gets you access to everything on the farm - pony and train rides included. For an additional $1, you can buy bags of feed for the animals, and you are welcome to bring your own bread to feed the ducks. In addition, there are tip jars by the train stop and the pony stables for the employees who work these stations. Because it wasn't crowded while we were there, the employees took my son and his friend on the train twice in a row without stopping and let them ride the ponies for longer than the normal one loop ride. I felt like both instances warranted a tip.

Check out the website for any special events
While most of the attractions at the farm are open year-round, there are some seasonal favorites that are worth checking out. These include seeing baby ducks in the spring, enjoying the swimming pool in the summer, and visiting the pumpkin patch in October. Year-round attractions include pony rides, train rides, tether ball, multiple playgrounds, volleyball, 12 different petting zoo barns with everything from goats to bunnies, a hay barn, the duck pond, Sand Mountain, and Fort Apache, which is a wooden playground.



Bring a camera
Visiting the farm was different than our normal activities, and I'm glad I packed my camera to capture so many special memories like my son's first pony ride. Between shots with the animals and catching an action shot of your kid running down Sand Mountain, there are plenty of Kodiak moments at the farm.

Get ready to have FUN
As soon as we paid our entrance fee, the kids were off and running. It was sensory overload for them seeing so many different animals and playgrounds and things to do. They had the best time while we were there, and didn't stop smiling once. It can be a bit of a drive to get out to Humble and visit the farm, but it's well worth it if you're looking for something outdoors with tons of activities for the kids to enjoy.
All photos by Rachael Cherry