Best Mother's Day Brunch Near DC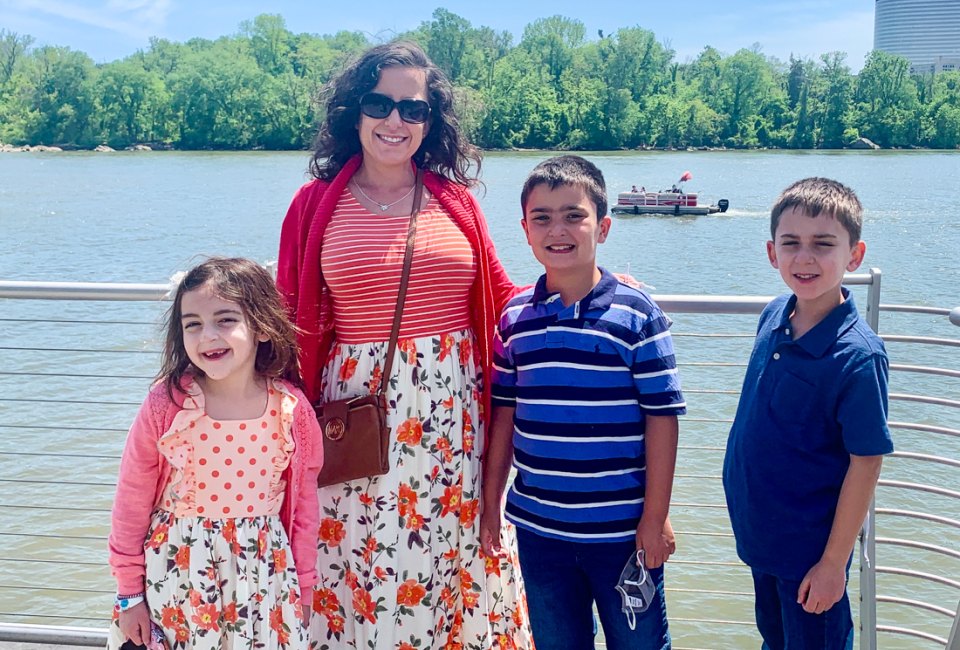 4/23/23
- By
Jennifer Marino Walters
Mother's Day brunch is a cherished tradition for many families, including my own. Though I'd be thrilled if my family whipped up one of our favorite kid-friendly Mother's Day brunch recipes, we love to go out on Mother's Day and really be pampered. Luckily for us, there are tons of great restaurants in DC, Maryland, and Northern Virginia serving up a delicious brunch on Mother's Day, which takes place this year on Sunday, May 14, 2023.
Here are 15 of our top picks in and around Washington, DC for Mother's Day brunch 2023. Make reservations soon, as these restaurants can fill up quickly. After brunch, perhaps you can explore a free museum or enjoy one of the fun things to do on Mother's Day near DC.
However you decide to spend it, happy Mother's Day from all of us at Mommy Poppins!

Enjoy a three-course prix-fixe Mother's Day brunch at Via Sophia.
Great Restaurants for Mother's Day Brunch 2023 in Washington, DC
This downtown Italian restaurant serves up a three-course prix-fixe Mother's Day brunch at an affordable price—under $60 for adults and less than $20 for kids. Start with a salad, arancini, or grilled artichoke with pancetta and asparagus. Next, choose one of three types of pizza or one of four brunch classics including eggs Benedict, lemon ricotta pancakes, an everything-bagel egg sandwich, and steak and eggs. Finish with tiramisu or a pudding-like budino. All five kids' meal options come with ice cream.
If you're looking to splurge a bit for Mother's Day brunch 2023, head to this Modern American restaurant in Ivy City that's dedicated to seasonal cooking and sourcing from local farms and waters. Chef Matt Baker prepares a three-course brunch, with children's meals available as an add-on. Brunch is served from 11am-3pm.
This restaurant on the Georgetown waterfront is known for its decadent weekend buffet brunch that includes all sorts of breakfast items, a carving station, seafood options, salads, decadent desserts, and so much more. Enjoy brunch between 9am and 2pm on Mother's Day, then explore Georgetown Waterfront Park.
In addition to a three-course menu featuring items like Maine lobster salad, steak and eggs, and turtle fudge cake, this downtown restaurant is also offering an unlimited omelet station for Mother's Day brunch 2023. Plus, every mom receives a small gift! Brunch is served from 10am-4pm.
Great Restaurants for Mother's Day Brunch 2023 in Maryland
This breezy restaurant with a beachy vibe serves a varied brunch menu that includes a variety of breakfast items, salads, sandwiches, pizza, and more. That means even the pickiest eaters in the family will be happy. Brunch is served from 9am-3pm.
This restaurant inside the Turf Valley Resort is offering a Mother's Day brunch from 10am-4pm with a variety of options to suit any taste, from breakfast favorites like Belgian waffles and made-to-order omelets to lunch options such as rosemary-crusted prime rib and pan-seared salmon. Finish the meal with a decadent dessert like triple-layer chocolate cake or New York-style cheesecake.
At just $50 per adult and under $20 for kids 12 and under, the Mother's day brunch buffet at The Blackwall Barn & Lodge is a great deal. It includes carving, omelet, fried chicken and waffles, and shrimp and grits stations, plus a variety of meats and cheeses, breads and salads, desserts, and more. Unlimited mimosas and champagne can be added on for just $15 per person. Brunch is served from 10am-3pm.
8. Succotash — National Harbor
Enjoy a Mother's Day brunch of southern favorites like shrimp and grits, skillet cornbread, and pulled pork sandwiches—all served a la carte—at Succotash. Or, opt for the affordable Taste the South menu for the entire table, which includes deviled eggs, fried green tomato salad, biscuits and gravy, fried chicken and waffles, pecan sticky buns, and your choice of potato salad or collards with kimchi and ham, all served family-style.
RELATED: Mother's Day Brunch Recipes Kids Can Make to Spoil Mom

Treat mom to the classic Eggs Benedict for brunch at the Majestic.
Great Restaurants for Mother's Day Brunch in Northern Virginia
With its glamorous Art Deco interior, this Old Town Alexandria mainstay is a festive place to take Mom on Mother's Day. Its brunch menu, served from 10am-3pm, includes everything from the savory—like steak and eggs and a brisket omelette—to the sweet, including monkey bread and banana French toast with candied pecans and whipped cream.
Celebrate Mom without breaking the bank at Cheesetique in Shirlington, which is serving up a three-course Mother's Day brunch for $35 for adults and only $15 for kids. The brunch includes an appetizer of pimento cheese deviled eggs or arugula and goat cheese salad, a choice of seven entrees, and cheesecake or chocolate mousse for dessert. Kids can have their choice of mac and cheese, grilled cheese, or Nutella French toast with the same dessert options. Cheesetique is also serving special Mom-themed cocktails and mocktails for the occasion.
RELATED: DIY Mother's Day Cards That Kids Can Make

Enjoy Mother's Day brunch inside a restored grain mill at Magnolias at the Mill.
This contemporary American restaurant within a restored grain mill is serving a Mother's Day brunch buffet featuring carving and omelet stations, salmon, sausage gravy, shrimp and grits, and lots more. There are also plenty of dessert options to satisfy Mom's sweet tooth.
Enjoy a three-course Mother's Day brunch at Laporta's while listening to live piano music indoors or on the large patio. Start with your choice of soup or salad, followed by an entree and a homemade dessert. Brunch is served from 11am-4pm, with the piano music ending at 3pm.
RELATED: 50 Mother's Day Gifts Moms Actually Want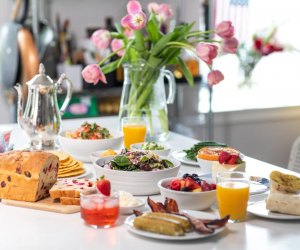 Savor the decadent brunch menu at Founding Farmers.
More Great Restaurants for Mother's Day Brunch 2023 Near DC
13. Founding Farmers — Washington, DC; Potomac, MD; Tysons and Reston, VA
The decadent weekend brunch menu at the Mass Ave, Reston, and Tysons Founding Farmers locations—served 9am-2pm—beckons with diet-busting delights that include pancakes and French toast, eggs, a carving station, fried chicken, seafood, pasta, a huge variety of desserts, and more. Or, enjoy a sit-down Mother's Day brunch from 8:30am-2pm at the Pennsylvania Ave and Montgomery County locations, which offers plenty of breakfast and brunch favorites.
14. Ted's Bulletin — Multiple locations in DC, Maryland, and Northern Virginia
Early risers can get a jump on Mother's Day brunch at Ted's, where the doors open at 7am and breakfast/brunch is served all day. Try the Tart Pancakes with crushed strawberry Ted's Tarts (homemade Pop-Tarts) mixed in, crab cake Benedict, or avocado toast. Kids can enjoy the "Mr. Breakfast"—a single pancake with fruit and bacon—for under $6.
RELATED: 10 Great Breakfast Restaurants Near DC for Kids and Families

Mom can enjoy a special cocktail along with her brunch at Clyde's.
15. Clyde's — Multiple locations in DC, Maryland, and Northern Virginia
Clyde's is the perfect spot for comfort food, and brunch never disappoints. Every location features a massive brunch menu with all sorts of breakfast favorites, salads, burgers and sandwiches, pasta dishes, seafood, chicken, and steak. Some locations also feature a raw bar. And, the kids' menu offers several children's favorites for under $8.
All photos courtesy of the restaurants unless otherwise noted
Sign up for the Mommy Poppins Newsletter today!
i