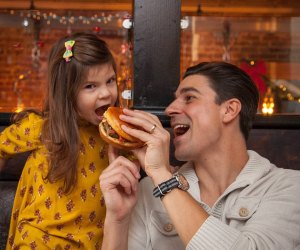 Where to Eat With Kids in DC Near the National Mall and Capitol Hill
Say "DC," and "National Mall" and "Capitol" will probably be some of the first things to come to mind. These are great Washington spots since most of the museums and attractions are centralized around the National Mall and U.S. Capitol Building. But finding good, kid-friendly, and inexpensive food when you're hungry and tired from lots of walking can be a challenge.
Mommy Poppins DC is here to help with the best family-friendly restaurants we discovered near the Mall and around Capitol Hill.
Food Truck Land - Right in the middle of the National Mall, on 7th St NW, several food trucks line up daily with a huge range of lunch offerings. There's nowhere much to sit except park benches or the grass, but it's cheap and easy.

Grab a quick, tasty, and easy bite from one of many area food trucks. Photo by Ted Eytan/CC BY 2.0
The Hamilton - The Hamilton looks like a tourist trap, but the food's good and plentiful. The restaurant is huge so getting a table without a reservation is easy, and it's owned by the same people and offers a similar menu as the more popular Old Ebbitt Grill. The Kids Menu (for diners 12 years old and under) offers an entree, a drink, and a side for only $7.
b DC Penn Quarter - Just north of the Mall in the area around the US Navy Memorial Plaza are a bunch of casual restaurants, including this delicious burger joint that also offers huge salads, tacos, a variety of appetizers, and "Big Plates" including meatloaf, fish n' chips, and shepherd's pie. The portions are generous, so feel free to order off the small bites section of the menu. Other good options in this area are Teaism and Hill Country Barbecue.
Shake Shack - with locations in nearly 30 states, the restaurant is famous for its Shack Sauce and for good reason: the grilled burgers and crinkle cut fries are delicious, and the frozen custard and shakes hard to resist.
Cafe Berlin - In nice weather, grab a brat and a beer at Cafe Berlin, which offers an outdoor biergarten (and if anything. as parents, we know that dining outdoors makes eating out with kids much easier). Enjoy a Bavarian brunch, or a lunch that features a variety of German-inspired sandwiches and entrees, including schnitzel, sausages, and goulash.
Fuel Pizza & Wings - Located four blocks from the Mall and two blocks from the National Portrait Gallery, this establishment offers all the comfort foods the family may crave: chicken fingers, bacon cheese fries, a variety of meat and veggie pizzas, fresh salads, sandwiches, stromboli, and cinnamon knots for dessert.
Mitsitam - Inside the Smithsonian National Museum of the American Indian is a lovely cafeteria offering a good variety of seasonal, indigenous foods. It's the best place for a quick meal or snack without having to trek off the Mall. The menu includes soups, lobster rolls, hot and cold side dishes, and a variety of dessert tarts.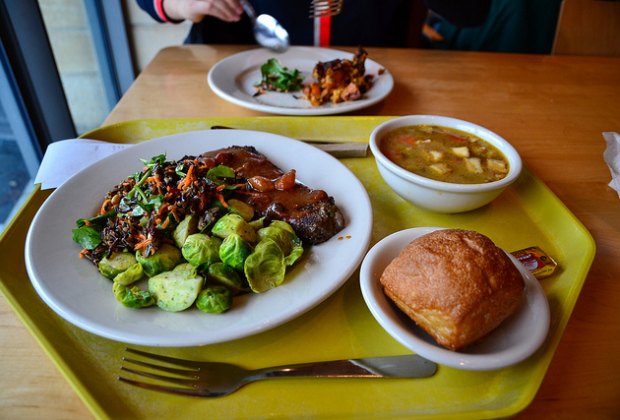 Lunch at Mitsitam isn't your usual museum cafeteria fare. Photo by ilya_ktsn/CC BY 2.0
Carmine's - Enjoy some Italian fare at the fun and bustling Carmine's, which serves up family-style food in DC's Penn Quarter, just a few blocks from National Mall. Calamari, zuppa di clams, mouth-watering chicken dishes, scrumptious Italian cheesecake and cannoli are just some of the treats found on this extensive menu.
Hard Rock Café - If you're looking to add to your Hard Rock t-shirt collection, then head on over to this location of the world famous restaurant a couple blocks north of the Natural History Museum. Enjoy wings, nachos, and burgers, along with mouth-watering milkshakes and desserts. The White House, Capitol Hill, Smithsonian Museums, and Metro Center are all within a short distance from the cafe.
Oyamel Cocina Mexicana - Located four blocks from the National Gallery of Art, this restaurant features a vibrant atmosphere and specializes in Mexican cuisine. Think treats like tacos, ceviches, guacamole, and cactus paddles, and sweet indulgences featuring pastel de tres leches, flan, and chocolate custard. Adults can also choose from unique margaritas or perk up with an espresso.

The Pavilion Cafe - This lovely cafe is located inside the National Gallery of Art and overlooks the sculpture garden. Indulge in soups, hot or cold sandwhiches, salads, and flatbreads. The $7 Children's Menu (for diners 12 and under) featuers beloved hot dogs and chicken nuggets, along with a drink and piece of fruit. Not only is the location conveinent, but the menu also features vegetarian and gluten-free options.
Don't miss out! Sign up for our free newsletter and stay up-to-date on the best things to do in Washington DC with kids.
Top photo courtesy of b Burgers via Facebook