Visiting Washington, DC's National Mall and Memorial Parks with Kids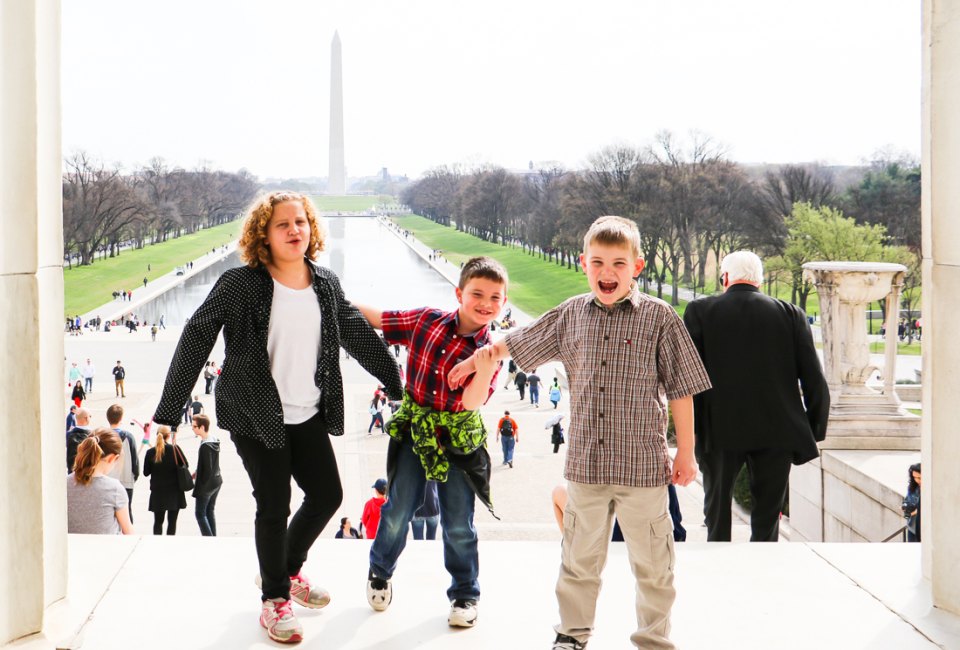 3/3/23
- By
Jennifer Marino Walters
The National Mall and Memorial Parks are one of the top-visited tourist attractions in the US, and hands-down the most famous place in Washington, DC. Plus, it's totally FREE to visit. That's why it should be at the top of any DC vacation itinerary. But with hundreds of acres of space and over 100 monuments and memorials to explore, visiting the National Mall with kids can be quite overwhelming.
Trust me, I know—I've visited the National Mall in the heat of summer with my infant twins in a double stroller, with three little ones after my daughter was born, and now with big kids who still love to climb the steps of the Lincoln Memorial and run around on the Washington Monument's vast lawn.
With all of that Mall madness under my belt, I'm here to give you the inside scoop on visiting DC's National Mall with kids, from must-see monuments to National Mall parking to the best kid-friendly restaurants near the National Mall. For more must-visit spots for families in our nation's capital, check out our list of the top attractions in DC.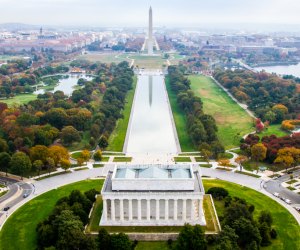 A bird's-eye view of DC's National Mall... Photo courtesy of the National Park Service via Flickr (CC BY-NC-ND 2.0)
Top Monuments and Memorials to Visit at the National Mall, Washington, DC
This 555-foot marble obelisk towering over DC is one of the city's most famous structures. Just seeing it is a treat in itself, but you can also go inside the monument and ride the elevator to the 500-foot observation deck for breathtaking DC views. Each day at 8:45am, the monument releases same-day, timed-entry tickets, so get there early to try to snag these free tickets. You can also try to secure online tickets 30 days or 24 hours in advance of your visit.
The Lincoln Memorial is one of the most iconic monuments in the country. Climb the 87 steps to the chamber (or ride the elevator from the monument's southeast corner) to see the 19-foot-tall statue of America's 16th president. Be sure to read the inscriptions on the walls quoting Lincoln's Second Inaugural Address and Gettysburg Address. Then, spend some time on the steps to enjoy the view of the famous Lincoln Memorial Reflecting Pool. These were the steps from which Martin Luther King Jr. delivered his famous "I Have A Dream" speech in 1963, so take a minute to soak up the history and meaning of this spot.
At the opposite end of the reflecting pool from the Lincoln Memorial is the World War II Memorial, which honors the more than 16 million US service members that served in World War II. Granite columns representing each US state and territory ring a large pool with water shooting into the air. Throughout the memorial you'll also find quotes, two huge victory pavilions, and a wall of 4,048 gold stars. It is unbelievably moving to spend time here, especially if you're lucky enough to run into World War II veterans brought in on an Honor Flight. My family once met a group of Japanese American World War II vets at the memorial, an experience we'll never forget.
The giant stone wall of the Vietnam Veterans Memorial lists the names of over 58,000 Americans who died in the Vietnam War. If you know someone who was killed in the war, you can search online to find the exact location of their name. Many visitors like to make pencil rubbings of the names of friends and family members.
The Korean War Veterans Memorial is meant to honor the millions of Americans and allied partners who fought during the Korean War. It includes 19 stainless-steel statues of soldiers dressed for battle, as well as a mural wall featuring over 2,400 photos of men, women, and dogs who served in the war.
RELATED: Visiting Arlington National Cemetery with Kids: What To Know Before You Go

The MLK Jr. Memorial is a sight to behold. Photo courtesy of the Ron Cogswell, via Flickr (CC BY-NC-ND 2.0)
The Martin Luther King Jr. Memorial is located on the edge of the Tidal Basin, home of the original cherry blossoms DC is famous for. The memorial includes a 30-foot statue of Dr. King carved into the Stone of Hope, which emerges from two large boulders known as the Mountain of Despair. Etched into the stone are powerful words from Dr. King's "I Have A Dream" speech: "Out of the mountain of despair, a stone of hope."
Adjacent to the Martin Luther King Jr. Memorial is this sprawling, unique memorial to FDR. Kids especially love this one because it's divided into five outdoor "rooms", with fountains, pools, statues, and more to explore.
The Thomas Jefferson Memorial is one of my family's favorites, both for its design and its location. It's a dome-shaped, open-air building made of white marble, surrounded by 26 columns. The portico in front is supported by an additional 12 columns, through which a 19-foot-tall bronze statue of Jefferson holding the Declaration of Independence can be seen. Quotes from Jefferson are etched into the walls. The steps in front of the portico are one of the best places from which to view the cherry blossoms around the Tidal Basin when they're in bloom.
National Mall Parking and Ways to Get Around
There are several National Mall parking options. You can look for one of the roughly 1,200 metered parking spots in the following places: Constitution Ave NW between 15th St NW and 22nd St NW, Independence Ave SW between 15th St and Maine Ave, Jefferson Drive SW, Madison Drive NW, Ohio Drive SW between 23rd St SW and Inlet Bridge, Parkway Drive NW, and West Basin Drive SW. Pay stations accept credit cards and debit cards, or you can pay via ParkMobile. Or, try to nab one of approximately 400 free parking spaces at Hains Point in East Potomac Park.
If you need accessible parking, you can find it near the following places: the Franklin Delano Roosevelt and World War II memorials; the Washington Monument; the Thomas Jefferson, Lincoln, Korean War Veterans, and Vietnam Veterans memorials; and the Tidal Basin. Note that some of these spaces are metered.
Another National Mall parking option is to reserve a space at a nearby garage via SpotHero. You'll be able to see exactly how far each garage is before you book it.
If you prefer to take public transportation, there are several bus and Metro stops along the National Mall. Visit the WMATA website to plan your trip.
Once you're at the Mall, you'll be doing a lot of walking—the distance from one end of the Mall to the other is two miles—so pack plenty of water and snacks and bring a stroller if you have a small child. If you have older kids, you can also rent bicycles from Thompson Boat Center or from several nearby Capital Bikeshare stations. Bikes are not allowed within the memorials themselves, but there are plenty of bike-parking stations along the Mall.
Where to Eat with Kids Near the National Mall, Washington, DC
The easiest place to get food with kids near the National Mall—especially when you're just fueling up between monuments or need a quick bite before heading to one of the nearby Smithsonian museums—is from one of the many food trucks parked along 17th St NW and the surrounding blocks. They feature all types of cuisine you can enjoy on a nearby bench or on the lawn of the Washington Monument. There are a bunch of ice cream trucks and stands as well, so be prepared for your kiddo to beg for a sweet treat!
If you prefer a sit-down meal, check out our list of kid-friendly restaurants near the National Mall. My personal favorite is The Hamilton: It's huge, it's got a fun and festive atmosphere, and the menu features a variety of delicious options including sushi, steak and seafood, burgers and sandwiches, and more. Plus, there's a kids' menu offering favorites like mini cheese pizzas, mac and cheese, and chicken tenders.
RELATED: Free Museums Near DC to Visit with Kids

The FDR Memorial has four outdoor "rooms" to explore. Photo courtesy of the Amaury Laporte via Flickr (CC BY-NC-ND 2.0)
When to Visit the National Mall, Washington, DC
The National Mall is open 24 hours a day, seven days a week. It's worth seeing both in the daytime and at night, when the monuments are all lit up. Note that DC can get extremely hot and humid in the summer and cold in the winter, so spring and fall are the best seasons to visit weather-wise... but they are also the most crowded seasons! Generally, you will find fewer crowds on weekday mornings.
More Things To Know About Visiting the National Mall, Washington, DC with Kids
Junior Ranger Program
Visit the National Mall's website for more information on how kids can become a Junior Ranger and earn a special badge.
National Mall Restrooms
The National Mall is a National Park, so the National Parks Service maintains restroom facilities at West Potomac Park that are usually pretty clean. There are also public restrooms at most of the memorials and in all of the museums near the Mall. So, don't be too worried about your kiddos needing a bathroom break!
Places featured in this article:
---
National Mall and Memorial Parks
Sign up for the Mommy Poppins Newsletter today!
i