Top Attractions in DC: The Best Things to See and Do with Kids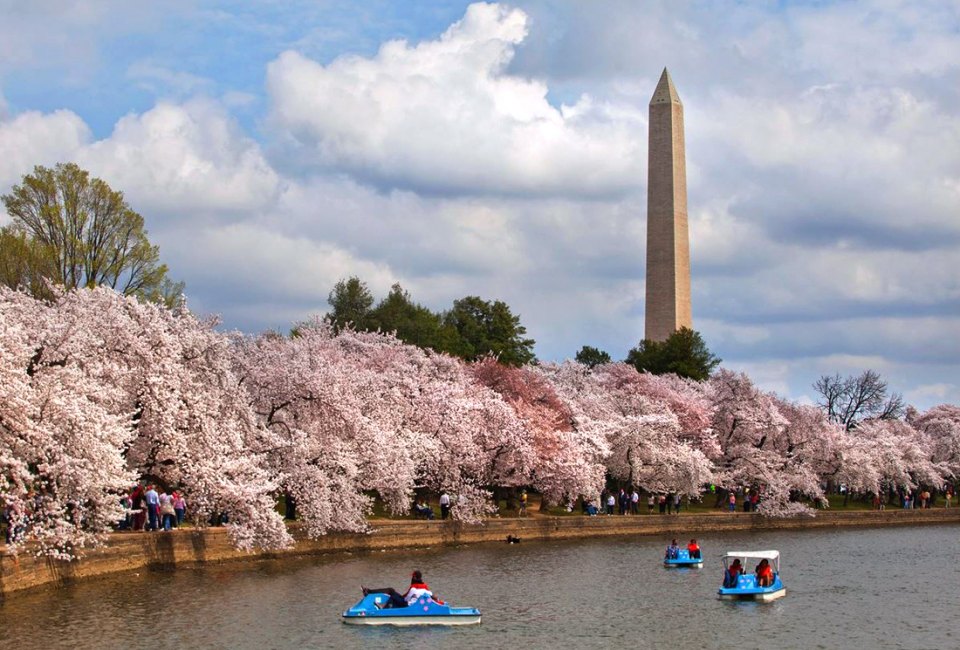 2/11/22
- By
Jennifer Marino Walters
Washington, DC is one of the top travel destinations in the US, and it's easy to see why. Our nation's capital is full of historic and cultural sites for families, including loads of free museums, government buildings, and the famous National Mall and Memorial Parks. With so many great tourist attractions in DC, it can be hard to determine which ones to visit with kids.
Mommy Poppins is here to help. We've pulled together the top 25 tourist attractions in DC, including popular restaurants, must-explore neighborhoods, and more kid-friendly activities in DC. These places are the very best DC has to offer for tourists and locals alike. Once you've made your way through all of these tourist attractions in DC, expand your reach with our list of 100 things to do in DC with kids.

It may not be the most famous of the monuments, but the FDR Memorial is a must-see. Photo courtesy of nationalmall.org
Top Tourist Attractions in DC: Historic and Cultural Sites
The National Mall is the ultimate reason to visit Washington, DC. In addition to iconic monuments like the Lincoln Memorial, the Washington Monument, and the Martin Luther King Jr. Memorial, the Mall is home to more than 100 other monuments and memorials. Explore the Franklin Delano Roosevelt Memorial's four outdoor galleries, read the names of the over 58,000 Americans who lost their lives in Vietnam at the Vietnam Veterans Memorial, sit near the fountain of the World War II Memorial, and more. When you get hungry, check out our list of where to eat with kids near the National Mall.

Yes, you can go inside the White House! Photo courtesy of washington.org
If you want to tour the home of the U.S. President, you'll have to plan ahead. Requests for free self-guided tours must be submitted through your Member of Congress. These tours are generally available on Fridays and Saturdays except on federal holidays, and requests can be submitted up to three months (and no less than 21 days) in advance. There are limited spots available, so families should submit requests as early as possible. Strollers are not permitted.
Families can take a free guided tour of the U.S. Capitol, which can be scheduled in advance on the Capitol website. The tour includes visits to the Crypt, the Rotunda, and National Statuary Hall. The Senate and House Galleries are also open to visitors when either legislative body is in session, but those require separate passes that can be obtained from the visitors' senators or representatives.
4. Tidal Basin and Cherry Blossoms
If you're lucky enough to visit DC in the spring, seeing the famous cherry blossoms is a must. Peak bloom varies from year to year, but the average date is around April 4. The best and most famous place to see the cherry blossoms is the Tidal Basin, which provides dazzling photo ops, but you can also see them along the shoreline of East Potomac Park and around the National Mall. Note that the Tidal Basin gets crowded, so aim to visit in the early morning or evening on a weekday if you can. You can also check out the fun events that are part of the National Cherry Blossom Festival.
Related: The Best Zoos in the U.S.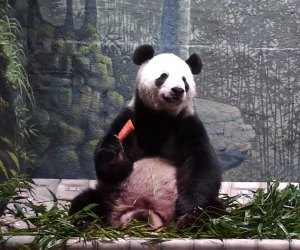 Giant panda Tian Tian and her family are waiting for you at the National Zoo. Photo courtesy of the nationalzoo.si.edu
Smithsonian's National Zoo is home to more than 2,700 animals—gorillas and orangutans, lions and tigers, elephants, and more. The giant panda family of Tian Tian, Mei Xiang, and cub Xiao Qi Ji (born in August 2020) are local celebrities. There's also a Kids' Farm where children can meet barnyard friends, a bee-themed playground, and a gorgeous carousel that costs a small fee. Families must reserve free timed-entry passes online to visit the zoo. If you're driving, you can purchase a $30 parking pass that includes zoo admission for everyone in your vehicle. Click here for more of our tips for visiting the National Zoo.
Families can see millions of dollars being printed during a free tour of the U.S. Bureau of Engraving and Printing. The tour takes visitors through the various steps of how money is made, from the blank sheets of paper to bills ready to be spent. You can finally prove to your kids that money doesn't grow on trees!

The Tomb of the Unknown Soldier is guarded 24/7, rain or shine. Photo by Kyler Becker (CC BY-SA 4.0)
No trip to DC would be complete without visiting one of the most famous cemeteries in the world. More than 400,000 members of the armed forces, Medal of Honor recipients, high-ranking federal government officials, and dependents are buried there. Families can visit the graves of U.S. presidents John F. Kennedy and William Howard Taft, Supreme Court Justice Ruth Bader Ginsburg, astronaut John Glenn, and many other famous people. Be sure to experience the Changing of the Guard at the Tomb of the Unknown Soldier and stop by the Welcome Center to learn more about the cemetery's history.
Portions of the Supreme Court building, including the Courtroom, are open to the public to explore. Thirty-minute Courtroom Lectures introduce visitors of all ages to the functions of the Supreme Court, the building's history, and the Courtroom's architecture. You can even attend court sessions, though it's recommended that you don't bring young children.

Special exhibits for families are part of the programming at the Kennedy Center. Photo courtesy of the center
The John F. Kennedy Center for the Performing Arts hosts plenty of family-friendly performances, but you don't need to see a show to enjoy the Center. The Kennedy Center's Hall of States and its indoor-outdoor "living theater" space, the REACH, hosts a rotating menu of exhibits, events, and activities for kids and families. There's always something interesting going on.
Top Tourist Attractions in DC: Museums
From the iconic African elephant display to fossils, Ancient Egyptian mummies, and more, the National Museum of Natural History is one of the most famous and visited of the Smithsonian museums. The museum houses a collection of more than 145 million specimens and is truly a bucket-list item that every family should try to check off. Two interactive learning spaces, Q?rius and Q?rius Jr., are currently closed due to COVID, but are a must-visit for kids in non-pandemic times.

The National Air and Space Museum is an airplane lover's dream. Photo by Pedro Szekely (CC BY-SA 2.0)
With thousands of air and space objects and aircraft on display, the National Air and Space Museum is an aviation and/or space enthusiast's dream. Families can also visit the museum's companion facility, the Steven F. Udvar-Hazy Center in Chantilly, Virginia, to see the Space Shuttle Discovery. Both museums are free, but parking costs $15 at the Udvar-Hazy Center.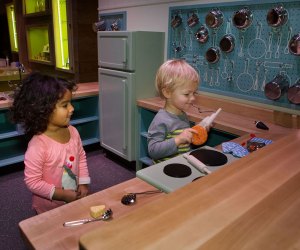 Kids can have hands-on fun at Wegmans Wonderplace. Photo courtesy of the National Museum of American History
At the National Museum of American History, families can see gowns worn by First Ladies, the actual American flag that inspired the national anthem, a Muppets exhibit, and so much more. Kids will especially enjoy Draper Spark!Lab, where young visitors' innovative spirits are encouraged, and Wegmans Wonderplace, which offers hands-on exploration of small-town American life for the 0-6 crowd. This museum is one of the most kid-friendly spots on our list.
This museum, which opened in September 2016, showcases the rich and fascinating history, community, and culture of African Americans. Free timed-entry passes are required to enter and are available online 30 days in advance. They get snatched up quickly, so be sure to reserve them as soon as you can. More than 3,000 objects are on display at the museum, including Michael Jackson's fedora, a lace shawl given to Harriet Tubman by Queen Victoria, and Chuck Berry's red Cadillac convertible.
Related: The Best Children's Museum in Every State
​
The Paw Patrol gang is ready for kids at the National Children's Museum. Photo courtesy of Daniel Swartz
DC waited 18 years—then another 18 months due to COVID—for a children's museum to return to the city. It finally happened in September 2021 when the National Children's Museum officially reopened (after being open only 18 days at the start of the pandemic). The interactive museum and science center for kids ages 0-12 boasts a three-story slide and climbing structure called the Dream Machine, an Art + Tech exhibit featuring various Nickelodeon characters (and slime!), a science area where kids can do hands-on activities, a cloud- and flight-themed area for infants and toddlers, and several other exhibits. Check out our glowing review of the museum here.

See the nation's founding documents at the National Archives Museum. Photo courtesy of the museum
The National Archives Museum is the place to go to see the founding documents of the United States, including the Declaration of Independence, the Bill of Rights, and the Constitution. Visitors can also listen to audio recordings from the Oval Office, read telegrams written by Abraham Lincoln, and experience interactive exhibits. Timed-entry tickets are required and are available online for $1.

Mount Vernon hosts many special events and performances. Photo courtesy of mountvernon.org
George Washington's beautiful historic estate and gardens are open for visitors 365 days a year. The entire estate includes the preserved mansion, museums, gardens and outbuildings, the tombs of the Washingtons, a pioneer farm demonstrating 18th-century farming techniques, shopping, and restaurants. Tours are available of the mansion's first floor only and require a timed tour ticket. Purchasing a grounds admission ticket in advance online is recommended, and you can add a ticket for the mansion tour as well.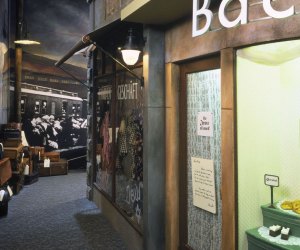 Remember the Children: Daniel's Story is an exhibit especially for kids. Photo courtesy of ushmm.org
The Holocaust Memorial Museum teaches visitors about a painful era in human history and celebrates the strength and survival of the human spirit. Due to the sensitive nature of many of the exhibits, the museum is best for tweens and teens. If you bring younger kids, Remember the Children: Daniel's Story is geared towards them. The exhibit tells the story of one family's experiences during the Holocaust from a boy's perspective, bringing visitors into realistic environments where they can touch and engage with items and places from the boy's world. Free timed-entry tickets are required.

You can see exactly where Abraham Lincoln was sitting when he was shot. Photo courtesy of the National Parks Conservancy Organization
This National Historic Site is the place where President Lincoln was assassinated. Families can buy tickets for a performance or just tour the theatre and explore the museum, where exhibits teach them about Lincoln's life in the White House, the Civil War, and more. Visitors can even see the pistol with which Lincoln was killed. Advance timed-entry tickets are strongly recommended.
If there's a book lover in your family, you've got to visit the largest library in the world—the Library of Congress. Founded in 1800, the library is also the oldest federal cultural institution in the country. It has more than 170 million books, newspapers, maps, photographs, and more in its collection. Families can reserve free timed-entry passes online to the Thomas Jefferson Building, where they can explore Jefferson's personal library, see the Gutenberg Bible, and much more.

Discover why countless celebrities love Ben's Chili Bowl. Photo courtesy of the restaurant
Top Tourist Attractions in DC: Restaurants
Since opening in its original location on U Street in 1958, Ben's Chili Bowl has become a DC institution beloved by President Barack Obama and countless celebrities. Ben is famous for its half-smoke hot dogs, burgers, fries, and—of course—chili. There are four other locations on H Street and at the DC Convention Center, Reagan National Airport, and Nationals Park, but visit the U Street restaurant if you want to soak up history.
With multiple DC-area locations—two in DC, one in Maryland, and three in Northern Virginia—Ted's Bulletin is well-known for its delicious American fare, including all-day breakfast items. But perhaps what Ted's is most famous for is its Instagram-worthy Ted's Tarts, homemade versions of Pop Tarts in various flavors. Save room for a milkshake, which comes in both regular and boozy varieties.
Related: 10 Restaurants Near DC Where Kids Can Play

Be a part of history at Old Ebbitt Grill. Photo courtesy of the restaurant
Old Ebbitt Grill is one of the most famous restaurants in DC, in part because of its location across the street from the White House. Founded in 1856, it is also one of the city's most historic venues—it's DC's oldest saloon, frequented by several presidents including Ulysses S. Grant and Theodore Roosevelt. The menu is heavy on seafood, but there are also burgers and sandwiches, pastas, salads, and more. Brunch is served on Saturdays and Sundays.
Must-Visit Neighborhoods in and Near DC
This charming town (George Washington's hometown) is steeped in history. View centuries-old architecture as you stroll along King Street, a mile-long street with more than 200 shops and restaurants. Explore the Alexandria waterfront, home of the Torpedo Factory Art Center. You can also ride the Old Town Trolley, take a walking or boat tour, or visit Gadsby's Tavern Museum or Carlyle House.

Georgetown, as viewed from the Theodore Roosevelt Island, Photo by Kristopher Anderson (CC BY-NC-ND 2.0)
Georgetown was founded in 1751—40 years before the nation's capital. That means you'll see plenty of federalist architecture, historic brick and frame row houses, and cobblestone streets as you explore the area. You can also visit the Old Stone House (DC's oldest standing building), the historic Dumbarton House, and the 1816 National Historic Landmark Tudor Place. Check out the amazing shops and restaurants along M Street and the surrounding blocks, stroll along the Georgetown Waterfront, or take a historic walking tour.
If you need a break from all the history and culture of DC, head to National Harbor for some family fun. This waterfront destination in Maryland is bursting with restaurants, stores, and other fun activities for families. Soar 180 feet above the Potomac River on the Capital Wheel, practice your golf swing at Topgolf, or relax on the Beach. Kids will love riding the carousel and playing on the neighboring playground. If you want to spend the night at National Harbor, the Gaylord National Resort & Convention Center and the MGM National Harbor are great options with their own fun activities.
Sign up for the Mommy Poppins Newsletter today!
i