Visiting Smithsonian's National Museum of African American History and Culture in DC with Kids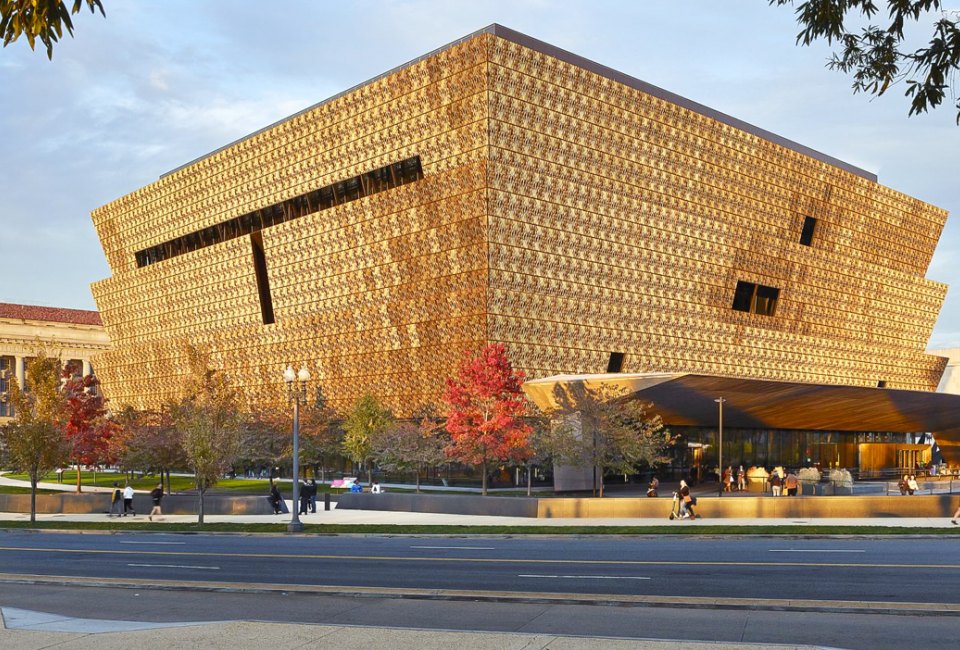 2/5/23
- By
Jennifer Marino Walters
Since its 2016 opening on DC's National Mall, Smithsonian's National Museum of African American History and Culture has been a hot ticket—and for good reason. Housing more than 40,000 artifacts (with over 3,000 of them on display), it's the only national museum dedicated exclusively to documenting African American life, history, and culture. The massive museum features exhibits on the civil rights movement, slavery and freedom, famous African Americans including athletes and musicians, and so much more. And with its unique and breathtaking design, it wows visitors even before they enter.
The best part? Like all of the Smithsonian institutions and other museums in DC, entry to the National Museum of African American History and Culture is absolutely free. But is it appropriate for kids? My family and I visited several months ago when my twin boys were 10 and my daughter was 7, and I will say that the answer is a resounding YES! My kids were interested and engaged throughout our entire four-hour visit, and they can't wait to go back.
Read on for all of my tips on visiting Smithsonian's National Museum of African American History and Culture with kids. Then check out our Museum Guide for Kids and Families in Washington, DC for more great museums to check out.

Marvel at the Spirit of Tuskegee airplane. Photo by Ron Cogswell, via Flickr (CC BY-NC-ND 2.0)
DC's National Museum of African American History and Culture: What to Know Before You Go
1. Timed-Entry Passes
As of publication time, free timed-entry passes are required for most people to enter the National Museum of African American History and Culture. All visitors, regardless of age, must have a pass. Advanced passes are released on a rolling basis 30 days in advance starting at 8am EST. Same-day passes are released at 8:15am daily. Timed-entry passes can be reserved online for up to six people. Groups larger than six must reserve group passes. Note: Active-duty military, veterans, and first responders can enter the museum with one guest without a timed-entry pass by showing their military or work ID.
2. Operating Hours
The National Museum of African American History and Culture is open every day except Christmas Day. Hours are 10am-5:30pm on Tuesdays - Sundays and 12-5:30pm on Mondays. On Mondays observed as federal holidays, the museum opens at 10am.
3. Getting to the Museum
The museum is located at 1400 Constitution Avenue NW. There is no designated parking facility, but there are various public and commercial parking lots and garages in the area. The closest public garage is at the Ronald Reagan building, about a half-mile way from the museum. Visitors with disability license plates or hang tags can park at metered spaces along Madison Drive NW adjacent to the museum. The nearest Metro stations are Federal Triangle and Smithsonian (Mall exit). Visit Metro Trip Planner to map out your route.
4. Family Accommodations and Accessibility
The National Museum of African American History and Culture is huge, with roughly 85,000 square feet of exhibit space over eight floors. So, expect to do a lot of walking. Luckily, the entire museum is stroller-, scooter-, walker-, and wheelchair-accessible, with elevators on each floor. Most of the exhibits have very open layouts, so keep that in mind if you have small children who like to wander. There are family restrooms located on every above-ground level, and a lactation space is available upon request. Free manual wheelchairs are also available on a first-come, first-served basis.
5. Free Museum App
If you have iOS, I recommend downloading the museum's free mobile app. On it you can see museum maps, search for objects from the collection, watch videos, and more.
RELATED: National Children's Museum Opens in Washington, DC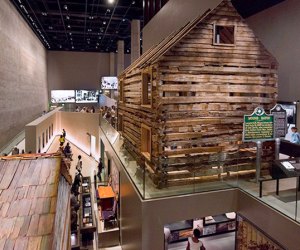 The Point of Pines slave cabin is a centerpiece of the museum's history galleries.
What to See at DC's National Museum of African American History and Culture
The museum is essential divided into two sections, with the history galleries on the below-ground levels (C1-C3) and the culture and community galleries on the upper levels (L2-L4). Many people start from the bottom and work their way up.
The History Galleries
Expect to stand in line to access the history galleries, especially on weekends and holidays. The galleries begin at the lowest level (C3) and go up chronologically. Begin on level C3 by learning about slavery and freedom (1400-1877), move on to the era of segregation on C2 (1876-1968), and end with A Changing America: 1968 and Beyond on C1.
RELATED: Visiting Arlington National Cemetery with Kids: What to Know Before You Go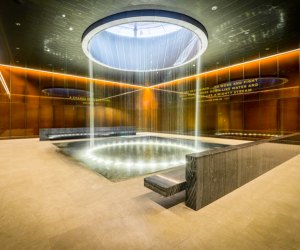 Take a few minutes to reflect in the serenity of the Contemplative Court.
The history galleries are truly moving and eye-opening. There are plenty of interactive elements to keep kids engaged and learning, including an interactive, segregated lunch counter. Highlights of the history galleries for my kids were seeing an actual stool from the Greensboro, North Carolina lunch counter sit-ins and a dress worn by Rosa Parks, as well as learning about the many brave students who helped end racial segregation in schools. We ended our visit to these galleries by spending a few reflective minutes in the Contemplative Court, which has a gorgeous cylindrical fountain raining into a pool at its center.
If you have younger or highly sensitive kids, you may want to consider skipping the history galleries due to some of the tough topics they cover. However, you know your kids and what they can handle best. Just be prepared to answer lots of questions in an honest, age-appropriate manner.
RELATED: Little Eyes Can Spy at International Spy Museum DC

See a training robe that was actually worn by Muhammad Ali.
The Culture and Community Galleries
After learning about many of the difficult parts of African American history, it was nice for my kids to switch gears and visit the culture and community sections and learn more about some of their pop-culture heroes. My sports-loving boys were thrilled to see jerseys worn by Jackie Robinson and Michael Jordan and to learn about many decorated African American Olympians. The kids also loved the music exhibit, which is chock full of cool memorabilia like Chuck Berry's red Cadillac, a purple ensemble worn by Prince, and various instruments. The touchscreen table in the "Neighborhood Record Store" kept them busy for quite some time. And in the Taking the Stage exhibit, they enjoyed learning about the history of African Americans in TV, movies, and theater and seeing television and film props.
All of these things are just a small portion of what you'll see at the National Museum of African American History and Culture. In fact, we were there for four hours and still didn't get to see everything. If you want to explore the entire museum with kids, you'll likely have to make multiple visits.
RELATED: Free Museums Near DC to Visit with Kids

Enjoy foods inspired by African American culture at the Sweet Home Café. Photo by Scott Suchman
Eating at DC's National Museum of African American History and Culture
The museum is home to the Sweet Home Café, a large dining hall that showcases the rich culture and history of African Americans with authentic dishes like fried chicken, po' boys, collard greens, and more. There are also plenty of kid favorites such as chicken tenders and hot dogs, as well as grab-and-go options like salads and sandwiches. The space itself feels like another exhibit, which items displayed on the walls behind glass cases. The wait can be long but the food is delicious, and with no outside food or drinks allowed in the museum, it's your only option when the kids get hungry.
Overall, I'd highly recommend the National Museum of African American History and Culture for families with kids of all ages. It's a wonderful addition to the National Mall!
All photos courtesy of the museum unless otherwise indicated
Places featured in this article:
---
National Museum of African American History and Culture
Sign up for the Mommy Poppins Newsletter today!