National Children's Museum Opens in Washington, DC
9/10/21
- By
Katie Sivinski
After 18 years—and then another 18 months due to the COVID-19 pandemic—Washington, DC has finally gotten a children's museum! The National Children's Museum reopened to the public on September 2, 2021 after being open for only 18 days at the start of the pandemic. The National Children's Museum combines the feel of a science center and a children's museum to create an interactive, fun place for kids ages 0-12 to explore.
I recently got the opportunity to investigate the National Children's Museum with my 3-year-old son on a sneak-peek tour. For a kid who has only gotten to experience museums through Blippi videos due to the pandemic, a museum visit was long overdue, and he had a fantastic time.
Below is my review of the National Children's Museum. You can also check out our list of free museums in DC for more fun museums to visit with kids!

Kids will love climbing into the Dream Machine.
The National Children's Museum
Entering the museum, the first thing you notice is an impressive three-story slide and climbing structure called the Dream Machine. Museum goers can slide straight down to the exhibits if they're so inclined. Sliding two stories was too much for my son, but other slides and climbing structures more his size awaited us downstairs.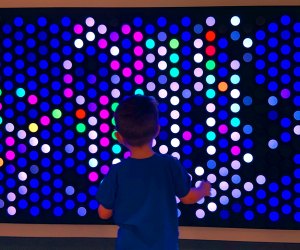 The Sensory and Light Board is mesmerizing.
Once on the first-floor exhibit level, numerous zones entice little hands and eyes. Designed for children ages 0-12, the exhibits include a range of activities that focus on science, technology, engineering, art, and math (STEAM) topics. My 3-year-old was drawn to everything he saw.

Favorite Nickeloden friends will greet you at the Art+Tech section. Photo courtesy of Daniel Swartz
Nearest your departure from the slide is the Art + Tech section, sponsored by Nickelodeon. Here, familiar Nickelodeon characters from Paw Patrol and SpongeBob SquarePants greeted us, as well as a Nickelodeon favorite—slime! (Don't worry—you won't need to do any cleanup!) Gross sounds, bright green colors, and a passageway filed with pool noodles replicate a slime sensory experience. But my son was continually drawn back to the Paw Patrol area where he enjoyed pretending to put out a fire with Marshall, making scarves fly in an air machine with Skye, and building with Rubble. Older kids will enjoy filming themselves with SpongeBob and playing with the interactive lights and cameras to create a video they can email to themselves.

On the Go-Go offers fun ways to learn about engineering and air force.
Another exciting section that's appropriate for a wide age range is Engineering Games + Play. My son loved the race-car track, On the Go-Go, where kids load their car with washers, change the race course's height and incline, and watch the video monitor to see whose car will win the race. We also enjoyed the basketball hoop and air-blower experiment in which kids manipulate the air's force and direction to get a ball through the hoop. (We made it in!) Washington Nationals baseball fans will love the Grand Slam Science and Pitch Perfect games, where kids can practice their hitting and pitching methods with the help of science. And at the nearby Tinkerer's Studio, kids can get creative with art and problem solving. On the day we visited, children mixed colors together on coffee filters with markers and spray bottles.

Babies and toddlers can pretend to fly a plane inside the Little Dreamers exhibit.
Babies and toddlers ages 0-3 have two walled-off sections made just for little hands and feet. In Little Dreamers, little ones can play dress-up, pretend to fly a plane or hot air balloon, relax and read books with an adult, or enjoy the sensory experience of soft textures and sounds. The Little Movers section, located near Engineering Games + Play, is an enclosed space with soft floors, blocks, mirrors, and climbing structures that invite babies and toddlers to climb and play. Both areas suggest taking off shoes and exploring in socks.
The National Children's Museum is a great addition to the many family-friendly museums in the downtown area, but it's especially nice to have a place for kids to feel comfortable being kids and to learn through play. Minutes before having to drag my son out, he said, "This place rocks!"

There is so much for kids to explore at the National Children's Museum. Photo courtesy of Daniel Swartz
Details for Your Visit
The museum is located at 1300 Pennsylvania Avenue NW, close to the White House, the National Mall, and many restaurants. The main entrance is adjacent to the Ronald Reagan Building on the Woodrow Wilson Plaza between Pennsylvania and Constitution Avenues. Look for the blue awnings. If you're taking Metro, it's steps away from Federal Triangle Station. Paid parking is available at the Ronald Reagan Building parking garage.
​
Make scarves fly in a wind-powered tube at the Art + Tech section. Photo courtesy of Daniel Swartz
I found the stroller check on the main level of the museum handy. It was convenient to use our stroller on the way to the museum, but once inside, my son zoomed around with no desire to sit down! You can leave and re-enter during your allotted time, but you cannot re-enter at a different session.
Ticket prices (as of September 2021) are $15.95 for everyone age 1 or older. Children under age 1 are free. The museum is open Thursdays through Sundays from 9:30am – 12:30pm and 1:30 – 4:30pm. It's closed on New Year's Day, Memorial Day, Independence Day, Labor Day, Thanksgiving, and Christmas. Visit the National Children's Museum website at nationalchildrensmuseum.org.
Photos courtesy of the author unless otherwise notes
Places featured in this article:
---
National Children's Museum
Sign up for the Mommy Poppins Newsletter today!
i