Top Playgrounds in Westchester and the Hudson Valley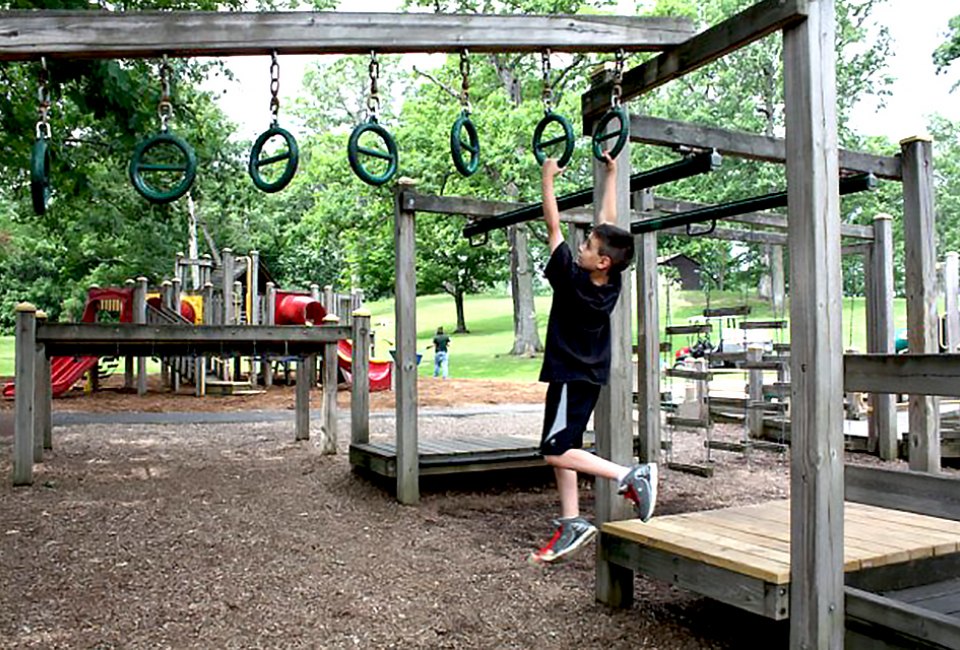 9/29/20
- By
Lisa Johnston
Beautiful parks are plentiful throughout Westchester and Lower Hudson Valley—and while picnicking, hiking, and gorgeous views are great, what kids tend to care about most are the playgrounds.
Westchester kids have been without playgrounds for months. Despite Governor Andrew Cuomo giving the green light to reopen outdoor romping spaces in June, the county was slow to reopen its parks, not doing so until Saturday, September 26, 2020.
To celebrate their reopening, allow us to reintroduce you to these seven fun spots that are a step above your average local playground and all worth the drive. All boast imaginative play structures, shade, and other amenities that add up to a day of fun for the whole family, so get a trip in before the cold winds blow.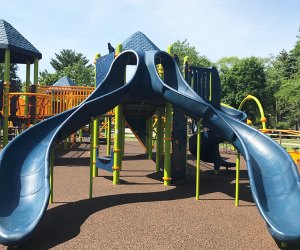 The renovated playground in Saxon Woods Park has tons of cool new features. Photo by Marissa Iallonardo
Destination Playgrounds in Westchester County
After a recent makeover, this Westchester County-run playground has become a hotspot for area kids—and with good reason. There are lots of climbing structures, swings, and a separate, smaller section for the toddler and preschool set. Kids especially love the climbable spiderweb, and a walk-up window that we've seen used for all sorts of imaginative play, including a rock sale. In the warmer months, it's easy to make a day of this destination playground, which is also home to a mini-golf course and the Saxon Woods Pool. While parking is free, just note that the playground isn't fenced in, so keep an extra eye on those little runners. Check out our full review of this fun playground.
RELATED: 10 Destination Parks for Westchester Families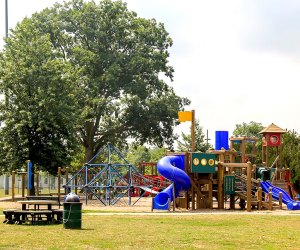 Harbor Island Park has areas for both older and younger kids. Photo courtesy of the Village of Mamaroneck
While Harbor Island Park overlooks the Long Island Sound, the playground is set in the park a bit more, and has lots to offer local families. There are areas for both older and younger kids, plus slides, swings, tons of climbing structures (including a large spiderweb-like one), a sandbox, and saucer-like swings for kids to try. The playground is large enough that kids won't get bored easily, but when they're ready for something different, there's lots of grassy space for them to run and play. In the summer, the beach is open and includes a recently updated splash pad. While you can pack a picnic, if you're ready to call it a day, Mamaroneck Avenue is home to lots of kid-friendly dining options, including the famous Sal's Pizza. In the warmer months, there's a fee for parking and to use the beach.
Admittedly, the playground at this Tarrytown park isn't huge, but there are fun play structures for kids to climb and crawl through. Once the warmer temps hit, though, the park really shines: There's a splash pad right next to the playground, making it easy for kids to go back and forth; there's a covered pavilion for lunch or a snack (when it's not in use), plus lots of green space. Kids can also bring their bikes and ride along the Scenic Hudson RiverWalk. Main Street in Tarrytown is nearby for lunch or a snack stop, too.
The Kensico Dam hosts lots of different events throughout the year, but we love the playground any day of the week. There are two structures geared toward different age groups, as well as swings for both older and younger kids. There are bathrooms, picnic tables, and lots of green space for running out that extra energy, too. This is also a prime bike riding spot: The road that rings the grassy area is great for kids.
Destination Playgrounds in Orange County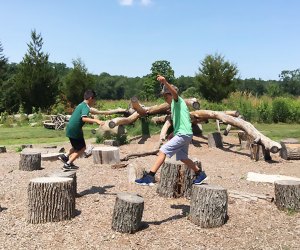 Grasshopper Grove is a sweet, nature-themed playground. Photo courtesy of the Hudson Highlands Museum
Grasshopper Grove is part of the Hudson Highlands Nature Museum. This "natural" playground has trees for climbing, a water trough to play with and build dams, and a fantastic, shaded sandbox with tons of construction toys. The large gazebo offers shade and books to enjoy while taking a breather from heavy play. Important note: Grasshopper Grove is open to the public only on weekends and reservations are currently required. Call 845-534-5506 to book your 45-minute play session.
We profiled Sally's Dream at Thomas Bull Memorial Park, and we'd be remiss if we didn't mention it here. Highlights include giant, open fields for free play, multiple play structures with access for all children, and plenty of shade for when you need a break. Kids can run, swing, slide, and even make music at Sally's Dream.
Destination Playgrounds in Dutchess County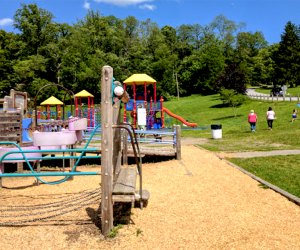 The colorful playground, scenic grounds, and splash pad make this Bowdoin Park worth a trip. Photo courtesy of Dutchess County, N.Y.
Although splash pads are aplenty in Westchester, they're a little harder to find in the rest of the Lower Hudson Valley. Bowdoin Park is one of the few that has one, making it a fantastic choice for a summer destination playground. The spray park has SpongeBob SquarePants–themed picnic benches lining the perimeter, allowing you to relax and watch your kids shriek and dash as they aim the water cannons or try to outrun the sprinklers. When the kids tire of water play (or in cooler months), head to the swings or one of the many large play structures dotting the park. Bowdoin Park spans 300 acres, with the picturesque Hudson River as the backdrop. Other amenities include plenty of ball fields, picnic areas, and shady pavilions to relax and enjoy the view.
This post originally published in 2016 and has since been updated.
Sign up for the Mommy Poppins Newsletter today!