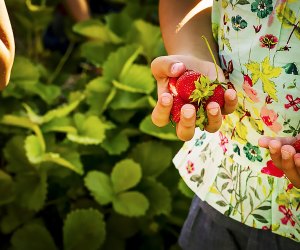 Strawberry Picking Farms Near NYC
One of our favorite things about late spring and early summer is the plethora of fruit in season, especially the berries. Picking your own makes it even sweeter. As we move into the height of strawberry picking season, there is a slew of nearby farms offering pick-your-own strawberries. Many are just a short car ride away from New York City, making for a great day trip of strawberry picking and seasonal festival fun.
Read on to discover more than a dozen pick-your-own strawberry spots, all less than two hours away.
For more day trip inspiration, check out our Family Getaways Guide, and find more local U-pick opportunities in our Farm Guide, or read our roundups of strawberry picking farms in Long Island, Westchester and the Hudson Valley, and New Jersey.
Please note, while we've tried to highlight these farms at their best, there are many changes and limitations due to the coronavirus. Additionally, many of these pick-your-own farm experiences are dependent on fruit availability and the weather, so call ahead. The strawberry season in the NYC 'burbs is kicking off a bit later this year with most farms opening in mid-June, and once the berries are ripe, they'll only last for a couple of weeks. If we're lucky, it might continue into early July.

Strawberry picking is a fun outing for all ages.
1355 Boston Post Road
203-453-2338
Approximately 1.5 hours by car from Midtown Manhattan
Strawberries are the first fruit of the season, usually starting in June and lasting until early July. The orchard also offers pick-your-own blueberries and peaches this summer, and a beautiful sunflower maze come August. There's even an on-site winery with year-round tastings.
461 Cornwall Bridge Road
860-364-0025
Approximately 2 hours by car from Midtown Manhattan
Before or after picking strawberries, kids can check out the vintage Lionel model train display (weekends only). Ellsworth Hill opens in early June for berry picking. Farm fun continues into the fall with more pick your own and a corn maze. Face masks will be required for entry.
Route 110 and Walnut Tree Hill Road
203-929-8425
Approximately 90 minutes by car from Midtown Manhattan
Pick your own strawberries and blueberries at this 400-acre family farm, which also offers cooking classes in the Harvest Kitchen and wine for the adults at the Jones Winery. Call before you go because pick-your-own hours can change due to weather, and the 2020 season requires reservations. Subscribe to the farm's newsletter for updates.
4. Rose's Berry Farm — South Glastonbury, Connecticut
295 Matson Hill Road
860-633-7467
Approximately 2 hours by car from Midtown Manhattan
Enjoy a breakfast overlooking the fields—complete with fresh fruit topping—then head out to pick your own strawberries. Availability depends on the weather, so be sure to call ahead. The restaurant opens on June 14, and the strawberry harvest is getting close.
436 Boston Post Road
860-739-5209
Approximately 2 hours by car from Midtown Manhattan
Pick-your-own strawberry season runs from mid-June through early July at this family-run Connecticut farm. Be sure to check out the farm's roadside stand for pre-picked veggies and cider doughnuts.
RELATED: Pick-Your-Own Strawberry Farms in the Lower Hudson Valley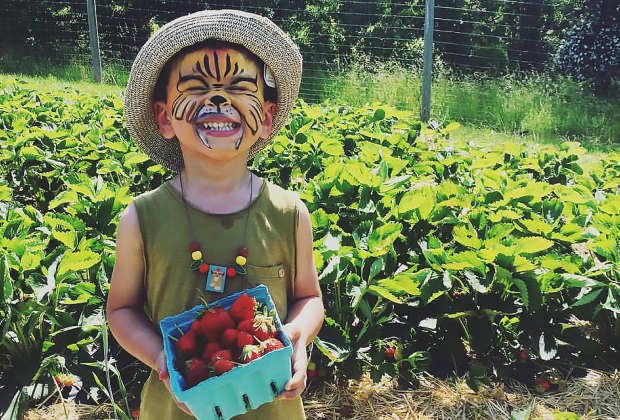 Strawberries bring smiles at Fishkill Farms. Photo courtesy of the farm
6. Fishkill Farms — Hopewell Junction, New York
9 Fishkill Farm Road
845-897-4377
Approximately 75 minutes by car from Midtown Manhattan
Fishkill's pick-your-own strawberry season begins in June. In 2020, reservations are required, plus adherence to extra safety protocols. Other pick-your-own fruits this summer include cherries, peaches, and nectarines.
7. Greig Farm — Red Hook, New York
227 Pitcher Lane
845-758-1234
Approximately 2 hours by car from Midtown Manhattan
This farm has been offering pick-your-own fruits and vegetables for decades and doesn't use synthetic chemicals. Strawberry harvesting takes place in June. While you're there, stop by the barn to feed the pygmy goats who call it home or throw some food into the koi pond. Another fun, socially distant option: The staff has carved five miles of trails for running and walking around the property. Visit the website for info on COVID-19 safety precautions and rules.
306 Frozen Ridge Road
845-562-4268
Approximately 80 minutes by car from Midtown Manhattan
Lawrence Farms Orchards kicks off its pick-your-own season in mid-June. There's typically a hay bale maze, friendly goats, and even kids' birthday party options at this family farm. New safety protocols will be announced closer to its opening date on its social media channels.
15 Scism Road
845-756-5641
Approximately 2 hours by car from Midtown Manhattan
Pick your own strawberry season is underway Sunday-Wednesday at Mead Orchards, a pretty 180-acre family farm in the Hudson River Valley area. The hours for pick-your-own vary, so call ahead and be sure to read Mead's COVID-related precautions before venturing out.
RELATED: Where to Pick Your Own Blueberries, Raspberries, and Blackberries Near NYC

Time it right, and you can pick strawberries and blueberries on the same day. Photo courtesy of Johnson's Corner Farm
133 Church Road
609-654-8643
Approximately 90 minutes from Midtown Manhattan
Strawberry season opens in late May and lasts through mid-June at Johnson's Corner. In 2020, reservations are required for the picking field. All visitors must wear masks and gloves. For a small fee, hop aboard a hayride for a tour of the farm. Round out your trip with a visit to the market and a swirl of soft-serve ice cream.
565 Route 206 North
973-579-5055
Approximately 1 hour and 15 minutes from Midtown Manhattan
This family-owned farm has been selling sweet pick-your-own strawberries for decades. Visit its Facebook page for 2020 rules and updates. Stay to visit the garden center or peruse the farm's selection of handcrafted outdoor furniture.
330 Cold Soil Road
609-924-2310
Approximately 1 hour and 20 minutes from Midtown Manhattan
Pick-your-own strawberries are ready in late May and last through early June at the family-owned Terhune Orchards. Special rules have been enacted for 2020. You can pre-order goods from the farm store and have it ready for pickup once you're done in the fields. Plan to arrive early; fresh fruit is usually picked out before the day ends.

Pick delicious strawberries while practicing social distancing at Lewin Farms. Photo by Roger Cheng
13. Lewin Farms — Wading River, Long Island
812 Sound Avenue
631-929-4327
Approximately 90 minutes by car from Midtown Manhattan
Lewin Farms was the first pick-your-own farm on the isle and has been around for four generations. Strawberries aren't the only fruit you'll find here. Try your hand at blueberry and peach picking as well as other summer fruits and veggies. Its pick-your-own season runs annually from Memorial Day to Labor Day. Visit the website for 2020 rules, which include masks and social distancing.
This article was first published in June 2011 but is updated annually.