Best Strawberry Picking Farms and Strawberry Festivals from NYC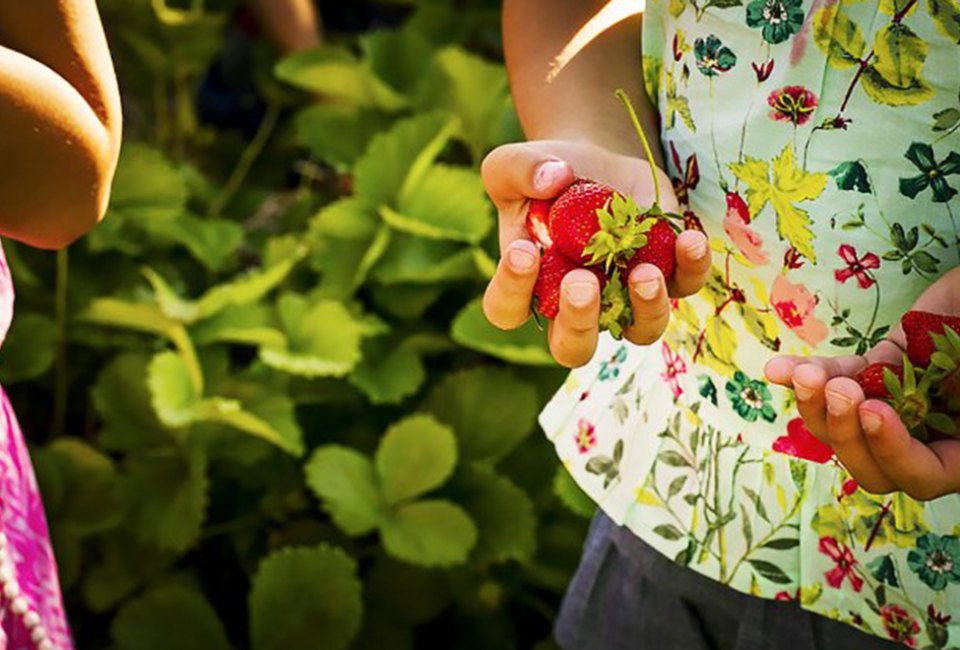 5/7/23
- By
Jody Mercier
Strawberry picking season is one of our favorite milestones in late spring and early summer. Picking your own strawberries makes the season even sweeter. As we move into the height of strawberry picking season, there are a slew of local farms for strawberry picking near NYC, and a visit makes for a great day trip.
Read on to discover more than a dozen strawberry picking farms all less than two hours away from Midtown Manhattan. We've also found a handful of strawberry festivals celebrating the season's bounty. You'll find even more pick-your-own fun in our Guide to Family-Friendly Farms near NYC.
Subscribe to our newsletters to get stories like this delivered directly to your inbox.
When is Strawberry Picking Season near NYC?
Strawberry picking season near NYC runs primarily for the month of June–often beginning in mid to late May and ending with a few stragglers in early July. The timing of the first ripe berries depends on how mild the spring weather has been and on yearly crop conditions. Keep in mind that strawberry picking season is relatively short and depends on crop availability, so make sure you don't put off your trip. If you do happen to miss the window, don't worry, the season is followed by lots of other choices for berry picking near NYC.
Where to go Strawberry Picking in Connecticut
Approximately 2 hours by car from Midtown Manhattan
Enjoy a breakfast overlooking the fields—complete with fresh fruit topping—then head out for your own strawberry picking adventure. Availability depends on the weather, so be sure to call ahead. The restaurant opens in June.
RELATED: Find an Amazing Petting Zoo near NYC Where Kids Can Meet the Animals

Strawberry picking at Bishop's Orchards is a fun outing for all ages.
Approximately 1 hour, 30 minutes by car from Midtown Manhattan
Strawberries are the season's first fruit, usually starting in June and lasting until early July at Bishop's. The orchard also offers pick-your-own blueberries and peaches in the summer and a beautiful sunflower maze come August. There's even an on-site winery with year-round tastings.
Approximately 2 hours by car from Midtown Manhattan
Strawberry picking season runs from mid-June through early July at this family-run Connecticut farm. Be sure to check out the farm's roadside stand for pre-picked veggies and apple cinnamon doughnuts; it opened in late April. Strawberry picking begins in early June.
RELATED: Kid-Friendly Vineyards and Hard Cider Houses near the Hudson Valley

Pick a basketful at Jones Family Farm.
Approximately 1 hour, 30 minutes by car from Midtown Manhattan
Go strawberry and blueberry picking at this 400-acre family farm, which also offers cooking classes in its Harvest Kitchen and wine for the adults at the Jones Winery. Call before you go because strawberry picking hours can change due to the weather. Call the crop report line at 203-929-8425 for farm updates and for strawberry picking locations.
RELATED: Where To Go Strawberry Picking in the Hudson Valley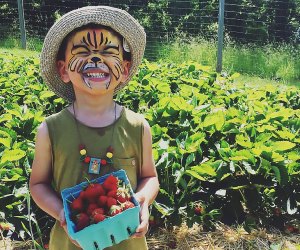 Strawberries bring smiles at Fishkill Farms.
Where to go Strawberry Picking in New York State
Approximately 1 hour, 15 minutes by car from Midtown Manhattan
Fishkill's strawberry picking season begins in June and reservations are required. Other pick-your-own fruits here include cherries, peaches, and nectarines.
Approximately 1 hour, 30 minutes by car from Midtown Manhattan
One of the first pick-your-own strawberry farms on Long Island, Glover Farms offers strawberry picking in June. Be sure to call in advance to confirm crop availability. As you walk, keep an eye out for the friendly goats roaming around who will let you feed them from your hand.
RELATED: Strawberry Festivals and Strawberry Picking on Long Island

Pick delicious strawberries at Lawrence Farms Orchards.
Approximately 1 hour, 20 minutes by car from Midtown Manhattan
Lawrence Farms Orchards kicks off its strawberry picking season in mid-June. There's typically a hay bale maze and friendly goats at this family farm. The opening of strawberry picking season is announced on its social media channels.
RELATED: Farm Stays Near NYC: Enjoy a Farm-Themed Family Vacation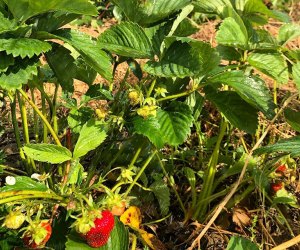 Greig Farm is a sweet little spot that grows fruits and veggies without synthetic chemicals!
Approximately 2 hours by car from Midtown Manhattan
This farm has been offering pick-your-own fruits and vegetables for decades and doesn't use synthetic chemicals. Strawberry picking takes place in June. While you're there, stop by the barn to feed the pygmy goats or throw some food into the koi pond. Another fun option: The staff has carved five miles of trails for running and walking around the property.
Approximately 1 hour, 30 minutes by car from Midtown Manhattan
Lewin Farms was the first pick-your-own farm on the isle and has been around for four generations. Strawberries aren't the only fruit you'll find here. Try your hand at blueberry and peach picking as well as other summer fruits and veggies. It re-opens for the season on Memorial Day weekend and strawberry picking runs from late-May to June.
RELATED: Where to Go Flower Picking near NYC

Time it right, and you can pick strawberries and blueberries on the same day.
Where to go Strawberry Picking in New Jersey
Approximately 1 hour, 30 minutes from Midtown Manhattan
Strawberry season opens in mid-May and lasts through mid-June at Johnson's Corner. Reservations are recommended for the strawberry picking field. For a small fee, hop aboard a hayride for a tour of the farm. Round out your trip with a visit to the market and a swirl of soft-serve ice cream.
RELATED: Strawberry Picking Farms and Strawberry Fests in New Jersey

Roam the fields at Sussex County Strawberry Farm.
Approximately 1 hour, 15 minutes from Midtown Manhattan
This family-owned farm has been selling sweet pick-your-own strawberries for decades. Visit its Facebook page for growing season updates. Stay to visit the garden center or peruse the farm's selection of handcrafted outdoor furniture.
Approximately 1 hour, 20 minutes from Midtown Manhattan
Strawberry picking season starts in late May at the family-owned Terhune Orchards. You can pre-order goods from the farm store and have it ready for pickup once you're done in the fields. Plan to arrive early; fresh fruit is usually picked out before the day ends. Check out the Winery Weekend Music Series and enjoy FREE live music and wine tasting at the Terhune Winery. Families are welcome.
RELATED: 15 Best Farms in New Jersey for Family Fun and Entertainment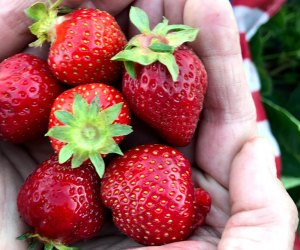 Sweet strawberries are waiting at Alstede Farms.
Approximately 1 hour, 15 minutes by car from Midtown Manhattan
Families can hitch a hayride to the strawberry patches at this scenic farm, which also features a fully stocked farm store, ice cream stand, and food trucks. On Thursdays through Sundays, activity tickets are available for purchase. These tickets include hay wagon rides around the farm, scavenger hunts, and access to the evergreen maze climb and the giant hay pyramid. An activity plus ticket adds on a pony and wagon train ride. Reservations for strawberry picking and farm activities are required. Check out the annual harvest schedule here.
Strawberry Festivals near NYC
Saturday, June 3
This fun-filled festival is held in Borough's Backyard Park in West Cape May and features Jersey fresh strawberries (of course), strawberry shortcakes, craft vendors, food, and more. Parking and admission are FREE.
Saturday, June 3
Head out to Ort Farm for a day of strawberry picking and fun, served with a side of train rides, pony rides, an antique car show, and food trucks brimming with tasty eats.
Saturday, June 10-Sunday, June 11
Beyond strawberry picking, this festive weekend includes an activity area complete with hayrides, face painting, and pony rides. Enjoy fresh, homemade, strawberry goodies from the farm market.
RELATED: 28 Spring Day Trip Ideas for NYC Families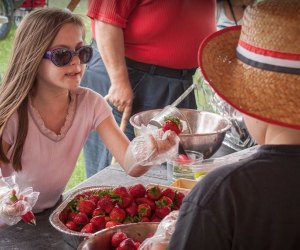 Head to Beacon for the Strawberry Festival in June. Photo courtesy of Dutchess County
Sunday, June 11
The Beacon Sloop Club organizes this old-fashioned festival, which includes live music and plenty of fresh strawberry eats. All proceeds support the club's environmental efforts.
Wednesday, June 14-Sunday, June 18
This 67th annual fundraiser is a wonderful way to spend Father's Day weekend. Strawberries are in peak season and you can enjoy chocolate-dipped strawberries and strawberry shortcake. Other family fun includes carnival-style rides and games, live music, and craft vendors.
Saturday, June 17
Enjoy Long Island strawberries, shortcake, and other treats. Past festivals had visitors clapping along to banjo music and taking tours of Old Grace Church, Delancy Floyd-Jones Free Library, and the Elbert Floyd Jones Cottage. There are raffles, craft vendors, and FREE face painting for kids.
This article was first published in June 2011 but is updated annually.
Unless noted, photos courtesy of the farms
Click Here to Sign Up!
i