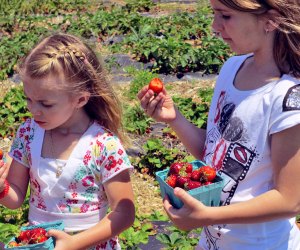 Strawberry Picking Farms and Festivals on Long Island
Long Island is ripe with farms offering pick-your-own strawberries. Deciding where to go can be a challenge, so we've handpicked a few of our favorite strawberry picking spots for you.
Harvesting your own fruit is not only fun, but it connects you with the source of your food and supports local farmers. And it doesn't get fresher than picking fruit right off the vine. This is especially important for Long Island strawberries, which are sweeter and more delicate than most grocery-store varieties and have a shorter shelf life.
Many of these farms are located on Long Island's East End. Before you head out, be sure to call ahead or check the farms' websites to confirm fields are open and the strawberries are ripe. We've also listed a couple of strawberry festivals across the island, which are tentatively back on for 2021.
Check out our guide to Long Island farms for more places where you can pick your own fruit and vegetables and even meet some farm animals.
While we are trying to promote safer activities that occur outdoors or with social distancing guidelines in place, please keep your family and others safe by always wearing a mask and maintaining appropriate social distancing. Additionally, many of these strawberry picking experiences are dependent on fruit availability and the weather, so call ahead. Once the berries are ripe, they'll only last for a couple of weeks.
Sign up for our FREE newsletters to get posts like this delivered to your inbox.
OUR LATEST VIDEOS
Strawberry Picking Farms on Long Island
6233 North Country Road
631-929-4697
Condzella's is a third-generation farm offering nine varieties of strawberries. The Condzella family is proud of its sustainable farming practices that include selling crops locally, rejecting synthetic insecticides, and donating unused crops to local food shelters. Strawberries are nearly ripe and are expected to be ready for picking in mid-June. Follow its Facebook page for announcements.
RELATED: The Best Locations for a Family Picnic on Long Island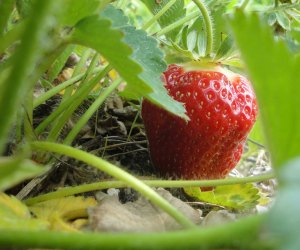 Lewin Farms says it is the first strawberry picking farm on Long Island.
812 Sound Avenue
631-929-4327
Lewin Farms says it was the first strawberry picking farm on Long Island. It has been around for four generations. The farm has its own stand with more than 20 varieties of fresh fruits and vegetables. Try your hand at blueberry and peach picking as well as other summer fruits and veggies. Its pick-your-own season runs annually from Memorial Day to Labor Day. Visit the website for 2021 rules regarding masks and social distancing.
633 Victory Avenue
631-286-7876
One of the first strawberry picking farms on Long Island, Glover Farms strives to provide an interactive experience for visitors. Stop by during strawberry season to pick a pint or two of fresh berries and stay to feed the goats, see the chickens, and check out the farm equipment. The season begins in June, and strawberry picking is available daily in-season.
410 Sound Avenue
631-298-4679
Strawberry picking season is almost underway at Patty's, where a $7 admission fee gets you a quart of sweet strawberries. Social distancing and mask-wearing are required. Find blueberries and raspberries in July, as well as blackberries in August. The farm is open for strawberry picking fun seven days a week. Patty's has an on-site ice cream shop serving fresh flavors like mint and strawberry fields. It is known for its kind staff and abundance of butterflies. Owner Patty DiViello is the daughter of farmers Edward and May Harbes, whose Harbes Family Farms and Vineyards is just across the street and offers a barnyard, farmers market, and country cafe.
RELATED: Kid-Friendly Wineries on Long Island's East End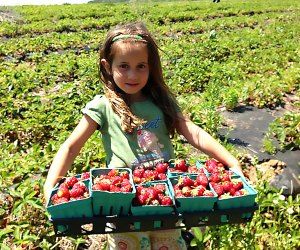 Garden of Eve Organic Farm says its strawberries ripen earlier than others on Long Island.
4558 Sound Avenue
631-722-8777
According to owner Eve Kaplan-Walbrecht, Garden of Eve's strawberries will be ready for picking beginning Saturday, May 29. In addition to strawberry picking, young visitors can play on the playground, pet a bunny or chicken, and visit a working beehive. Classes are offered year-round for preschoolers through adults. Admission can be purchased online. Admission includes access to the Fun Fields, with a pedal cart track, farm animals, swings, a tube slide, and a bouncy town (weekends only), though these attractions are limited due to COVID-19. You can also purchase seasonal tickets on its website for a better value. The farm is open daily. Be sure to call for the most up-to-date strawberry picking automated messages.
28700 Main Road (Route 25)
631-734-6441
Strawberries are grown without sprays at Wickham's Fruit Farm. Visitors can pick ripe berries or stop by the farm stand for a pint or quart of harvested berries. The farm stand also sells fresh apple cider doughnuts throughout the week, as well as apple cider pressed with the oldest cider press on Long Island. It is known for its homemade pies and preserves. Strawberry picking starts in June. The farm is closed on Sundays.
2287 Sound Avenue
631-727-1786
The Rottkamp family has been serving Long Island farm-fresh produce for more than 100 years. Strawberry picking season begins in June. Visitors can expect fresh, ripe strawberries, as well as seasonal fruits and vegetables. Plan to wear both a mask and gloves while picking. Visit Rottkamp's on Saturdays and Sundays for strawberry picking.
RELATED: Nature Centers Sure to Delight Long Island Kids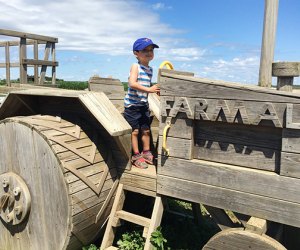 After picking, enjoy the wooden tractor and other play structures at Windy Acres Farm in Calverton.
3810 Middle Country Road
631-727-4554
Windy Acres Orchard offers strawberry picking, plus other pick-your-own berries, pumpkins, and vegetables available throughout the growing season. The farm has a large stand with produce, fresh baked goods, honey, and flowers. Admission is FREE. A large picnic area is available, and kids enjoy the play area with wooden structures in the shape of a train, tractor, pirate ship, and truck. The farm is open seven days a week. Check its Facebook page for current attractions and events.
5629 Sound Ave
631-722-4740
Known for its lovely views, this farmers market offers strawberry picking in early June. Masks must be worn and hands washed before and after picking. The farm is open daily, and an on-site market sells local fruits, honey, jam, bread, and pies. Corn is roasted daily, and there is plenty of parking.
RELATED: The Best Animal Farms and Petting Zoos on Long Island

Meet the Strawberry Queen at the Mattituck Lions Strawberry Festival.
Strawberry Festivals on Long Island in 2021
1175 Route 48
Wednesday, June 16-Sunday, June 20
At the peak of strawberry season and concluding on Father's Day, this annual festival serves shortcake, strawberries dipped in chocolate; strawberries served just about any way you can imagine. The festival also offers rides, live music, and more than 100 arts-and-crafts vendors. To top it off, all proceeds benefit nonprofits on the North Fork. Admission varies based on festival days.
4755 Merrick Road
Saturday, June 19
Enjoy Long Island strawberries, shortcake, and other treats. Past festivals had visitors clapping along to banjo music and taking tours of Old Grace Church, Delancy Floyd-Jones Free Library, and the Elbert Floyd Jones Cottage. There are raffles, craft vendors, and FREE face painting for kids. Festival events and performances are subject to change due to Coronavirus guidelines.
Photos courtesy of the farms
This post, originally published in 2017, is updated annually.