Strawberry Picking on Long Island: Best Farms and Strawberry Festivals for Families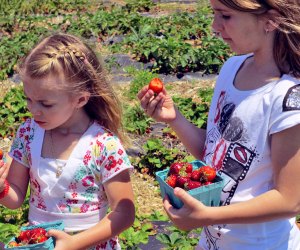 5/7/23
- By
Thien August
Long Island farms are ripe for strawberry picking this spring. Deciding where to go can be a challenge, so we've handpicked our favorite farms for strawberry picking on Long Island to share with you.
Harvesting your own fruit is not only fun, but it connects you with your food and supports local farmers. And it doesn't get fresher than picking fruit right off the vine. This is especially important when it comes to strawberry picking on Long Island, where strawberries tend to be sweeter and more delicate than most grocery-store varieties; they also have a shorter shelf life.
Check out our Guide to Long Island Farms for more places where you can pick your own fruit and vegetables and even meet some farm animals at local petting zoos.
Sign up for our FREE newsletters to get posts like this delivered to your inbox.
Many of these strawberry-picking experiences are dependent on fruit availability and the weather, so call ahead. Once the berries are ripe, they'll only last for a couple of weeks.
When Is Strawberry Picking Season on Long Island?
Strawberry-picking season on Long Island lasts from late May until early July, so get your baskets ready to go!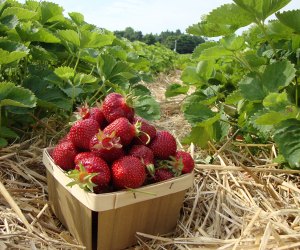 Strawberries are ripe for picking in mid-June at Condzellas's Farm.
Where to Go Strawberry Picking on Long Island
Condzella's is a third-generation farm offering nine varieties of strawberries. The Condzella family touts its sustainable farming practices, which include selling crops locally, rejecting synthetic insecticides, and donating unused crops to local food shelters. Strawberry picking is expected to begin in mid-June. Follow the farm's Facebook page for announcements.
RELATED: The Best Locations for a Family Picnic on Long Island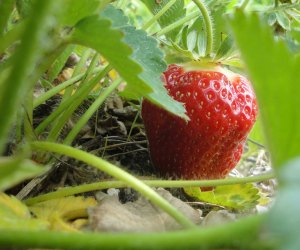 Lewin Farms says it is the first strawberry picking farm on Long Island.
Lewin Farms says it was the first farm to offer strawberry picking on Long Island. It has been around for four generations. The farm has its own stand with more than 20 varieties of fresh fruits and vegetables. Try your hand at blueberry and peach picking as well as other summer fruits and veggies. Its pick-your-own season runs annually from Memorial Day to Labor Day.
Glover Farms strives to provide an interactive strawberry-picking experience for visitors. Stop by during strawberry picking season on Long Island to pick a pint or two of fresh berries and stay to feed the goats, see the chickens, and check out the farm equipment. The strawberry picking season begins in late spring, and strawberry picking is available daily in-season.
Strawberry picking season will be underway in June. Find blueberries and raspberries in July, as well as blackberries in August. The farm is open for strawberry-picking fun 7 days a week. Patty's has an on-site ice cream shop serving fresh flavors like mint and strawberry fields. It is known for its kind staff and the abundance of butterflies, thanks in large part to its flower business. Owner Patty DiViello is the daughter of farmers Edward and May Harbes, whose Harbes Family Farm and Vineyards is across the street and offers a barnyard, farmers market, and country cafe.
Strawberries are grown without sprays at Wickham's Fruit Farm. Visitors can pick ripe berries or stop by the farm stand for a pint or quart of harvested berries. The farm stand also sells fresh apple cider doughnuts throughout the week, as well as apple cider pressed with the oldest cider press on Long Island. It is known for its homemade pies and preserves. Strawberry picking starts in June, as does cherry picking. The farm is closed on Sundays.
The Rottkamp family has been serving Long Island farm-fresh produce for more than 100 years. Strawberry picking season begins in June. Visitors can expect fresh, ripe strawberries, as well as seasonal fruits and vegetables. Visit Rottkamp's on Saturdays and Sundays for strawberry picking.
RELATED: Nature Centers Sure to Delight Long Island Kids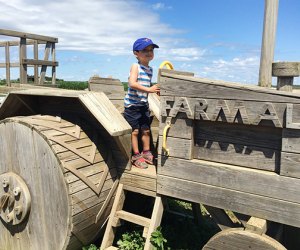 After picking, enjoy the wooden tractor and other play structures at Windy Acres Farm in Calverton.
Windy Acres Orchard offers strawberry picking plus other pick-your-own berries, pumpkins, and vegetables throughout the growing season. The farm has a large stand with produce, fresh baked goods, honey, and flowers. Admission is FREE. A large picnic area is available, and kids enjoy the play area with wooden structures in the shape of a train, tractor, pirate ship, and truck. The strawberry-picking farm is open seven days a week. Check its Facebook page for current attractions and events.
Known for its lovely views, this farmers market offers strawberry picking in early June. The farm is open daily, and an on-site market sells local fruits, honey, jam, bread, and pies. Corn is roasted daily, and there is plenty of parking.
RELATED: The Best Animal Farms and Petting Zoos on Long Island

Meet the Strawberry Queen at the Mattituck Lions Strawberry Festival.
Strawberry Festivals on Long Island in 2023
Saturday, June 10-Sunday, June 11, 2023
The Strawberry Festival at Lenny Bruno Farms features a variety of family-friendly activities including food trucks, live music, artisan vendors, face painting, children and teen activity vendors, u-pick, educational hay rides, petting zoo, jumbo garden games, and more.
Saturday, June 17, 2023
Enjoy Long Island strawberries, shortcake, and other treats. Past festivals had visitors clapping along to banjo music and taking tours of Old Grace Church, Delancy Floyd-Jones Free Library, and the Elbert Floyd Jones Cottage. There are raffles, craft vendors, and FREE face painting for kids.
Wednesday, June 14-Sunday, June 18, 2023
At the peak of strawberry picking season, and concluding on Father's Day, this annual festival serves shortcakes, strawberries dipped in chocolate, and strawberries served just about any other way you can imagine. The festival also offers rides, live music, and more than 100 arts-and-crafts vendors. To top it off, all proceeds benefit nonprofits on the North Fork. Admission varies based on festival days.
Sunday, June 18, 2023
Sponsored by the Wainscott Sewing Society, locals look forward to this annual event and partaking in delicious strawberry shortcakes. Adults are $10, children $5. It's best to arrive on time or you run the risk of the festival running out of shortcakes.
Photos courtesy of the farms
This post, originally published in 2017, is updated annually.
Sign up for the Mommy Poppins Newsletter today!