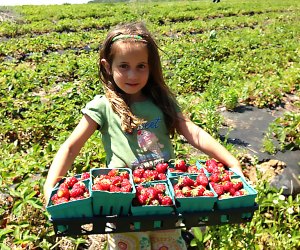 Pick Your Own Strawberry Farms and Festivals on Long Island
Long Island is ripe with places where families can pick their own strawberries. Deciding where to go can be a challenge, so we've handpicked a few of our favorites.
Harvesting your own fruit is not only fun, but it connects you with the source of your food and supports local farmers. And it doesn't get fresher than picking fruit right off the vine. This is especially important for Long Island strawberries, which are sweeter and more delicate than most grocery-store varieties, and have a shorter shelf life.
Many of these farms are located on Long Island's East End, but there are a few festivals in Nassau or western Suffolk counties for families who don't want to travel quite as far. Either way, call ahead or check the farms' websites to confirm that fields are open and the strawberries are ripe.
Check out our guide to Long Island farms for more places where you can pick your own fruit and vegetables, and even meet some farm animals.
Sign up for our FREE newsletters to get posts like this delivered to your inbox.
Pick Your Own
Condzella's Farm — Wading River
6233 North Country Road
631-929-4697
Condzella's is a third-generation farm offering nine varieties of strawberries. The Condzella family is proud of its sustainable farming practices that include selling crops locally, rejecting the use of synthetic insecticides, and donating unused crops to local food shelters. Pick-your-own strawberries are available for U-pick beginning the second week in June. The farm is open daily from 9am to 5pm.
Glover Farms — Brookhaven
633 Victory Avenue
631-286-7876
One of the first U-pick strawberry farms on Long Island, Glover Farms strives to provide an interactive experience for visitors. Stop by during strawberry season to pick a pint or two of fresh berries and stay to feed the goats, see the chickens, and check out the farm equipment. Strawberry season begins in June and U-pick is available every day from 10am to 6pm.
RELATED: The Best Locations for a Family Picnic on Long Island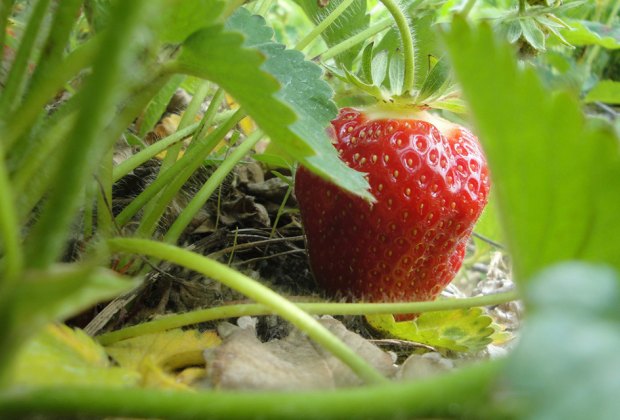 Lewin Farms says it is the first pick-your-own farm on Long Island.
Lewin Farms — Calverton
812 Sound Avenue
631-929-4327
Lewin Farms says it was the first pick-your-own farm on Long Island. It has been around for four generations. The farm has its own stand with more than 20 varieties of fresh fruits and vegetables. While there, stop by the corn stand for some of the sweetest around. Pick-your-own strawberries are available beginning Memorial Day weekend through June; hours are 9am to 4:30pm. While you are there, check out the corn maze, where kids of all ages can enjoy a new, challenging design each year. Call ahead for availability and days the fields are open.
Patty's Berries and Bunches — Mattituck
410 Sound Avenue
631-298-4679
Pick-your-own here begins around June 5. Strawberries are sold by the quart. You can also find blueberries and raspberries in July, as well as blackberries in August. There is a $6-per-person entry fee that includes one container's worth of berries. Pick-your-own is open seven days a week from 9am to 5:30pm. Patty's has an ice cream shop with flavors like mint and Strawberry Fields. It is known for its kind staff and butterflies. Patty DiViello is the daughter of farmers Edward and May Harbes. After picking at Patty's, venture over to Harbes Family Farms and Vineyards across the street (715 Sound Avenue; 631-298-0800). The farm offers a barnyard, farmer's market, and country cafe.
Rottkamp's Fox Hollow Farm — Baiting Hollow
2287 Sound Avenue
631-727-1786
The Rottkamp family has been serving Long Island farm-fresh produce for more than 100 years. Pick-your-own strawberries are available in early June. Visitors can expect fresh, ripe strawberries, as well as seasonal fruits and vegetables. Visit Rottkamp's on Saturdays and Sundays beginning in June, from 10am to 4pm.
Sound Shore Farms and Market — Riverhead
5629 Sound Ave
631-722-4740
Known for its lovely views, this farmer's market has U-pick strawberries available beginning Mother's Day weekend. The farm is open each day from 8:30am until 6pm. It sells local fruits, honey, jam, bread, and pies. Strawberries are $2.50 to $2.85 per pound. Corn is roasted daily, and there is plenty of parking.
Wickham's Fruit Farm — Cutchogue
28700 Main Road (Route 25)
631-734-6441
Strawberries are grown without sprays at Wickham's Fruit Farm. Visitors can pick ripe berries or stop by the farm stand for a pint or quart of harvested berries. The farm stand also sells fresh apple cider doughnuts throughout the week, as well as apple cider pressed with the oldest cider press on Long Island. It is known for its homemade pies and preserves. Pick-your-own strawberries start in June. The farm is open from 9am to 4pm. Tours of the farm, including bushels for picking and wagon rides around the field, are available for groups of 20 or more. They are $10 per person, with children younger than 5 picking for FREE. The farm is closed on Sundays.
RELATED: Kid-Friendly Wineries on Long Island's East End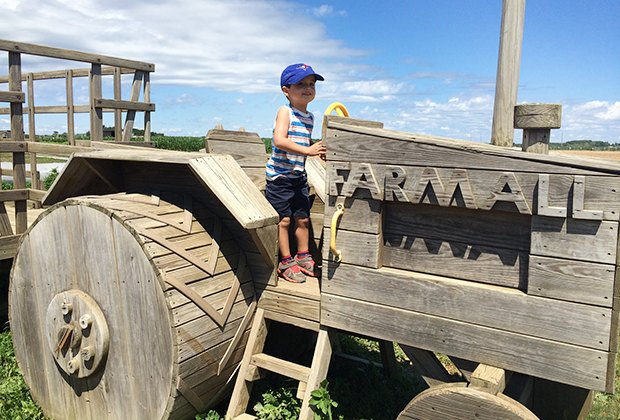 After picking, enjoy the wooden tractor and other play structures at Windy Acres Farm in Calverton.
Windy Acres Farm — Calverton
3810 Middle Country Road
631-727-4554
Windy Acres Farm offers pick-your-own strawberries beginning the week after Mother's Day. Other pick-your-own berries, pumpkins, and vegetables are available throughout the growing season. The farm has a large stand with produce, fresh baked goods, honey, and flowers. Admision is free. A large picnic area is available, and kids will enjoy the play area with wooden structures in the shape of a train, tractor, pirate ship, and truck. The farm is open seven days a week from 9am to 6pm. Check its Facebook page for festival and event information.
Organic Pick-Your-Own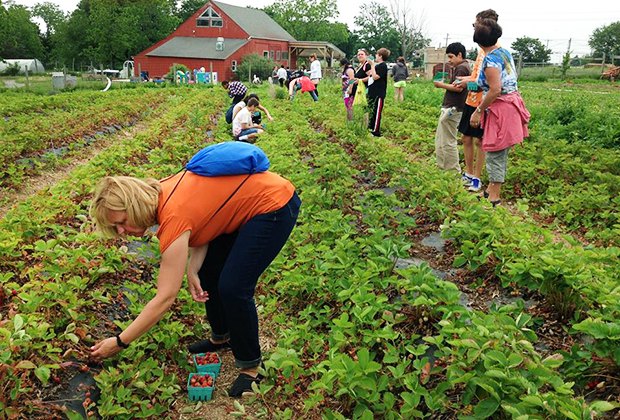 Garden of Eve Organic Farm says its strawberries ripen earlier than others on Long Island.
Garden of Eve Organic Farm — Riverhead
4558 Sound Avenue
631-722-8777
According to owner Eve Kaplan-Walbrecht, Garden of Eve's strawberries tends to ripen early; this year's crop could be ready to pick the first week of June. In addition to strawberry picking, young visitors can play on the playground, pet a bunny or chicken, and visit a working beehive. Classes are offered year-round for preschoolers through adults. Admission of $5 per person includes access to the Fun Fields, with a pedal cart track, farm animals, swings, a tube slide, and a bouncy town (weekends only, noon to 4 pm). You can also purchase seasonal tickets on its website for a better value. The farm is open every day from 9am to 6pm. It stays open until 9pm in the summer. Be sure to call for the most up-to-date pick-your-own automated messages.
Strawberry Festivals
Early June is strawberry season on Long Island. Here are four top strawberry festivals listed in chronological order.
Nassau County Strawberry Festival — Bellmore
2351 Jerusalem Avenue
Thursday, May 30-Sunday, June 2
The festival features rides, live bands, and other acts, as well as strawberry goodies on sale, including shortcake, strawberry cheesecake, chocolate-covered strawberries, and strawberry daiquiris. Carnival rides and games are available with a pay-one-price option. Check the event's website for an online carnival coupon.
Strawberry Fair at Benner's Farm — East Setauket
56 Gnarled Hollow Road
631-689-8172
Saturday, June 8-Sunday, June 9
The Benners do the picking for you, so you can indulge in strawberry shortcake, strawberry ice cream, strawberry jam, and strawberries dipped in chocolate. Enjoy some wholesome fun with old-fashioned games and live music. While on the farm, kids have a chance to hold baby chicks, ducks, bunnies, and feed the lambs and goats. The cost is $8 per adult and $6 per child. There is lemonade with strawberries, homemade ice cream available by the quart, and "the biggest swing on Long Island." Owner Bob Benner says "we are a small, family-owned, 15-acre farm. People are comfortable here because it isn't overpowering."
Mattituck Lions Club Strawberry Festival — Mattituck
1175 Route 48
631-298-2222
Thursday, June 13-Sunday, June 16
At the peak of strawberry season and concluding on Father's Day, this annual festival serves up shortcake, strawberries dipped in chocolate; indeed, strawberries served just about any way you can imagine. The festival also offers rides, live music, and more than 100 arts-and-crafts vendors. To top it off, all proceeds benefit nonprofits on the North Fork. Admission is $6 per person 5 and older. Pay-one-price ride tickets are available for purchase online. Dads are admitted FREE on Father' Day when accompanied by a paid child.
Historical Society of the Massapequas' Strawberry Festival — Massapequa
4755 Merrick Road
516-799-2023
Saturday, June 15
FREE admission
Enjoy Long Island strawberries, shortcake, and other treats. Clap along to banjo music provided by the Banjo Rascals and take a tour of Old Grace Church, Delancy Floyd-Jones Free Library, and the Elbert Floyd Jones Cottage. There are raffles, craft vendors, and free face painting for kids.
Photos courtesy of the farms. This post was originally posted in 2017.