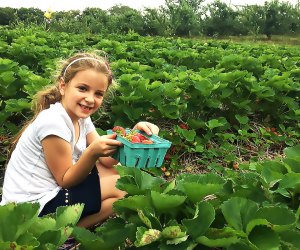 Strawberry Picking Near the Hudson Valley
With spring in full swing, it's almost time to head out to the Hudson Valley's pick-your-own farms to gather some sweet, sun-ripened strawberries. There are plenty of places throughout the Hudson Valley where kids of all ages can try their hand at picking, and we've rounded up a few of our favorites here.
The season usually starts around the beginning of June, but be sure to call ahead first. Not into picking them yourself? We've also included a few strawberry festivals you can check out instead!
Sign up for our FREE newsletters to get posts like this delivered to your inbox.
Strawberry Picking Farms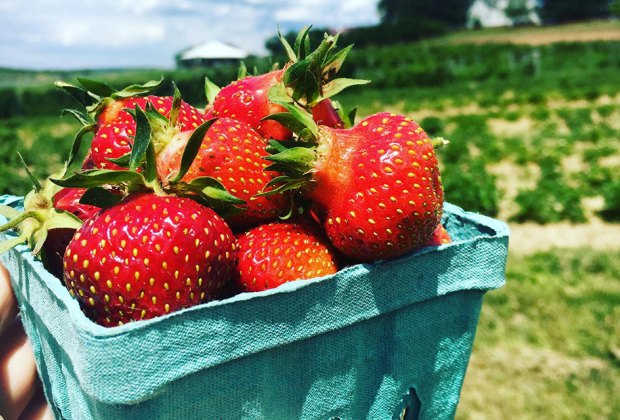 Pick baskets full of farm-fresh berries at Fishkill Farms. Photo courtesy of the farm
Dutchess County
Fishkill Farms – Hopewell Junction
Head to Fishkill Farms, about 45 minutes from central Westchester, to find strawberries starting in June, as well as other fruits and organic vegetables throughout the summer. Call ahead to find out what's ripe for picking when you are ready to plan your trip. PYO is offered daily from 9am–5pm.
Greig Farm – Red Hook
For over 60 years, this farm, which is about an hour and a half from central Westchester, has been offering PYO fruits and vegetables—and strawberry harvesting begins in June. You'll also find goats, a market where you can have breakfast and lunch, and a daily farmer's market.
Mead Orchards – Tivoli
Recreational harvesters at Mead Orchards can pick their own strawberries starting either the first or second week of June, depending on the harvest. (They'll have a better idea once May hits.) PYO is offered daily.
RELATED: Petting Zoos and Farms for Animal Fun with Westchester Kids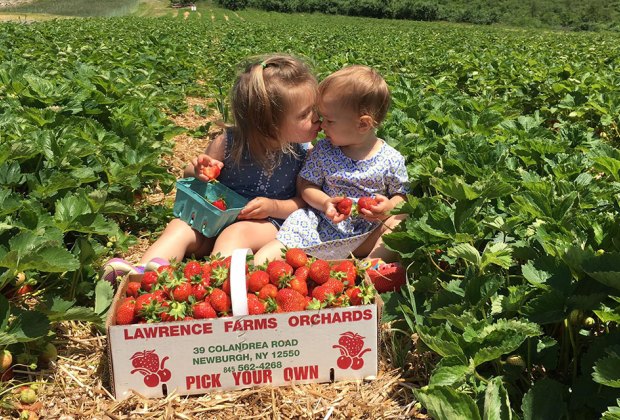 Happiness is picking strawberries! Photo courtesy of the farm
Orange County
Lawrence Farm Orchards – Newburgh
Just an hour from central Westchester, Lawrence Farm Orchards is open every day from 9am–4pm during the picking season, which includes strawberry picking starting in June. After picking, kids can play in the "Little Village"—a collection of kid-sized playhouses modeled after a small town (think: a school house, etc.).
Ochs Orchard – Warwick
Ochs offers beautiful views and strawberry picking beginning in June (weather permitting). Their suggestion: Bring a lunch and enjoy the scenery from the top of the hill. There is also a small petting zoo and large farm stand.
Ulster County
Dressel Farms – New Paltz
Head to the strawberry patch at this New Paltz family farm starting around mid-June from 8–11:30am daily. Plus: be sure to scoop up some of their homemade hard ice cream.
Kelder's Farm – Kerhonkson
Take a day trip to this Ulster County farm—it's about an hour-and-a-half from central Westchester—and you'll find not only strawberry picking, but tons of fun things to do, including mini-golf, a petting farm, playground, and even a jumping pillow. Plus, you can check out the huge Guinness Book of World Records–winning garden gnome (at one time, it was the tallest in the world), and pick up eggs, meats, and other produce in the farm's market.
Strawberry Festivals
82nd Annual Strawberry Festival – Chappaqua
Saturday, June 1, 2019
The Strawberry Festival at the Church of St. Mary the Virgin in Chappaqua is now in its 82nd year! Expect strawberry-inspired foods, as well as a petting zoo, games, crafts, live music, and more.
Strawberry Festival – Beacon
Sunday, June 9, 2019
Head to the Beacon Riverfront Park in Beacon starting at noon for the annual Strawberry Festival run by the Beacon Sloop Club. You'll find live music, kids activities, and, of course, strawberry-themed foods.
RELATED: 30 Things To Do with Westchester Preschoolers This Spring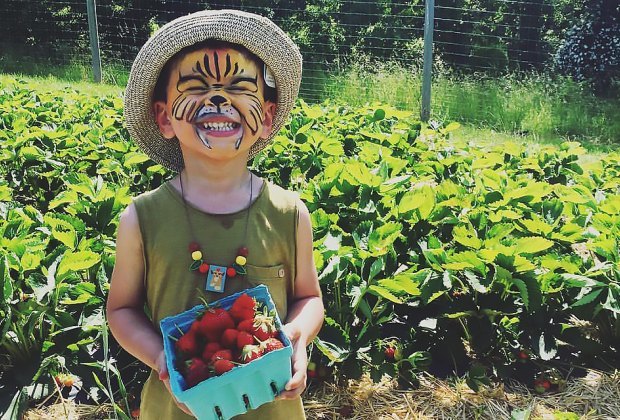 Fishkill Farms' Strawberry Jammin' Festival includes an opportunity to pick your own berries. Photo courtesy of the farm
Strawberry Festival – Hopewell Junction
Saturday, June 15, 2019
Families visiting Fishkill Farms can enjoy a fun strawberry festival, complete with strawberry-themed foods (like strawberry shortcake), wagon rides, live music, crafts—plus the chance to go strawberry picking. The event runs from 10am–4pm.