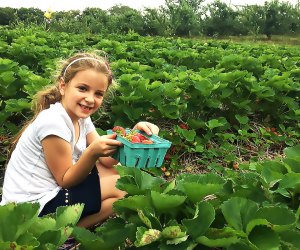 Strawberry Picking Near the Hudson Valley
With spring in full swing, strawberry picking season has arrived at the Hudson Valley's pick-your-own farms. There are plenty of places throughout the region for kids of all ages to try their hand at strawberry picking. If you want to pluck sweet, sun-ripened berries fresh from the vine with your family, consider venturing out to one of these seven local spots.
The season usually starts in June, but be sure to call ahead or click through to each farm's website for current picking conditions and schedules.
Please note, while we've tried to highlight these farms at their best, there are many changes and limitations due to the coronavirus. Additionally, many of these strawberry picking experiences are dependent on fruit availability and the weather, so call ahead. The strawberry season is kicking off a bit later this year, with most farms opening in mid-June. Once the berries are ripe, they'll only last for a couple of weeks. If we're lucky, strawberry picking might continue into early July. Though there are usually a handful of local strawberry festivals, they have all been canceled this year.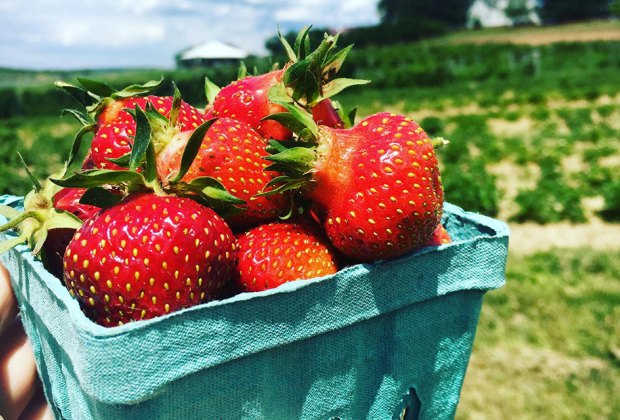 Pick baskets full of farm-fresh strawberries at Fishkill Farms. Photo courtesy of the farm
Head to Fishkill Farms for strawberry picking starting in June, as well as other fruits and organic vegetables throughout the summer. Call ahead to find out what's ripe for picking when you are ready to plan your trip. In 2020, reservations are required, plus adherence to extra safety protocols.
For more than 60 years, Greig farm has offered pick-your-own fruits and vegetables—and strawberry picking begins in June. You'll also find goats, a market where you can have breakfast and lunch, and a daily farmers market. Another fun, socially distant option: The staff has carved five miles of trails for running and walking around the property. Visit the website for info on COVID-19 safety precautions and rules.
Strawberry picking at Mead Orchards is now underway. The hours for pick-your-own vary, so be sure to call ahead, and read Mead's COVID-related precautions before venturing out.
RELATED: Petting Zoos and Farms for Animal Fun with Westchester Kids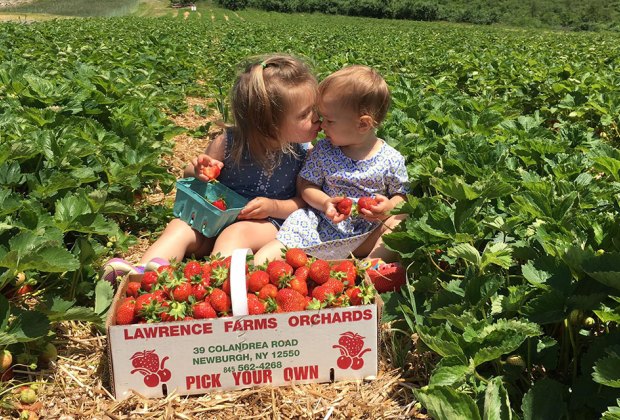 Happiness is strawberry picking with your loved ones at Lawrence Farms Orchards! Photo courtesy of the farm
Lawrence Farms Orchards plans to open for its strawberry picking season in mid-June. New safety protocols will be announced closer to its opening date on its social media channels.
Ochs always offers beautiful views, and strawberry picking usually begins in June, though an opening date for 2020 has not yet been announced. Its berries are getting close to being ready for pick-your-own strawberry season. Follow the farm on Facebook for updates on its season-opening plans. Aside from strawberry picking, you can visit the on-site farmers market for more fresh-picked goodness.
While strawberries are available at Dressel Farm's roadside stand right now, it's unclear whether the farm will open for pick-your-own at all in 2020. Visit its website in mid-June for an update on the season.
Take a day trip to this Ulster County farm, and you'll find not only strawberry picking, but also a huge Guinness Book of World Records–winning garden gnome (at one time, it was the tallest in the world), and pick up eggs, meats, and other produce in the farmers market. Strawberry picking requires reservations this season, so book your slot in advance.
The post originally published in May 2017.