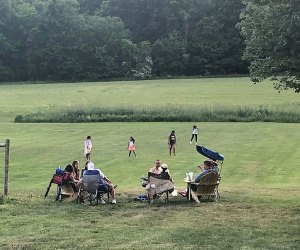 Family-Friendly Vineyards and Hard Cider Houses in Westchester and the Hudson Valley
While apple picking season is winding down, the rich orchards of Westchester and the Hudson Valley are more than one-trick ponies. Many of the orchards we flock to for farm fun also feature vineyards and hard cider houses. Some are particularly appealing to families, making a visit a fun outing for all ages.
Below we've rounded up 10 destinations for hard apple cider and wine that are suitable for kids. Once you've sampled your way through Westchester and the Hudson Valley, be sure to check out our roundup of family-friendly wineries on Long Island. We've also got plenty more seasonal picks in our Fall Fun Guide.
While we've confirmed these destinations are operating this season, but sure to click through to each venue for current operating hours and social distancing guidelines. Please remember to pack face masks, as you'll need them when you're not eating or drinking, and be sure to practice social distancing during your visit.
RELATED: Family-Friendly Vineyards and Wineries in New England

Dressel Farms offers plenty of farm fun, plus homemade ice cream, and it's also home to the Kettleborough Cider House.
Families have much to enjoy at Dressel Farms, which offers pick-your-own apples and pumpkins, ice cream, a farm stand, and hard cider for the grown-ups at its Kettleborough Cider House. Seating at the taproom's outdoor patio is first-come, first-served on weekends. Ice cream is homemade, and many flavors are created from produce grown on the farm. The apple cider donut flavor is a must-try. The apple picking season runs through November 1, subject to availability. Hayrides are not offered in 2020.
Book your table in advance to enjoy the outdoor "Cider Garden" at Angry Orchards. Small bites are served alongside a selection of hard ciders. Orchard tours can also be booked. For a fun seasonal perk, Angry Orchard is hosting a pair of Halloween movie nights outdoors on Thursday, October 29, and Friday, October 30, when it screens Beetlejuice and Hocus Pocus, respectively.
Loaded with seasonal fun, Apple Dave's has been a mainstay for seasonal fun since its founding in 1949. It offers apple and pumpkin picking, live music, farm animals, cider donuts, a farm store, and a Halloween store. Adults can enjoy cider, beer, wine, and cocktails. Everyone appreciates the views of the open fields, mountains, and a lake.
Traditionally the site of raucous annual fall festivals, Harvest Moon Farm & Orchard offers loads of attractions on fall weekends, including apple-picking, hayrides, pony rides, bouncy houses, bungee jumping, live music, food, and delectable cider donuts. You can also find Hardscrabble Cidery here. A variety of brews, all crafted from apples grown on-site, are available. While festival events have been postponed for 2020, stop and say hello to the farm animals, and pop into the farm market for treats, fall decor, mums, donuts, and hard cider to-go. The pumpkin patch is open for picking.
In addition to wine tastings, this venue spices up the fun with pasta nights and live acoustic music amid outdoor seating. Family-style meals get rave reviews. A "picnic fridge" is stocked with wine tastings to-go, so you can grab your selection and find a quiet spot to spread a picnic blanket and enjoy it alfresco.
RELATED: Pick-Your-Own Guide for Westchester and Hudson Valley Families

Thompson's Cider Mill is selling its hard ciders at a pair of Westchester locations this season.
Under normal circumstances, Thompson's Cider Mill offers complimentary demonstrations of its cider-making process on weekends in season, blending varieties of apples from its orchard. While visits to the mill have been canceled for 2020, cider is still being pressed and is available for purchase. Hard cider is sold on-site on weekends, while the mill's sweet cider, apples, and apple cider donuts are sold at nearby Fable Farm.
This spacious setting in Dutchess County allows ample room for children to relax and spread out while adults sample the assortment of wines. Food trucks regularly take up residence on the weekends. Picnic tables are available on a first-come, first-served basis. Visitors are welcome to pack a picnic and blanket or folding chairs to find a spot to spread out. Millbrook Vineyards also offers live music, lawn games, and other attractions.
Situated in Ulster County, this sprawling orchard offers pick-your-own seasonal produce in summer and fall, a farm stand, and a "Farm Bar" serving wine, beer, and cocktails in addition to hard cider. Family-friendly events populate the calendar from time-to-time, too.
This multifaceted destination offers apple-picking in the fall, a grill, a winery, and hard cider. More than 60 different types of apple trees are grown on-site. During the 2020 season, outdoor dining is available at Doc's Bar & Grill, which serves hard cider, wine, sangria, sandwiches, pizza, burgers, and more.
Known for its apple and pumpkin picking, corn maze, cider donuts (with a full view of the machine that makes them), and farm market, Wilkens is also home to White Hill Vineyard. While the 2020 season has forced the winery to close to visitors, you purchase its blends at the farm's market. Other attractions are open. Purchase tickets for the corn maze at the farm market, bakery, or the pick-your-own pavilion.