Where To Go Apple Picking With Kids in Westchester and the Hudson Valley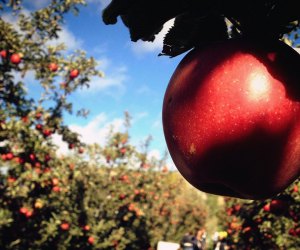 Apple picking season is here, and many Westchester and Hudson Valley farms celebrate with kid-friendly entertainment, including live music, corn mazes, and hayrides.
I used to look forward to apple picking every year as a child, and now I have just as much fun watching my little ones run through the orchards—not to mention indulging in fresh-pressed apple cider and hot, delicious cider doughnuts.
So, get your apple recipes ready and read on for our top picks for apple picking with kids in Westchester and the Hudson Valley. Find more fun in our Pick-Your-Own Guide to Wertchester farms.
This season it's especially important to contact the farms before heading out to check on current COVID-19 prevention protocols. Additionally, many of these spots are family-owned and operated, and hours may change with little or no notice.
Looking for even more fun fall activities? Sign up for our newsletters.
Where To Go Apple Picking in Westchester County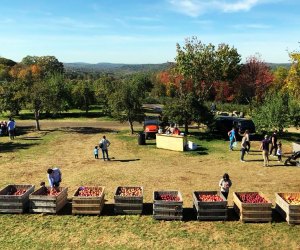 Apples are available straight from the tree or from prepicked crates at Harvest Moon Farm & Orchard. Photo courtesy of the farm
This family-run farm traditionally allows visitors to pick their own apples daily beginning in September, though official dates for 2021 haven't been announced as of mid-August. The farm also offers homemade doughnuts, cider, produce, and fresh eggs. Note: Dogs are no longer allowed on the premises.
With close to 20 different varieties of apples as well as pumpkins, this family-run farm has lots of fall fun, with apple picking starting in early September. The original barn now serves as a fruit and produce stand. You can also enjoy fresh pies, doughnuts, and more, all made on the farm. Note: The farm only accepts cash or checks.
Head to the farm to get your bags and rentable picking poles and catch a hayride to the apple orchard. The farm offers more than a dozen varieties of apples available at different times throughout the season. Picking this year is likely to start on Sept. 4, so be sure to check the schedule to see when your favorites are ready. Pumpkin picking is available later in the season, and the farm also offers cut-your-own Christmas trees starting in late November. Its bake shop and markets offer freshly made pies, cookies, apple cider doughnuts, strudel sticks, and more, as well as snacks, and seasonal crafts and gifts. If you're planning a mid-week visit, note that the farm is closed on Tuesdays.
Where To Go Apple Picking in Rockland County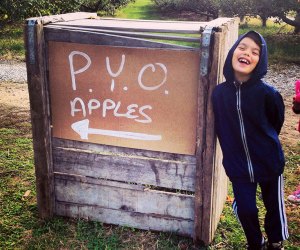 Apple picking and more fall fun await at Dr. Davies Farm. Photo by Matt Nighswander
Dr. Davies offers 4,000 trees spread over 55 acres, weekend hayrides drawn by tractor-trailers, a corn maze, as well as homemade doughnuts, pies, and more. Bring cash, as credit cards are not accepted. Apple picking starts on September 4, 2021—and you'll want to make reservations, which can be done online, since walk-ins are limited.
This farm offers a variety of apples throughout the season, with picking starting on September 11. Don't forget to visit the farm store and bakery, which offer tons of goodies to choose from.
Where To Go Apple Picking in Orange County
Formerly Applewood Orchards, Apple Dave's was renamed for its founder, David Hull, in 2015. In addition to delicious apples and pumpkins, there is live music, chickens to check out, and fresh apple cider donuts. Activities are free, and you only pay for what you pick, with the picking starting on September 6.
Apple picking starts in August at this Newburgh farm, which offers more than 15 varieties from which to choose. Along with the picking, kids can have fun in the playhouses that make up the "Little Village." The entrance fee is $5, but if you plan on heading over often you can snag a season pass. You'll also find apple cider doughnuts, apple cider, and lots of other tasty treats.
Instead of taking a wagon ride out to the orchards, drive your car up to the tree of your choice once picking begins on September 4. On weekends, check out the apple maze, pony rides, a family-friendly haunted house, pumpkin patch, and more. The farm offers 14 different types of apples, so be sure to check its ripening schedule to find out when your favorites will ready.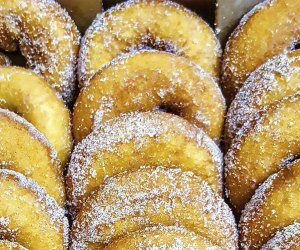 Indulge in homemade apple cider doughnuts at Ochs Orchard.
There are lots of different varieties of apples here from which to choose—from gala in early September to Golden Delicious at the beginning of October. Along with a market, there's cider made on the premises. While an opening day for the 2021 apple season hasn't been announced as of mid-August, checking the farm's Facebook page for regular orchard updates.
Pennings Orchard offers more than a dozen varieties of apples and a pumpkin patch and opens August 28 in 2021. Families can enjoy weekend activities, including a petting zoo, pumpkin picking, and more.
Where To Go Apple Picking in Dutchess County
This 122-acre farm offers extensive pick-your-own options, including apples, pumpkins, squash, and more. Barton, which is currently offering some early apple varities to choose from, boasts tons of activities including a corn maze, haunted house, bounce house, slides, and train rides. Read our profile of Barton Orchard for more details.
RELATED: Petting Zoos and Farms for Family Fun with Westchester Kids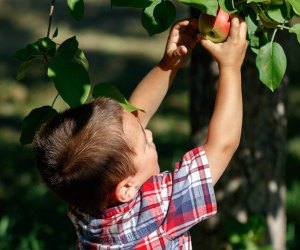 Fishkill Farms offers a huge variety of apples, and plenty of other treats. Photo by Diana Natal for the farm
There are lots of different types of apples at this 270-acre Hopewell Junction farm, all of which are either organic or eco-certified. You'll also find doughnuts, ice cream, and more. Reservations must be made in advance, and can be done on the farm's website.
Apple picking at Greig Farm kicks off at the end of August with pumpkins available later in September. Year-round, check out its Hudson Valley Farmers Market, where you can grab lunch before (or after) a day of picking.
There are several different varieties of apples ready to be picked at this 100-plus-acre farm. Events are held throughout the year, including art classes for kids, so keep an eye on the farm's website or Facebook page. The 2021 season will likely start in late August; here's a full rundown of what to expect this fall at the farm.
This post was originally published in September 2013. Writer Marisa Iallonardo contributed to this 2021 update.