6 Easy Apple Recipes: Making the Most of Apple Picking Adventures
9/9/21
- By
Audrey Trieschman
What to do with all those apples? When you've gone apple picking with the kids, it's easy to come home with bushels of apples, and hard to make a dent in that mound. That's why we at Mommy Poppins decided to pull together our favorite family apple recipes for using up all that red, green, and gold goodness. These easy apple recipes are specially written so that parents can do the chopping and leave the rest of the mixing, stirring, and baking up to the kids!
Find more yummy (and quick) things to make with or for kids in our Easy Recipes Guide.
Wait! You haven't gone apple picking yet? We can show you where to go apple picking near Boston, Connecticut, New York, Westchester, Long Island, Philadelphia, New Jersey, Chicago, Washington, DC, Atlanta, and Los Angeles. Time to get picking and baking!
(Definitely recommend investing in a solid apple corer, and possibly an apple slicer, to make these apple recipes a bit easier.)

Nutella, mini marshmallows, raisins, and peanuts are among our favorite apple ring toppers. Photo by Audrey Trieschman
Easy Apple Recipes Kids Can Make Themselves
All parents need to do is prep the apples (peel, cut, or core) and then help with the oven—kids can do the rest in this apple recipe.
1. Afterschool Apple Rings
Ingredients
3 large apples
A variety of toppings (here are some ideas): 1-2 kinds of nut or seed butter (peanut, almond, soy butter, or Nutella all work well); cream cheese; peanuts; sunflower seeds; chocolate chips; raisins or Craisins; mini marshmallows; shredded coconut; crumbled pretzels or chopped pretzel sticks; crumbled Oreos
Instructions
Parents: Core and slice apples widthwise to make 1/4 wide rings. Put toppings in small bowls.
Kids: Go to town decorating the rings. Have them start by spreading each ring with a nut or seed butter or cream cheese to help the rest of the toppings stick.
RELATED: No-bake Dessert Recipes for Kids

This easy apple recipe is even toddler friendly as the carmel is cool, not hot! Photo by the author
2. Inside-Out Caramel Apples
Tip: These are great for getting out a stubborn loose tooth! If your kitchen is chilly, you may want to warm the unwrapped caramels in the microwave for 20-25 seconds, to make them more pliable (but not too hot for little fingers).
Ingredients
4 firm apples
2 cups caramel squares
Lollipop or popsicle sticks
Instructions
Parents: Use a melon baller to hollow out the core of the apples.
Kids: Stuff the hollow apples with caramel squares. Really cram them in there! Then put a stick in the middle of the apple. Now you've got an inside-out caramel apple that's hiding a sweet secret.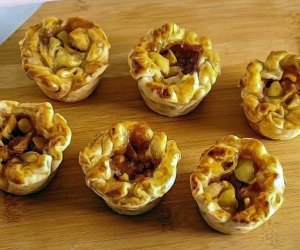 Whip up these cute little apple pies in a muffin tin.
3. Mini Puff Pastry Apple Pies
This sweet mini apple pie recipe is just right for baking with kids.
Ingredients
1/2 package puff pastry
4 baking apples
1/3 c brown sugar
2 teaspoons flour
1 teaspoon cinnamon
1/2 teaspoon ginger
Instructions
Parents: Thaw pastry sheet as directed and cut the pastry into six rectangles. Preheat the oven to 350º degrees. Peel, core, and chop apples into very small pieces.
Kids: Combine the apples with the sugar, flour, and spices. Place one rectangle inside each of the six muffin tins, filling the tin and letting any edges rest on edge of pan. Divide the apple mixture between the tins, and fold the overhanging corners into the middle of the tin, pinching points gently.
Parents: Bake for 18-22 minutes, or until pastry is golden. Let sit in tins for 5 minutes; then run a knife around the edges and remove to a serving plate. Serve with a scoop of ice cream!
RELATED: 8 Mug-Cake Recipes for Kids to Try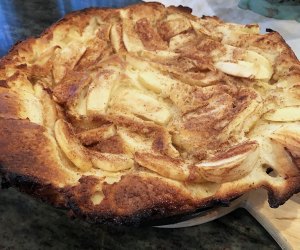 This giant pancake puffs up impressively in the oven, and kids can easily make the batter. Photo by the author
Easy Apple Recipes Parents and Kids Can Make Together
You can get an apple bread, apple cake, or apple pie recipe anywhere. But these are all unique apple recipes that the whole family will enjoy eating. These dishes below might take a tiny bit more help from mom and dad, but kids can still do the majority of the cooking!
4. Easy Apfelpfannkuchen (German Apple Pancake)
This giant German apple pancake is also called a Dutch Baby. It makes an awesome breakfast for dinner when you serve it with a salad. It's also a dessert if served with ice cream or whipped cream. This recipe was adapted slightly from Allrecipes.
Ingredients
4 eggs
½ cup flour
½ teaspoon baking powder
1 tablespoon sugar
1 pinch salt
1 cup milk
1 teaspoon vanilla extract
2 tablespoons canola oil
½ teaspoon ground nutmeg
¼ cup butter
½ cup white sugar
½ teaspoon ground cinnamon
½ teaspoon ground nutmeg
2 large apples
Instructions
Kids: Dump the eggs, flour, baking powder, sugar, salt, milk, vanilla, oil, and nutmeg into a blender and whir away. (You can also just use a whisk and get it really, thoroughly mixed.)
Parents: Preheat the oven to 425°. Melt ¼ cup butter in a 10-inch oven-safe frying pan (cast iron is best!) or pie plate. Mix together the sugar, cinnamon, and nutmeg. Sprinkle half on top of the butter. Peel, core, and slice the apples, layering them on top of the butter and sugar. Sprinkle on the rest of the sugar mix. On the stovetop, heat until the sugar starts to bubble and then pour the batter over the apples. Slide this right into the oven. After 15 minutes, reduce heat to 375° and cook for 10 more minutes. Serve that puffed-up pancake right away.
5. Gram's Easy Apple Dessert
Kids can do everything except apple cutting and using the oven by themselves in this apple recipe. It's a great recipe for empowering kids to get their hands dirty in the kitchen (literally!).
Ingredients
2lbs apples
¼ cup water
½ cup sugar
½ cup light brown sugar
¾ cup flour
½ teaspoon nutmeg
½ teaspoon cinnamon
¼ teaspoon salt
½ cup butter, slightly softened
Instructions
Parents: Preheat the oven to 350°. Peel and slice the apples, placing them in a pie or casserole dish.
Kids: Pour the water over the apples. Measure all the rest of the ingredients into a bowl. Using very clean hands, squish everything together until it's really mixed! Now use your hands to scoop the dough on top of the apples and pat it all down.
Parents: Put this in the oven for 45-50 minutes. If the crust gets too brown, cover it with aluminum foil. Serve with ice cream.
6. Snickerdoodle Apple Cookies
Everyone loves cookies. While my favorite pairing is apples in oatmeal cookies, kids don't always love oatmeal. But we've found no one can resist this apple snickerdoodle cookie that uses up lots of apples! Recipe from Life, Love, and Sugar.
Ingredients
3 cups + 2 tablespoons flour
2 teaspoons cream of tartar
1 teaspoon baking soda
1/2 teaspoon salt
3/4 cup butter, softened
1 cup sugar
1/2 cup brown sugar
2 large eggs
1 1/2 teaspoons vanilla extract
3 cups diced apples
⅓ cup sugar
1 1/2 tablespoons ground cinnamon
1 3/4 teaspoons ground nutmeg
Instructions
Preheat the oven to 350° degrees.
Parents & kids together:
Combine the flour, cream of tartar, baking soda, and salt in a medium bowl. Set this aside. Add the butter, 1 cup white sugar, and brown sugar to a large mixer bowl and cream until light in color and fluffy in texture, about 2-3 minutes. Add the eggs one at a time, mixing until combined after each. Scrape down the sides of the bowl, as needed. Add the vanilla extract and mix until well combined. Add the dry ingredients and mix until combined, then gently stir in the diced apples.
Scoop out 1½ tablespoon balls of dough onto plates, and freeze for 15 minutes or refrigerate for half an hour. Mix the remaining ⅓ cup sugar with the cinnamon and nutmeg in another small bowl. Roll the cookie dough balls in the cinnamon sugar mixture, then set on a prepared cookie sheet (lined with parchment paper) with about 2 inches between them. Bake for 8-10 minutes.
Originally published August 2013 by Audrey Trieschman. Updated and revised in 2021.
This article contains some affiliate links, which means we might earn a small commission if you make a purchase. There is no extra cost to the reader. We only recommend products and services that we have personally used or have thoroughly researched.