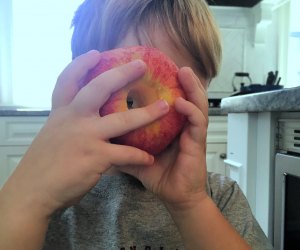 Apple Recipes to Make with Kids: Making the Most of Apple Picking Adventures
What do with all those apples? Whether we've plucked our bounty from an orchard or market, there comes a time each fall when we feel like we'll never make a dent in our fall harvest. That's why we at Mommy Poppins decided to pull together our favorite family recipes for using up all that red, green, and gold goodness. After you've checked out an apple picking spot in Boston, New York, Philadelphia, Los Angeles, New Jersey, Westchester, or Connecticut, set aside a cozy morning or afternoon to prepare one or two of these family-friendly treats with your little sous-chefs.
---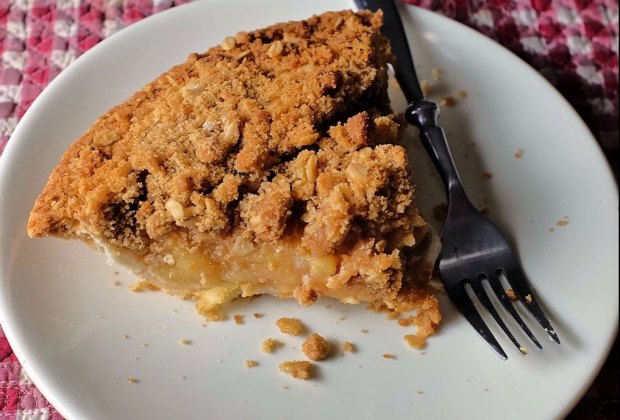 Apple Crumb Pie
Prep: 30 minutes plus 1/2 hour chilling time
Cook time: 80-85 minutes
Ingredients
CRUST
1 1/3 c flour
1/2 tsp salt
1/2 tsp sugar
1/4 c cold unsalted butter, cubed
1/4 c cold vegetable shortening, cubed
3 tbsp ice water
1/2 tsp apple cider vinegar
FILLING
3 pounds apples, sliced 1/4 inch thick
2/3 c sugar
2 tbsp flour
2 tsp cinnamon
2 tbsp unsalted butter, melted
TOPPING
1 c flour
1/2 c sugar
1/4 c brown sugar
1 1/2 tsp cinnamon
1/2 tsp salt
1/2 c walnuts, chopped (optional)
Directions
Mix dry CRUST ingredients (flour, salt, sugar) with fork in large bowl or food processor.
Add butter and shortening in small pieces until mixture looks like wet sand.
Blend water and vinegar in small bowl and mix in to CRUST ingredients until all blended. Flatten into disk and chill for 30 minutes.
Preheat oven to 400
Roll out chilled dough on floured surface and transfer to 9-inch pie plate. Turn edges under and flute edges with thumb and forefinger if desired.
Mix FILLING ingredients in large bowl and toss. Pour into pie crust mold. (It will look like a lot; mound the center.)
Mix 6 TOPPING ingredients together with fork fork in large bowl or food processor. Pack in and around mounded apple mix.
Bake on baking sheet at 400 for 40 minutes (cover crust with a collar of tin foil if getting too dark at any point).
Reduce oven to 350 and bake until bubbly, 40-45 more minutes.
---

Nutella, mini marshmallows, chocolate chips, raisins, and peanuts are among our favorite apple ring toppers.
Afterschool Apple Rings
Makes 12 rings
Prep: 5-10 minutes
Ingredients
3 large, round apples
A variety of toppings (here are some ideas): 1-2 kinds of nut or seed butter (peanut, almond, or Nutella); cream cheese; peanuts; sunflower seeds; chocolate chips; raisins or Craisins; mini marshmallows; shredded coconut; crumbled pretzels or chopped pretzel sticks; crumbled Oreos
Directions
Core and thinly slice apples width-wise to make 1/4 wide rings.
Serve the rest of toppings in small bowls and let kids decorate their own rings. Have them start by spreading each ring with a nut or seed butter or cream cheese to help the rest of the toppings stick.
---
Inside-Out Caramel Apples
Makes 15-18 slices
Prep: 30 minutes
Ingredients
3 Granny Smith (or any firm) apples
1 lemon
2 c caramel squares
2 tbsp corn syrup
Directions
Cut your apples in half. Use a melon baller to scoop out the insides, leaving about 1/4 inch around all edges.
Squeeze the juice from the lemon onto the apples while you prepare the caramel. (This keeps them from turning brown.)
In a microwave-proof bowl, melt the caramels and corn syrup. Try 30 seconds, then 15 seconds - just enough to melt them.
Stir to mix.
Allow to cool for about 2-3 minutes.
Wipe the apples with a paper towel to remove as much lemon juice as possible. (Caramel won't stick to a wet apple.)
Spoon the caramel into the hollowed out apples until just below the top. (This can be a very sticky stage, so you may want to wipe your fingers with some vegetable oil first.)
Set the apple halves in muffin tins to keep them steady.
Chill in the refrigerator until the caramel has set, about 20 minutes. Cut into slices (spray the knife with cooking spray for easier cutting; a serrated or tomato knife works well).
---

Using equal parts whole wheat flour and all-purpose flour creates a healthy (yet tasty!) muffin.
Healthy Apple and Carrot Muffins
Makes 12 muffins
Prep: 10 minutes; Bake 25 minutes
Ingredients
6 tbsp butter, softened on counter or in microwave
2/3 c sugar
1 egg
1 tsp vanilla extract
1 c all-purpose flour
3/4 c whole wheat flour
1 1/2 tsp baking powder
1 tsp cinnamon
1/2 tsp salt
2/3 c milk (whole or 2% is best)
1 1/2 c mix of carrot and apple (or just apple), peeled and shredded in food processor or with a grater
Directions
Preheat oven to 375.
In a large bowl, using a hand held mixer or large, sturdy spoon, beat butter and sugar until light and fluffy. Beat in egg and vanilla.
In a medium bowl, mix flour, baking powder, salt and cinnamon with a fork.
Hand-stir wet ingredients into dry ingredients gradually, alternating with milk, gently stirring until all ingredients are incorporated. Don't overmix!
Fold in carrots and apples.
Spoon batter into greased or lined muffin tins, and bake for 24-25 minutes.
---
Cinnamon Apple Chips
Makes approximately 40 chips
Prep: 15 minutes; Bake 30-40 minutes
Ingredients
2 c unsweetened apple juice
1 cinnamon stick
2 apples
Directions
Heat oven to 250 degrees F.
Combine apple juice and cinnamon stick in a pot; bring to a low boil while preparing apples.
Core the apples. With sharp knife, slice off 1/2-inch from top and bottom of apples and discard (or eat!). Saw gently crosswise into very thin (1/8-inch) rings, rotating the apple as necessary to get even slices.
Drop the apple slices into boiling juice; cook 4 to 5 minutes or until slices appear translucent and lightly golden.
With a slotted spatula, remove the apple slices from juice and pat dry with a paper towel.
Arrange the slices on cake-cooling racks, being sure none are touching.
Place the racks on the middle shelf in oven; bake 30 to 40 minutes until apple slices are lightly browned and almost dry to touch.
Let chips cool on racks completely before storing in airtight container.
---
​Apple Crumb Bars
Makes 24 bars
Prep: 40 minutes; Bake 35-40 minutes
Base ingredients
1 c quick or old-fashioned (rolled) oats
1 c all-purpose flour
1/2 c packed brown sugar
1/2 tsp baking powder
1/2 tsp salt
1 c (2 sticks) butter, softened
1 large egg, beaten
Filling ingredients
6 apples, peeled, cored, and finely chopped
1/2 c granulated sugar
1/4 c all-purpose flour
1/2 tsp cinnamon
Topping ingredients
1/3 c all-purpose flour
1/3 c quick rolled oats
1/3 c brown sugar
1/4 c (1/2 stick) butter
Directions
Heat oven to 350° F. Lightly grease a 13x9 baking pan.
Prepare topping: In medium bowl, combine flour, oats, and sugar. With pastry blender or fork, cut in butter until mixture is crumbly. Set aside.
Prepare base: In medium bowl, combine oats, 1 cup flour, the brown sugar, baking powder, and salt; cut in butter until crumbly. Stir in beaten egg. Spread mixture evenly in pan.
Prepare filling: Toss apples with sugar, 1/4 cup flour, and cinnamon.
Assemble bars: Spread apples over oatmeal layer. Sprinkle topping over apples.
Bake 35 to 40 minutes or until apples are tender. Let cool 10 minutes before cutting.
---

We like walnuts sprinkled on our applesauce for an Omega-3 nutrient boost.
​Crockpot Applesauce
Serves 4
Prep: 5 minutes; Cook 4-6 hours
Ingredients
4 large apples
Juice from 1 lemon
1/2 tsp cinnamon
1 tbsp brown sugar
1/4 c water
Directions
Peel and core apples; cut into quarters
Add apples, lemon juice, cinnamon, brown sugar and water to crockpot.
Cover and cook on low 4 to 6 hours, until apples are very tender.
Mash with the back of a fork or potato masher.
Top with walnuts or raisins, if desired
---
Individual Baked Apples
Serves 1
Prep: 5 minutes; Bake: 3-5 minutes
Ingredients for each serving
1 firm apple
2 tbsp jam or fruit preserves
1 tbsp apple juice or water
Directions
Core apple.
Peel top 1/3 of apple; place, peeled end up, in microwave-safe baking dish
Fill center with jam.
Pour the juice in bottom of baking dish; cover with vented plastic wrap or wax paper.
Microwave on high 5 to 6 minutes or until apples are tender.
Note: cooking time will vary by apple and oven; be prepared to try a couple of times to get it right.
---
Mini Puff Pastry Apple Pies
Serves 6
Prep: 15 minutes; Bake: 18-22 minutes
Ingredients
1/2 package puff pastry (one sheet of Trader Joe's)
4 baking apples
1/3 c brown sugar
2 tsp flour
1 tsp lemon juice
1 tsp cinnamon
1/2 tsp ginger
Directions
Thaw pastry sheet as directed
Preheat oven to 350 degrees
Peel, core, and chop apples into very small pieces
Combine with sugar, flour, lemon juice, and spices
Cut the pastry into 6 rectangles
Place one rectangle inside each of 6 cupcake tins, filling the tin and letting any edges rest on edge of pan
Place approximately 1/3 cup of the apple mixture in each of the tins
Fold the overhanging corners into the middle of the tin, pinching points gently
Bake for 18-22 minutes, or until pastry is golden
Let sit in tins for 5 minutes, then run a knife around the edges and remove to serving plate.
---
Apple Crisp
Serves 6
Prep: 15 minutes; Bake 40 minutes
Ingredients
4 green apples, peeled and thinly sliced
1/2 c brown sugar
1/2 c flour
1/2 c oats
3/4 tsp cinnamon
3/4 tsp nutmeg
6 tbsp butter
Directions
Heat oven to 375. Grease bottom and sides of square, 8x8 pan.
Arrange apples in pan. Mix remaining ingredients in a bowl.
Sprinkle over apples.
Bake about 40 minutes, or until topping is golden brown and apples are tender.
---
Apple Squash Soup
Servings: 4
Start to finish: 1 hour
Recipe courtesy of the Gaining Ground Cookbook
Ingredients
2 tbsp butter
2 c onions, chopped
3 tsp curry powder
3 pounds butternut squash, peeled, seeded, cubed (6 cups)
2 each granny smith apples, peeled, cored, cubed
3 c chicken stock
1 tsp salt
pepper, freshly ground
Directions
In a large pot, melt the butter. Add onion and saute until tender. Stir in curry powder.
Add squash, apples, chicken stock and salt. Bring to boil, reduce heat and simmer for 25 minutes or until squash and apples are tender
Puree the soup, return to pan.
Pepper liberally.
All photos courtesy of Mommy Poppins unless otherwise noted
---
Originally published August 2013; updated September 2015, September 2018