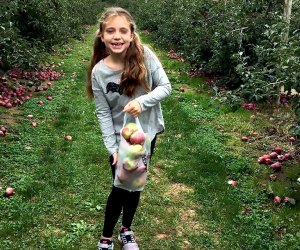 Best Apple Picking Orchards for Kids on Long Island
Long Island's pick-your-own apple farms are scattered throughout the East End, making apple picking the perfect family activity to kick off the fun fall season. From small farm stands to orchards with dwarf trees sized just right for little hands, to other family-friendly venues, there are plenty of places to pick apples nearby.
Apple picking season can begin as early as the end of August and continues through October. Be sure to check each apple farm's website for hours, bounty updates, and current COVID-19 precautions.
Find more pick-your-own fun in our Long Island Farm Guide, including where to pick peaches and pumpkins, or feed the goats and sheep at these area petting zoos and barnyards.
Sign up for our FREE newsletters to get the latest local events and activities delivered right to your inbox.
Be advised: Most orchards have rules for behavior. Trees are not to be shaken, for example. Picking is at your own risk, and pets are not permitted at most orchards. Be sure to click through to each website for all the rules and COVID-19 related precautions.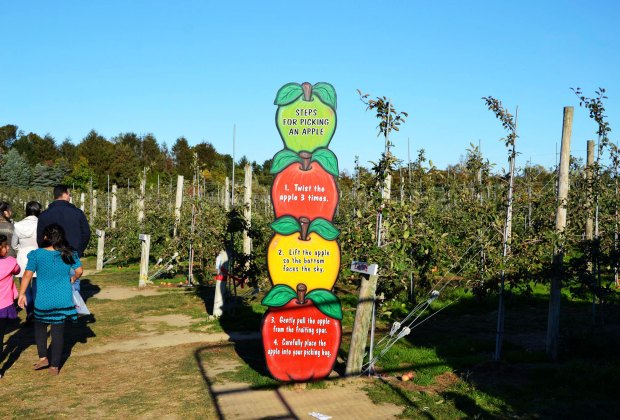 Hank's apple orchard is an autumn event your entire family will enjoy!
Apple Picking Orchards on Long Island
2020 update: Hanks PumpkinTown opens Saturday, September 12. Maze park and more fun are open on weekends only.
Don't let the name fool you: There are plenty of apples waiting to be picked at this farm. Varieties include ultimate gala, McIntosh, Honeycrisp, and more. Other family activities in the fall include a maze park, playground, wagon and tractor train rides, face painting, and more. Gem mining lets kids prospect for treasures, fossils, arrowheads, and shells.
RELATED: Kid-Friendly Wineries on LI's East End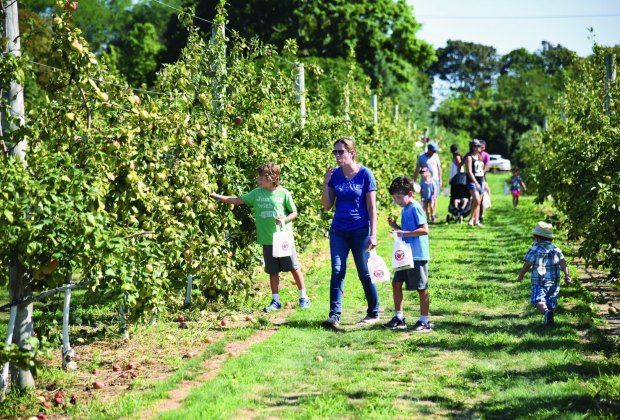 Kids can pick a bushel or two of apples at Harbes Orchard.
2020 update: Harbes has been operating its Barnyard Adventure this summer and opens for apple picking Saturday, September 12.
Part of Harbes Farms on the East End, this 70-acre orchard produces 27 varieties of apples (as well as peaches and nectarines, in season). Its dwarf trees are perfect for little ones eager to pick their own apples. Enjoy plenty of kid-friendly (and adult-only) fall activities, including pumpkin picking, hayrides, concessions, live music, wine tasting, and a Robin Hood-themed corn maze. On October weekend evenings, the corn maze turns into a family-friendly Spooky Corn Maze.
2020 update: Pick-your-own apples begins in late August or early September.
This orchard offers a variety of pick-your-own fruits and vegetables, including berries, tomatoes, peppers, eggplants, and, of course, apples. Each year, Lewin designs and creates a corn maze for added family fun. Roasted corn is for sale at the farm stand.
2020 update: Apple picking season begins Friday, August 21.
Grab a red wagon and head off to this orchard, where the trees are described as "super dwarf" and super-reachable for kids. There are plenty of seasonal activities, including a picnic area, corn maze, toy land, hayrides, and a market that keeps the whole family entertained.
2020 update: Pick-your-own season begins Labor Day weekend.
The Halsey family started farming in the 1640s, and it's still going strong. More than 20 apple varieties are grown on dwarf trees, and ready for picking beginning Labor Day weekend. Pumpkins, squash, and gourds are also available for fall picking. More farm-grown bounty, including flowers, are available at the Milk Pail Fresh Market.
RELATED: Nature Centers Sure to Delight Long Island Kids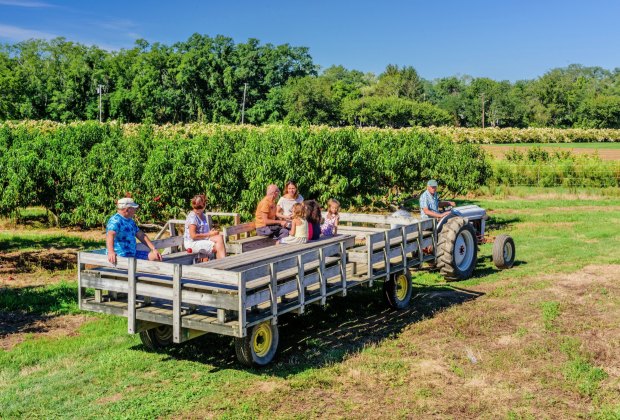 Kids can hop on an old-school wagon to go apple picking at Wickham's.
2020 update: Apple picking season starts in September.
This 300-acre farm dates to 1661. It is one of the largest on the North Fork and is situated on Peconic Bay. Enjoy a wagon ride out to the apple picking orchards. A retail shop sells pies, doughnuts, and apple cider. Be sure to check out its historic cider press. Wickham's is closed Sundays.
2020 update: Early season apples are already ripe for the picking at Windy Acres Farm.
There's plenty to pick at this farm, including fruits, berries, and vegetables; apple picking should continue through November. The owner is a fourth-generation farmer. There is a playground and picnic area, and once fall is in full swing, a corn maze, and horse-drawn hayrides. Apple varieties include McIntosh, golden delicious, mutsu, and Granny Smith.
RELATED: Corn Mazes and More Farm Fun for Kids on Long Island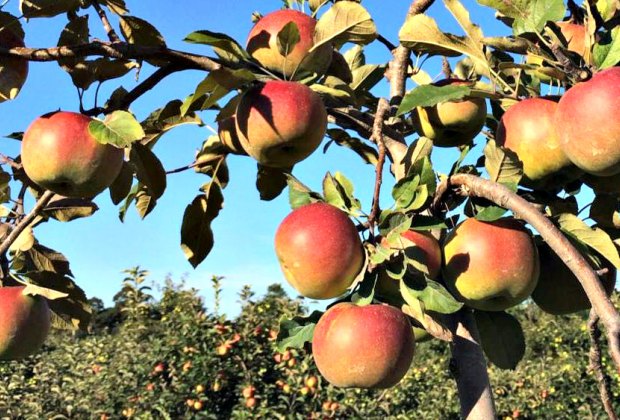 Woodside Orchards grows 20-plus varieties of apples at its two North Fork locations.
2020 update: Apple picking opens in mid-to-late September.
This family-owned orchard has been around since 1982 and offers nearly 30 varieties of apples for picking. In addition to pies and fresh cider, the orchard's apples also produce hard cider and apple wine (for adults only, of course). It also produces its own honey, and there's a gift shop on-site.
A version of this article was originally published in 2012.
Photos courtesy of the farms