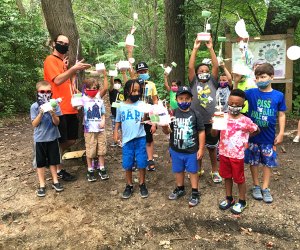 Nature Centers Sure to Delight Long Island Kids
Long Island has an abundance of natural parklands and beautiful waterways to explore. We are spoiled with family-friendly beaches in the summer and hiking trails bursting with fall colors. These experiences are enhanced by the local nature centers that help us learn about and appreciate the region's natural wonders. Many of these destinations offer indoor and outdoor nature-based activities for children and caregivers.
When it's time to unplug and spend some quality time together, there's nothing like taking in some fresh air and connecting with nature and each other. So, next time you need a change of scenery, consider visiting one of these 13 nature centers on Long Island.
Nature Center in Nassau County
The Center for Science Teaching & Learning is home to tons of animals in indoor and outdoor environments. You'll see baby alligators, fish, reptiles, amphibians, and more. Most are rescues that can't be reintroduced into the wild. CSTL staff will remove animals from their habitats to give visitors a closer look. The center is located at Tanglewood, a beautiful 17-acre nature preserve.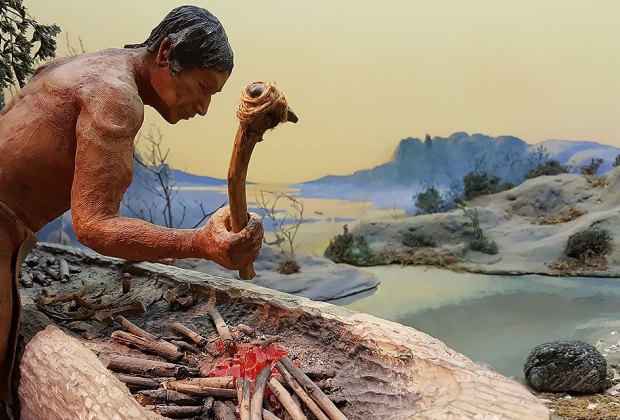 Learn about Native American culture at the Garvies Point Museum. Photo courtesy of the Museum
Garvies Point illustrates the cultural and natural history of Long Island's North Shore through interactive exhibits and dioramas depicting the daily life of the Native Americans who lived here. There are exhibits on plate tectonics and Long Island's geology with samples of local rocks and minerals. The museum is also a research facility, and there is a large-scale model of archeological excavations from the area.
2020 update: Nature walks are currently postponed. Check the website for updates.
This site, saved from housing development, offers 155 acres of woodlands, open meadows, vernal and man-made ponds, and is a haven for butterflies, migratory birds, and more than 150 native plant species. The center also houses historic buildings that once made up the Brewster family's estate, including a 1914 Georgian-style mansion. Explore the preserve on your own, take a guided nature walk, or listen to a lecture series.
Enjoy a nature hike along 5 miles of well-marked trails through a forest of oak trees, swamps, streams, and dry plains. Try to spot the more than 170 species of birds and small mammals that call Tackapausha Preserve home. The on-site museum contains displays of the ecology of Long Island, plus live animals visitors can interact with through the museum's programs.
RELATED: Visit the Marine Nature Study Area, Nassau's Outdoor Family Lab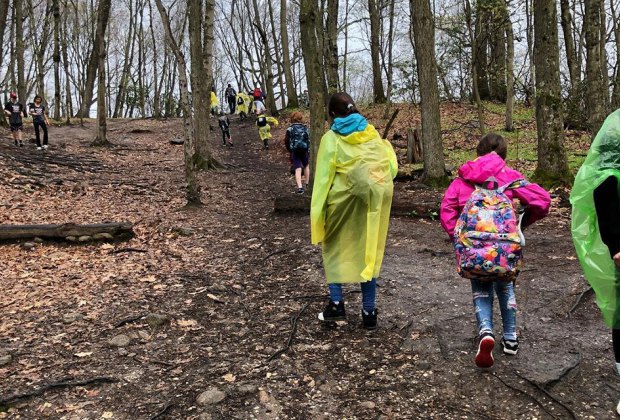 Trek through the woods at the Theodore Roosevelt Sanctuary & Audubon Center. Photo courtesy of the Center
2020 update: The Center building is closed until further notice. Trails remain open, but restrooms are closed.
The center was established in 1923 as the first Audubon songbird sanctuary in the nation. The sanctuary's original purpose was to provide a protected environment for these birds, whose populations were declining due to habitat loss. It is a rich resource offering various activities, including environmental education, wildlife research, and conservation advocacy.
Nature Centers in Suffolk County
2020 update: Read the COVID safety guidelines on the website before visiting.
Founded in 1883, the hatchery is a nonprofit dedicated to providing effective, relevant education about aquatic resources in New York. This unique facility houses New York State's largest collection of native freshwater fish, reptiles, and amphibians. Thousands of trout hatch here annually and visitors see the process through six outdoor rearing pools, which hold the fish in various stages of development.
RELATED: 15 Long Island State Parks Worth a Visit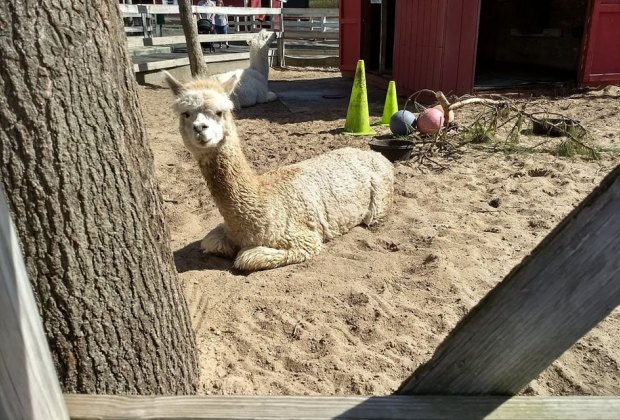 Visit the sweet alpacas at the Holtsville Ecology Site and Animal Preserve. Photo by Kailyn Champlin
2020 update: Reservations are required to visit and can be made online.
This Town of Brookhaven facility houses more than 100 non-releasable animals, including "Holtsville Hal," Long Island's weather forecasting groundhog. Kids can interact (at a safe distance) with buffalo, black bears, wild mustangs, and more. The facility also includes a greenhouse, picnic area, playground, jogging path, and three outdoor pools. Parking fees apply May through October, but the ecology site and animal preserve are FREE to enter.
The Hoyt Farm Nature Center is as exciting as it is educational. There are live animals, including snakes, frogs, salamanders, turtles, and fish, and the educational displays describe life on Long Island from the beaches to the trees. Take a short walk up to the Hoyt Playhouse (behind the nature center) and see where the Hoyt children played in the 1920s. Note: Nonresidents of the Town of Smithtown can only park on-site when they are guests of a resident and are charged a $12 parking fee.
This little-known center allows visitors to experience nature in a secluded setting. It also means visitors have a better chance of spotting wildlife, including deer, birds, and even snakes. Operated by the Seatuck Environmental Association, the center has a butterfly garden, a boardwalk that meanders through marshlands, and a Native American dwelling. The center offers year-round programs for all ages.
RELATED: Botanical Gardens on LI for a Family Day Trip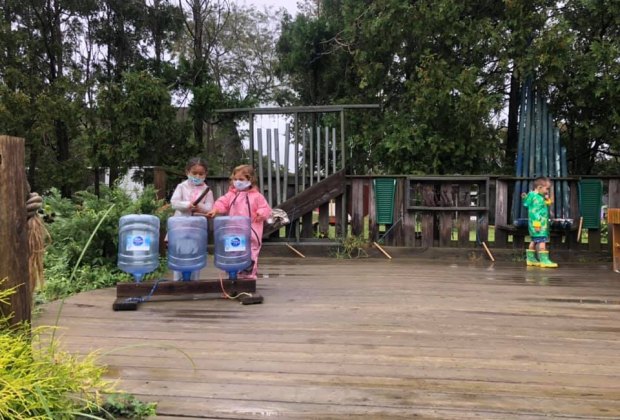 Learn about the environment at Suffolk County Farm and Education Center. Photo courtesy of the Center
The Cornell University Cooperative Extension of Suffolk County is a valuable resource for residents on health and wellness matters. It also runs the Suffolk County Farm and Education Center. This working farm offers programs in agriculture, animal sciences, STEM, and healthy living for adults and children year-round. Visitors can experience the butterfly house, a children's garden, and an outdoor classroom.
2020 update: The main home is currently closed.
Sweetbriar is a nonprofit that provides natural science education for Long Island residents of all ages and also engages in native wildlife rehabilitation. Sweetbriar is situated on 54 acres of gardens, woodlands, fields, and wetland habitats on the Nissequogue River. Hundreds of species of plants and animals make their homes here. Best known for its butterfly house, Sweetbriar also has an interpretive rainforest exhibit containing an iguana, red-tail boa constrictor, and parrots.
Nature Centers on the East End
2020 update: The indoor exhibits in the Nature Center are closed until further notice.
Open all year, this nature center and animal refuge offers a variety of activities for visitors of all ages. Take a hike through the pine barrens, wetlands, and bogs; the main trail is wheelchair- and stroller-friendly. Visitors can observe nature through large windows that overlook the Old Ice Pond. Leave some time to visit the rescued animals in the outdoor wildlife complex.
RELATED: Nature Walks on Long Island to View Fall Foliage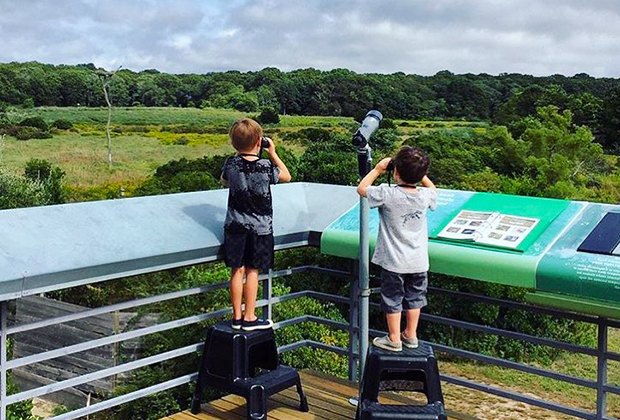 See what you can identify at the South Fork Natural History Museum and Nature Center. Photo courtesy of the Center
This state-of-the-art museum offers more than 250 educational programs and events each year. Visitors can experience the museum's interactive nature exhibits enhanced with hidden doors, peepholes, and live animals. The marine touch tank is a favorite of kids and adults alike. Visitors also can enjoy the gardens and 6 miles of walking trails along the Long Pond Greenbelt system.
A version of this article was first published in 2010; it has since been updated.