CSTL Expands its Dinosaur Exhibit Adding Life-Like Animatronic Models and More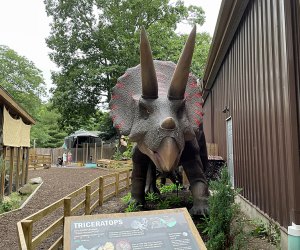 Young paleontologists no longer have to trek into the city to get a dose of dinosaurs. The Center for Science Teaching and Learning in Rockville Centre has long enchanted us with its exhibits featuring fossils, models, and live animals. New for summer 2021, it's added brand new dinosaurs—including animatronic models—and more interactive features.
Read on for more details on the exhibit and find more fun places to explore in our Guide to Museums for Long Island Kids.
Located at Tanglewood Preserve, the Center for Science Teaching and Learning has created an impressive dinosaur exhibit that's both educational and beautiful. Even though most of the dinosaurs and their related exhibits are in one room, it is a spectacular space that has the feel of a much larger museum. And, unlike larger museums that may leave you wandering without guidance, CSTL's friendly staff greets visitors and describes different exhibits. They are happy to help children with the interactive exhibits and offer unique facts even adults can appreciate.
As you enter the property, you can explore the preserve and pond for FREE or enter the museum. There is a small gift shop with dinosaur toys. If you're going to splurge, try to save it for last. Kids will want to have their hands free so that they can play with the interactive exhibits. You can also purchase a gem or fossil mining bag for the mining station at the end of the museum.
First opened in 2020, the exhibits have become even more robust. New live animals have been added, and staff elaborates on the signage displays, explaining how various animals' adaptations relate to dinosaurs.
RELATED: 13 of the Best Family-Friendly Museums on Long Island

The feathered Citipati model is a new addition to CSTL.
In the main exhibition hall, find snakes, brightly colored sun conure parrots, tree frogs, and some fascinating stick insects. A lot of stuff is neatly packed into this relatively small space, but it doesn't feel crowded. There are T. rex and Centrosaurus skulls, full skeletons of an Allosaurus, Camarasaurus, Maiasaura, and more. There are also smaller skeletal pieces displayed, as well as a set of hadrosaur eggs. Realistic and high-quality animatronic models include the Ankylosaurus and Stegosaurus. Though their heads and tails move, and they make noise, it's not at all frightening. New for 2021 is the Citipati model. The feathered dinosaur is displayed protecting its nest.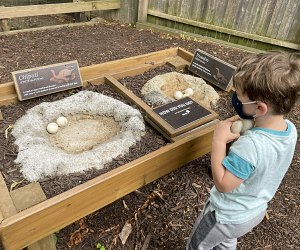 Fun, interactive exhibits keep kids engaged in the experience at CSTL.
Each exhibit gives facts about the dinosaurs, and many have interactive features, some of which are even accessible to toddlers. Older children can experiment to see which sharp bone (a tooth, a spike, a claw, etc.) created a hole in another bone. Little ones can play with long-necked, wooden dinosaurs and help them reach the leaves of trees. A puzzle challenges kids to match a tooth to a tool that represents its shape, as well as what the dinosaur would eat with that type of tooth. There are plenty of educational experiences embedded in these interactive, playful portions of the exhibit.
Outside, find more live animals, including peafowl, emus, goats, and owls. There is an egg-sorting exhibit, where kids guess which type of egg came from which dinosaur and sort them into their proper nest. The best addition for 2021 comes as you round the corner outside and come face-to-face with an animatronic Triceratops and its baby. The fiercest dinosaur, the Tyrannosaurus rex, is by the interactive dig site. Here, kids can use brushes to swipe away rocks and reveal dinosaur bones before moving on to the mining station.
A trip to the Center for Science Teaching and Learning is a must-do for families with dinosaur lovers. These high-quality exhibits rival those of much larger museums. Be sure to go on a nice day since this is an indoor/outdoor experience. The Center for Science Teaching and Learning is open six days a week, 10am-4pm. It is closed Wednesdays. Admission is $15 for adults; children, ages 12 and younger, enter for $12. CSTL offers a variety of classes, afterschool programs, family events, and more, in addition to its dinosaur exhibit.
This article was first published in 2020 and updated in 2021.
All photos by the author