Marine Nature Study Area: An Outdoor Lab for Family Adventure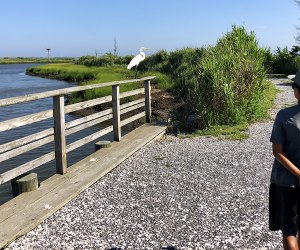 Explore the great outdoors at the Marine Nature Study Area in Oceanside, a South Shore seaside environment preserve ripe for a self-guided expedition.
The education and conservation of marine life have played such a large part in Long Island's past, and we are fortunate to have places such as the Long Island Aquarium, South Fork Natural History Museum, and Quogue Wildlife Preserve to help keep it alive in the present.
For more FREE fun, check out our list of playgrounds, boardwalks and fishing spots. After Labor Day, most beach fees on Long Island are not collected. Before heading out, peruse our calendar for a list of updated events.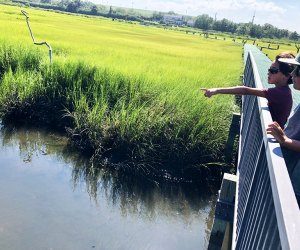 See if you can spot the fish or crabs that populate the wetlands area.
Tucked away in Oceanside, the Marine Nature Study Area boasts 52 acres of salt marsh, tidal creeks, and uplands that circle Bedell Creek and open into Middle Bay. Start off in the interpretive center to get an up-close look at the locally caught organisms swimming in the tanks. These displays are ever-changing, making for a must-return visit. Other terrestrial displays and dioramas depict local marine habitats. Definitely watch the live feed of an osprey nest on site. Oh, and hit the indoor potty here as well: Trails beckon.
Before you hit the trails, we suggest you bring a backpack with supplies and snacks, binoculars, a camera, water shoes, hat, sunglasses, sunblock and bug/tick spray. Guides told us the environment isn't conducive for ticks, but we are overcautious lately. The entire grounds are for the most part self-guided. You can arrange a guided field trip by calling 516-766-1580.
RELATED: Nature centers sure to delight kids on Long Island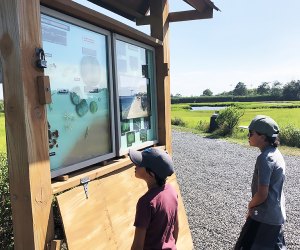 Educational displays along the trails explain what kids are seeing.
The one-mile trail is completely flat, and on dirt or raised grate bridges. You can comfortably bring a jogging/rugged stroller or carry an infant. Or you can be parents like us and — gasp — make your kids walk the entire mile.
Rest at any of the eight designated observation and study sites that offer teachable moments in this "outdoor classroom." Stay on the trails: Slippery rocks, steep hills, etc. are unsafe terrain for little feet. And keep your eyes peeled—both up and down. Babbling water below is home to fish and crabs, while the skies above belong to the birds. On our walk we met a friendly egret named "Earl," who let us pass the bridge ever-so-closely. We later learned he was looking for a handout.
Once we made it halfway around the pond we were directly underneath the osprey nest. Signs called for a quick passage, as mamma bird was squawking away. Here is also where you are offered breathtaking, panoramic views of Middle Bay. Loop around the pond and head west over another bridge to a small beach area, where you can explore the water more closely and walk another loop of trail. Or bypass it and head back to the entrance.
RELATED: Outdoor classrooms where LI kids will love to learn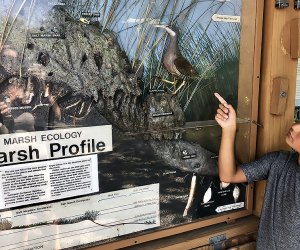 Be sure to check out the 3-D dioramas ahead of your hike.
You'll spend about two hours here, which is an ideal excursion for kids these days. Nestled in a residential area, you can find the entrance to the Marine Nature Study Area at 500 Slice Dr. in Oceanside, about 3½ miles south of the Sunrise Highway via Oceanside Road. It is open 9am-5pm Tuesday through Saturday year-round. Admission is FREE.
Photos by the author