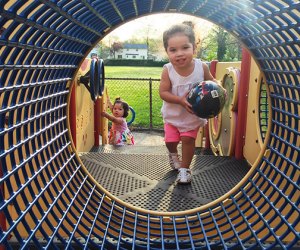 Top Long Island Playgrounds for Toddlers
Toddlers seem to have endless energy and the power to play all day. They might want to do all that older kids can, but with wobbly legs and arms that can't quite reach, they require special playgrounds.
From Nassau to Suffolk counties and all the way to the East End, designers of Long Island's parks have been thoughtful in creating play spaces for our littlest residents. So as the weather gets warmer, why not take your toddlers to a spot designed with their needs in mind?
We have done the legwork and scouted out the top toddler playgrounds across Long Island. Be sure to check our full list of parks and playgrounds on Long Island, then get out there and enjoy these beautiful days.
Nassau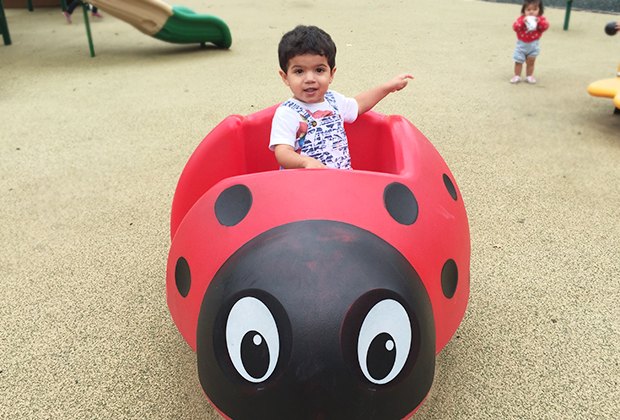 The bouncy ladybug at Bethpage State Park is bound to delight.
Bethpage State Park — Farmingdale
The treehouse-themed play structures here are perfect for energetic toddlers. Begin with a ride on the bouncy ladybug, bumble bee, and caterpillar, then move on to the popular rock climbing area. The large plastic rock, with footholds to fit 2-3-year-olds, beckons climbers to the top. The leaf-covered play structure looks just like a clubhouse, complete with binoculars to look out and tree stumps for sitting. Toddler-size tube slides fit the bill along with enclosed bridges and safety swings. The picnic area and bathrooms are within a short walking distance of the playground. This expansive park is known for its golf course and tranquil hike and bike trails; however, it's is also a great place to spend a day with toddlers. Cost: $8 per vehicle to enter the state park, but FREE for Empire Pass holders.
RELATED: Inclusive Playgrounds for Long Island Families With Special Needs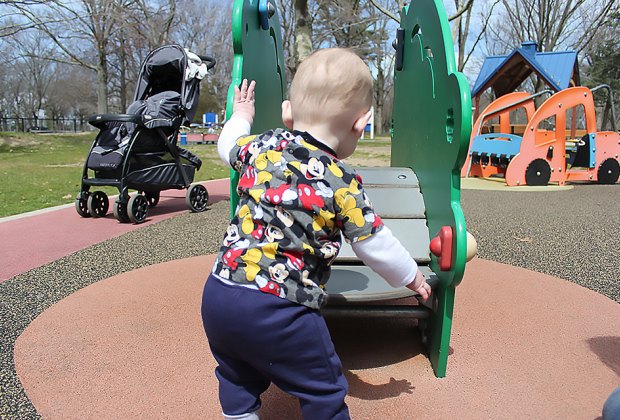 Eisenhower Park's designated toddler area offers entertainment possibilities for little ones. Photo by Gina Massaro
Eisenhower Park — East Meadow
Located in Field 4 of Eisenhower Park, a Nassau County facility, the "Let All The Children Play" playground offers endless entertainment for small children. This playground was created to appeal to children's senses. It's a feast for the eyes, hands, and ears. The designated toddler area features bright colors and soft rubber materials. All areas of this play space are accessible to children with disabilities. Toddlers can climb into a car, use a small slide, and play in the vibrant mushroom garden. Don't miss the sandbox, which is always busy with tiny builders, and check out the specially designed xylophone and the pirate-ship structure. Bathrooms are located across the parking lot. Admission is FREE to those with Nassau County Leisure Passes. $10 for nonresidents on weekends, FREE for nonresidents on weekdays.
RELATED: Nature Centers Sure to Delight Long Island Kids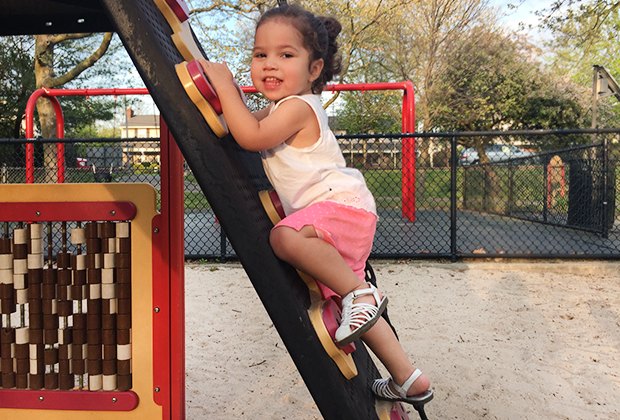 Fraser Avenue Park in North Merrick is designed with toddlers in mind.
Fraser Avenue Park — North Merrick
Young children love this Town of Hempstead facility; the most difficult thing about a trip here is convincing them to leave. Geared toward 2-5-year-olds, there is one large play structure with three slides, two crawl-through tubes, plus a steering wheel and lookout area. Swings and a see-saw are also available. The playground floor is made of sand. Children with buckets and shovels dig their way around. In fact, it's a great chance for little ones to practice sharing their toys. The small size and cozy atmosphere make this a great toddler park. You might see even birds flying or spot one of the resident rabbits scampering across the area. Benches are available for grown-ups, and a large field for soccer or baseball is located at the back of the park. FREE
Memorial Park — Mineola
Here, under a canopy of arching trees, you'll find two play areas and a sprinkling of picnic tables. The playground features stairs, slides, and a climbing area low enough for little ones to access. After playtime, load toddlers into the stroller and enjoy the tree-lined walking trail that surrounds the park. There is an amphitheater on the grounds; be sure to check out the summer performance schedule. After working up an appetite, head over to the retro Mineola Diner for a little nostalgia and a bite to eat. FREE
Rockville Centre Recreation Center — Rockville Centre
Renovated in 2017, the RVC rec center not only added a spray park to cool down, but a state-of-the-art smart playground for interactive play. By scanning QR codes on the side of the play structure, you will be led to a downloadable app. You then have access to read-a-long stories such as The Ugly Duckling and The Little Mermaid, which tie in to the play space. There's no pressure to use the interactive features of the playground as there are plenty of small knobs and crawl-through spaces for your toddler. FREE
Suffolk
Belmont Lake State Park — North Babylon
This beautiful park is hidden just off the Southern State Parkway, tucked away in a lush forest. The playground closest to the toll booth is geared toward toddler-age children. This play area features two large climbing structures and a long crawl tunnel. A set of swings is located next to the play area. The real star of this park is the sparkling lake. Kids should love to play and picnic by the water. Be sure to pack lunch or head over to the snack truck on the property. Bathrooms are located near the play area. Cost: $8 per vehicle to enter park, but FREE for Empire Pass holders.
RELATED: The Best Beach Playgrounds on Long Island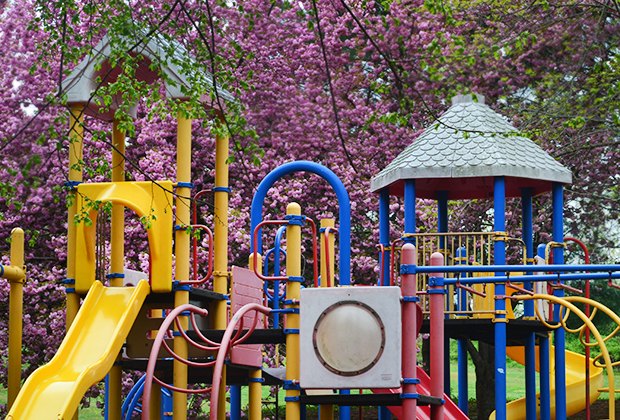 Vast sliding and climbing structures make Elwood Park a popular choice in Huntington.
Elwood Park — Huntington
This Town of Huntington park is a great place to spend a low-key afternoon outdoors. Towering trees surround the large play area with plenty of toddler-accessible swings, slides, and platforms. Elwood Park has a baseball field, picnic pavilion, and workout area. Enjoy a relaxing afternoon at this quiet facility. Afterward, take advantage of one Huntington's well-known spots for a treat. FREE

Heritage Park — Mount Sinai
Known locally as "The Wedge," this park has two large playground sets and swings, a soccer field, and benches for resting after an afternoon of play. Take advantage of the walking path that surrounds the entire park and enjoy the scenery. Plans to develop a splash pad are in the works. FREE
Lake Ronkonkoma County Park — Lake Ronkonkoma
Home to two large play structures, toddlers will enjoy running up and down the ramps of the handicapped-accessible playground. Interactive features including spinning picture puzzles and wheels are low enough for little ones to enjoy. Small legs won't have to climb more than a few stairs to get to slip down the slides. FREE on Weekdays, weekend parking fee from Memorial Day to Labor Day is $7 for Suffolk County residents and $14 for nonresidents.
Pickle Park — Greenlawn
Huntington's newest accessible park opened in March 2019. Toddlers can access all of the cool features, such as play panels, slides, and a xylophone, as they explore the ramped structure. Swings, slides, and a cushioned play surface round out the playground. Littles can crawl, run, and even fall, in a safe space. FREE
Rocketship Park — Port Jefferson
Even the smallest of toddlers can enjoy the equipment at Rocketship Park. Confident walkers and climbers will have no trouble boarding the pirate ship playground, which features ramps, slides, a helm, and porthole. Crawlers and little ones wobbly on their feet can play on independent structures built just for them, including a small walled bridge and a treasure chest. FREE
Robert Moses State Park Playground — Fire Island
Pack up the kids for a day at the beach, and make sure to stop here. This facility has a scaled-down area just for toddlers. Three colorful slides and a pint-sized fire truck are the most popular attractions for smaller children. On sunny days there are plenty of shaded areas and benches available. Go on a family seashell hunt after the playground and you're sure to find some wonderful treasures. The playground is located close to the snack stand, bathroom area, and parking lot. Cost: $8 per car for entry to the state park, FREE for Empire Pass holders.
RELATED: State Parks on Long Island Worth a Visit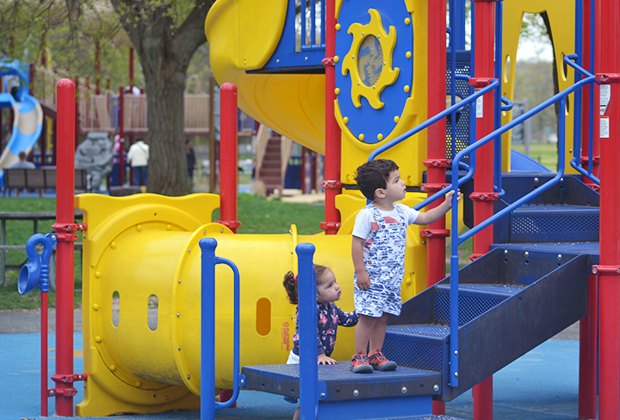 A day at Sunken Meadow State Park can feature playground games, a walk on the beach, and more.
Sunken Meadow State Park — Kings Park
The views from this park are stunning. After passing the toll booth, drive to Field 1 and park near the playground. Here you will find a walkway to the boardwalk and beach area, bathhouse, and play areas. If lifeguards are present, swimming is allowed in the calm waters of Long Island Sound. On a clear day, you can see all the way to Connecticut from the boardwalk. After enjoying the beach, head over to the play area. Kids should be delighted by the three well-appointed play structures: a pirate ship, complete with sails and a drawbridge; a bright climbing structure with several slides; and a smaller toddler jungle gym. There is also a basketball court and open green space near the play area. It is an ideal space for kite flying. Make sure to pack your own food and drinks. Cost: $8 per vehicle to enter the state park, FREE for Empire Pass holders.
The East End
Mitchell Park — Greenport
Few parks offer more for young children than Mitchell Park, right in the village's downtown. This sprawling open space is perfect for picnics, games of tag, or even a catch with your future big-leaguer. Watch your toddler's eyes brighten as soon as he or she discovers the carousel. The partly enclosed vintage structure boasts stunning views of the harbor from atop the bobbing horses. FREE; $2 per ride for the carousel.
Red Creek Park — Hampton Bays
Town of Southampton parents have long known the secrets of Red Creek Park. It has two distinct playgrounds, one for toddlers and another for older children. Typical playground fare can be found in both places. However, the age-group separation allows parents of young kids to rest easier in the often hectic facility. Tennis courts, a skate park, and bathrooms are nearby, and the park is a regular stop for local ice cream vendors. Be warned: The town animal shelter is next door; you might be drawn to the park for a ride on the swings and head home with a puppy or kitten. FREE
A version of this article first was posted in 2017. Writer Gina Massaro contributed additional reporting.
Unless noted, photos are by Kimberly Chacon.