Blast Off at Port Jefferson's Redesigned Rocketship Park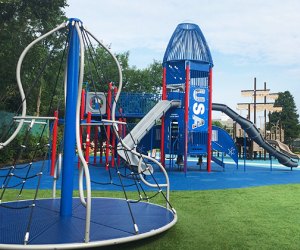 Although not a new playground location, Clifton H. Lee Memorial Park, or Rocketship Park, in Port Jefferson is brand new. Opened to the public in late June, this playground has undergone a $900,000 renovation nearly two years in the making. It was worth the wait with many fun features for toddlers to big kids. So get ready to blast off to Rocketship Park with our playground review.
Long Island has so many playgrounds to enjoy. Check out our list of the beach playgrounds, and toddler playgrounds. And take advantage of what's left of summer with our Summer Fun Guide.
For more fun things to do in Port Jefferson, check out our day trip guide to this kid-friendly North Shore community.
First, you have to love the location of this playground. Located right off of the community's vibrant Main Street, the park complex includes tennis and basketball courts, and a picnic area. There is plenty of metered parking in two separate lots just steps from the playground. The playground itself is fenced with one gated entrance. Parents with little ones who like to go discovering on their own will appreciate this security feature. Parents and kids also will like the rubberized safety surface as well as the realistic-looking artificial turf.
RELATED: Best Playgrounds on Long Island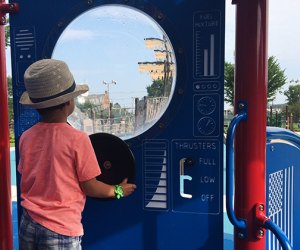 Aspiring astronauts can take over the controls.
There are three large play structures, each with a different theme. There is, of course, the rocket ship modeled after the original 1970s play structure, from which the park draws its name. The climb into the rocket is a fun challenge. and kids who make it are rewarded with a chance to test the big slide. The view of the park and surrounding area from the top of the rocket is wonderful. There are two other slides on this structure as well as a bubble window lookout, where kids can "drive" the rocket.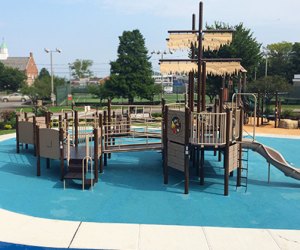 The pirate ship play area accommodates those in wheelchairs and those with limited mobility.
The other large play structure is a pirate ship. There are plenty of fun ways to board the ship, including a large, wide ramp that accommodates wheelchairs. Kids of all ages love playing with the musical features, including the piano and touch drums. Other sensory features include two play panels with cogs and tumbling balls and a panel of musical chimes. A smaller tree house structure next to the pirate ship includes several hiding spots, and steps take you all the way up to the top of the twisting slide. Climbing bars add a challenging feature.
RELATED: Day Trip Ideas for Long Island Families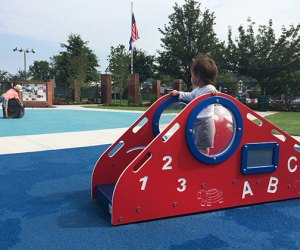 Enjoy the engaging play areas perfect for little ones.
There are a couple of toddler-friendly play areas as well. A low bridge-like structure with windows provides safe amusement for little ones. There are also toddler swings, two chain swings, and two full-support swings.
For kids who can't get enough of spinning around in circles, Rocketship Park has some neat options, including a large rotating climber that spins with the help of an adult or bigger kid. Kids can sit, stand, or if really brave, climb up the netting as it spins around. There is also a smaller, tilting sphere that a child can stand inside and spin. Next to the spinning sphere is a free-standing rock climbing structure that is super fun to climb up, but which may be more difficult to get down from.
Other features include a covered picnic area with plenty of tables, as well as several benches around the perimeter with good sight lines. Just inside of the gate are drinking fountains; the all-important bathrooms are next to the parking lot.
This playground is definitely worth a visit. Its proximity to Main Street means a host of ice cream shop options and easy access to parking, This is a not-to-be-missed destination if you're in the Port Jefferson area.
Top photo: A $900,000 renovation recently was completed at Rocketship Park. All photos by the author