Best of Port Jefferson for Kids: Playgrounds, Eats, Toy Stores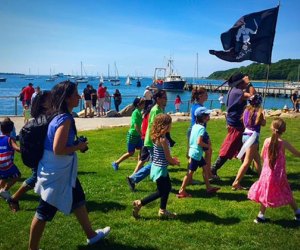 9/1/17
- By
Lisa Mancuso
With its playgrounds and parks with harbor views, a walkable Main Street lined with kid-friendly restaurants and unique shops, and plenty of things to do year round for the whole family, Port Jefferson would seem to have it all.
Located on Long Island's North Shore, Port Jefferson is about 50 miles east of Manhattan and its port welcomes daily ferries to and from Connecticut. Whether spending the day or planning a fun night on the town, this picturesque harborside village offers something for everyone. To help you get the most out of your visit, we've rounded up the best of Port Jeff for you and your family.
And for more family-friendly fun on Long Island, check out our list of great family day trips and our guides to Nassau and Suffolk counties, and the East End. Or why not hop the ferry at Port Jefferson and visit Connecticut for a day?
Things to Do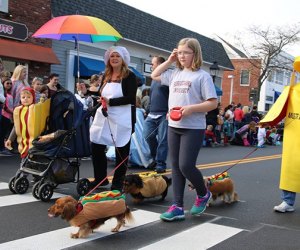 A costumed dog parade headlines Port Jefferson's Harvest Fest. Photo courtesy of PortJeff.com
From its famed Dickens Festival in December and Boaters' Maritime Festival with pirate-themed activities in the summer, to Fourth of July and Halloween parades, Port Jefferson boasts a host of annual events, celebrating every season. With its views of Port Jefferson Harbor, Jeanne Garant Harborfront Park is a favorite of visitors and residents.There are walking paths, a 350-foot pier, a small beach, playground with water sprinklers, and a picnic area. In the warm weather, outdoor concerts and family movie nights are regularly scheduled. Once the weather chills, The Rinx is open for ice skating.
RELATED: Apple picking and farm stand fun on LI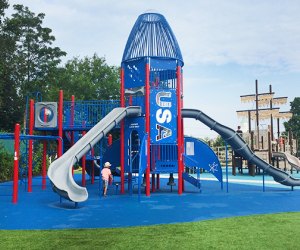 Rocketship Park, built in the 1970s, received a $900,000 renovation that was completed in 2017. Photo by Thien Nguyen August
Recently renovated, Rocketship Park boasts a 4,000-square-foot playground with a newly designed jungle gym that resembles, no surprise, a rocket ship. There are also basketball and tennis courts, and a large picnic area. In the summer, the park's Little Red Barn is an ideal venue for children's shows.
Speaking of shows, Theatre Three has a full selection of live productions throughout the year, from musicals to comedy and concerts.
For a unique treat, visit the Maritime Explorium, where kids can learn seemingly everything about nautical science in a series of hands-on activities and exhibits. Educational programs and birthday party packages are available.
To discover more of Port Jefferson's rich history, check out the Port Jeff Village Center building at Harborfront Park, where you'll find revolving displays of historic photographs and works of local artists.
RELATED: 10 great parks in Suffolk County
Where to eat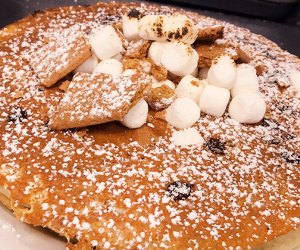 Enjoy the delectable Smores pancakes at Toast. Photo courtesy of Toast
From breakfast to lunch and dinner, there's no shortage of affordable, family-friendly restaurants for you and your kids in Port Jefferson.
Toast is a good spot for breakfast (and beyond) and, of course, Dunkin' Donuts on Main Street is a family favorite for a quick on-the-go snack. The Tiger Lily Café offers vegetarian and non-vegetarian wraps, as well as salads and a full juice bar for smoothies. Breakfast, lunch, dinner, and of course, dessert crepes are all available at Sweet 'n Savory Creperie and Rice Pudding Bar.
For Mediterranean food, try Z-Pita for pitas, pizza, and seafood, and for fresh Mexican cuisine, head to Salsa Salsa for kid-friendly burritos. Coal-fired pizza, pasta, and salads are served at The Pie. For more Italian-style food, have lunch or dinner at Pasta Pasta, which offers gluten-free options. And be sure to stop by The Steam Room, where for 35 years visitors have enjoyed seafood, burgers, and more.
If dessert is on your mind (and why wouldn't it be?), head to Roger's Frigate for ice cream, homemade fudge, candy, and other sweet treats. Port Jefferson Ice Cream Café is another worthwhile spot for ice cream and other frozen goodies.
Where to shop
With an abundance of stores up and down Main Street and along the side streets as well, catering to almost every whim, there is every reason to shop 'til you drop in Port Jefferson.
Toys and games: If you're looking for educational toys and games, head to Laine's Way. The knowledgeable staff is ready and willing to teach kids (and parents) how their products work. Another fun store is Boardwalk Games, which sells old-fashioned—and newly fashioned—board and card games, as well as other toys and games that do not require batteries. Your kids will marvel at the many comic books at Red Shirt Comics.
Clothes and jewelry: The Soap Box carries a large selection of bath and body products and other unique gifts, while Sea Creations sells "seashells by the seashore" along with jewelry, gifts, and more. At Breathe Inspiring Gifts, you'll find unique jewelry, crystals, and other new-age gifts. The shop also offers kids' and adult yoga classes. Cribs n' Bibs has christening and communion outfits in addition to cribs and bedding. Need something for your pet? Head over to Fetch Doggy Boutique & Bakery for apparel, accessories, treats, and more. Of course, it's never too early to start shopping for the holidays, so be sure to check out Once Upon a Christmas and The Red Sled.
Getting there
Port Jeff is situated on the north shore of Brookhaven Town. Routes 347 and 25A feed into the village and the Long Island Expressway (Exit 64) is about 10 miles south. The Long Island Rail Road's Port Jefferson station is less than 2 miles from the harbor area. Sailing time to and from Bridgeport, Connecticut via the ferry is about 75 minutes.
Top photo: Pirates rule at Port Jeff's annual Boaters' Maritime Festival. Photo courtesy of the town