Long Island Tall Ship Cruises: Fun for Kids on Port Jefferson's Ginny Marie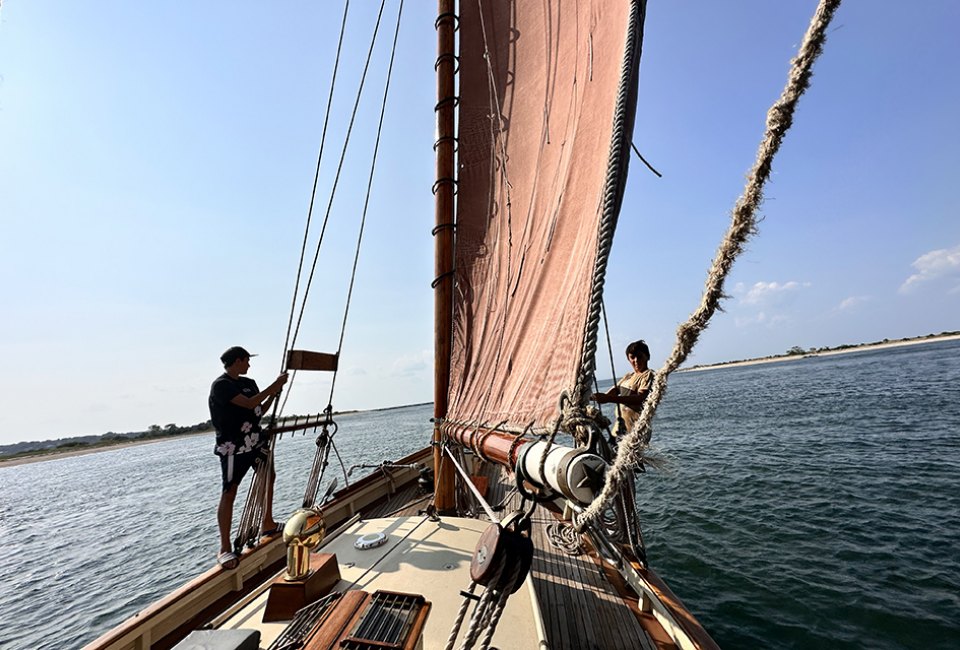 9/10/23
- By
Jaime Sumersille
Sailing on tall ships is a great way for families to explore the waters off Long Island's shores. From fishing trips and educational tours to private charters and schooner sails, these Long Island boats are the perfect way for your family to set off on a nautical adventure.
Take the Ginny Marie, a 50-foot topsail schooner based in Port Jefferson Harbor. Sailing 7 days a week, three times a day from May to October, this 1920s wooden ship boasts a pirate ship vibe, which is perfect for families. My mateys and I were granted permission to come aboard for an afternoon sail.
Below, a review of our tour, followed by a round-up of other sloop, schooner, and sailboat adventures around Long Island that are sure to make a big splash.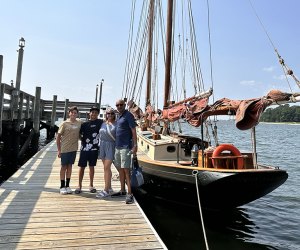 Enjoy the sights and sounds of Harborfront Park in Port Jeff before setting sail.
Sailing on an LI Schooner: What You Need to Know
We arrived at Harborfront Park in quaint Port Jefferson early to be able to walk around and enjoy the sights and stores before boarding the Ginny Marie. From crepes and gelato to a STEM museum and free spray park, you won't want to miss poking around the village.
As my family walked the floating dock, we were cheerfully greeted by Captain Brian and his first mate, Lon. Both were very qualified and capable sailors, and they explained some safety guidelines and guest expectations. They said the sailing experience could be whatever we wanted it to be. If we chose to sit back and enjoy the view while they charted a course, that was an option. Or we could be part of the crew, learning the ropes and sails, and helping to navigate the harbor waves.
RELATED: Best Family-Friendly Boat Rides on Long Island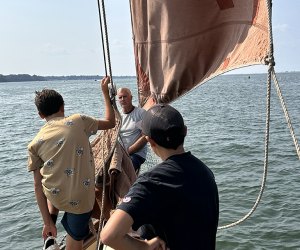 You'll get to be a crew member on your LI schooner ride.
Of course, my tween/teen boys opted to join the crew. They listened intently and followed instructions to carefully hoist the 30-year-old amber-colored sails. They worked together to coil ropes and tie knots, all securing the 40-foot deck for its journey into the Long Island Sound. My husband and I also joined the "crew." Brian and Lon strongly encouraged us to help steer and haul lines – and just like that we were old-world sailing!
RELATED: Where to Enjoy Kayaks, Rowboats, Pedal Boats, and More With Kids on Long Island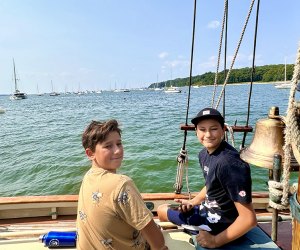 After hoisting the sails, relax in the beauty of Port Jefferson Harbor.
After helping to "tack the mast," we were able to relax. The boys lay on the bow of the boat, enjoying the wind and subtle sea sprays, while we sat right on the deck's wooden planks, mere feet from the crisp water below as the ship "heeled" to its side a bit. See how nautical I sound? This trip was as educational as it was engaging! The scenery was simply majestic. From pristine sandy beaches to lush rolling hills and mansions, Port Jefferson Harbor is vibrant and picturesque. It is completely steeped in maritime history.
We can't wait to return for another sail, now that we know the "ropes."
What and Who to Bring Aboard a Long Island Tall Ship
It's BYO food and drink aboard The Ginny Marie. You can also hook up your Bluetooth speaker and play tunes of your liking. There's a cabin under deck with a "head" - that's nautical talk for a bathroom on board. Lifejackets are provided for all guests and are mandatory depending on age. There are cushions to sit on as well, but they are backless. We quickly put our hats away but found sunglasses to be helpful. You can even bring Fido along.
While the captain aims for smooth sailing on all trips, the ship's deck can become unsteady at times. For that reason, this sail might not be suitable for those with mobility issues or toddlers/infants.
Which Time Slot Should You Book for a Tall Ship Ride on Long Island?
The daily sails at 1:30pm and 3:30pm are booked on a per-person basis, but the popular 6pm sunset sail must be fully booked/paid, even if it has less than six passengers. Note: The sunset sails might depart earlier in the fall. The crew will refund or credit for bad weather to rebook another time. While they will sail in almost any weather, if it's too choppy they might recommend rescheduling. Paid parking is available nearby in a town lot.
Other Sailing Adventures on Long Island to Check Out
Leaving from the Waterfront Center, the Christeen is the oldest oyster sloop in North America and a national landmark. Would-be sailors can choose from harbor tours, sunset sails, brunch on the bay, and a marine discovery sail. Pricing information can be found here. Children must be 3 or older to sail. All tours are fully narrated. The harbor tour explores West Harbor, Oyster Bay, and Cold Spring Harbor.
Windward Sailing Charters offers private sailing charters for up to six guests on a 36-foot sailboat. The Charter includes a U.S. Coast Guard licensed captain, bottled water, and soft drinks. Learn to sail or just relax and take in the sights. Swimming off the boat is permitted at the mooring.
Take a cruise aboard the oyster sloop Priscilla while you visit a museum dedicated to Long Island's maritime history. Learn about boat building, shipwrecks, and shellfish harvesting while viewing some spectacular creatures in the crystal South Shore waters on this 60-foot sloop. Bonus: You'll be sailing on a National Historic Landmark.
Surprise, a shallow wooden two-masted sailboat, allows guests to access secluded beaches and harbors that most yachts this size are not able to. Amenities like a sturdy swim ladder and a hot water shower on deck provide guests with ease and comfort after taking a dip. Day sails for up to six guests can be booked for 2-9 hour blocks. The company also offers more private charter options. In 2024 the Schooner Bonnie Lynn will set sail and be able to accommodate up to 32 guests.
Photos by the author
Sign up for the Mommy Poppins Newsletter today!
i