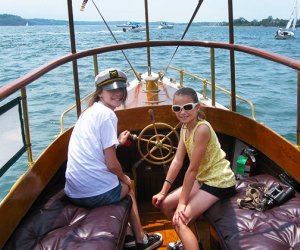 Boat Rides for Families and More Water Fun on Long Island
Set sail this summer for boating, sightseeing, whale watching, marine critter catching, or just a good time out on the water. These Long Island boat tours are ideal for families eager to create nautical adventures and lasting memories.
Here are the voyages we think are especially worthwhile.
For more Long Island adventures, check out our guide to summer fun, our list of 100 great things do with kids, and even our guide to seasonal day trips from Long Island.
On a budget? See our list of 50 FREE things to do with kids this summer.
Family-Friendly Boat Tours in Nassau County
Freeport Water Taxi — Freeport
Stroll down the Nautical Mile in Freeport and end up at Freeport Water Taxi. Besides a one-hour day cruise, it offers seasonal seal watching tours, sunset cruises, fishing excursions, and more. Most tours cost from $15 to $40, with the exception of the fishing tour, which comes in at $450 or more. On most rides, prices for children younger than 10 are discounted. The one-hour day cruise is family-, pet-, and budget-friendly. Reservations can be made online here. Arrive 30 minutes before your cruise to check in. You can also pop on the Freeport Water Taxi for a shuttle cruise to Point Lookout.
Port Water Taxi — Port Washington
Similar to Freeport, Port Water Taxi offers extended harbor tours, cruising scenic Manhasset Bay seven days a week in the summer for half an hour. Tickets cost $10 for adults and $5 for children 11 and younger Monday through Friday. On weekends all tickets are $10. Tours depart Port Washington's town dock on Lower Main Street and tickets can be purchased on board. Be advised: The ferry's maximum capacity is 10 passengers so a short wait might be likely.
RELATED: Super Sprinkler Parks for Kids on Long Island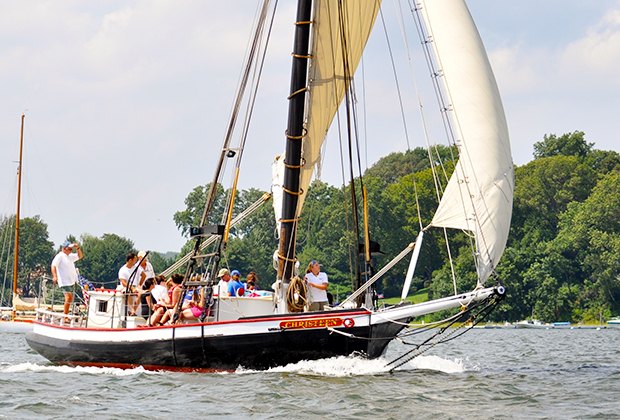 The Christeen, a former oyster boat, offers harbor and sunset cruises, and more.
The Christeen — Oyster Bay
Leaving from the Waterfront Center, the Christeen is the oldest oyster sloop in North America and a national landmark. Would-be-sailors can choose from harbor tours, sunset sails, brunch on the bay, and a marine discovery sail. Pricing information can be found here. Children must be 3 or older to sail. All tours are fully narrated. The harbor tour explores West Harbor, Oyster Bay, and Cold Spring Harbor.
Family-Friendly Boat Tours in Western Suffolk County
Captain Fish — Port Jefferson
You and your little anglers will love catching porgies, sea bass, and dogfish as you cruise along Port Jefferson's bustling coast. Captain Eric Huner will even de-bone, clean, and pack the fish for you to take home. Enjoy a comfortable boat ride with lots of knowledge and perhaps dinner to show for it.
Captree Fishing Fleet — Babylon
The Captree fishing fleet is Long Island's largest, with 12 fishing boats that sail regularly and for which advance reservations are not required. Most fish the ocean and bays, and provide poles and bait. Many have facilities such as snack bars and sun decks. The sailing and fishing schedule is found here. All boats are located at the marina dock in Captree State Park along with the sightseeing boats Moon Chaser and Delta Lady.
Discovery Wetlands Cruise — Stony Brook Harbor
Leaving from Stony Brook Marines Services, the Ward Melville Heritage Organization's pontoon Discovery explores an 88-acre wetlands preserve. The cruise lasts 90 minutes and a on-board naturalist highlights and describes the wildlife and marine life seen during the tour. Cruises run from May to October and are scheduled according to tide tables. Advance reservations are recommended; tickets are $28 for adults, $25 for seniors and students, and $18 for children younger than 6. Call to register.
RELATED: The Best Beaches on LI for Families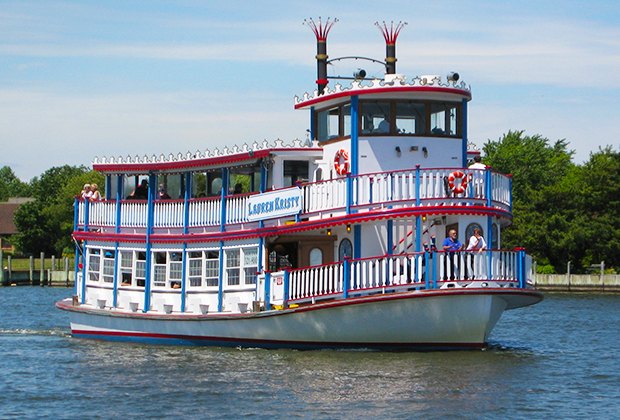 The Lauren Kristy offers a Huck Finn experience in the bay waters near Fire Island.
​Lauren Kristy
 — Bay Shore
All aboard the Lauren Kristy at Bay Shore Marina. This 65-foot, turn-of-the-century style riverboat offers lunch and dinner cruises gliding on Great South Bay along the shores of Fire Island. All sails require reservations. Prices vary by day, time, and type of cruise, but start at $29.95 for adults.
Long Island Maritime Museum — West Sayville
Take a cruise aboard the oyster sloop Priscilla while you visit a museum dedicated to Long Island's maritime history. Learn about boat building, shipwrecks, and shellfish harvesting while viewing some spectacular creatures in the crystal South Shore waters.
Moon Chaser — Babylon
The 65-foot Moon Chaser offers a 90-minute narrated tour of Great South Bay focused on its history and wildlife. Cruises depart every Wednesday and Thursday through August 29 at 1 and 2:30pm. Adults are $15, children 12 and younger are $12. Plus, every Wednesday children ride free. Click here to make online reservations.
Family-Friendly Boat Tours on the East End
American Beauty II — Sag Harbor
Visitors can choose from a 90-minute nature cruise ($30 for adults, $20 for children 5-12, and FREE for children younger than 4) or two-hour sunset cruises ($42 for adults and $29 for children) from Long Wharf dock. Catch a glimpse of Cedar Point Lighthouse and ospreys relaxing in their nests at Mashomack Preserve. Check the website for the schedule; cruise times vary.
Atlantis Explorer Tour Boat — Riverhead
Launching from the Long Island Aquarium, the Atlantis Boat tour promises a 90-minute educational and interactive ride. From July through Labor Day, the boat leaves at noon, 2pm, and 4pm. Check the website to confirm times, and all boat rides are weather permitting. Passengers enjoy seeing and often, touching, slimy sea creatures and the marine life in the Peconic River. With paid museum admission, the boat ride is an additional $15, but children younger than 2 are $5. Without paid museum admission, the ride is $22. Purchase a ticket online here.
RELATED: 50 Things to Do With Kids on the East End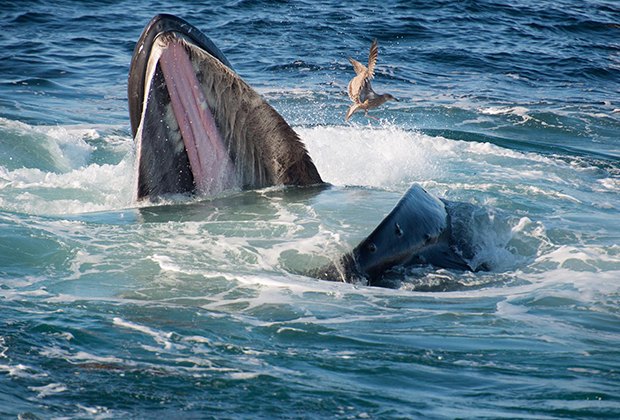 Watch humpback whales feed from the decks of the Viking Starship in Montauk. Photo by Dr. A. H. Kopelman for CRESLI
CRESLI/Viking Fleet Whale Watching — Montauk
631-668-5700
For more than 30 years, the crew of the Viking Fleet and CRESLI (Coastal Research and Education Society of Long Island) have been taking passengers whale watching on the very eastern tip of Long Island. The boat departs from the dock in Montauk Harbor at 2pm and returns at 7pm. The fleet claims a 92 percent whale sighting success rate. Adults are $75; children 5-12 are $49; and children younger than 5 are FREE. The fleet recommends reservations, which can be made online here.
Cross Sound Ferry — Orient Point
OK, this is not exactly a harbor tour, but it is a fantastic ride. Ferries depart from Orient Point and sail past several lighthouses and sinister Plum Island to New London, Connecticut, where the historic sailing ships of Mystic Seaport, and the USS Nautilus at the Submarine Force Museum lie just across the harbor—a boating adventure if ever there was one. There are a number of ferries, the most comfortable and most interesting being the Cape Henlopen, which was a WWII landing craft before becoming a ferry. The John H is also comfortable, and these two ships have ample outdoor seating and full-service snack bars that serve yummy grilled cheese sandwiches among other things. The trip across the Sound lasts about 90 minutes. Reservations can be made online here.
Fish North Fork — Southold
Captain Mark Melnick will take you and your family for a three-hour private tour around Shelter Island aboard the Emily Rose. You can plan your own customized kid-friendly family excursion.
Peconic Star Fleet — Greenport
Docked at the railroad dock in Greenport, the Peconic Star II and the Peconic Star Express are fast, state-of-the-art fishing boats with pleasant cabins, spacious sun decks, and galleys offering snacks and beverages. The fleet offers only full-day fishing trips, which might be a little long for smaller children. Adults are $95 and children 14 and younger are $55. The Peconic Star Express will be porgy fishing through October, and the Peconic Star II is charter-only during the summer. During the rest of the year, it's fluke fishing.
RELATED: Top Beach Playgrounds for Kids on LI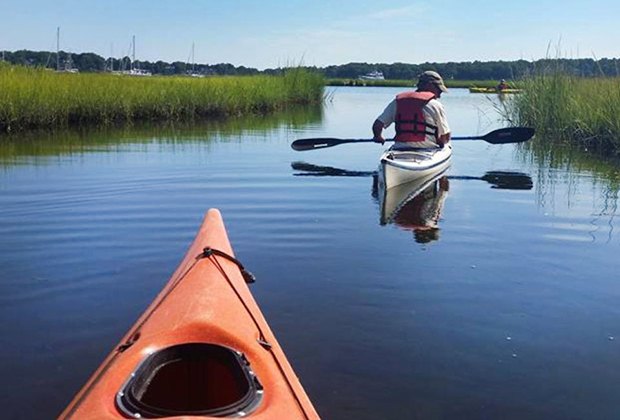 Enjoy a tranquil kayaking ride in the waters of Shelter Island.
Shelter Island Kayak Tours — Shelter Island
Kayaking is fun and a great way to explore the waterways of Long Island. Take the North or South Ferry boats across to Shelter Island and rent a single or double kayak. There are also guided tours available. Kayakers may see foxes, swans, rabbits, deer, and more. Two-hour tours are $60 for adults and $30 for children younger than 12.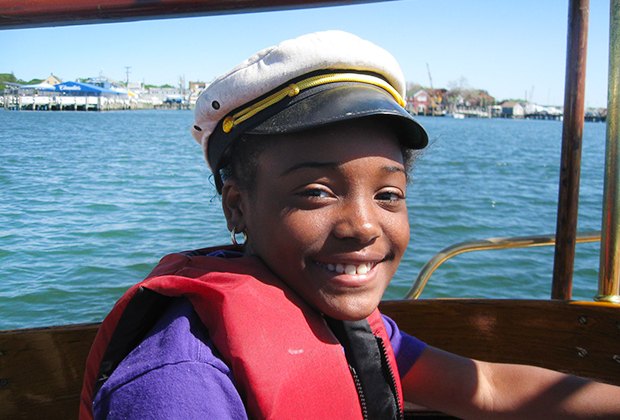 Kids can take the helm on Old Glory in Greenport.
Solar-Powered Electric Launch Glory — Greenport
Glory is celebrating 20 years since going green. Leaving from Preston's Dock in Greenport Harbor, passengers can tour the harbor and Peconic Bay aboard the first completely clean, nonpolluting, solar-powered tour boat in New York. The Glory, with its jolly striped awning, mahogany and gold trim, and seating for 14 is a delightful craft with an amazingly quiet engine. Cruises last 45 minutes, and destinations depend on weather, tides, and boat traffic. Check the website for departure times. Tickets are available at the dock or online.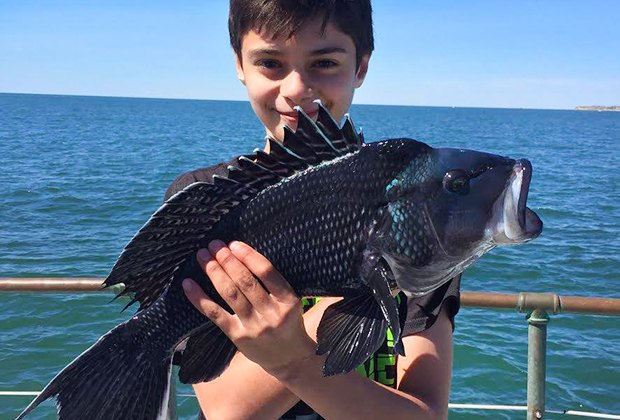 The Viking Starship, based in Montauk, offers half-day fishing trips ideal for kids.
Viking Starship — Montauk
This summer sail out of Montauk Harbor aboard the Viking Starship or the Viking Star for a half day of fishing. Bait and tackle are provided on fluke trips; bait is provided on the porgy and sea bass trips. Perfect for beginners and experts, these trips last four hours. Adults 13 and older are $50; children 5-12 are $30; and kids younger than 5 are FREE. Click here for the schedule and to book your ride online. The boats have a full galley on board for food and drinks.
Unless noted, photos are courtesy of the boats/tours.
A version of this article was posted in 2018. Writers Rebekah Yahoves and James Smith contributed additional reporting.