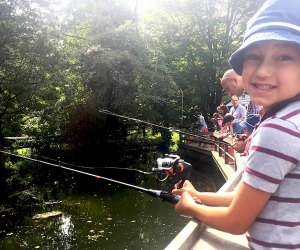 Fishing on Long Island: 14 Holes For Kids and Families to Drop a Line
Don't forget to follow local regulations and scoop up a free fishing permit from the state. A permit is not required for kids younger than 16. There are unique permits for freshwater and saltwater fishing, however.
Family-Friendly Fishing Destinations in Nassau County
2020 update: Face coverings must be worn, and social distancing observed. Park density limits are in effect.
Fish from either South or McDonald ponds, where trout are stocked regularly in the fall. Bass, perch, carp, and sunfish are also regularly found here in-season. The New York State Parks Department hosts some family fishing clinics throughout the year. There are also tennis courts, children's playgrounds, basketball courts, bridle trails for horseback riding, biking and hiking trails, shaded picnic areas, and a historic hand-carved wooden carousel. Without an Empire Pass, daily parking fees apply.
OUR LATEST VIDEOS
RELATED: Best Apple Picking Orchards for Kids on Long Island

Kids can choose from among four fishing piers at Jones Beach's Field 10.
2020 update: Guests must wear face coverings and maintain social distance. Park density limits are in effect. The nature center is currently closed.
Head to Field 10 at Jones Beach State Park and pick a pier. Four "finger" piers jut out in a peninsula formation, so there's no overcrowding. A few feet away, The Fishing Station has all your bait and tackle needs, plus drinks, coffee, burgers, and sandwiches. Bathrooms are also located here. Before you go, head to the beach for some sandy fun or experience hands-on learning at the Jones Beach nature center, cool off at the splash pad, or hit WildPlay's new adventure park and zipline. Without the Empire Pass, daily parking fees apply.
2020 update: Mask wearing and social distancing are required.
Long Beach isn't only a beach hot spot. Its local fishing pier, known as Magnolia Pier after its address, is open year-round and is super popular. There's free parking, restrooms during weekday business hours, and even a snack bar at the ice arena. But, most importantly, fishermen and fisherwomen know they're likely to score a good catch here. In late fall and winter, herring is the catch of choice.
RELATED: 17 Day Trips Near NYC for Summer 2020 Adventures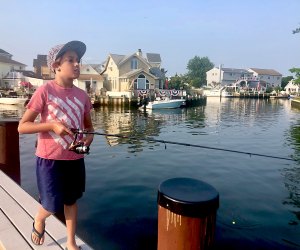 Attention fishermen (and women): Permits are not required to fish from the Seaford Town Dock.
2020 update: Mask wearing and social distancing are required.
There are no permits or parking restrictions here. But, beware: There are also no railings! This is a smaller, peninsula-shaped dock with rocks as the floor and a planked boardwalk. Bring your own tackle. There are trash receptacles and fishing line recycling bins. It's a great spot to drop a quick line in a quiet setting. The Cardoon Mediterranean Grill is next door and offers al fresco dining.
2020 update: Mask wearing and social distancing are required.
Watch the boats sail in and out of Manhasset Bay while you attempt to hook a fish here. In the summer months, snappers (juvenile bluefish) abound. Combine fishing with a trip to the local farmers market on summer weekends. It's also an excellent waterfront for strolling, sunset seeking, or general people watching.
2020 update: Capacity is limited to support social distancing, and masks are required while walking around the facility but not while lounging or swimming. The pool is limited to Nassau County residents only.
This 100-plus-acre park is home to one of our favorite seasonal swimming pools and mini water parks. It's also a great fishing pier. Found just beyond the marina, it's open year-round. There is limited seating, tables along the pier, and lovely views. The waterfront path was recently repaved and is ideal for bike riding. Enjoy a round of mini-golf on your way out.
Family-Friendly Fishing Destinations in Suffolk County
2020 update: The pedal boats are currently unavailable. Guests must wear face coverings and maintain social distancing. Park density limits are in effect.
The 26-acre, spring-fed Belmont Lake provides springtime trout fishing and summer bass fishing. Waterfowl can be found roaming the grounds and watch out above for osprey diving for a fresh catch of the day. Belmont Lake also offers pedal boat, rowboat, and kayak rentals from the boat dock from May through early October. Afterward, picnic, or play on the climbing structures, fields, courts, and more.
RELATED: The Best Beach Playgrounds for Kids on Long Island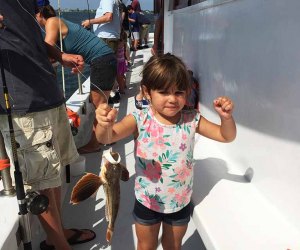 From pier or boat, Captree State Park is a great option for fishers of all ages. Photo by Jen Tomeo
2020 update: All boats are operating at reduced capacities due to the pandemic and most require reservations. Wear a face covering and maintain social distance. Park density limits are in effect.
Kids can stay on land to fish off the two large piers or even catch crabs at this gorgeous state park. It's also a good spot to catch one of the many boats for a day of saltwater fishing, sailing, or sightseeing. Head to the overlook for sweeping views of Fire Island and great picnicking. There are even paddleboards available.
RELATED: Boat Rides for Families and More Water Fun on Long Island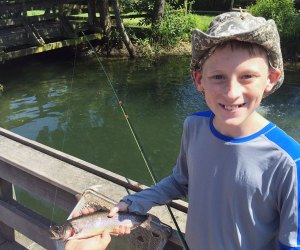 Catch a big one at Cold Spring Harbor Fish Hatchery. Photo courtesy of the hatchery
2020 update: Fishing and all other programs are by reservation only. Capacity is limited indoors, and face coverings and social distancing are required.
Tour the aquariums, ponds, and other exhibits at this Cold Spring Harbor nonprofit before checking out its catch-and-keep fishing program. Cast your line from its fishing platform to snare a trout during select times in the summer. You'll pay per fish and must keep your fish (no tossing it back). But it gives kids a chance to learn how to bait, cast, and reel a line—and to see whether they have the stomach for gutting that fish later. See complete hours and fees online. Bring your own rod or rent one here for a nominal fee. Don't miss the turtle pond, either.
2020 update: Limited capacity on the fishing boats; reservations are required
Although there is no fishing allowed on the 350-foot pier, Port Jefferson's waterfront offers expansive North Shore views and plenty of fishing opportunities. You can also catch a fishing boat from here, including the Osprey fleet, which operates a kids fishing tour for ages 7 and older. Afterward, stroll the village for family-friendly eats, sights, and activities.
Family-Friendly Fishing Destinations on the East End
2020 update – Mask wearing is encouraged.
This popular spot hosts a special kids fishing boat trip and other family-friendly fishing experiences in a low-key setting. Fluke is the popular catch here, but you might net sea bass or striped bass, depending on the season.
2020 update: The Lighthouse Tower is temporarily closed; the grounds, museum, and gift shop are open. Guests must wear face coverings and maintain social distance. Park density limits are in effect.
Fishing is available year-round off the beaches of the gorgeous Montauk Point State Park, where you'll be treated to grand views of the south shore of Long Island, nature trails, and maybe even a seal sighting. Cast your line right from the beach, aka surf fishing, to try for striped bass or other local favorites. You'll likely find porgy and cod, too. Apply for an after-hours parking permit to enjoy summertime fishing when the beaches clear of sunbathers. Don't miss the lighthouse while you're out here.
2020 update: Mask wearing and social distancing are required. Park density limits are in effect.
Visitors can swim in the bay, fish from shore, go kayaking, windsurfing, stand-up paddleboarding, hiking or biking, or walk a nature trail. The water-facing playground and picnic area are an ideal spot to complete your day trip to this easternmost point of Long Island's North Fork. Fees include $10 for parking unless you have the Empire Pass.
2020 update: The carousel is currently closed, and snapper derby and Greenport Maritime Festival have been canceled.
At the end of Third Street, near Greenport's antique carousel and the ferry to Shelter Island, kids can drop a line for snapper, flounder, porgies, and more. There's even an abundance of squid to be caught on rod and reel in early- to mid-spring, ideal for fresh calamari, or as bait for larger fish. The dock is the site of the village's annual snapper derby held on the Sunday of Greenport Maritime Festival weekend.
A version of this article was published in 2015.
Unless noted, photos by the author