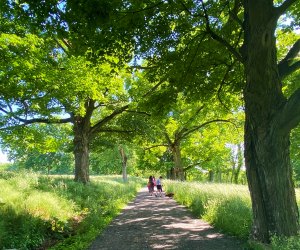 17 Day Trips Near NYC for Summer 2020 Adventures
Ready to get out and see a bit of the world again? Or maybe just take a drive? We've rounded up 17 summer day trips near NYC just right for area families ready to make a break for it. These destinations are all within easy driving distance from NYC, Long Island, and Westchester.
The tristate area is in various stages of reopening, so we've done our best to pick outdoor day trips from NYC where maintaining some social distance is possible. No matter where you travel, don't forget to bring your masks along (they're required in New York state and encouraged most places), plus plenty of hand sanitizer.
Visit our Days Trips Guide for more summer getaway inspiration, and our National Travel Guide if you're ready to wander further afield.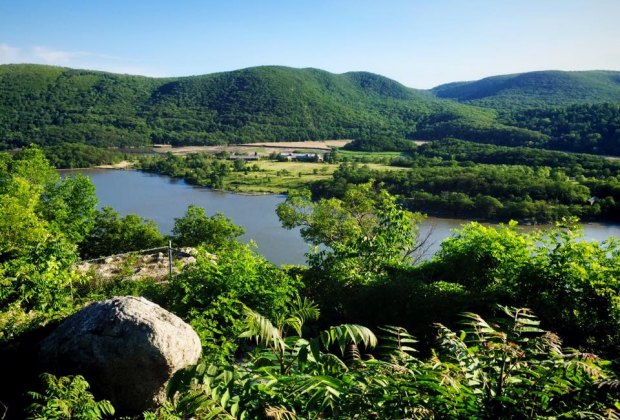 Let the kids immerse themselves in the woods at Bear Mountain. Photo by Mommy Poppins
This outdoor getaway has tons of all-seasons entertainment and is one of our favorite places to sneak in a quick breath of fresh air. Though the pool, Trailside Zoo, and indoor attractions remain closed, you can still enjoy a hike along its trails, including the path leading to the 1,305-foot summit of the namesake peak. As a state park, capacity is currently limited to 50 percent, but entrance fees have been waived. Get an early start to make sure you reach the parking long before it fills up for the day.
2. Enjoy a Dip at a Nearby Swimming Hole
New York state parks are open with limited capacity and so are the state's beautiful lakeside swimming holes. We've rounded up our picks for the best freshwater swimming lakes in New York. While New Jersey also has some scenic spots, state-owned lakes have yet to reopen for swimming. Nearby state parks in Pennsylvania have some swimming pools open, too, and Connecticut has opened only its coastal state parks for swimming.
RELATED: Summer Day Camps Get Ready to Open in New York State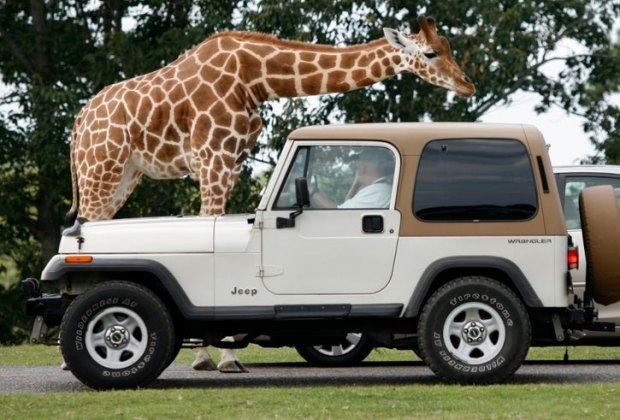 Parents might remember the Six Flags Safari of yesteryear, and it's back for 2020! Photo courtesy of Six Flags
With theme parks and thrill rides mainly off-limits in the area for now, Six Flags Great Adventure New Jersey is going back in time, reopening its safari to personal cars. Long-time residents may recall wild baboons attacking family station wagons in years of yore. While you'll be able to peep baboons on your journey, along with 1,200 other exotic animals, there's no chance of them trying to hitch a ride home. Drive slow because some animals do roam free, while others—namely predators—are separated from the cars by barriers. We've got the lowdown on the whole experience plus how to score tickets.
We admit this is more of a "night" trip than a day trip, but its still a worthy, out-of-the-ordinary excursion during this unusual summer, especially if you own a car. While there have long been theaters in the Hudson Valley, pop-up theaters abound in the tristate area this summer, from Yankee Stadium in the Bronx, to Long Island's Adventureland, and farms in both New Jersey and Connecticut, there's a drive-in theater no matter where you want to roam.

Meet animals or enjoy fruit picking at nearby farms that have reopened. Photo by Rose Gordon Sala
5. Spend a Day on the Farm
Strawberry season is in full swing at these farms near NYC, on Long Island, in New Jersey, and in Westchester and the Hudson Valley. While the window for the ruby-red berries is short, the wide-open fields soon overflow with blueberries and raspberries, and before you know it, the peaches will be ready to pick, too. Another bit of farm fun can be found on the Long Island Drive-Thru Animal Tour, which lets you roll the family car through a pair of equine rescues on the East End. New Jersey has two drive-through-style animal tours, too, one at Brookhollow's Barnyard and another at the rural Space Farms Zoo & Museum. In Connecticut, you can stroll through a reopened lavender farm billed as New England's largest with its 10,000 plants.
6. Row a Boat
Though commercial boat rides are still mostly off-limits, low-risk recreational activities were added to Phase 2 openings in New York state, and these include adventures like rowboats, kayaks, and pedal boats. Waterways in Westchester and on Long Island have now entered Phase 2 and that means visitors can start hitting the water. We've got a roundup of NYC kayaking, canoeing, and rowboat options, too, but it will be a few weeks before this activity is cleared in the five boroughs.

Walk with the deer on the calm and car-free Fire Island. Photo by Anne Marceaux
While many of our favorite Long Island beaches are limiting visits to locals only, Fire Island is part of The National Seashore and not subject to local limitations. Social distancing on the ferry means your commute to the isle might be a little longer, but it's all part of the adventure and the clean, sandy shores are worth the wait.
New Jersey's reservations, essentially large tracts of parkland and forests, offer plenty of open spaces to explore, plus tons of family-friendly amenities. While some services are limited, and indoor attractions closed, there's still plenty of room to roam, hike, bike, and explore the great outdoors.
9. Visit an Outdoor Arboretum
There are plenty of family-friendly gardens to explore in New Jersey and on Long Island if you're looking for more serene-style day trips. Many of these local gardens offer a stunning backdrop for photos with plenty of curated and well-cared for plants, trees, and flowers, as well as art. While indoor services and spaces may be closed, the grounds are open already at several of these gorgeous gardens.
RELATED: Family Resorts Reopening for Summer 2020 Travel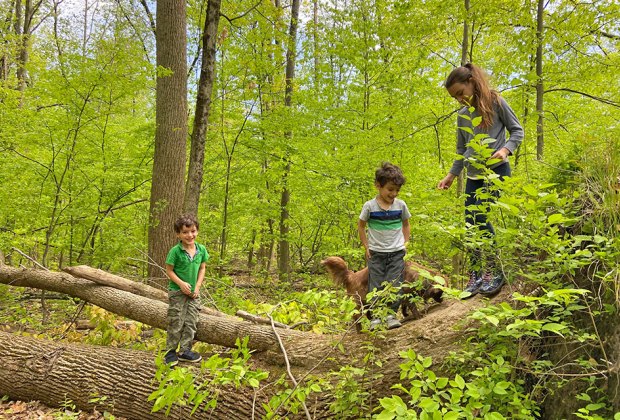 A long hike in the Hudson Valley is sure to cheer everyone up! Photo by Sara M.
We already shared our praise for a day at Bear Mountain State Park, but the Hudson Valley overflows with plenty of other New York state park hikes, each with their own special backdrop.
We love this family-friendly college town nestled at the foot of the Shawangunk Mountains, so it's almost always on our top day trips from NYC list, no matter the season. It's surrounded by plenty of open space for outdoor recreation, plus home to the beautiful Mohonk Mountain House Resort, which reopens in mid-June and sells day passes for the use of its grounds, including the stunning hiking trails.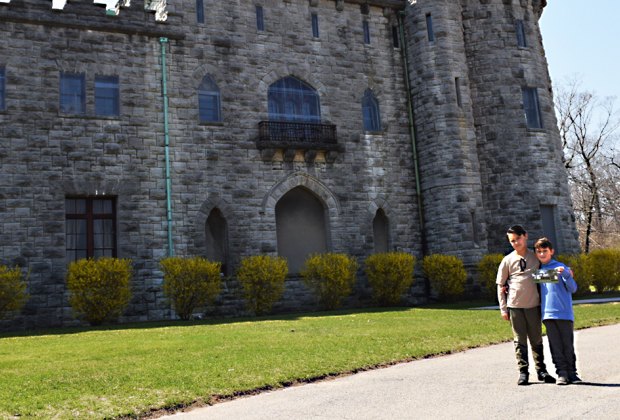 Explore the grounds at Sands Point Preserve on Long Island. Photo by Jaime Sumersille
The sprawling grounds of the Gold Coast estate house the medieval-looking Castle Gould, manicured gardens, grassy knolls to play on, and tons of hiking trails to explore. One, dubbed the Dinosaur Trail, is a 1/4-mile loop that has some larger-than-life dino tracks to pounce on. Gorgeous views of the Long Island Sound await if you trek the Fitness Trail. While many indoor attractions and the institution's educational programming are on hold for the moment, there's still plenty to do and see.
If you prefer live animals to extinct ones, a visit to the Lakota Wolf Preserve in Columbia, New Jersey, makes for a thrilling day trip. A visit does require some advance planning and prebooking a tour, but you'll be rewarded with up-close (yet behind safe fencing!) views of the majestic animals that call the preserve home and a 1/2-mile nature walk to reach the packs.
Enjoy the crashing sound of multiple waterfalls at this New Jersey spot, which is actually a National Historic Park. The Passaic River flows over a 77-foot drop carved by ice age glaciers and drops nearly two million gallons of water each day before it continues on its way. Learn about the historical significance of the falls and their role in the industrial revolution. If you're lucky, you'll spot a rainbow in the mist. It's a short walk around the falls and a bridge, so you may want to tack on another of the days trips to this one if driving from far, such as a farm visit. Or maybe even another of the waterfall hikes in Northern New Jersey.
15. Hop Aboard the Ferry to Bridgeport, Connecticut
Get a taste of New England by exploring this family-friendly Connecticut town. Getting there is half the fun: You can board the ferry in Port Jefferson on Long Island, and spend the next 1 hour and 15 minutes enjoying the fresh air and sea spray as you cruise across the Long Island Sound. Once you arrive, explore the park-rich town, wander its sandy beaches, indulge in some local eats, or while away a couple of hours at the newly reopened Beardsley Zoo.
16. See More of the Nutmeg State
If you prefer to drive across the border, plenty of fun awaits in Connecticut, where state parks and beaches are already open. State park swimming beaches are open along the coast (inland state swimming lakes are closed); and please note that some Connecticut beach towns have said they are only accepting resident beach passes, so check the individual town info before your drive. You can also cast a line and go fishing in the state.
Other exciting developments on the horizon: Quassy Amusement Park is set to reopen on June 20 and movie theaters have even been given a green light to reopen. Read all about the Connecticut reopening plans and start plotting your outing.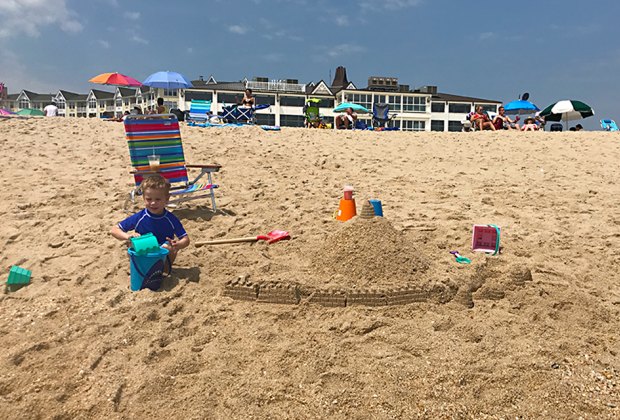 Jersey Shore beaches are open to all but arrive early to score a beach pass. Photo by Rose Gordon Sala
Most of the stunning, sandy shore is open for beachgoers, making the Shore among our favorite summer day trips from NYC. Expect plenty of limitations to the businesses on the boardwalks, and plan to pack masks for use in public restrooms. You'll also need to plan in advance (or leave extra early in the morning) as all Jersey Shore beaches are restricting the number of people on the sand at a time. We've got a roundup of all the service changes and limitations to help you score a daily beach pass for the perfect day trip. As of July 2, the Shore's many boardwalk theme parks and water parks at 50% capacity and with new social distancing rules.
Day trips near NYC abound, from mountains to beaches to gardens. Make a game of it this summer, picking a day trip per weekend (or as often as you can) and you may never hear the, "I'm bored" refrain again!