Where to Fish with Kids in Connecticut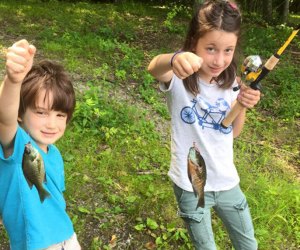 My childhood is full of fond memories of fishing trips by the shores of lakes and rivers and drifting along in our silent gray canoe. Connecticut has a lively fishing culture and a lot to offer kids interested in honing up their angling. Whether you need to know about licenses or classes, or just the best spots to cast a line, read on for the whole story on the what, where, and when of fishing in Connecticut, from Candlewood Lake and Lake Zoar in western Connecticut to Black Pond and Moodus Resevoir in the East.
See our spring fun guide and summer activities guide for more ideas of enjoying waterfront activities with Connecticut kids.
Where to Fish around Fairfield and Litchfield Counties
If you're in the Fairfield/Litchfield County area, Candlewood Lake is a hot spot for anglers of all ages and skill levels. You're most likely to hook a Smallmouth Bass at Candlewood, but there are numerous other species swimming around, too. Lake Zoar stretches across Monroe, Oxford, Newton, and Southbury and is a great spot for fishing. There is a boat ramp with ample parking if you prefer to get out on the water rather than fish from shore. In Fairfield, Mohegan Lake is a popular fishing spot. There are no boat launches so you'll have to stand on the shore, but folks have been successfully fishing the lake waters for generations. If you're nearby Norwalk, Redding, or Wilton, head over to Factory Pond where sources say you're pretty likely to catch something on your trip. Factory Pond is also known as Wire Mill Pond.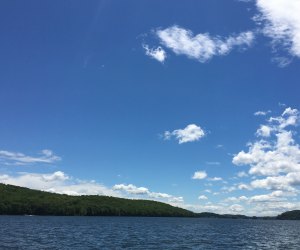 Where to Fish around Hartford and New Haven Counties
If you're further north in and around the Hartford area, there are tons of spots to fish. Angus Park Pond in Glastonbury is one such location. There is no boat access to the pond, but shore fishing is a popular activity. The Congamond Lakes straddle the Connecticut/Massachusetts border and are known for fishing. There are three named locations, South Pond, Middle Pond, and North Pond. A Connecticut or Massachusetts fishing license is honored at all locations. Stratton Brook State Park is home to Stratton Pond, a Connecticut Trout Park. This means that the water is stocked weekly with trout from the state fish hatcheries. This means your chances of catching something are even better than trying your luck at a non-stocked pond. St. Martha's Pond in Enfield is another location in this neck of the woods perfect for a day of casting.
In the greater New Haven area, fishing is easy to find. North Farms Reservoir in Wallingford has a public boat launch and good fishing opportunities. Quonnipaug Lake in Guilford has a wide variety of fish species and can be accessed from shore or by canoe or kayak. The Quinnipiac River, which snakes its way nearly 40 miles through the state is also a great location for fishing with lots of choice spots along the shore to cast a line and spend a relaxing family afternoon.
Where to Fish in East Connecticut
If you're to the east, head out to Black Pond in the Middletown area where there is shore access for fishing. Cedar Lake in Chester is another great spot for shore fishing and there is a public boat launch available. Moodus Reservoir in East Haddam is a prime spot for Bass fishing and Miller's Pond in Higganum is considered an excellent spot all around.
Important note: In the state of Connecticut, anyone over the age of 16 needs a fishing license to cast a line. That means if you plan to take your kids fishing, it's a good idea to get a license for yourself. This is easily done by visiting a participating town hall or tackle retailer or through the Department of Energy and Environmental Protection. Licenses for anyone over age 18 run between $28.00 and 32.00 for the season, depending on where you plan to fish. For kids under 16, there is no fee. In fact, for kids under 16, the DEEP offers a free fishing passport that lets you track events around Connecticut and gives access to some of the state's best fishing destinations.
Cover photo courtesy of Julia Tolstrup
Lake photo courtesy of Ally Noel