Oakland with Kids: 35 Best Things To Do in Oakland, CA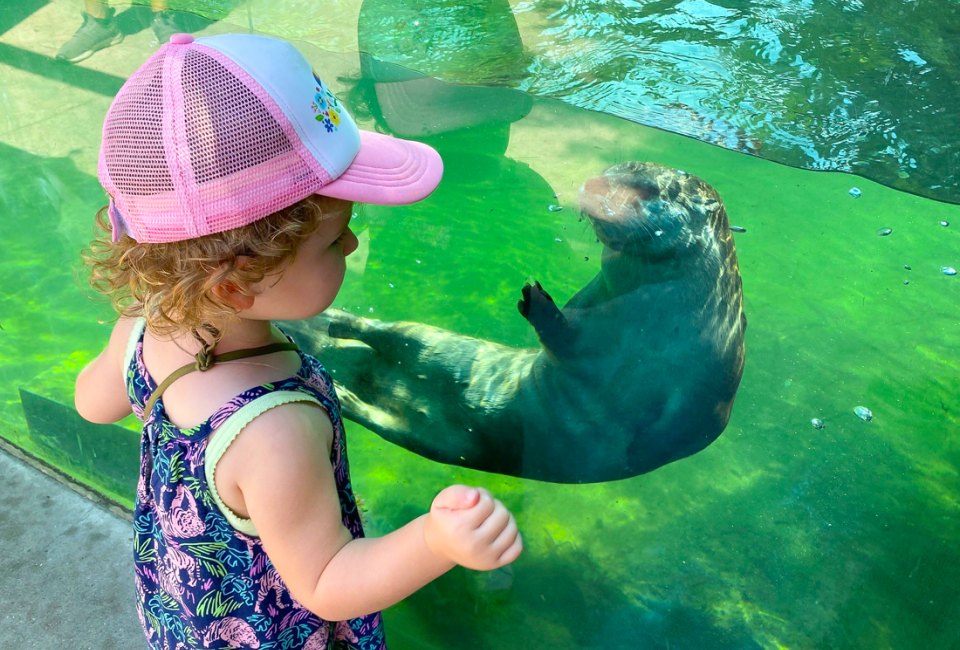 8/27/23
- By
Sandra Lee
Oakland is a vibrant, family-friendly, diverse city full of culture and hidden nature gems, making it an excellent urban escape for a day or weekend of exploring with kids.
Less crowded than its famous neighbor of San Francisco, Oakland is packed with beautiful hikes, kid-friendly museums, and over-the-top ice cream sundaes, making it worthy of a destination on its own. Keep reading below for the best things to do in Oakland with kids.
Seek more adventure with the top day trips from San Francisco, and the best urban hikes for families in the Bay Area. Pack up the car and hit the road with the help of our Weekend Getaway and Day Trips Guide for San Francisco.
Best Outdoor Activities in Oakland
This scenic urban lake has walking paths, paddle boats, and playgrounds. Rent a kayak or rowboat from the Lake Merritt Boathouse, and pack a picnic to enjoy the expansive outdoor space.
There's also a gnome scavenger hunt in the neighborhoods surrounding Lake Merritt (hint: look for the telephone booths!).
Animals aside, an aerial gondola sets apart the Oakland Zoo with this sky-high soaring experience. That's just one of the exciting thrills at this zoo, though. There's a kiddie roller coaster, multiple play areas, a carousel, and a children's zoo, to name a few things.

Stop and smell the roses. Morcom Rose Garden photo by author Sandra Lee
With over 1,000 rose bushes, the rose garden is a beautiful place to go for a stroll and photo ops. The roses are typically in bloom from Mother's Day to the end of October.
Majestic redwood trees and stunning hiking trails make up this gorgeous grove. There are trails for all ages and skill levels, from easy to challenging, and naturally, lots of shade cover.
RELATED: Family-Friendly Urban Hikes in San Francisco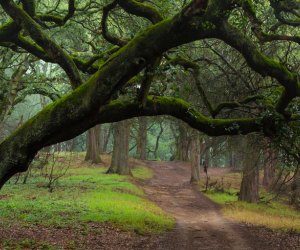 Step into other-wordly redwood groves. Joaquin Miller Park photo courtesy of the City of Oakland
Another beautiful hidden gem for families that enjoy the outdoors, Joaquin Miller Park has places to picnic, with amazing views of Oakland. Expect redwood groves, oak woodlands, creeksides, and wet meadows.
This whimsical vintage-style amusement park, designed for kids eight and under, has rides, games, puppet shows, and many special events throughout the year. Kiddos can wander through the Alice in Wonderland Queen of Hearts Maze, slide down the Jack and Jill Hill, and step inside the house of the Old Woman Who Lived in a Shoe.
Jack London Square is a popular spot for families, with a tons of events year-round, like movie nights, live music, and a great farmer's market on Sundays. Take a stroll and look at the boats on the waterfront, grab a bite to eat at one of the many restaurants with patios, and maybe even partake in a game of bowling at Plank.
Go Fishing, swimming, or hiking at the Temescal Regional Recreational Area. Fly a kite and enjoy the scenery. While in Temescal, head over to Temescal Alley on Sundays for the farmers market.
RELATED: Best Beaches in San Francisco

Root on the home team! Photo courtesy of Major League Baseball
Experience the excitement of a baseball game at the Oakland Coliseum. Sunday nights are Kid's Cheer Free, and a chance to stay after the game to race around the bases on the same field as the players.
Little ones will especially love this popular Oakland park. The enticing wooden playground surrounded by redwood groves is the big draw, though there is a smaller play area for little ones, too. There's also a shallow stream for wading for those hot summer days.
Admire the breathtaking views of the San Francisco skyline by bike, scooter, or foot. It will be easy to pass the time as kids who love boats or vehicles point out all the large ships that pass through the Bay.
You've likely heard of San Francisco's Chinatown, but have you visited Oakland's Chinatown? Peruse shops and take your pick of delicious dining options. While there, stop by the Asian Cultural Center to partake in arts and cultural programs.
Explore the remnants of Oakland's very own volcano at this unique regional park. Take a self-guided tour, see the many labyrinths, and admire the beautiful wildflowers on the 3.5-mile hiking trail.
Kiddos can step into a Western film scene at an Old West-themed play area. A tot lot will entice the wee ones, and it will be easy to pass the time spotting wildlife at the pond.
Best Museums in Oakland
With tons of art, history, and natural science exhibits, this museum in the heart of Oakland is a must-visit. Admission is free for kids 12 and under, and the Nature Playspace is an area for two to five-year-olds. On Friday evenings, the museum hosts Friday Nights at OMCA.
RELATED: Free Museum Days for Kids in San Francisco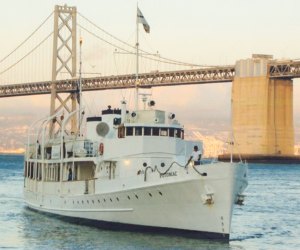 Set sail on the Bay. Photo courtesy of the official USS Potomac website
Known as Franklin D. Roosevelt's "Floating White House," the USS Potomac offers tours for history buffs, big and small.
Get an up-close look at the interior of airplanes, explore historic aircraft, and view aviation artifacts. Plane-obsessed kids will love Open Cockpit Days, an annual three-day aviation celebration.
Introduce kids to the world of outer space and STEM through interactive exhibits and a planetarium at this beautiful spot in Oakland Hills. Check out the year-round events, including free telescope viewings on Friday nights.
RELATED: 100 Things To Do in San Francisco with Kids Before They Grow Up

Spark creativity. Photo courtesy of the Museum of Children's Art
Children are the artists at MOCHA, with paintings and sculptures on display created by the littlest of hands. There's more to this museum than looking at artwork—inspiration takes hold in community art classes and workshops. MOCHA is accessible by ART.
Tour this beautiful museum and library to learn about the history of African Americans in Northern California and the Bay Area.
Hands-on art and science programs are available to curious kids of all ages at this center near Lake Merritt.
Best Indoor Activities in Oakland
RELATED: Best Swimming Lessons for Kids in San Francisco

Ice skate any time of year. Photo courtesy of the Oakland Ice Center
This year-round indoor ice rink in downtown Oakland has public skate, hockey, and figure skating. Skate rental starts at toddler size six, and they even have sensory skating sessions for kids who need a little extra calm.
Catch a live performance or take a tour of this stunning Art Deco theater. It's also home to the Oakland Ballet and Oakland Symphony.
This vintage and beloved Oakland movie palace shows all the new releases at a very affordable price, especially the matinees.
RELATED: Top Indoor Playgrounds and Play Spaces in San Francisco

Ascend the walls. Photo courtesy of the Pacific Pipeline Climbing Gym, courtesy of Touchstone Climbing
Kids who love to climb can ascend the walls like Spiderman at this rock climbing gym. Boulder, top rope, and lead climb through regularly reset climbing routes in classes and lessons, starting at the young age of six.
Plush seating like bean bags and vintage couches, family movies, and kid-friendly food is kind of a win for families. Start your weekend at the New Parkway Theater with Cereal Cinema on Saturday mornings, where you'll get an all-you-can-eat cereal buffet while watching classic cartoons.
Aspiring acrobats and jugglers can take a class or a workshop at this circus-inspired studio. The Oakland Gymnastics Center also has showcases throughout the year displaying skills and high-flying stunts.
Family-Friendly Restaurants in Oakland
The classic ice cream parlor is famous for its massive ice cream sundae (and was also featured in the heart-warming Disney film Up). With a wide range of flavors and toppings, kids and parents can enjoy this delicious treat after a long day of exploring Oakland. Don't worry—Fenton's also serves sandwiches and lunch options to curb all that sugar.
For kids that can't get enough mac n' cheese, Homeroom might be the spot for lunch. From loaded dishes like pepperoni mac and Gilroy Garlic to plant-based and even make-your-own, it's a classic comforting dish everyone will love.
RELATED: Top San Francisco Restaurants Where Kids Can Play While Parents Eat

Dive into deep dish. Photo courtesy of Zachary's Chicago Pizza
Famous for its deep-dish pizzas, Zachary's does not disappoint. Sit at one of their tables and enjoy a slice, or grab a pie to-go and head over to Rockridge's popular FROG park.
The best chicken sandwich you've ever tasted awaits here, and the line at Bakesale Betty is worth it. The buttermilk fried chicken and coleslaw sandwich with a bag of kettle chips makes for a delicious on-the-go lunch.
A converted auto sales and service department for a Dodge Dealership makes an inviting, family-friendly atmosphere. Drake's features 32 local East Bay craft beers for parents, pizza, and room for the kiddos to roam.
RELATED: Family-Friendly Resorts and Hotels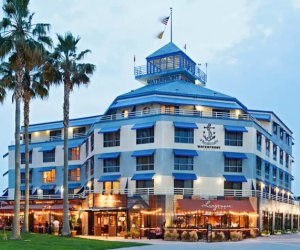 Balcony rooms come with the best views. Waterfront Hotel photo courtesy of Hyatt
Family-Friendly Hotels in Oakland
For families that want to be in the middle of everything, the Waterfront Hotel is a convenient spot with access to all the attractions. Located in Jack London Square, the marina, street art, and a plethora of fine dining are just steps away. Book a balcony room to get the best views.
While this hotel is technically in Berkeley, it's one of the most luxurious and beautiful hotels in the East Bay. With stunning views of the Bay, it's a fantastic choice for families that like to live lavishly.
If a hotel near the airport is needed, Springhill Suites is a good choice with great amenities at an affordable price. Downtown is just 15 minutes away and less than a mile from the airport. There are tons of freebies for families, including a buffet breakfast, airport shuttle Wifi, a pool, and a gym.
Or, Rent a Whole House!
If you want a great place to stay right in Oakland, try VRBO, where you can get a whole house (often with a view) for less than it the cost of a couple of rooms to fit the whole fam at a hotel. This three-bedroom home on VRBO is a great one, as it sleeps seven, is baby-proofed, and has a fireplace, toys, and a sandbox. If it's booked when you visit, there are plenty more family-friendly options nearby.

Sign up for the Mommy Poppins Newsletter today!

i