Best Day Trips from San Francisco with Kids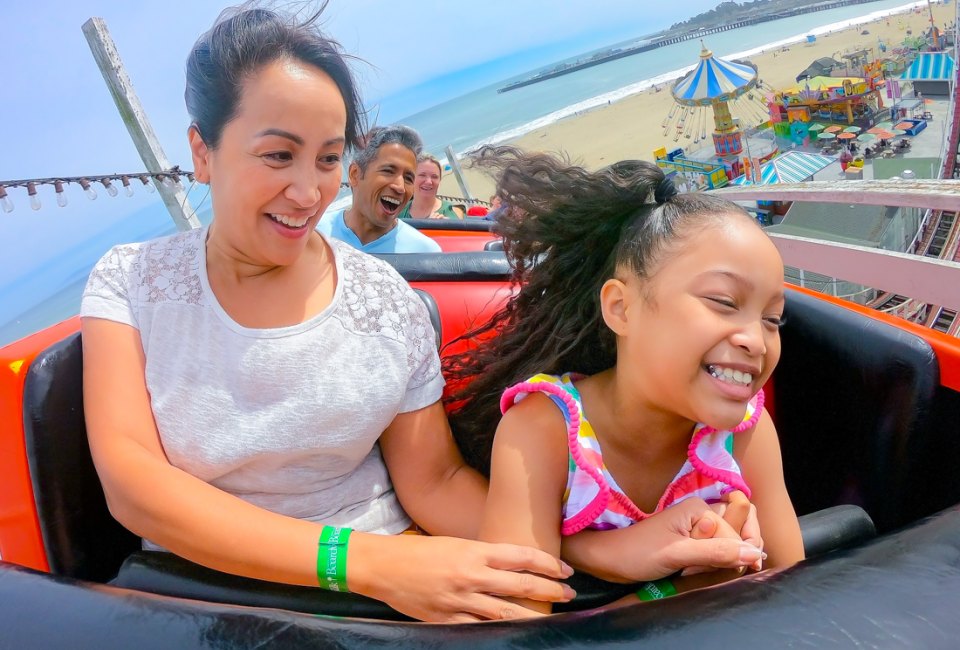 5/21/23
- By
Sandra Lee
BEST DAY TRIPS FROM SAN FRANCISCO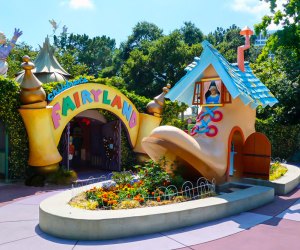 Step into a storybook. Photo courtesy of Children's Fairyland in Oakland, California
Drive Time—20 minutes
Full of culture and activities, Oakland has a ton to do for families depending on interest and age. For little ones, a trip to Children's Fairyland is a must-see, with storybook nods like Jack and Jill's Hill and Alice in Wonderland's Maze. The OMCA (Oakland Museum of California) is very popular, with events on Friday nights.
Redwood Regional Park and Tilden Regional Park (which also has Tilden Farm) are a hit with families that like the outdoors. Of course, Oakland also has the Oakland Zoo, complete with gondola rides and adorable animals to see.
2. Pacifica
Drive Time—20 minutes
If the kids are napping in the middle of the day, a trip to Pacifica is easy and enjoyable. Kids can play in the sand and build castles, or the whole family can go on a hike. The most popular hiking trail in Pacifica is Devil's Slide, with beautiful coastal views and completely paved, making it stroller friendly.
3. Sausalito
Drive Time—30 minutes
Heading North from San Francisco, you'll arrive in Sausalito, a beautiful waterfront town in Marin County known for houseboats. Downtown is full of excellent shopping and restaurants, but there is plenty to do for kids as well. The Bay Area Discovery Museum has enough to keep the kids busy all day, as does the Marine Mammal Center for all things sea life (visit on Sunday for free admission and special events).
Arrive in Sausalito by unique transportation options like biking the Golden Gate Bridge or taking a ferry boat.
RELATED: Visiting Golden Gate Park with Kids

Seasonal fun on the farm. Photo courtesy of Lemos Farm
4. Half Moon Bay
Drive Time—45 minutes
Fancy a beach trip? Half Moon Bay beaches are very accessible and clean, making it a perfect impromptu coastal day trip for families. Watch the surfers hit the waves, play in the sand, and spot a whale or two in the water, if you're lucky. Lemos Farm is in Half Moon Bay, a popular destination that is great to visit during the Fall for its pumpkin and Halloween events.
5. Muir Woods
Drive Time—45 minutes
Known for its towering redwood trees, Muir Woods is an ideal day trip for families looking for easy trails and an impressive dose of nature. Muir Woods National Monument is a must-see for any Bay Area resident. Pack a picnic and be awed by historic groves.
Kids can even participate in the Junior Ranger Program as Muir Woods is part of the National Park Service (which also means your fourth grader can get you in for free).
6. Wine Country—Napa/Sonoma
Drive Time—1 hour
Who says you can't bring kids to wine country? There are so many kid-friendly spots in Napa and Sonoma, so it's a day trip win for parents and kids. Popular attractions include Sonoma's TrainTown Railroads, an amusement park for kids under 10, and the Charles M. Shultz Museum, which children who love all things Snoopy and the PEANUTS gang will appreciate.
For families looking for an adventure, Safari West is in Santa Rosa, where you can go on a safari tour and see wild animals up close.
7. San Jose
Drive Time—1 hour
It often gets overlooked, but San Jose is an awesome destination for a family day trip. Amusement parks like Happy Hollow for little ones, and Great America for older kids, makes for an adventurous afternoon. The Winchester Mystery House is a popular attraction, and hosts spooky events during Halloween.
For those looking for STEM activities, The Tech Interactive and the Children's Discovery Museum of San Jose (a.k.a The Purple Museum) have hands-on activities and programs for kids of all ages.
8. Pescadero
Drive Time—1 hour
This tiny town might not come to mind when thinking of day trips, but Pescadero is full of fun activities for families of all ages. There are beaches for playing, and state parks for hiking. History fans will enjoy a lesson at the 115 ft. Pigeon Point Light Station—one of the tallest lighthouses in America.
Pescadero is also home to Harley Goat Farm, where families can take a farm tour, and meet adorable animals.
RELATED: Free Museum Days for Kids in San Francisco

A factory in Fairfield that is sweet to tour. Photo courtesy of the Jelly Belly Factory
9. Fairfield
Drive Time—1 hour
A trip to Fairfield is a day well spent. Home of the Jelly Belly Factory, families can tour this working factory to see how the Very Cherry and Buttered Popcorn candies are created. It's also home to the Western Railway Museum, where families can ride in an old steam train.
Some enticing lesser-known wineries await you in Fairfield like Tolenas, and Suison Creek, both family-friendly, where kids can run and play while adults sip on a red or white.
Drive Time—1.5 hours
Santa Cruz has one of the most family-friendly beaches, with warm sand and surf-ready waves. With so much to do, a day trip to Santa Cruz could easily turn into a weekend getaway. The Beach Boardwalk is a popular attraction, with carnival games, an arcade, and rides.
11. Gilroy
Drive Time—1.5 hours
Gilroy is the home of the famous Garlic Festival, where families can try garlic-infused everything, including ice cream. However, if the kids are on the younger side, then the main attraction is Gilroy Gardens. This amusement park has rides, paddle boats, entertainment, food, and games on the smaller side, making it a win for those that want to go to the big amusement parks, but aren't at the height limit yet.
RELATED: Things to do in Lake Tahoe with Kids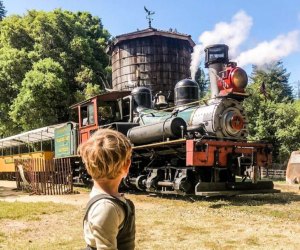 All aboard to see redwoods on the rails. Photo courtesy of the Roaring Camp Railroad
12. Felton
Drive Time—1.5 hours
Train lovers can ride on a refurbished steam train and see the beautiful redwoods or stop at the beach in Santa Cruz. Located in Felton, Roaring Camp has activities in its own "town" for all ages. Roaring Camp has special events year-round for holidays like Thomas the Train, Holiday Lights, and more.
13. Manteca
Drive Time—1.5 hours
The newly opened Great Wolf Lodge in Manteca is a day trip that will tire the kids out. The biggest draw is the enormous waterpark, with slides, a lazy river, and a wave pool. The resort also has a small bowling alley, arcade, and mini golf, for when you need a break from the waterpark. If you don't want to stay overnight, day pass options are available where you can spend the day in and out of the water, with clean changing rooms before heading back home.
For kids that aren't into big water parks but like challenges and quests, the MagiQuest game is fun, with challenges on screens throughout the hotel unlocked by a wand.
Drive Time—1.5 hours
History buffs can enjoy Wild West history in California's capital city, Sacramento. The California State Railroad Museum is a must-visit for train fans, followed by entertainment and a walk through the Old Sacramento Waterfront.
For little ones who want to run and play, Fairytale Town and Funderland are two amusement parks geared toward younger kids, located right next to the Sacramento Zoo. Older kids will enjoy outdoor recreation on the American River with kayaking and white water rafting options.
15. Rocklin
Drive Time—2 hours
Speaking of Sacramento, Rocklin is just north of the city, and adventure-seekers will have a blast at Quarry Park. Older kids can test their skills in rock climbing and ziplining. Littles ones can enjoy Kidz Kove, complete with a spider net, climbing structures, and tunnels. Extend the outdoor adventure at nearby Folsom Lake.
RELATED: Road Trip on the PCH: Where to Stop and What to Do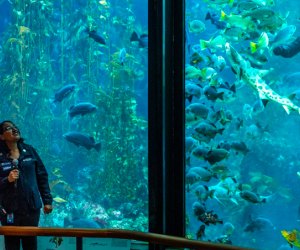 Go under the sea. Photo courtesy of the Monterey Bay Aquarium
16. Monterey
Drive Time—2 hours
Home of the Monterey Bay Aquarium, families can learn about marine life, watch the sea otters, and get up close to sharks and penguins. There are also stunning beaches, and Cannery Row is perfect for window shopping, hearing live music, and great food.
Toddlers and preschoolers will love the Dennis the Menace Playground, and older kids can go on a whale-watching tour and see these beautiful giants in action.
17. Carmel
Drive Time—2 hours
While there is no famous museum or tourist attraction in Carmel, the quaint, beautiful town has a lot to offer for families. With storybook architecture and secret alleys, Carmel-by-the-Sea feels almost magical. Carmel Valley has wineries and hikes to enjoy, many of which are stroller-friendly. It's also a great option as a home base when traveling to Big Sur.

Sign up for the Mommy Poppins Newsletter today!

i