Best Kid-Friendly Wineries in Napa, Sonoma, and the San Francisco Bay Area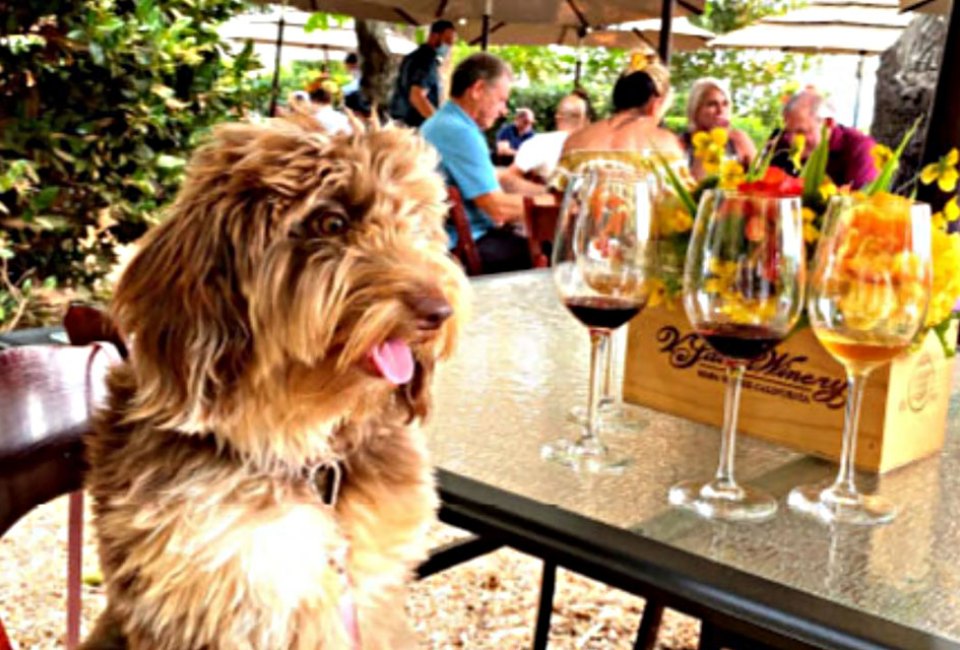 9/16/23
- By
Nicole Findlay
Kid-friendly wineries do exist, and you can find them all over the San Francisco Bay Area.
Vibrant vineyards, rolling golden hills, fresh country air, and delicious wine make for the perfect day out for grown-ups. But many of the Bay Area's wineries also cater to kids with fun games and activities, animals, playgrounds, non-alcoholic beverages, lots of open space to roam, and plenty of kind hospitality. One Sonoma winery even has a swimming pool!
With nearly 500 wineries in Napa Valley alone, it can be hard to know which ones are family-friendly. We're here to help with our list of the best kid-friendly wineries in Napa, Sonoma, and the San Francisco Bay Area.
Whether you're taking an epic California family road trip through wine country or just looking for a fun day trip from San Francisco, these wineries are sure to be a hit with the whole family.
For more family vacation ideas in the Golden State, check out our California Family Travel Guide.
Where to Find the Bay Area's Best Kid-Friendly Wineries
Napa Valley is the wine-tasting capital of the world, while Sonoma is more spread out, almost double the size of Napa, and offers a relaxed, laid-back vibe.
But wine tasting in Northern California isn't limited to these two popular places. There are so many kid-friendly wineries to choose from throughout the Bay Area, including in cities like Healdsburg, Santa Rosa, Fairfield, and Saratoga.
Read on for our top picks for kid-friendly wineries in Napa, Sonoma, and the San Francisco Bay Area.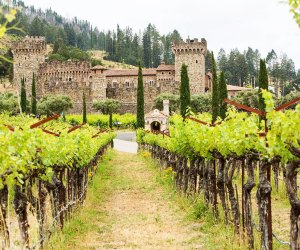 What kid wouldn't want to hang out at a castle like Castello di Amorosa?
Best Kid-Friendly Wineries in Napa
Located just outside Calistoga, this 14th-century Tuscan castle spans three acres. First opened in 2007, the castle took 15 years to make and includes almost one million antique bricks from Europe and 8,000 tons of hand-chiseled local stone. Castello di Amorosa looks authentic in every respect.
Why it's great for kids: Kids love the resident animals, especially the colorful peacocks, chickens, and chatty goats. And while parents taste various wines, kids get to enjoy a fresh cup of grape juice. Note: No strollers are allowed inside, and guests under 21 cannot participate in guided tours except reserved private tours.
One of Napa Valley's most historic wineries, V. Sattui Winery in St. Helena was founded in 1885 by Vittorio Sattui and then re-established in 1976 by his grandson. It's the perfect place for generations to come together. Sandwiches, salads, and charcuterie boards are available from the on-site deli and marketplace, while weekend food trucks offer grilled seasonal entrees, pizzas, truffle parmesan fries, fresh-baked cookies, and more.
Why it's great for kids: With over two acres of picnic grounds surrounded by oak trees and vineyards, there's plenty of space for little ones to stretch their legs. Children are also welcome on the guided tour and tasting, which educates guests on V. Sattui's wine, the land, and the winery's rebirth after Prohibition.
RELATED: 100 Things To Do in San Francisco with Kids Before They Grow Up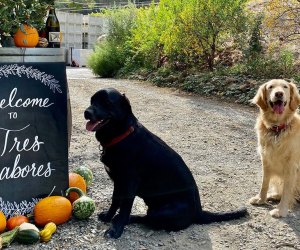 Kids can hang out with some friendly dogs while parents sip wine at Tres Sabores.
Tres Sabores isn't fancy, but it's absolutely beautiful. Guests are welcome to picnic at private tables set with linens, silverware, and palm-leaf plates. Cheese and charcuterie platters are available for purchase.
Why it's great for kids: While parents taste local wine, kids get juice boxes. The owner's three friendly dogs, Boozy Rouge, Cava, and Fi-Fi, often accompany visitors as they sip. Other resident animals include chickens, sheep, goats, and lambs. Kids can play cornhole or draw chalk masterpieces in the olive grove, and there's a small library with books about living things.
Located in Rutherford in the center of Napa Valley, Frog's Leap's beautiful red barn is easy to spot. Tasting reservations are kid-friendly but should be booked before noon. Sitting outside on the deck is lovely and relaxing for all ages, but kids will most likely want to wander. Luckily, this is a great place for it.
Why it's great for kids: The grounds of this winery are extensive, with gardens showcasing sustainable farming and plenty of chickens.
This family-owned winery offers Bordeaux-style wines, down-home hospitality, and stunning views of vineyards and the Mayacamas Mountains.
Why it's great for kids: Children receive a Napa Valley coloring book and a box of crayons to keep busy while their parents taste wine.
RELATED: Road Trip on the PCH: Where To Stop and What To Do with Kids from LA to San Francisco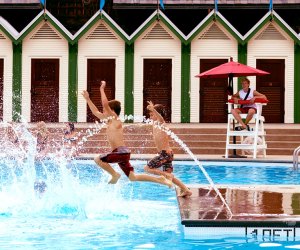 Swimming + wine tasting = the perfect day at Francis Ford Coppola Winery.
Best Kid-Friendly Wineries in Sonoma
One of the best kid-friendly wineries in Sonoma County, this winery is known for its namesake: Francis Ford Coppola. Movie buffs love the film props on site, like Don Corleone's desk in The Godfather.
Why it's great for kids: What really makes this winery a hit for little ones (and adults!) is the swimming pool. Parents can enjoy wine and food poolside while little ones splash in the water. This resort-like winery even lets guests rent private cabanas. And out of the water, families can play bocce ball, board games, and more.
Families can reserve one of several areas for wine tasting at Cline Family Cellars: a club table with four chairs, a Cline Ranch tasting table for up to eight people, or a cabana with room for four to eight. The Sip & Stroll tour includes a hosted tour of the grounds and a meet-and-greet with resident Sicilian donkeys Fancy and Pudding. Snacks and non-alcoholic drinks are readily available during tastings, but feel free to bring your little one's go-to favorites as well.
Why it's great for kids: Set on 350 acres, Cline Family Cellars offers plenty of paths, ponds, and wildlife (including fish, birds, and turtles) for children to explore. The unofficial California Mission Museum located at the back property, which showcases 21 model missions (all built to scale in 1939), is interesting for older kids.
Set on 375 acres within Bartholomew Park, this winery opened in 2019 and has already been named one of the 15 most beautiful wineries in Napa and Sonoma by the San Francisco Chronicle.
Why it's great for kids: Family-favorite activities include exploring the three miles of hiking trails, visiting the on-site art gallery featuring local artists, and picnicking on the beautiful grounds.
RELATED: 30 Fun Things To Do in Santa Cruz with Kids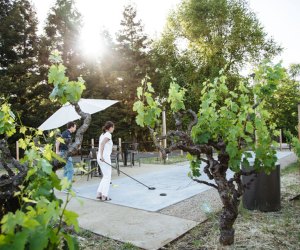 Families can play shuffleboard at Abbot's Passage Winery.
Outdoor tasting areas surrounded by vineyards offer plenty of space for kids to explore while parents taste wine. Make sure to also visit The Mercantile, which sells a variety of local and sustainably made products and gifts sourced from female-run businesses.
Why it's great for kids: Families love the shuffleboard courts, grazing boards, popcorn, and fun non-alcoholic drinks for the little ones, like Shirley Temples.
The food is almost as big of a draw as the wine at Anaba Wines, which serves up pizzas from an outdoor pizza oven and brunch boards with favorites like bagels and waffles. There are also plenty of non-alcoholic drink options, such as elderberry lemonade.
Why it's great for kids: The outdoor space includes games such as bocce, pickleball, cornhole, lawn pool, and even a giant Jenga. With plenty of entertainment, parents can relax and learn more about the delicious wines while the kids have fun.
Kivelstadt focuses on minimalist winemaking, meaning there is little intervention or additions, only native fermentations. The result is truly organic and delicious wine for grown-ups to sip and savor in a beautiful hillside setting.
Why it's great for kids: Kids can enjoy an impressive play area complete with a slide, a rock wall, and a tire swing while the adults enjoy their wine.
RELATED: 12 Best California Family Vacation Ideas Kids Love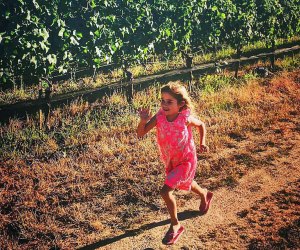 Belden Barns Farmstead & Winery has 55 acres of property to explore.
Best Kid-Friendly Wineries near San Francisco
Belden Barns offers delicious wines, incredible views, games, and a farm with fresh fruits and vegetables.
Why it's great for kids: Adventure-seeking little ones can enjoy a scavenger hunt through the 55-acre property. Kids can use borrowed backpacks filled with guides to local birds and insects, notepads, crayons, and magnifying glasses while searching for flora, fauna, and random items.
This small winery offers big-time exploration for little ones and parents. The owners are super friendly—during the tour, they'll let you try the grapes right off the vines. Kids are free to wander the vineyards next to the tasting room.
Why it's great for kids: Children can build with LEGO bricks, color with crayons, or challenge their parents to a game of cornhole.
Rock Creek Vineyard is on the outskirts of Suisun Valley, a town full of rustic charm, fruit stands, and family-owned wineries. It's small, but it makes a big impression. The casual tasting is not only delicious and entertaining, but the scenery is reminiscent of a European escape. There is plenty of outdoor seating to take in the view.
Why it's great for kids: Kids are welcome to roam the property, where they'll find chickens, a little creek, and dirt paths to explore. A coloring station is available inside.
This family-owned estate is home to both a winery and a stable, offering a super unique day of both fun and relaxation. Guests can book a trail ride before scheduling a wine tasting on the outdoor garden patio.
Why it's great for kids: Children 8 and older and at least 42 inches tall are welcome to ride the horses.
Photos courtesy of the wineries
Click Here to Sign Up!