25 Epic California Road Trip Ideas for Families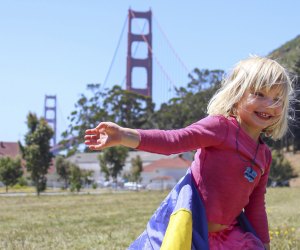 4/2/22
- By
Matt Matasci
No matter when you're in California, it's always a great time to load the family in the car, create a few playlists, and hit the open road. The state's diverse flora and fauna, breathtaking geography, and world-famous cities make it all too easy to plan out an epic California road trip all year long.
Whether it's snowy national parks and forests in the winter, wildflower-blanketed desert hillsides in the fall, or sun-soaked beaches in the summer (or any time of year, really), the west coast has it all. Here are 25 ideas for a dream road trip with the family in and/or from California. Safe travels!

Lake Tahoe has tons of family-friendly activities, including a treetop adventure course. Photo courtesy of Cedar House Sport Hotel, Lake Tahoe
California Road Trip Ideas: Mountain Forests
Lake Tahoe is one of the most famous natural sites in the state, making it a great destination for a California road trip. You'll find plenty of places for skiing and snowboarding in the winter, and the lake is a recreational gem in the summer. For adults less interested in the outdoors, there's a gold mine of casinos across the state border near South Lake Tahoe. And there are plenty of things to do with kids in Lake Tahoe any time of year, including gorgeous hikes, horseback riding, and delicious restaurants.
These two sprawling national parks are home to an abundance of natural beauty and outdoor fun. If you're driving up from Los Angeles, there's not much of anything on the ride through the Central Valley, so be sure to have some road trip games ready to keep the kids busy. But once you're there, you'll be immersed in a world of giant trees—including the world's largest tree by volume, the General Sherman Tree, and a felled tree you can drive through—plus miles of hiking trails and tons of great campsites.
Another location revered for its winter sports is Central California's Mammoth Mountain. Like Big Bear, there are also many activities in the Mammoth area during the rest of the year, such as fishing, boating, camping, and hiking. Bonus tip: If you're driving up the 14 from LA, be sure to stop at Red Rock Canyon State Park, where you'll find breathtaking rock formations and a picnic area that's perfect for a snack.
Related: Top National Parks for Summer Vacation with the Kids

Make memories that will last a lifetime at Yosemite. Photo by Tony Lopez, Flickr (CC BY-SA 2.0)
There are simply too many things to do in Yosemite National Park to list them all here. Half-Dome, Yosemite Falls, and El Capitan are the most famous sites in the park. You can also take rock-climbing classes, go river rafting, hike on countless trails, and so much more.
Big Bear is the perfect winter California road trip for Southern Californians who want to go skiing. But there is still plenty to do in Big Bear the rest of the year, such as the Alpine Slide at Magic Mountain, fishing, hiking, and lots more.
Northern California's Shasta-Trinity National Forest is home to two of the best reservoirs in the state, the very famous Shasta Lake and the less-known Trinity Lake. There are also tons of hiking trails, plenty of campsites, and fun activities like boating, fishing, and horseback riding.

There's so much to explore at Zion National Park. Photo by Jackie Jones, for Mommy Poppins
Who says your California road trip has to keep you in the state? Utah's Zion National Park has everything for outdoor lovers, including beautiful rock formations, rivers for fishing, and even caves for exploring. There are four very different ecosystems at this park—desert, riparian, woodland, and coniferous forest—so be prepared to take a ton of photos.
At 14,000 feet, Mt. Whitney is the tallest mountain in the contiguous United States. What's great about Mt. Whitney, located not far from Death Valley, is that it can be paired with a California road trip to Tahoe, Sequoia & Kings Canyon National Parks, or Mammoth Mountain.
California Coast Road Trip Ideas

Pismo Beach is a beautiful place to catch the sunset. Photo courtesy of pismobeach.org
California is blessed with one of the most diverse and beautiful coastlines in the country. The beauty of a central-coast road trip is that you don't have to spend long stretches on the road between destinations and the views are spectacular. If you're coming from the south, start with the beautiful Mission-style downtown of Santa Barbara, then take in the natural beauty of the Guadalupe Dunes, which flow into the Pismo Beach area. If you're visiting in the early spring, don't miss the Monarch Grove in Oceano. Do a little tide-pool exploration at Montana De Oro near Morro Bay, and wrap up your trip with a visit to the quirky Hearst Castle.
Wine Country shows off the semi-rural parts of Central California. If you're coming from the south, you'll still get to drive through Santa Barbara (home to many delicious and kid-friendly restaurants) on your way to the prestigious Santa Ynez and Paso Robles wine regions. Sandwiched between those two is the up-and-coming Santa Maria wine region. Because this area is so close to the coast—part of why the wine is so good here—you can hop over to the coastline if you need a little sea-breeze fix.
Related: 40 Best Amusement Parks in the US for a Family Vacation

Get some thrills at Santa Cruz Beach Boardwalk. Photo courtesy of the boardwalk on Facebook
Just north of the Central Coast are Monterey and Santa Cruz counties, where you'll find a plethora of kid-friendly activities and sites like Cannery Row, the Monterey Bay Aquarium, the Mystery Spot, and the Santa Cruz Beach Boardwalk. If you take the 5, take a slight detour on Highways 198 and 25 to reach Pinnacles National Park and explore the caves.
This is a great add-on to the previous three California road trips on this list. A few of the best things to do in Big Sur with kids include exploring Limekiln State Park, relaxing on Pfeiffer Beach, and seeing Pfeiffer Falls. Grab a snack at Nepenthe after a day of hiking.
San Francisco is filled to the brim with fun things for kids like the Aquarium of the Bay, the Exploratorium, and the San Francisco Zoo. The city is one of the premier urban destinations in the country, so just walking around the streets is an adventure in itself. If you still manage to get bored, there are many other places to explore around the Bay Area such as Oakland, Berkeley, Marin County, and the South Bay.

There's more to Napa than just wine! Photo courtesy of Connolly Ranch, Facebook
Just north of the Bay Area is Napa County and the famous wine regions of Napa Valley and Sonoma Valley. Of course, wine is this area's forte, but there are also plenty of kid-friendly sites like Oxbow Public Market, a working farm for kids called Connolly Ranch, Napa Farmers Market, and Wetlands Edge Park. There are also plenty of delicious, kid-friendly restaurants in the area, from low-key spots to gourmet eateries.
A road trip from Southern California, through San Francisco, and all the way up to Mendocino County gives you the chance to explore almost the full breadth of California. Visit the quaint downtown of the city of Mendocino, take in spectacular views along the rugged coast, and hike the trails of Russian Gulch State Park.

Tackle the Redwood Sky Walk at Eureka's Sequoia Park Zoo. Photo courtesy of sequoiazoo.net
Eureka is nearly the northernmost point of California. Even though its population isn't even 30,000, the city feels quite a bit larger with a historic downtown lined with Victorian storefronts and homes. Some things to do with kids around Eureka include the Sequoia Park Zoo and Redwood Sky Walk, the Redwood Discovery Museum, Madaket Cruise on the Humboldt Bay, and the Humboldt Bay Maritime Museum.
Related: The Best Zoos in the US

Ride the San Diego Zoo's Skyfari. Photo courtesy of Christina Simmons for the San Diego Zoo
This family-friendly metropolis a few hours south of Los Angeles has so many things to do with kids. There are breathtaking beaches, interesting museums, delicious restaurants, the famous San Diego Zoo, and much more. This is the perfect weekend California road trip from LA.
California Road Trip Ideas: Desert Landscapes
Right at the border of California, Arizona, and Mexico is Yuma. While it's a small city, there are enough activities to make this town worth the long drive through the desert. Check out the Yuma Territorial Prison State Historic Park, Castle Dome Mines Museum & Ghost Town, Martha's Gardens Medjool Date Farm, Colorado River State Historic Park, and Gateway Park.
Historic Palm Springs is one of the most iconic desert cities in the country. Our favorite activity in Palm Springs is to book a room or get an Airbnb and just spend the entire day at the pool. However, there are plenty more things to do in Palm Springs and the Coachella Valley like shopping, hiking, the Palm Springs Aerial Tramway, and the Living Desert Zoo and Gardens. To add more to this California road trip, drive out to the Salton Sea and check out the quirky lakeside town/artist community of Bombay Beach.
Related: 25 Road Trips From Los Angeles for a Weekend Family Getaway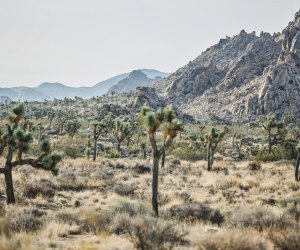 Take in the natural beauty of Joshua Tree. Photo by Matt Kisiday
Joshua Tree is one of the country's most eye-catching natural wonders, but there are also plenty of activities outside the park. Head out to Pioneertown, an abandoned filming location that's turned itself into a trendy desert outpost (those with older kids might even be able to catch a cool indie-rock show at Pappy and Harriet's). If you're more interested in unique hiking adventures, 49 Palms Oasis is a fairly short hike that takes you along the rim of a canyon until you descend into a real-life oasis densely packed with palms.
Driving to Las Vegas from Los Angeles is one of the most iconic road trips in the US, and a quintessential California road trip. While Vegas is an adult playground, there's also lots to do with kids. Check out our visitor's guide to Las Vegas for ideas. Along the way stop by Mojave National Preserve or Calico Ghost Town for unique add-ons to the journey.

The Grand Canyon makes for an unforgettable road trip. Photo courtesy of Grand Canyon National Park, Facebook
The Grand Canyon is one of the country's most-visited tourist attractions for a reason. Why not take a road trip from California to this awe-inspiring natural wonder in Arizona?
Conditions in Death Valley get downright deadly in the summer, but the park is more hospitable much of the rest of the year. In the spring, the wildflower blooms alone are worth the drive. Plus, how often can you say you've visited the lowest elevation in the contiguous United States (and second-lowest in the Western Hemisphere)? You'll want to stay the night when you're there, and our pick for the best family-friendly lodging in the valley is the Furnace Creek Resort.
Related: 45 Fun Things To Do in Phoenix with Kids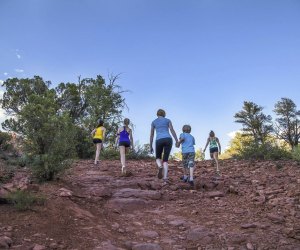 Take your pick of gorgeous hiking trails in Sedona. Photo courtesy of Visit Sedona, Facebook
Most of the time people think of Sedona as a romantic getaway, but it's also a great place to visit with kids. Besides the breathtaking views, excellent hiking trails, and luxury resorts, you'll be able to find plenty to keep the kids busy.
While Joshua Tree and the Coachella Valley get much of the attention, Anza-Borrego is another great desert park that's right in LA's backyard. See plenty of wildlife, take in rocky landscapes, hike one of the nature trails, or go camping in California's largest state park.