Yosemite: Plan a Fun, Kid-Friendly Getaway to California's Favorite National Park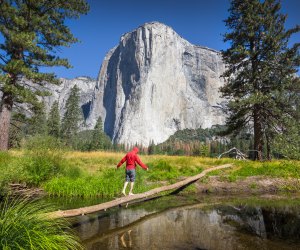 8/19/17
- By
Jennifer Cook Nice
Where can one see El Capitan and Half Dome simultaneously, gaze at two thousand-year-old trees, and hike to the foot of a waterfall? Answer: Yosemite, California.
If you live in the LA area, Yosemite National Park and the surrounding areas are a must-see, and a great spot for a quick getaway that feels farther away than it is. But with so many options in one park, it's also a destination unto itself, worthy of travel from afar.
Here's a quick guide for planning a Yosemite getaway with kids in tow.

Camping in Yosemite. Photo by lopeztony75/CC BY 2.0
1. Accommodation:
Start by picking a few weekends that work. If possible, be flexible; but if flexibility is not an option, reserve very far in advance, because Yosemite is always popular. Renting a vacation home is great, since it offers plenty of space for multiple families (if you decide to go in a group) and a kitchen so you don't have to eat every meal out. There are plenty of other lodging options; here are some recommended sites for renting a home for the weekend:
Airbnb
Enter a location and check in and out times. To book a property you'll need to enter a credit card, and the homeowner will email you about availability. I like this site because it gives you a clear total that includes any additional costs for extra guests and cleaning fees. Note that many vacation rentals require guests to bring their own toilet paper and toiletries.
VRBO
This site functions similarly to Airbnb, but be aware that there will likely be an additional tax and possibly a hefty cleaning fee. Each property is different and has its own rules, so read carefully.
Prefer a hotel? There are several around the area of Yosemite, including...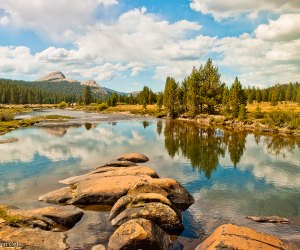 Photo by lovelyinlatoo/CC BY 2.0
Yosemite View Lodge
El Portal
1-866-264-5744
$$
Yosemite Southgate Hotel & Suites
Oakhurst
1-866-267-9053
$$
National Parks Reservations
$$$
Vacation homes are categorized into four types: Bronze, Silver, Gold, and Platinum.
Homes have one to six bedrooms, sleeping up to eighteen guests. Some are pet-friendly and all include discounts for golf at the Wawona Golf Course or dining at the Wawona Hotel.
If camping is your preference, reserve a campsite online. Reservations are required from about March 15 through November for Yosemite Valley's car campgrounds, and summer through fall for Hodgdon Meadow, Crane Flat, Wawona, and half of Tuolumne Meadows. Campground reservations are available in blocks of one month at a time, up to five months in advance, on the 15th of each month at 7AM Pacific time. Be aware that nearly all reservations for the months of May through September are filled the first day they become available.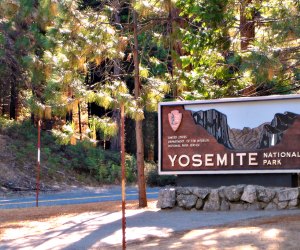 Entrance to the park on Route 120. Photo by Shayan Sanyal/CC BY 2.0
2. Entering the Park:
I have only entered through the South Entrance, although there are other options. All visitors must pay a park entrance fee, which is valid for unlimited entries to Yosemite for seven days, and includes all occupants of the car.

Photo by Regan Buker/CC BY 2.0
3: Easy Hikes:
I recommend two easy hikes for families inside Yosemite National Park—Tunnel View and Yosemite Falls:
Tunnel View is one of the first lookout points after you enter the park. This is a great photo op and a wonderful chance to see Half Dome and El Capitan from a distance. There is a parking lot at the trail head. The hike can be moderate to strenuous at times, but you can turn around whenever you or your child have had enough. I love this hike because in a matter of seconds you are far enough into wilderness that you forget you were just amid a crowd of picture takers. Bring water and wear sunscreen, at any time of year.
Lower Yosemite Fall Trail is another great stopping point. There is ample parking, a small market, two food stands, and a trail head. This hike is a one-mile loop trail that leads to the base of Lower Yosemite Fall (the eastern side of the loop, from the shuttle stop to the base of the waterfall, is wheelchair accessible). There's much to see, from fallen trees, to creeks, deer, and of course a wonderful, up-close view of Lower Yosemite Fall. The hike is shady, cool, and stroller-friendly. It's a very popular hike, most likely due to its ease to pay off ratio. The views are amazing.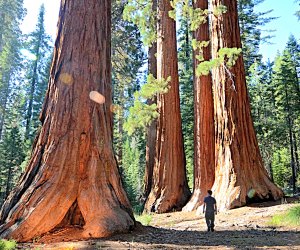 Stroll amongst the giant sequoias in Mariposa Grove. Photo by Justin Vidamo/CC BY 2.0
Try to see Mariposa Grove, a sequoia grove located near Wawona, California, in the southernmost part of Yosemite National Park. It is the largest grove of Giant Sequoias in the park, and two of its trees are among the 30 largest Giant Sequoias in the world.
4. Other Places Near Yosemite:
If you've got time for something outside Yosemite, take a short drive and a dip inside Bass Lake, or just have a lakeside meal at Ducey's On the Lake. There are boat, canoe, and jet ski rentals at the lake. Families can also take a train ride at Mountain Sugar Pine Railroad. When the ride is finished, hop off and have a picnic on one of the many tables available, then pan for gold. I was there with friends when their son was in the fourth grade studying the Gold Rush; he was elated to be getting hands-on experience. The train station food stand has adequate choices for lunch if you forget a picnic.
Finally, when staying in Yosemite, there are not big grocery stores nearby so bring essentials or shop on the way. And remember to take in the beautiful scenery, breathe in the clean air, and have a great time.
Top photo: A hiker balances on a fallen tree across a Merced River tributary in front of the famous El Capitan rock climbing summit in Yosemite National Park. Photo via Bigstock

​Originally published in June of 2014 and updated since.