Top National Parks for Summer Vacation with the Kids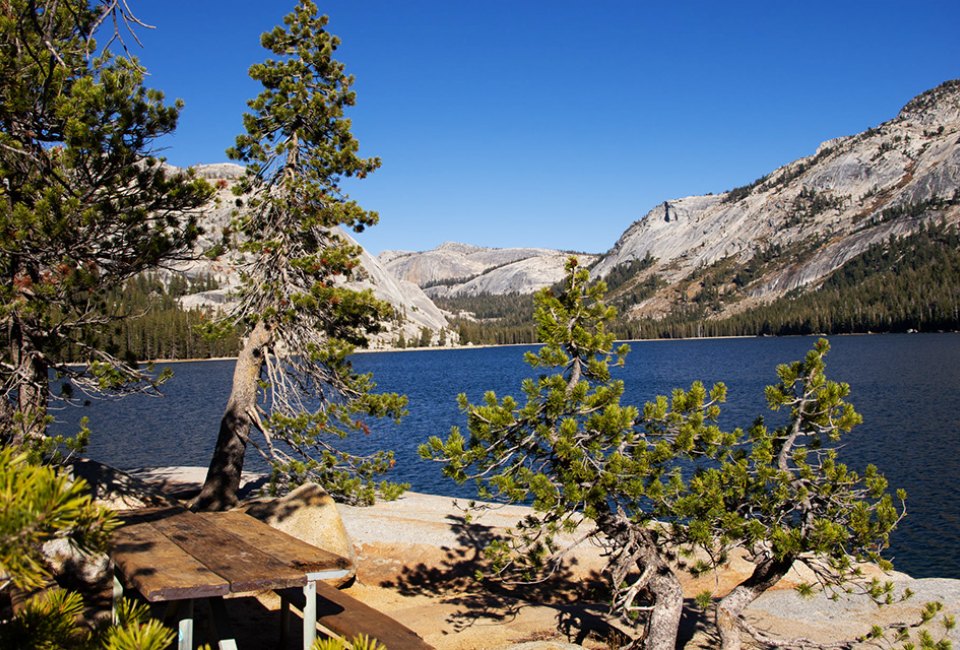 6/19/20
- By
Ally Noel
Road trip it this summer to one of our gorgeous U.S. national parks where kids can hike, swim, camp, and generally explore the outdoors. You can get back to nature with a little planning—and an online reservation.
But some are maybe wondering: Are national parks open? Actually, yes, many of our national parks are in the early phases of reopening for the busy summer season, meaning some lodges and campgrounds are once again accepting reservations. The National Park Service covers 84.6 million acres, making it easy for all of us to maintain social distance if we pick our trail and camping spot carefully.
Aside from remembering to pack a face mask along with a water bottle and hiking boots, please make sure to check out each of the parks' websites and social media before hitting the road, whether for overnight camping in our national parks or a day hike. The phased reopening at national parks means some campgrounds remain closed, as well as some trails and visitor centers, while others have already opened but have new requirements in place to maintain social distancing during the pandemic. Many parks require a reservation even for day passes in 2020 and some are no longer accepting cash; others are experiencing sudden closures due to COVID-19 concerns, overcrowding, or even the usual natural forces of nature.
Reserve America handles many of the national parks' campground reservation services and is a great resource for 2020 reopening updates as well.

Enjoy beaches, bike trails, and more coastal landscapes along the Cape Cod National Seashore. Photo by the author
What's a trip to the Cape without some time at the beach. The various towns that dot the Cape Cod Seashore may have different restrictions for visiting families this summer, but the 40 miles of the Cape Cod National Seashore is welcome for all to explore and enjoy. Currently, there are no lifeguards on duty and there are limited facilities available (including toilets), but many of these amenities are scheduled to return later in the season. Six beaches make up the Cape Cod National Seashore National Park: Nauset Light, Marconi, Coast Guard, Head of Meadow, Race Point, and Herring Cove. Each has a unique personality, from the family-friendly Coast Guard Beach to the stunning sunsets at Race Point. In addition to its beaches, this park also boasts a network of bike trails that allow you to coast through pine forests, sandy dunes, and low-lying cranberry bogs.
Hotels, inns, and rentals are reopening this summer on the Cape, and although the Cape Cod National Seashore does not normally have campgrounds, nearby Nickerson State Park will open for the season on July 1, 2020.
RELATED: Family Travel Guide to Cape Cod Towns, Beaches, and Activities

Acadia and Mount Desert Island offer kid-friendly hikes and views to savor. Photo by Kelley Heyworth
Nestled in the heart of Downeast Maine, Acadia National Park is unique in many ways and not just because of its stunning oceanside location. It's the first national park east of the Mississippi River; it houses the first spot in the U.S. that you can watch the sunrise, has some of the best popovers in the country; and possesses 45 miles of carriage roads created by John D. Rockefeller. Currently, the carriage roads are open to pedestrians only or horse-drawn carriage at Wildwood Stables. The landscape of this national park is a perfect mixture of pine trees, mountains, and salt air all waiting to be explored. Jordan Pond House is a popular destination to grab a bite to eat. Famous for their popovers, this picturesque spot is currently open for takeout. Camping is scheduled to open no sooner than July 1, 2020. Acadia shares its spot on Mount Desert Island with Bar Harbor, a charming coastal town filled with restaurants and lodging. Read our full Acadia National Park travel guide for families.
Before you plan a vacation to Maine this summer, you should be aware of the Keep Maine Healthy plan that requires out-of-state guests to do a mandatory 14-day quarantine or show proof of a negative COVID-19 test.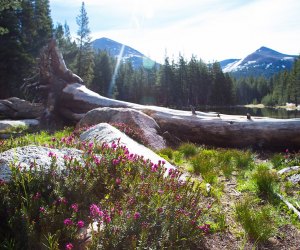 Mountain heather can be found blooming along Tioga Road Yosemite National Park. Photo courtesy of NPS
The always popular Yosemite National Park expects to manage the summer crowds in 2020 with limited advance reservations, so definitely start planning now for this popular California national park. If you have overnight accommodations you will not need a day pass, but those looking to day trip in by vehicle should make a reservation online a month in advance. Yosemite has several lodging options that are open this season including The Ahwahnee, Yosemite Valley Lodge, and half of Curry Village. If you have overnight accommodations, no day pass is needed. At this time, campers can make a reservation at the Upper Pines Campground; additional campgrounds might open as the season progresses. Rangers have set up outdoor information stations around the park to welcome hikers. In Yosemite Valley, sign up for a photography class, a private guided tour, or a camera walk led by a staff photographer. You can rent a bike from Yosemite Valley Lodge or Half Dome Village, or explore the east end of Yosemite Valley by foot. The popular Yosemite Conservancy programs are canceled at least through June 30. However, rangers have been working on ways to connect visitors to the history and natural beauty of this national park. Make sure you visit Yosemite.org for nature videos, online art demonstrations, and kids' activities, and review our guide to the Best of Yosemite National Park with Kids.
RELATED: Amazing Virtual Tours for a Stay-at-Home Field Trip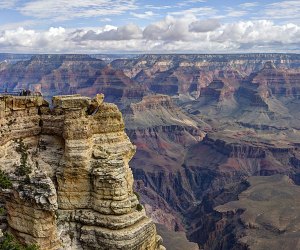 The famed Mather Point in Grand Canyon National Park is a must-see. Photo by W. Tyson Joye/NPS
Hiking, rafting, stargazing, and amazing views aren't canceled this summer at the Grand Canyon National Park. With a little planning, there are plenty of activities for your family to dive into. Rent a bike at Blue Angel Bike Rentals to enjoy a scenic cruise along the South Rim's Greenway Trail. Drive along the South Rim's Desert View Drive to enjoy panoramic vistas from the comfort of your air-conditioned car or RV. Adventure seekers can take a walk over the canyon on Grand Canyon West's Skywalk. The park's visitor center and museums are currently closed, and while some of lodging is restricted to existing reservations and some campgrounds are closed, there are quite a few lodging options in the area and vehicle day passes online. Park officials are also reminding visitors that if they drive through nearby Navajo Nation face masks are required to be worn at public facilities and businesses to slow the spread of COVID-19.

Bryce Canyon National Park, a sprawling reserve in southern Utah, is known for crimson-colored hoodoos, which are spire-shaped rock formations. Photo courtesy of NPS
Utah national parks are renowned for their rugged western beauty. Dubbed the "Mighty 5," Utah national parks are all vacation-worthy, but we especially like Bryce Canyon. While some of the festivals for this summer are canceled at Bryce Canyon, the park is open, including lodging and its Sunset Campground, as well as hiking and biking opportunities. This park's unique landscape of stunning rock formations is the perfect outdoor playground for kids. Explore by car, foot, or bike depending on your level of activity. Although there is no formal ranger program this summer, be on the lookout for informal programs that may occur around the park. The park shuttle is also operating and its visitor center and bookshop are open, too.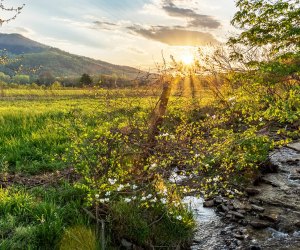 Kids can take easy hikes near Cades Cove in the Great Smoky Mountains. Photo by Kristina Plaas/NPS
The stars aren't the only things that shine at Great Smoky Mountain National Park. This special spot is also home to 19 species of fireflies, including the P. carolinus, the only species that put on a synchronized light show. The Great Smoky Mountains is also home to the highest spot in Tennessee. Climb the half-mile paved ramp of Clingman's Dome to be rewarded with 360-degree views of the Appalachian Mountains. Many of the Visitor Centers have reopened within the park, and this is the perfect place to start planning your visit and to grab the kids' Junior Ranger Badge booklets. Most of the amenities are open at Great Smoky, so families can enjoy horseback riding, camping, hiking, biking, picnicking, and floating down the river for tubing at Deep Creek. Three of the park's campsites are currently open and accepting reservations.
RELATED: Asheville with Kids: Top 40 Things to Do in Asheville, NC
Get your gear and hike the forests of Olympic National Park. Photo courtesy of NPS
The breathtaking biodiversity of Olympic National Park in Washington ranges from the rugged glacier-capped mountains to the wild Pacific coast with temperate rain forest thrown in. Dive into the Living Sanctuary of Ruby Beach's tide pools (make sure you review your tidepool etiquette.) Guests can stay at Sol Duc Hot Springs Resort, Log Cabin Resort, and Lake Crescent Lodge. You can also hike through the Hoh Rain Forest and explore the streams and small waterfalls in the spruce and cedar forest. Keep in mind that some coastal areas of the park remain closed. The parking lots, trails, beaches, and facilities at the popular La Push and Hurricane Ridge are closed until further notice and all overnight camping is currently unavailable, but there are some day pass opportunities in this section.
For the summer of 2020, and the summer of social distancing, a family vacation to one of these stunning American national parks might be the perfect alternative to crowded theme parks, beaches, and flights. So pack that wagon (or RV) to the gills and head out for a classic American road trip for time under the trees, by the lake, or hoofing it up a mountain.