3 Days in Seattle with Kids: Your Ultimate Itinerary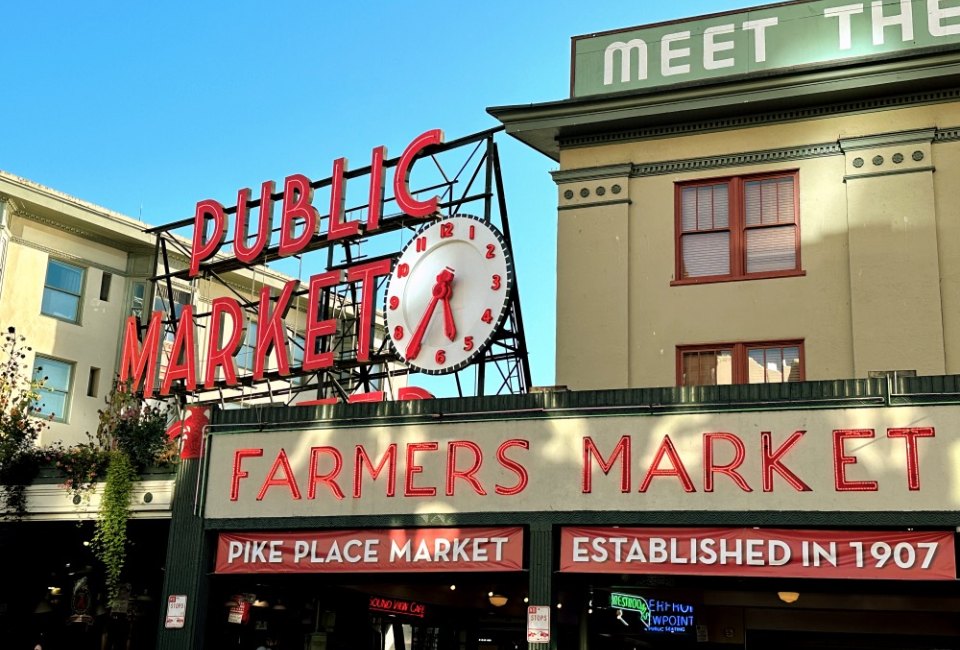 11/11/23
- By
Meghan Rose
Seattle is a city you fall in love with instantly. While there are so many things to do with kids in Seattle, I promise you that in three short days, you can explore enough of the city to feel like a native. It's a vibrantly green, friendly, walkable, delicious, coffee-tinged, slightly weird, and yes, rainy city. It's also a city that knows how to handle the rain: with a smile, no umbrella, fabulous coffee, and plenty of fun things to do indoors.
Let's also not forget the gorgeous summers, stunning views when sun peeks through, and great sports teams. It's such a welcoming, easy city, that if at any point tired kids make you ditch your well-thought-out itinerary (see below) and just play, shop, eat, and walk around, you won't regret that for a second.
For more things to do in Seattle, check out our list of 35 Things To Do in Seattle With Kids. To explore more of the great Pacific Northwest, explore 50 Things To Do in Portland, OR With Kids and more in our West Coast Family Travel Guide.
A Little Bit About This Seattle Itinerary
How can you see all of a city as diverse and interesting as Seattle in just three days? This itinerary! I highly recommend doing Day One and Day Two pretty much in order and as written. I've included lots of options for each day that will let you customize your Seattle itinerary to your family.
But exploring these general areas of the city in this order will give you a great feeling for this cool city and all it has to offer, and set you up to have a choose-your-own adventure for Day Three.
Seattle Food—and Coffee
Seattle is a food town. It's also a coffee town. You might have heard of a little place called Starbucks? But honestly, because Seattle is such a gustatory delight, I've included very few "must eats."
There are a few recommendations in each section that really stick out as worth going out of your way for, but in most cases, go ahead and let your food selection be determined by where you are when your kids get hungry and what kind of food they like. There's a great chance that any hole in the wall in Seattle will delight you. And any tiny coffee shop is going to be fantastic!
Know Before You Go To Seattle
Is it a cliche to say that Seattle is home of grunge, has fabulous coffee, and it rains almost every day? Maybe, but all of that is also true! The thing you might not know is that while it rains frequently, it rarely rains hard.
So, Seattlites tend to not carry umbrellas, and having one will mark you as a tourist. But more than that, you won't really need it. Seattle's weather is mild pretty mild all year, and except for the dead of winter or height of summer, you'll be best served with a moderately warm jacket with a hood.
Also, I would recommend getting a Seattle CityPASS, as the pass includes top city attractions that you won't want to miss (truly) and getting the pass saves you a lot of money. A majority of Seattle's biggest attractions are all in one place, and having a hopper pass means you won't have to choose which thing you want to do; you can do them all!
RELATED: Best Things To Do in Vancouver With Kids
Flying fish, incoming! At Pike Place Market.
Day One: Getting The Lay of the Land
Pike Place Market
Every trip to Seattle starts at its beating heart. Pike Place Market was founded in 1907, and is still the center of the city. It's not just for tourists; every local we met talked about their love for the Market, the foods, the artisans, the flowers, and the history.
Plan on spending several hours wandering, shopping, tasting, exploring, and meeting people. I would 1000% suggest coming for breakfast, then spending a few hours walking and shopping, and then start a leisurely lunch meander, eating and sharing as many small bites and plates as possible.
RELATED: Fun Things To Do in Santa Cruz, CA With Kids
The Gum Wall might be one of the only places on earth that is both lovely, and makes you gag.
Here are a few spots and sights you shouldn't miss in Pike Place:
Flying Fish at Pike Place Fish Market — These guys put on a show all day long with their funny banter and occasional fish throwing. Want to make sure you see a flying fish? The saying goes, "If you're buying, they're flying!" Buy some salmon jerky to walk around with or come back right before your flight home; they'll pack fish in ice to take on a plane!
The First (or Fifth) Starbucks — Yes, there's much better coffee in town (like at Ghost Alley Espresso, right here at the Market). But the much ballyhooed "first" Starbucks is actually the 5th, and was recreated at the Market after a fire at the original original store, a few blocks away. The only reason to come here is for the merch. This store is the only one in the country with the original mermaid on it, and the lines around the block prove that these mugs are in high demand. If you happen to be here when the lines are short, they make for great souvenirs.
The Gum Wall - It's disgusting. But fascinating. And oddly beautiful, too. Post Alley is filled with gum that people have been sticking here for years. Actually, the walls are cleaned every few years, so it's not allowed to build up as much as it used to, but you'd never know that—there's So. Much. Gum. BYO to stick on the wall, and keep an eye on where toddlers inquiring fingers get to.
Rachel the Pig - The Market's unofficial mascot is Rachel. Be sure to say hi.
Savor Seattle Food Tours - I'm usually not a fan of food tours, but this one is exceptional, and allows you and your family to soak up more facts, eat more small bites, and meet more artisans than you possibly can on your own. Highly recommend!
Flower Stalls - While you might not think of rainy Seattle as having flowers, the flower section of the market is stunning. Something is always in bloom, and the prices are phenomenal. We actually bought flowers to keep in the hotel.
RELATED: 100 Things To Do in California With Kids
Kids can get up close and personal with the animals at the Seattle Aquarium.
Seattle Aquarium
After eating your fill at the Market, walk over to the Seattle Aquarium. While it's not the biggest or most impressive aquarium, it might be the best for young kids that I've ever visited. Small, manageable, and with loads of hands-on tanks and play centers, it's perfect for toddlers and preschoolers. Even jaded teens will fall in love with the otters who zoom around their tank. (Included on the Seattle CityPASS.)
Harbor Tours
For more marine life sightings, take a quick tour of the harbor. I like the Argosy Harbor Tours, which clocks in at just an hour, making it perfect for restless kids. Sit up top, hear a little more about the city, have a drink, and get the lay of the land from the sea. Keep your eyes peeled for harbor seals and sea lions. (An option on the Seattle CityPASS.)
Seattle Great Wheel
Like the aquarium and boats, the Seattle Great Wheel is also located at Pier 57. If you time it right, you'll end your day with a sunset ride with stunning views of the city and bay. If your little ones need food first, dine on the pier and then come back for a nighttime ride, when the 500,000 LED lights come to life.
Day Two: Explore Seattle Center
Seattle Monorail
If you're staying in the center of the city, take the Seattle Monorail to Seattle Center, where you'll spend the day. The monorail was built for the 1962 World's Fair (like the Space Needle, which you definitely need to visit today!). Kids ride for free, and it's a perfect way to start your day.
See the Space Needle (seen here from a tour on the harbor!), with Olympic Park before it.
Seattle Center
You could spend all three days just exploring Seattle Center! There are dozens of venues, and you can pick which are the most enticing for your family. Little climate activists (and hockey fans) will want to explore Climate Pledge Arena. Theater lovers will want to plan their day around catching a show at Seattle Children's Theatre. There's also the Pacific Science Center, with the IMAX and Laser Dome, Armory, Bill & Melinda Gates Foundation Discovery Center, International Fountain, and more. But if you have a tight three days, and want the can't-miss sights, here's what I'd hit:
The Space Needle
The most iconic landmark in the city, the Space Needle is 605 feet high and was built for the 1962 World's Fair. You can read all about its history once you're there, all I'll tell you is the views are stunning, and the glass floor of the rotating observation deck delights kids. I would also suggest timing a visit here to coincide with sunset, but that's only on a sunny day. On a Seattle day, check your weather app, and plan to visit when there's a break in the clouds. Though, I have visited on a rainy day, and it's beautiful and otherworldly to watch the clouds roll by at eye level. (Included on the Seattle CityPASS.)
The Seattle Children's Museum
Located in the Armory, the Seattle Children's Museum is a great indoor place for kids to play. Best for kids ages 2-5, admission is good for the whole day, so it's a perfect place to start your day, and then you can check out some other museums and spots, and return later if it starts to rain or when kids need another play break.
Artists at Play
Here's another play spot for kids of all ages, for sunny days! This giant, unique, free playground just might be your kid's favorite thing in Seattle. Between visiting other museums, this is a perfect place for kids to run free.
Museum of Pop Culture (MoPOP)
Gen X parents can't miss MoPOP, with exhibits dedicated to local rock gods Kurt Cobain and Jimi Hendrix. But kids will also adore the rotating exhibits (a Laika exhibit was there last time we visited) and Sound Lab's hands-on interactive play. With everything pop culture from music to comic books to fantasy to movies to video games and so much more, this museum is truly unique and fascinating. Even the Frank Gehry-designed building, which you can see from the Space Needle, is shaped like a smashed guitar. (An option on the Seattle CityPASS.)
The glass sculptures at Chihuly Garden and Glass are otherworlds and will entrance the whole family.
Chihuly Garden and Glass
Am I really recommending you take kids to a glass museum? Dear reader, I am. Chihuly Garden and Glass is a stunning warehouse of the work of Dale Chihuly and your kids will be entranced. There are also glass blowing demonstrations in the courtyard that will fascinate the whole family. It's a small and manageable museum, with gorgeous gardens, incredible photo ops (please take your family holiday card photo here), and an incredible and unique restaurant called The Bar, which yes, has great drinks, but also really good food at very reasonable prices. Plan your day around having a lunch or dinner break here. (An option on the Seattle CityPASS.)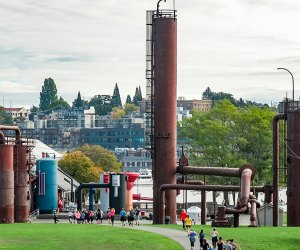 Get out and play at Gasworks Park on Lake Union. Photo by Alabastro Photography
Day Three: Get to Know Neighborhoods
For Day Three, I would recommend exploring a little bit more of the nooks and crannies of the city. So I've come up with a few suggestions that are targeted by age. Or, you might just want to return to City Center and hit any museums you've missed!
With Little Kids
Lake Union
Seattle is a city surrounded by water. Not only is the city on the ocean, but it has two lakes: Lake Union and Lake Washington. Lake Union is a fun excursion for little kids, where they can watch seaplanes take off, run around and play at Gas Works Park, check out the houseboats, and even take an Emerald City Pirate Cruise.
At Lake Union Park, you can also explore The Museum of History and Industry (MOHAI) and the Center for Wooden Boats (which is way more fun than the name implies, with free row boat rides and Sunday Public Sails—just remember to sign up for the free row boat rides online in advance!). There are great lakeside restaurants, too, like Duke's Seafood, which happens to have a fantastic kids menu.

The Fremont Troll lives under a bridge, but he's really friendly! Photo by Alabastro Photography
Fremont Troll
Fremont is one of the coolest neighborhoods in Seattle, and you can explore this artsy neighborhood and find fabulous shops, restaurants, and food trucks. If you're here on the weekend, be sure to visit the Fremont Sunday Market. This is right near the Fremont Troll, who lives under the Fremont Bridge. Kids can climb right up on him to say hi, and parents can get great photos. Tip: come early, as it gets crowded later in the day.
Woodland Park Zoo
Every zoo has animals, and we all know kids love them. But the coolest thing about the Woodland Park Zoo is actually the indoor play space called Zoomazium. If it's raining, or even when it's not, this indoor plaground will entrance kids for hours. Come for the animals, stay for the animal and nature-themed play space, which is perfect for kids of all abilities. (An option on the Seattle CityPASS.)
One local rock legend, coming up!
With Bigger Kids
Explore Capitol Hill
The rainbow crosswalks are the first sign that this neighborhood is especially welcoming to LGBTQ+ people. With great food, shopping, and art galleries, teens and tweens will enjoy exploring this neighborhood. Here are some of the coolest places for big kids to explore in Capitol Hill.
Bill Spiedel's Underground Tour
You may know that there was a great fire in Seattle in 1889. What you might not know, is that when the city was rebuilt, it was built on top of the remains of that existing city so it wouldn't be below sea level and flood so often. So, underneath the current Seattle, exists another Seattle, connected by underground tunnels. You can take a tour of this ghostly city below the city. There's loads of humor, history, and a decent dose of spookiness.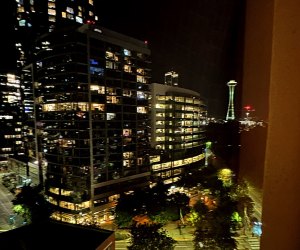 This is the spectacular view from the windows of the Pan Pacific Hotel Seattle.
Best Hotels in Seattle for Families
With stunning views of the Space Needle, this hotel is perfect for kids, as the ground floor of the hotel is a Whole Foods, so you are minutes away from snacks or anything else you forgot to pack. You're greeted at check-in with warm towels, the soaking tubs are perfect for parental relaxing or kid splashing, the staff is incredibly friendly and helpful, and the hotel is centrally located. It's also a pet-friendly hotel.
This hotel is the most upscale on our list, but worth it. Centrally located, beautiful, and with a great pool, the whole family will love staying here. If you visit during the holidays, this is a great place to stay, as the decor is splendid.
Talk about centrally located; this is the only hotel actually at Pike Place Market. The ocean views are gorgeous, and the rooftop deck is a perfect place to unwind. You're steps from an early morning coffee, and easy walking distance to just about everything.
Sports fans will like staying here, as it's right near T-Mobile Park and Lumen Field. It's also got affordable suites, which is a huge plus when traveling with kids. Plus a great free breakfast, snacks in the afternoon, and a pool—this is about as kid-friendly as hotels get!
VRBO
And then there's always VRBO, and Seattle has loads of condos available downtown. My pick is this 2 bedroom, which is right by the water and is walking distance to both Pike Place and the Space Needle. With a parent's room with a king bed and a kid's room with twin beds, this entire condo with a full kitchen and new washer/dryer is less than the cost of one hotel room. If you've rented a car, you might prefer something like this serene little house right on Lake Washington. Keep your eyes peeled for bald eagles and seaplanes!
This article contains some affiliate links, which means we might earn a small commission if you make a purchase. There is no extra cost to the reader. We only recommend products and services that we have personally used or have thoroughly researched.
Photos by the author unless otherwise noted.