100 Things To Do in California with Kids Before They Leave The Nest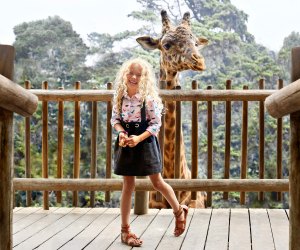 10/12/19
- By
Susan Leslie
Whether your kids are leaving the nest in one year or in ten years, there are at least 100 things to do in California worthy of any family's bucket list. From San Diego to Crescent City and every town in between, there are amusement parks, great hikes, drives to the mountains, adventure activities, and so much more!
Did you know that California has 58 counties? Okay, maybe your bucket list doesn't need to cover all 58, but we have awesome family excursions covering over 30 counties across California's 163,696 square miles. How many have your kids experienced?
Best Things To Do in Southern California
1. Cast a spell at Hogwarts at Universal Studios, Hollywood.
10. From the Observatory to all-access playgrounds, Griffith Park has a lot to offer.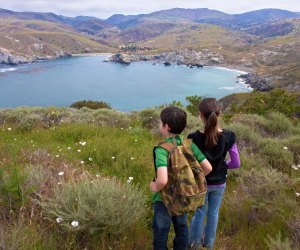 The views at Catalina Island are always worth the trip. Photo by Jack Baldelli/Catalina Island Conservancy
11. Cruise over to Catalina Island.
12. Sail to Channel Islands National Park.
13. Day-trip to Mexico on Olvera Street.
14. Get some amazing Dim Sum in Chinatown.
15. Take in the funky scenes at Venice Beach.
16. Sing your favorite tune on your way to the Grammy Museum.
17. Be an LA hipster and meet your friends at The Grove.
18. Take a picture with a mammoth at the LaBrea Tar Pits.
19. Find your Instagram-worthy picture spots from angel wings to love walls.
20. Take a drive to the beach to see the Grunion Run.
21. Visit the happiest place on earth, Disneyland.
22. Visit Knott's Berry Farm and Soak City
23. See the Pageant of the Masters in Laguna.
24. 4th grade is all about California missions, so head over to Mission San Juan Capistrano.
25. Dive into the inflatable water park at Newport Dunes Beach Resort.
26. See a Broadway show at the Segerstrom Center for the Arts.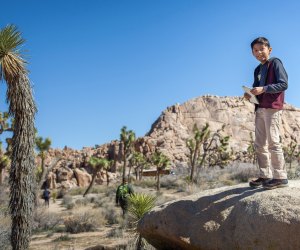 A kid has to see Joshua Tree National Park. Photo by NPS / Renata Harrison
Riverside County
27. Make a trek to Joshua Tree National Park.
28. Crush some grapes on the kid-friendly winery tours of Temecula.
29. Whether you want a museum or a water park, Palm Springs has it.
San Bernadino County
30. Skirt the tumbleweeds as you enter the Calico Ghost Town.
31. Skypark at Santa's Village is a jolly adventure in Lake Arrowhead.
32. Head for the clean mountain air of Big Bear.
33. Learn to water ski at Lake Arrowhead.
34. Experience the wild west in Pioneer Town.
35. Visit Torrey Pines for your chance at a hole-in-one.
36. Take a trolley tour of Coronado Island.
37. What's not to love about LegoLand?
38. Monkey around at the San Diego Safari Park and Zoo.
39. Paddle out to see the 75-million-year-old La Jolla Caves.
40. Visit California's largest state park, Anza-Borrego.
41. Yeehaw! Alisal Guest Ranch brings luxury to horseback riding and the great outdoors.
42. Solvang Danish village will transport you to another country.
43. Kid-friendly wineries make the Santa Ynez Valley a treat.
44. The Santa Barbara Zoo is just plain gorgeous.
Best Things To Do in Central California
San Luis Obispo County
45. Take a stroll through the luxurious Hearst Castle.
46. Take a glassblowing class or hike one of the many trails in Cambria.
47. Ride the sand dunes of Pismo Beach.
48. Check out the 15-foot-high and 70-foot-long hallway of (already chewed) Bubble Gum Alley.
49. Board a boat for Avila Beach whale watching.
50. See the Elephant Seal Colony in their natural habitat.
Inyo County
51. Death Valley isn't as scary as it sounds.
Mariposa County
52. Don't miss the majestic scenery of Yosemite National Park.
Monterey County
53. Take a drive to relaxing Carmel-by-the-Sea.
54. View the awesome cliffs of Big Sur.
55. Serve breakfast to bat rays or help save the otters at the Monterey Aquarium.
56. Play a round of golf at Pebble Beach.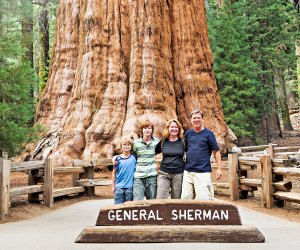 The General Sherman at Sequoia National Park is as big as a tree can get.
Tulare County
57. Witness the dramatic landscape and land of the giants at Sequoia National Park.
Calaveras County
58. Zipline through the Moaning Caverns Adventure Park.
Fresno County
59. Did you know the Forestiere Underground Gardens is an official historical landmark?
Kern County
60. Go river rafting, skiing, or windsurfing at Lake Isabella.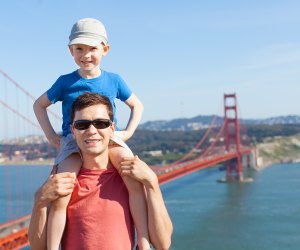 You can't visit San Fran without taking a photo of the Golden Gate!
Best Things To Do in Northern California
61. Walk the Golden Gate Bridge.
62. Take a segway tour around Golden Gate Park.
63. Ride a San Francisco cable car.
64. The largest Chinatown outside of Asia is worth the trip.
65. Explore the complex history of Alcatraz Island.
66. See the latest rescued animals at the San Francisco Zoo.
67. Get a sundae at the Ghiradelli Ice Cream and Chocolate Shop.
68. See how Mickey Mouse started at the Walt Disney Museum.
69. Feed your curiosity at The Exploratorium.
70. Get your artist on at the Children's Creativity Museum.
71. Get a ticket for the San Francisco Ballet.
72. Eat crab (and see the sea lions!) at Fisherman's Wharf.
Marin County
73. Ride the ferry to Angel Island.
74. Enter the Redwood Forest at Muir Woods.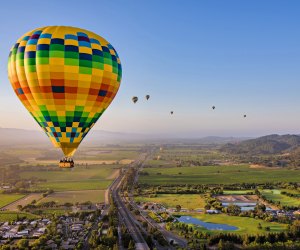 There are more reasons to visit Napa than you might realize. Photo courtesy of Visit Napa Valley
Sonoma County
75. Visit Snoopy at the Charles M. Shulz Museum.
76 Take the Safari West Wildlife Tour.
77. Lift up, up, and away on a Napa Valley Balloon.
Sacramento County
78. Visit the capitol in Sacramento.
79. Live happily ever after at the storybook themed park, Fairytale Town.
80. Take a Sacramento River Cruise.
El Dorado County
81. Pan for gold at the Marshall Gold Historic State Park.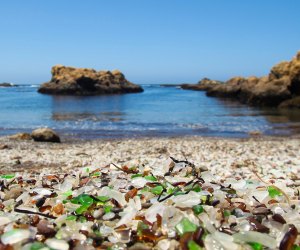 Who can resist Glass Beach? Photo courtesy of MeetMendocino.com
Mendocino County
82. Pick up sea glass at Glass Beach in Fort Bragg.
San Mateo County
83. Go horseback riding or birdwatching in Half Moon Bay.
Contra Costa County
84. Take a steam train on the Redwood Valley Railway.
Santa Clara County
85. Twirl, drop, and fly on the thrill rides at California's Great Adventure.
86. Unlock the questions behind the Winchester Mystery House.
87. Ride the attractions at Gilroy Gardens Family Theme Park.
Santa Cruz County
88. See why Seymour Marine Discovery Center is more than just an aquarium.
89. Ride the Roaring Camp Railroad through the Redwood Forest or Santa Cruz Beach.
90. Explore the Natural Bridges State Beach and catch the annual monarch butterfly migration.
Placer County
91. Take an arial tram ride in Squaw Valley.
92. Learn to snowboard in Lake Tahoe.
Shasta County
93. Explore the network of natural caves at Shasta Caverns.
94. Rent a boat at Shasta Lake.
95. Take pictures of the bubbling mud pots at Lassen Volcanic National Park.
Solano County
96. Find out how they make all those flavors at the Jelly Belly Factory.
Alameda County
97. Splish Splash at the Aqua Adventure Water Park.
98. Tour the USS Hornet air craft carrier.
Madera County
99. Motor across Bass Lake on your way to Yosemite.
Humboldt County
100. Look for Bigfoot among the epic coastal redwoods and waterfalls of Humboldt County.