Visit the Old West like the Brady Bunch at this Hollywood Style Western Town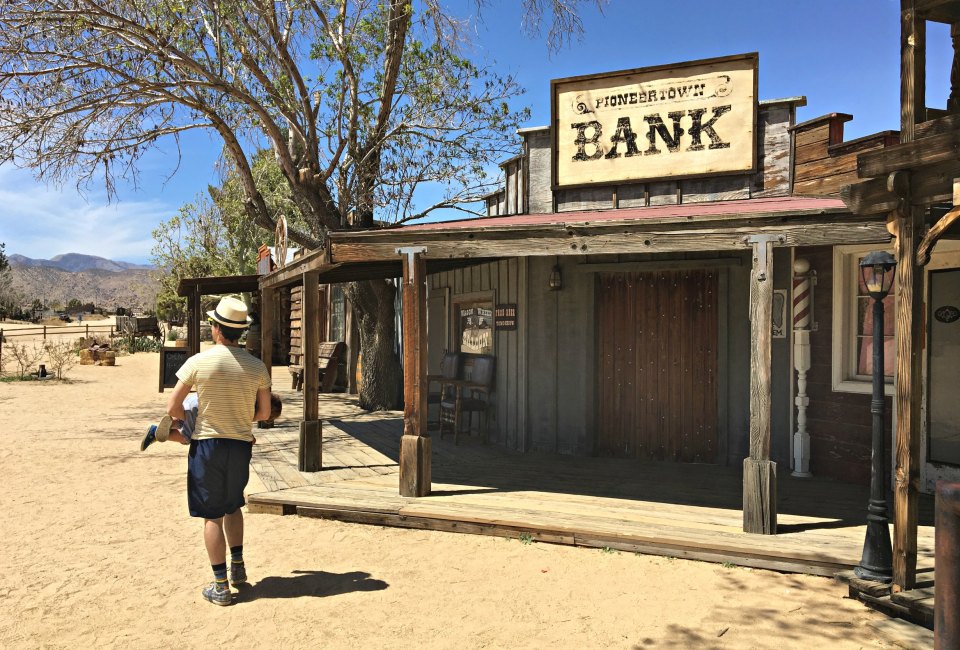 4/27/18
- By
Arianna Menon
Deep in the Mojave Desert, not far from Palm Springs and Joshua Tree, and just two hours from LA, tumbleweeds roll down dusty, unpaved streets. A saddle shop, an old bank, a bath house, and a saloon line the appropriately-named Mane Street, where transportation is horses-only. There are occasional cowboy brawls (mostly on Saturday afternoons) and a sense that some old character actor might be haunting the jail. If Pioneertown feels like an old movie, that's no surprise—it should.
This dusty desert town has been featured in more than 100 Western movies and television shows, including The Cisco Kid and Judge Roy Bean. Built in the 1940s by Hollywood producers and actors who included Gene Autry and Roy Rogers, this frontier outpost was once a motion picture set unlike any other made-for-screen town. Even today Pioneertown boasts real buildings where actors and production crews dwelled while filming on location long ago. Amazingly, these seemingly ramshackle facilities outlasted the golden era of Westerns and are now a living museum. Although most of buildings are abandoned, giving the place an eerie, dare-I-say ghost town feel, some now house a few shops (a pottery lab, a soap shop, an eclectic jewelry boutique, a vintage clothing store) and are open during the weekend for curious visitors.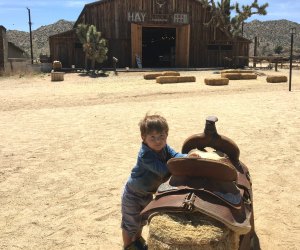 Saddle up, little guy!
The whole family can get a kick out of walking (or galloping) down Mane Street; twice as wide as a normal street, it's an epic place to run around and a great backdrop for Instagram-worthy shots. Like Roy Rogers, kids can pretend to be cowboys, cowgirls, or outlaws, hiding behind the jail bars or inside the livery stables. There's a saddle on a haybale in front of the saddlery perfect for pretend play, and there's a petting zoo with miniature goats next to the soap shop. Parents can chill and watch their bandidos in action from the front porch benches of the bath house and bowling alley (the oldest one in California) or from rocking chairs in front of the main barn. These are also strategic locations every second and fourth Saturday of the month to watch the Mane Street Stampede Wild West Show troupe reenacting gunfights and humorous skits. Yeehaw!
A short lasso's throw from Mane Street is the legendary Pappy & Harriet's Pioneertown Palace, a roadhouse tavern established in 1982. The place itself is a miniature Mane Street—a fun area reproducing an Old West town with a sheriff's office and jail is located behind the bar, with tasty food and great music. Aside from the mesquite barbecue (the Cowboy Combo with the choice of two meats including chicken, baby back ribs, and Santa Maria is a favorite) and juicy burgers, the menu includes options like the grilled salmon, kale salad, and veggie chili. Wine, beer, and unique cocktails are served in cool mason jars. The mac & cheese from the regular menu is a side dish big enough to be an entrée for kids. It might take a while to get a table as well as food (Pappy's doesn't take reservations for lunch), so bring some entertainment for the young ones while you wait.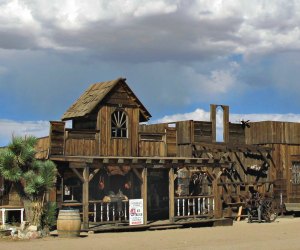 Mane Street in Pioneertown. Photo by Helen Gordon/CC BY 2.0
There's more to Pappy's than food, though. In the last few years, world-famous acts including Robert Plant, Paul McCartney, The Pixies, Lucinda Williams, Sean Lennon, and Lorde have performed at Pappy's indoor and outdoor stages, putting this desert institution on the national music venue map. It is, after all, a tumbleweed's toss away from Coachella. If you're lucky, you might be chomping on your beef brisket sandwich while watching Rufus Wainwright rocking out across the room. If not so lucky, you can still count on The Sunday Band, Pappy's house band, to play country, blues, and classic rock tunes every Sunday night at 7pm. Just be sure to make a reservation and bring your dancing shoes.
Interested in spending the night? The recently renovated and hip Pioneertown Motel located behind Pappy's is the closest place to hang up your cowboy hat. Many Airbnb rentals are also available nearby and throughout Yucca Valley. Pioneertown can make a great overnight if you'd like to break up a trip to Las Vegas or even Death Valley. And if you're a fan of that old Brady Bunch episode, when the family gets stuck in an old West ghost town? Well then it's (Vincent) Price-less.
Places featured in this article:
---
Pappy & Harriet's Pioneertown Palace
---
Pioneertown Motel
Sign up for the Mommy Poppins Newsletter today!