Meet the Animals: Petting Zoos, Animal Farms, and Animal Sanctuaries Near Atlanta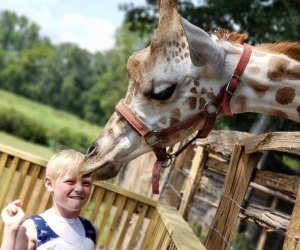 If the warm weather has your family yearning to get out and mingle with some friendly four-legged critters, there are plenty of options in and around metro Atlanta.
These animal sanctuaries and petting zoos beckon families with children to enjoy a day trip meeting barnyard animals such as pigs, horses, goats, ponies, rabbits, and even exotic animals such as giraffes, camels and in some cases, lions, tigers, and bears. Oh my!
Most of these zoos and sanctuaries advise visitors not to feed the animals unless it's animal feed that they provide, either included with admission or purchased for an additional fee.
So grab plenty of hand sanitizer, wet wipes, plastic gloves (bison slobber is no joke), and some snacks (for the kids not the animals) and head out to one of these favorite Atlanta petting zoos, farms, and animal sanctuaries.
Petting Zoos and Animal Farms in Metro Atlanta
This vast wildlife park is located just about an hour north of Atlanta in Cleveland and features a drive-thru safari experience, with the opportunity for "add-on" interactions with animals - including kangaroo, baby deer, porcupines, lemurs, sloths and more.
Located an hour north of Atlanta in Dahlonega, this wildlife preserve is home to more than 100 exotic and native animals, including a Bengal tiger cub named Bodhi. The animals at the preserve are rescues who were orphaned, abused, or illegally purchased. The farm offers families opportnities to hold a cockatoo, American alligator, and various snakes.
This fun roadside stop really gets our goat, featuring a goat feeding station with ropes and pulleys (or feed them through a fence); a country store adorned with cutout goats on the roof (hence, the name); gem mining; and a playground. Children can earn the opportunity to become an *official* Goat Ranger.
Pettit Creek Farms is home to variety of animals from around the globe, including camels, goats, ostriches, zebras, and more. Visitors are encouraged to purchase animal feed as they enter, and drive through the dirt path featuring exotic animals. There are opportunities to linger along the way (mind the car behind you) and let the animals eat from your child's outstretched arm.
RELATED: Great Playgrounds in Atlanta for Family Fun

Kids can get up close to the animals at The Farmyard at Stone Mountain Park.
Stone Mountain Park is well-known as a destination in itself, with opportunities to scale the granite mountain or take part in many other activities in the vast theme park. Within the park there's also an animal farm, where kids can get close with farm animals and learn about how livestock were influential in early Georgia life. The farmyard visit is included in visitor's daily Adventure pass.
Atlanta's zoo is known for allowing safe separation between spectators and animals, But there are some opportunties to get up close to some animals in the barnyard, where kids can interact with goats, sheep, pigs, and more. As animal interactions are always subject to change, check with zoo staff during your visit or on the website for additional details.
Yellow River Wildlife Sanctuary, formerly Yellow River Game Ranch, is under new management that has put much care and dedication into the welfare of its animal inhabitants. The sanctuary is home to bison, peacocks, pigs, albino wallabies, Babydoll sheep, fallow deer, ring-tailed lemurs, alpacas, and more. Check the website for info on its interactive exhibits and wildlife "Keeper Talks."
RELATED: Great Bike Rides for Atlanta Kids and Families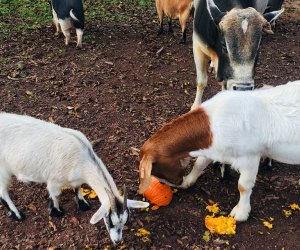 Visit Noah's Ark Animal Sanctuary and help support their rescued animals.
This unique nonprofit sanctuary located just over an hour south of Atlanta, is definitely worth the drive. The sanctuary features a 250-acre oasis for abused and neglected animals, including reptiles, primates, bears, birds, and exotic cats. There are opportunities to feed the tigers and other big cats for a fee that directly benefits the animal nonprofit.
Located just south of Atlanta, this working farm offers an opportunity to shop for seasonal produce, take part in seasonal events and activities, as well as opportunities for visitors to interact with barnyard chickens, donkeys, cows and calves, goats, horses, and more.
This is one of Georgia's better-known animal safaris, located about an hour and a half from Atlanta and not far from Callaway Gardens. There are options to use your own car on the safari (at your own risk) or rent one of the already animal-weathered Zebra vans. This vast drive- thru safari features a variety of animals that have been conditioned by all the frequent visitors to come knocking on your car window for food. Expect to get close to camels, zebras, watusis, American bison, and more. This is where plastic gloves come in handy—there will be plenty of goey slobber on your kids' hands and maybe even your car.
Photos courtesy of the farms/animal sanctuaries