Visiting Fernbank Museum in Atlanta with Kids: A Chance to Discover Natural History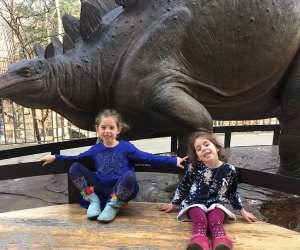 6/3/22
- By
Melanie Preis
Fernbank encapsulates the world of scientific discovery around every corner, within every exhibit, both outside and in. This popular Atlanta museum is the perfect destination for any family interested in learning about natural history and the science that makes our world...well, our world. From dinosaurs and STEAM projects to an immersive, ecosystem experience and treetop walkway, Fernbank offers countless opportunities for kids to unlock the joys of science.
Located in North Druid Hills, Fernbank introduces kids to a love of science and keeps that interest going for years to come. In addition to timeless exhibits that Atlanta kids continue to enjoy, Fernbank Museum showcases exciting, new exhibits that entertain and teach kids. Fernbank is part of Atlanta CityPass and may be worthwhile for those visiting multiple Atlanta attractions.
Must See Things at Fernbank Museum: Indoor Exhibits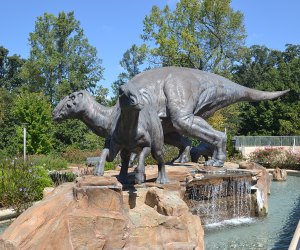 Fernbank Museum's Dinosaur Plaza welcomes visitors with its family of bronze dinosaurs that once lived in the region that is now Georgia. Photo by Bill Leffler
Fernbank Museum opened in 1992 and creates amazing, science- and nature-based experiences for kids and adults through its permanent and temporary exhibits. My family loves NatureQuest, a large permanent exhibit that allows children a hands-on experience about the natural world. There are activities like a faux treehouse, archaelogical "dig," and live animal habitats (featuring juvenile alligators and snakes). My daughters love jumping through the virtual river and making "waves."
Fantastic Forces is a STEM exhibit at Fernbank that teaches kids about meterology, physics, astronomy, engineering, geology, and more. Immersive activities include building a wax volcano, launching aerodynamic aircraft, and seeing the dynmaics of tornadic winds. From inside Fantastic Forces, visitors can enter the STEAM lab and get their hands on awesome experiences like building robotics and circuits, repelling and attracting magnets, and using microscopes.
Forget nostalgia and go prehistoric at A Walk Through Time in Georgia. The Fernbank Museum tells the story of Georgia's natural history by focusing on the state's main geographic regions: Piedmont, Appalachian Mountains, Ridge and Valley, Okefenokee Swamp, and the Coast and Barrier Islands. The natural history museum takes visitors through these geographic formations with stunning visual displays of animals and plants...including dinosaurs!
RELATED: Best Atlanta Museums for Families to Learn and Play
Other outstanding indoor exhibits at Fernbank Museum include Reflections of Culture, where visitors learn how different people express themselves through clothing, jewelry, and body art with artifacts and photographs from across the globe; World of Shells is the ultimate seashell collection, with specimens from the Georgia coast and around the world; and Giants of the Mesozoic on the first floor, where dinosaur-loving kids get to walk under some of the largest dinosaurs, including Giganotosaurus and Argentinosaurus.
Must See Things at Fernbank Museum: Outdoor Fun
Along WildWoods' Nature Stories path, kids discover a fun, nature-themed playground!
The Fernbank Museum focuses on nature-based experiences so of course it has amazing outdoor exhibits! First on the list is WildWoods, an all-season attraction with direct access to Fernbank Forest. This elevated pathway allows kids and families to get close to nature in a creative, welcoming way. Leave Fernbank's terrace level and explore the stunning views from the cool tree pods, then younger kids can take the Nature Stories path (a nature-themed playground) and tweens and older kids can enjoy the Adventure Outpost path.
Since I still have younger children, we head toward Nature Stories and spend nearly two hours outside on the playground. They explore the climbing structures, look for hidden animal sculptures, and jump across the miniature dam structures. This is a great spot to take photos of kiddos.
Fernbank Forest, directly accessible by WildWoods, is an intown walk into Atlanta's natural landscape. Visitors can explore more than two miles of paths through this old-growth forest, with trees nearly 16 stories tall blanketing the space that's home to hundreds of animal and plant species. Dinosaur Plaza, sitting at the front of Fernbank, features a family of bronze Lophorhothon atopus, a dinosaur species that once lived in the region that is now Georgia.
The museum's elevated pathway through Fernbank Forest is a super cool way to discover local nature.
Must See Things at Fernbank Museum: Other Attractions
Fernbank Museum's Giant Screen Theater is a crowd favorite for kids of all ages due to its fantastic quality and exciting, science-based documentaries. The films, made for Giant Screen and IMAX theaters, teach and entertain viewers with interesting themes and important subjects. The best part is that one film showing is included with every general admission ticket; families just need to plan ahead since seats are subject to availability. Current showings include Dinosaurs of Antarctica, Ireland, and Antarctica.
Temporary, special exhibits are great chances to enjoy the Fernbank in a whole new way! For example, coming this summer is Tyrannosaurs: Meet the Family, which explores the famous (or possibly infamous) family tree of T. Rex and its relatives. Kids and adults into paleontology will love learning about this short-armed dino, including a virtual dinosaur egg-hatching experience. My kids enjoyed the Fernbank's previous temporary exhibit about knights-- seeing real armor, weaponry, and even customary garb for horses. There is always something cool happening on one of the floors at the Fernbank!
Must See Things at Fernbank Museum: Know Before You Go
Fernbank Museum is a fun and easy way to spend an afternoon, so take our tips to heart before heading out.
Fernbank admission tickets must be purchased in advance. The museum is open 10am-5pm and Fernbank Forest closes at 4:30pm.
General admission includes access to all indoor exhibits, ourdoor experiences, parking, and a movie to the Giant Screen Theater. Tickets cost $24.95 (ages 13-64); $23.95 (ages 65 and older); $22.95 (ages 3-12); and free for ages 0-2. Fernbank members enter for FREE and get discounts at the cafe and store.
Fernbank is part of Atlanta CityPass and may be worthwhile for those visiting multiple Atlanta attractions.
Fernbank After Dark happens the second Friday of every month and features unique after-dark experiences for those ages 21 and older. Couples can enjoy a date night or hang with friends and involves science demos, a full bar, live music, and food.
The Fernbank Cafe serves pizza, sandwiches, drinks, and snacks and is open 11am-4pm on the bottom floor.
Make sure to check the online calendar of events as the Fernbank puts on lots of special programming, like story times, live animal encounters, guided forest walks, and more.
Unless noted, photos by writer.