Vibrant Orlando Gardens to Discover Color and Beauty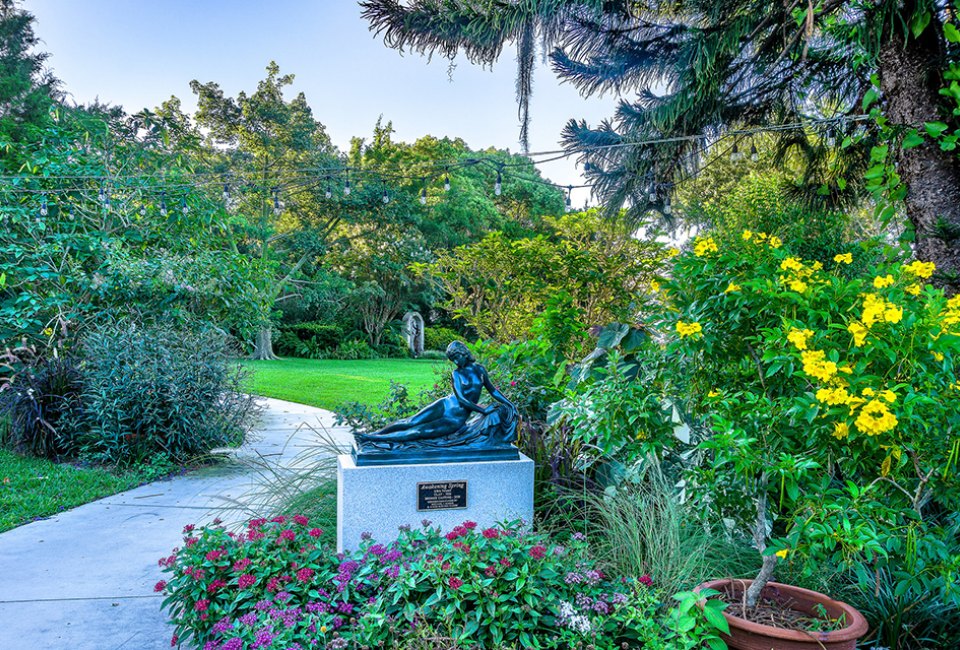 3/11/22
- By
Melanie Preis
Visiting Orlando gardens is the perfect way to welcome the gorgeous colors of spring. Luckily Orlando is a wonderland of vibrant hues almost every day of the year, and roaming a lovely Orlando garden is a great reminder of the seasonal changes. Wandering among flowers and taking in Mother Nature is the perfect family-friendly activity for all ages.
Enhance your family's garden experience by bringing a picnic lunch and water, and maybe binoculars or magnifying glasses for kids to closely examine blooms and surrounding wildlife. Don't forget sunscreen and hats for protection against the sun, as well as insect repellant and comfy walking shoes.
Want more ideas to enjoy Orlando's great outdoors? Visit our Outdoors Activity Guide for great information about what to do under the sun. If you prefer more manmade fun, take a look at what's going on at Orlando theme parks this year.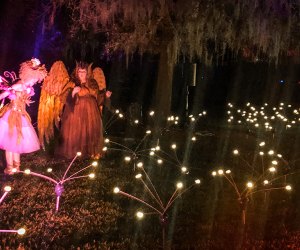 Enjoy special events at Leu Gardens, like Dragons: Hidden Treasure Quest. Photo by Charlotte Blanton
Orlando Gardens Perfect for a Colorful Stroll
Explore 50 acres of gorgeous grounds at Leu Gardens, a botanical respite full of temperate and tropical plants that do well in Central Florida's climate. For example, visitors enjoy palms, cycads, flowering trees, azaleas, bromeliads, tropical philodendrons, roses, camellias, as well as camphor, elm, and oak trees, and much more. This lush Orlando garden also features an art exhibit, library, and geocaching. Plant collections include the arid garden, butterfly garden, bamboo collection, citrus grove, tropical stream garden, and much more.
In addition to the simple beauty of Mother Nature, Leu Gardens also offers amazing programs throughout the year among the floral landscapes. For example, Leu Gardens puts on Dragons: Hidden Treasure Quest, an interactive, dragon-themed scavenger hunt set throughout the vibrant acres.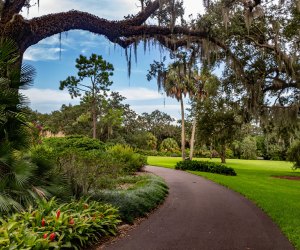 Besides Bok Tower Gardens' lovely grounds, make sure to visit the Singing Tower.
Located in Lake Wales, Bok Tower Gardens features 50 acres of gardens, as well as a 2.5-acre children's garden, in addition to a 20-room mansion, the famed Singing Tower, and a large wildlife population of birds and reptiles. Bok Tower Gardens shows off the historic landscape garden designed by notable landscape architect, Frederick Law Olmsted Jr. The grounds were designed to be a contemplative, woodland setting of tranquil resting spots and picturesque views of the Singing Tower; the garden features ferns, palms, oaks, pines, as well as flowering foliage and seasonal blooms of azaleas, camellias, and magnolias.
Visitors can roam the gardens along the paved and mulched pathways, which wrap around the grounds to the Singing Tower. This bell tower features a carillon, an instrument of at least 23 tuned bronze bells played by using a clavier, or keyboard, that's connected through wires and levers. In addition to hearing those melodious sounds, Bok Tower also hosts many concert series and musical events throughout the year.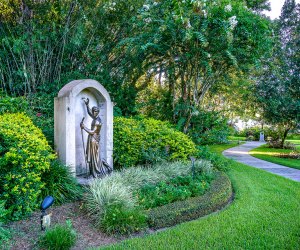 The Albin Polasek Museum Sculpture Garden honors the work of this Czech-American sculptor.
Part of the Albin Polasek Museum is the three-acre sculpture garden, complete with beautiful native Florida and subtropical species. Albin Polasek was a great Czech-American sculptor of the 20th century who retired, and eventually died, in Winter Park. His home, studio, and serene gardens make a lovely visit to teach children about nature and art, and how each subject influences the other. The views throughout the garden were the same that inspired the artist from his home, with outdoor gardens dating to 1949.
Throughout the blooms and greenery, various sculptures created by Albin Polasek dot the landscape. The tour also includes a visit to the historic Polasek house, as well as a walk through the permanent art collection as well as temporary exhibits of various artists.

Spend an idyllic afternoon wandering Mead Botanical Garden.
Head to Winter Park to visit the 48 acres of lush greenery at Mead Botanical Garden. There is a variety of species when it comes to flowering plants, trees, and more growing flora and fauna. From Florida native wetland species to plants that come from around the world, Mead showcases the power and beauty of nature. Interesting examples include the night blooming cactus (which blooms once a year), cypress trees, orchids, caladiums, begonias, longleaf pines, and much more. The property is divided by individual species gardens, as well as the butterfly garden, a marsh, creek, pond, and tortoise burrow. Depending on when you visit, families perusing the habitats may see various birds, amphibians, and small mammals.
In addition to the natural elements, Mead Botanical Garden features various stages and structures for events and concerts. There's also a community garden that local families may want to be a part of, as well as geocaching, summer camp, and of course, The Great Duck Derby.
Located within Lake Mirror Park, Hollis Garden is a formal garden, featuring 1.2 acres of flowers, ornamental shrubs, and native trees. The neo-classical architecural environment, with flower beds, public art, and decorative fountains, make it a popular Central Florida spot for weddings and photography sessions. Standout features of Hollis Garden includes the red room, where everything from foliage to flower is some shade of red, the lily pond, and the butterfly garden.
Unless noted, photos courtesy of the gardens
Places featured in this article: