Best Beaches for Georgia Families to Enjoy the Sand & Surf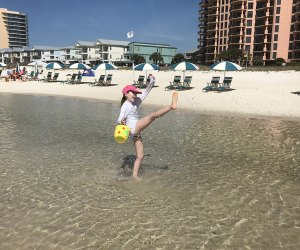 Georgia beaches offers an amazing experience for families to enjoy warm weather and laid-back vibes. Georgia beaches, like those beaches in Savannah, Georgia, including Tybee Island and St. Simon Island, are great weekend trips for Atlanta families. Georgia families can also head out of state and visit awesome nearby beaches kissing the Gulf of Mexico and Atlantic Ocean. Honestly, there's no wrong choice when selecting a Georgia beach or one in a neighboring state that fosters a family-friendly vacation.
Intimidated to bring the kiddos into the ocean? Do a dry run (...actually a wet run) and practice skills in smaller Atlanta swimming lakes to adjust to the atmosphere. Our piece about Swimming Lakes and Beaches Near Atlanta may offer some ideas for a closer beach swim. And for more great summer ideas, make sure to peruse our Summer Activity Guide for Atlanta Families!
Savannah, Georgia Beach Spots
Drive four hours from Atlanta to Tybee Island, just south of Savannah. This Savannah, Georgia beach is open 7am-9pm daily; Tybee Island beaches are public and monitored by lifeguards at most points on the island. There are some areas where swimming isn't permitted because of fishing and/or concern about sharks. Beach chair and umbrella rentals are not common, so it's best to bring your own. The accommodations on Tybee Island are limited to mainly locally-owned motels and vacation homes; families looking for a more traditional resort or hotel experience might want to stay in nearby Savannah.
Part of the "Georgia Golden Isles," St. Simon Island is a beach paradise about an hour away from Savannah, Georgia. There are quiet, pristine beach areas and state parks for visitors to explore, including sand bars and tidal pools when low tide comes. The most popular beach is East Beach, at the Historic Coast Guard Station, with a wide swath of Georgia beach area as well as public parking, restrooms, and seasonal concessions. In addition to swimming and shell collecting, families can try kitesurfing, bicycling, sandsculpting, and more.
RELATED: 13 Great Splash Pads and Spraygrounds in Atlanta for Kids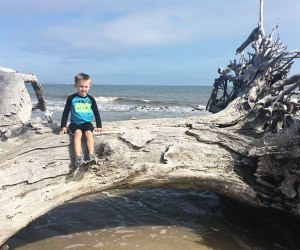 Beside swimming, Jekyll Island offers many ways to enjoy the local ecosystem. Photo by Charlotte B.
Situated about 1.5 hours south of Savannah right by St. Simon Island, Jekyll Island is a beach vacation destination for families looking for outdoor actvities and events. Visitors enjoy about 10 miles of picturesque shoreline, with opportunities to bird watch, bicycle, jog, and more. Jekyll Island State Park beaches include Corsair Beach Park, Oceanview Beach Park, St. Andrews Beach Park, South Dunes Beach Park, Glory Beach, Driftwood Beach, and Great Dunes Beach Park. Kids definitely need to visit the Georgia Sea Turtle Center, to see sea turtles and learn about rehabilitation efforts.

Mom and the rest of the family will love the soft sand of Gulf beaches.
Gulf Beaches and More Beyond Georgia
Located on the Atlantic Ocean (a 4.5-hour drive from Atlanta), Hilton Head Island is included on several lists of top U.S. beaches for families. Hilton Head has no limit of resorts to visit, and most have private beach access. Hilton Head also has nine public beaches with five designated as official swimming beaches. The five official beaches— Alder, Coligny, Driessen, Folly Field, and Islanders —have lifeguards and roped-off areas clearly marked in the water. These beaches are open from 6am to 9pm daily. The only fees are for parking, which start at $1 per hour.
Destin is referred as the heart of the Emerald Coast for good reason. It takes about six hours to get there from Atlanta, but the soft white sand and clear water is worth the drive. The breeze from the Gulf Coast keeps the temperature in the 80s and water temperature in the 70s, making Destin a great swimming beach. The beach is public and rental companies are available along the beach for chair/umbrella rentals, or you can just bring your own. Beach access is available at several points along the shore.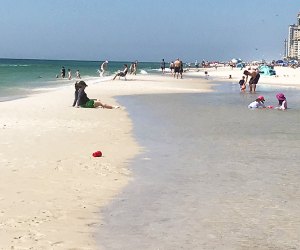 Orange Beach makes for excellent seashell and wildlife exploration.
About six hours from Atlanta, Orange Beach is home to the best beaches in Alabama and can be less crowded than Destin. Orange Beach has the same sugar-sand beaches as the Florida Gulf Coast with more rental houses and a less commercial feel than other Gulf Coast cities. The beach is public. Beach chair and umbrella rentals are not common (unless it's through your accomodations), so it's best to bring your own. Get more information about Orange Beach by reading our helpful Guide to Gulf Shores and Orange Beach.
Unless noted, photos by the author