The Best Things to Do and See at Zoo Atlanta with Kids: Monkeying Around this Atlanta Zoo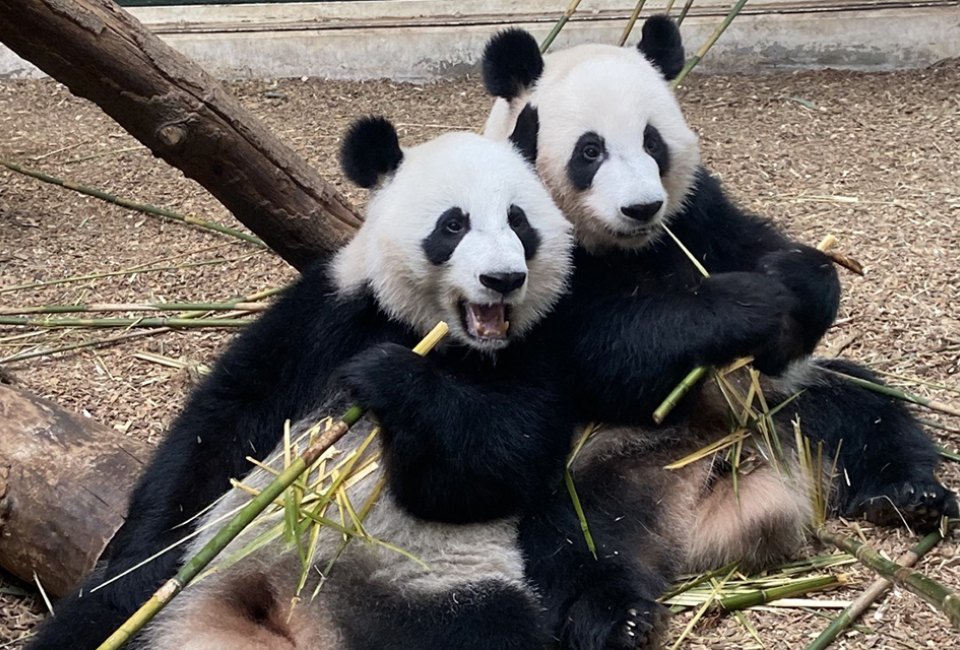 7/21/23
- By
Melanie Preis
Zoo Atlanta welcomes wild creatures from near and far -- both exotic animals and overexcited kids ready to let loose! Located in the wonderful Grant Park, Zoo Atlanta is the ultimate outdoor entertainment destination for its family-friendly attractions and year-round events. Use our helpful guide when visiting this beloved Atlanta zoo and your little wild animals will have an awesome time!
Kids AND adults will love seeing the famous Zoo Atlanta pandas, feeding giraffes, and catching a glimpse of the new and adorable baby sloth. The only thing better than all that cuteness overload is saving money on top of it —read below to find out how zoo visitors can save money on admission with an Atlanta CityPass.
Want more ideas for outdoor activities in Atlanta? Take the kids on a Tiny Doors ATL Scavenger Hunt; visit a Family-Friendly Atlanta Farmers Market; or go for major thrills at the Best Georgia Amusement Parks!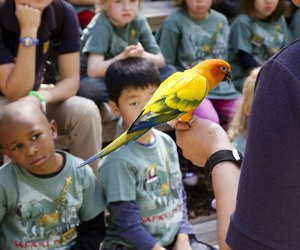 Get up close and personal with the animals at Zoo Atlanta.
Zoo Atlanta: A Walk on the Wild & Fun Side
Before you leave the house for Zoo Atlanta, make sure you plan accordingly. Note: Because this Atlanta zoo is located in the always happening Grant Park (one of the oldest and largest parks in the city), it may be worth your while to make a whole day of the intown trip. Wear comfortable shoes, bring water bottles and sunscreen, pack a bathing suit (depending on the time of year). You may even want to pack the bicycles and helmets to ride around the park before or after your trip to the zoo.
Upon entrance, Zoo Atlanta visitors get to see the beautiful flamingos before making a choice: Either head to the African Savanna or Kid Zone. The age of children, their energy levels, and weather will influence which section you visit first. Personally, my family prefers saving the KIDZone for the end of our visit, especially if it is hot outside and we know the zoo animals may be headed indoors as the blistering afternoon approaches.

The large elephant habitat offers unobstructed views of these majestic creatures.
African Savanna
There is no shortage of fantastic animals to see in the African Savanna, including the renovated elephant habitat that is more than triple the size of the original. The habitat shared by giraffes, zebras, and ostriches is a wonderful spot to see the behaviors and beauty of these African natives. Visitors can also see warthogs, meerkats, lions, rhinos, as well as learn about Zoo Atlanta's conservation efforts of African elephants and other species.

Kids will LOVE seeing the scaly, slimy amphibians and reptiles of the enclosed exhibit.
Scaly Slimy Spectacular: The Amphibian & Reptile Experience
Whether scaly, slimy animals impress or scare you (or some emotion in between), the Scaly Slimy Experience is NOT to be missed at Zoo Atlanta. This indoor facility is home to more than 70 species of amphibians and reptiles. The 14,000-square-foot complex features amazing animal habitats, including a desert, Australian billabong, swamp, Georgia tidal creek, and more.
My kids love to be spooked in this section —there's a quiet excitement that runs through my girls when they examine slithering snakes, shy turtles, and intimidating crocodiles. What's really cool is that these reptile habitats feature digital, interactive signage, where Atlanta zoo visitors can learn about the animals, watch video clips, and see photos. And it's always a win when you get a brief reprieve from Atlanta's harsh temperatures (both hot and cold).
Ford African Rainforest
​One of my family's favorite spots in the zoo is the gorilla exhibit. My kids love watching these fascinating animals on the gorilla deck, trying to catch a glimpse of the younger gorillas playing or fighting with their siblings and cousins. Nearby are monkeys of every shape, size, and color, swinging from the ropes and making heart eyes with the humans. Step into The Living Treehouse and watch these adorable mammals, including the lemurs, do their thing behind glass, all while visitors get another break from Atlanta's fickle weather.
Asian Forest
Toward the back of Zoo Atlanta sits the wonderful Asian Forest, featuring some of the zoo's most notable residents: giant pandas! Forget Zoo Atlanta's famed online PandaCam—see these cuddly creatures in the flesh! Keep the fun going and say hi to the orangutans and sun bears (my personal faves), red panda, tigers, and of course, the naked mole rats!

Don't forget to take advantage of all those cute zoo photo opps! Photo by the author
KIDZone
KIDZone is a fun combination of animal exhibits and hands-on activities that kids will love. The petting zoo allows children the opportunity to touch and animals like goats, sheep, alpacas, and more. Kids can cool off in the Splash Fountain, which features a total of 18 water jets, during April-October.
In addition to the animals and splash pad, kids will love the KIDZone rides! Families can take a ride on the Norfolk Southern Zoo Train as it chugs through the town of Critter Crossing. Enjoy a spin on the Endangered Species Carousel, housed under a colorful pavilion, that features hand-carved wooden animal figures. And kids can go up high on the Treetop Trail ropes course; younger kids can do their own version on the Treetop Tykes Trail.
Zoo Atlanta: Events & Experiences
If you check out our Mommy Poppins events calendar and weekend roundups regularly, you've probably seen awesome Zoo Atlanta events throughout the year. This Atlanta zoo puts on amazing events for families, adults, and kids, including the always popular Boo at the Zoo, Sippin' Safari, and Storybook Reading with the Author series.
Zoo Atlanta's experiences are wonderful ways to personalize a trip to the zoo, like the giraffe feedings (additional cost) and Wild Encounters (behind-the-scenes animal interactions) with lemurs, elephants, warthogs, and tortoises (additional costs). Keeper Talks are free educational conversations between animal experts and visitors, including the chance to watch the animals during their feeding times; and Wildlife Presentations, like the Fantastic Flights and Wonders of Wildlife shows.
Zoo Atlanta Tickets
General admission ticket prices vary based on entry date, so the further in advance you purchase tickets, the more likely to save money. Adult prices range from $25.95-$33.45; children (ages 3-11) are $20.95-$26.95; seniors (ages 65+) and college students are $24.20-$31.20. Awesome attraction add-on include a rides wristband (unlimited rides on the train and carousel in one day) for $9; Treetop Trail ($14.95); Treetop Tykes Trail ($9.95); and Gorilla Trek ($8).
Zoo Atlanta memberships start at $129 per year and include free daytime admission year round, no required reservations for entry, discounts on rides, giftshop purchases, and concessions, and 20 percent off admission for accompanying guests.
If you have plans to visit Georgia Aquarium, World of Coca-Cola, Fernbank Museum, College Football Hall of Fame, or the National Center for Civil and Human Rights (in addition to the zoo), in a short amount of time. look into an Atlanta CityPASS to save some money.
Zoo Atlanta Hours
Zoo Atlanta is open all year (closed only on Thanksgiving and Christmas). Zoo Atlanta hours (April 1-October 31)
Monday - Friday: 9am-5pm (last entry is 3:30pm)
Weekends: 9am-6pm (last entry is 4:30pm)
Zoo Atlanta: Know Before You Go
Zoo Atlanta is located at 800 Cherokee Avenue SE, Atlanta, GA 30315. Parking is located in the lot on Cherokee Avenue and the Grant Park Gateway parking facility on Boulevard. Both lots are pay parking ($3 per hour for a maximum of $12 per day).
The best time to enjoy Zoo Atlanta is spring and early summer, to get a good glimpse of the animals. Try to head out in the morning, as the warmer temperatures and mealtimes at the end of the day can keep animals obscured or hidden.
Wheelchairs and strollers are available for rent at a daily rate.
Zoo visitors can bring their own food or purchase food at the on-site restaurants and concession stands. Nourish Cafe serves a variety of menu options and fresh, seasonal ingredients.
Check out the Atlanta CityPass to save money on membership.
Unless noted, photos courtesy Zoo Atlanta.
Disclosure: We may earn a small commission if you click through our link and make a purchase. This revenue helps us maintain this site, so thank you for supporting us.
Places featured in this article:
Click Here to Sign Up!
i