Tiny Doors ATL: Big Fun Exploring Tiny Treasures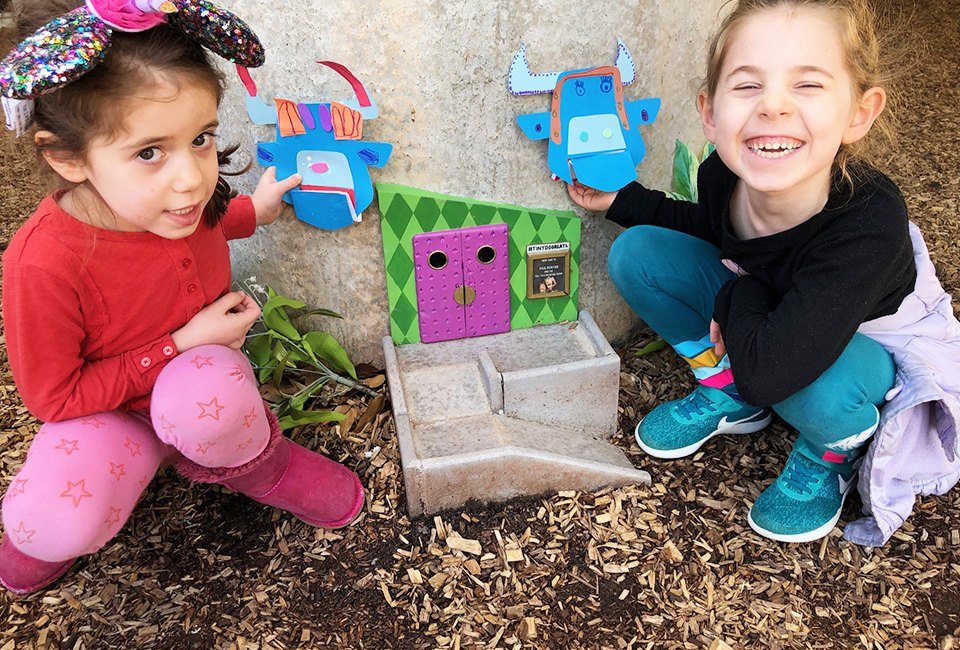 4/16/23
- By
Melanie Preis
Tiny Doors ATL opens children's eyes to the power of art and imagination in our everyday world. This Atlanta-based art project unlocks big fun in tiny packages with these whimsical 7-inch doors installed throughout the city. There's no better joy than watching children (and even adults) discover a Tiny Door ATL, either by accident or as part of a scavenger hunt, and admiring the care and wonder put it into each of these wonderful art pieces.
Learn more about the Tiny Doors ATL movement—where to find the adorable sculptures, the artist behind Tiny Doors ATL Karen Anderson Singer, the Atlanta Beltline adventure, and even a children's book to relive the fun at home!
Discover more adventures throughout our fair city by checking out our recent articles, including a Guide to Decatur, GA and the Reopening of LEGO Discovery Center Atlanta among others!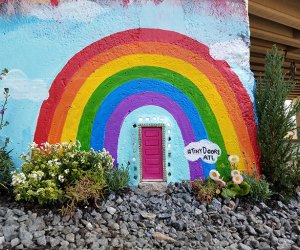 Door #2 can be found at Old Fourth Ward Skate Park. The rainbow was added after the door's original construction and inspired the Tiny Doors ATL logo!
How Many Tiny Doors Are in Atlanta?
There are 21 Tiny Doors ATL throughout intown Atlanta neighborhoods! Public spots include adorable art installations at the Center for Puppetry Arts, Westside Trail on the Beltline, East Atlanta, the Fox Theatre, Woodruff Park, Atlantic Station, Kirkwood, and more.
Enjoy a few more Tiny Doors while sightseeing at even more Atlanta attractions, including the Georgia Aquarium, Atlanta Botanical Garden, and Swan House.
The artist behind Tiny Doors ATL is Karen Anderson Singer, pictured here, at State Farm Arena's Door #16.
Who Started Tiny Doors ATL?
Karen Anderson Singer has been creating joyful and interactive art for the public since 2014. She is the founding director and principal artist of Tiny Doors ATL, creating custom installations and public speaking about how public art can bring communities together. Karen volunteers consulting with artists around the world —in fact, there are projects inspired by Tiny Doors ATL in places as far as Australia!
Don't let your eyes deceive you at Tiny Doors ATL's Giant Door (AKA Door #658)!
Where Is the Giant Door in Atlanta?
There's nothing cuter than discovering a hidden door...even if dogs can get in on the fun by sniffing one out. But what about the Giant Door?! Door #658 (it's 658 times the size of a tiny door) is located off the Eastside Beltline trail. This not-so-tiny door (pictured above with Karen Anderson Singer) can be found at Edge OTB (670 DeKalb Ave. NE), behind the giant bull sculpture near Shake Shack.
Enjoy a popsicle at Door #9, located next to the King of Pops walk-up window.
The Atlanta Beltline is always a good time, but it only gets better when hunting for Tiny Doors ATL with the official Adventure Guide! These six tiny doors (Door #1, Door #2, Door #5, Door #6, Door #12, and Door #13) in Midtown are AR (augmented reality) enabled. Bring a smartphone to bring these tiny doors to life with augmented reality -- follow the instructions on the Adventure Guide for help.
Take a photo at Door #6, featured in a custom bench by artist Ira Hill, located on the Beltline Eastside trail.
What's Behind the Tiny Doors?
If your children love Tiny Doors ATL, take a bit of the experience home by ordering Karen Anderson Singer's book, What's Behind the Tiny Doors? The children's book introduces readers to protagonist Kayla and her family as they hunt for Tiny Doors ATL throughout Atlanta and discover beloved neighborhoods and local spots.
Tiny Doors ATL released a free lesson plan to accompany What's Behind the Tiny Doors?, as an addition to home or classroom learning (meeting common core standards). This lesson plan can be used to inspire construction of your child's own original tiny door!
As part of Art on the Beltline, Door #5 is a wonderful find in Stumpery Garden (this one includes the AR feature).
How Do I See Where Tiny Doors ATL Are Made?
Head to Atlantic Station to visit the Tiny Doors Studio (during your trip, check out Tiny Door #21 in Atlantic Green)! Tour the studio every third Saturday of the month, where families can buy Tiny Doors ATL swag, check out the inspiration and materials that go into the tiny doors, and much more.
Unless otherwise noted, all photos courtesy of Tiny Doors ATL
Places featured in this article:
---
Atlantic Station
---
Atlanta BeltLine Trail
Click Here to Sign Up!
i