Make a Beeline to the Atlanta BeltLine With Kids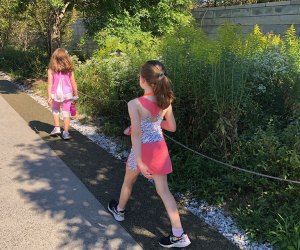 The Atlanta BeltLine is some miraculous combination of exercise trail, tourist attraction, path to historical and environmental exploration, public art gallery, cultural site, and so much more. It is Atlanta's aorta, pumping life throughout the city and connecting various intown neighborhoods together.
This 22-mile loop is a fantastic place to bring your kids and discover what makes the Atlanta BeltLine and the people and places of Atlanta so special. This multipurpose trail hosts wonderful attractions along the way, perfect for kids to discover nature, stop by a playground or skate park, admire art, grab a meal or stop in a shop, and just get out of the house.
One of the cooler details of the BeltLine is that many trees and plants are identified for kids to learn about.
Atlanta BeltLine is the perfect resource for all ages...and species (dogs love exploring this outdoor resource). Keep in mind, parts of the loop are still being developed so there are constant updates regarding new sections under construction, temporarily closed, or suddenly opened. We've collected some of our favorite activities along the BeltLine perfect for kids of all ages. So grab water bottles and sunscreen— it's time to visit the Atlanta BeltLine!
Currently, the Atlanta BeltLine features 10 parks for kids to let loose and run amuck. Park standouts include Arthur Langford Jr. Park, on the Southside Trail, which features a new skatepark, as well as basketball courts, baseball fields, and a covered pavilion; Westside Park, along the Westside Trail, a mammoth-sized park (and quarry) that just opened this summer and will eventually feature 280 acres of greenspace; and the intersection of Southside and Westside Trails is Perkerson Park, packed with fun amenities including a skatepark and splash pad.
Eastside Trail's Historic Fourth Ward Park, named after the surrounding Old Fourth Ward neighborhood, is a paradise of childhood activities. This 17-acre park features an awesome playground full of swings, slides, and other fun equipment; a fantastic splash pad (open May-October) that's perfect for playdates; a glorious shaded structure, especially appreciated by overworked parents; a Relay Bike Share station to rent bicyles; and ample green space to host various performances and festivals in the neighborhood. And if you do have a child who loves skateboarding, make sure to bring his or her board —the skatepark, constructed with a sizable donation from legend Tony Hawk, is fun for all ages and skill levels.
Pretty much almost every open, active trail on the Atlanta BeltLine includes some connection to a wonderful intown park, so make sure to bring comfortable walking shoes and enough time to enjoy it all. And if you decide to head to Piedmont Park (connecting from Eastside Trail) after a long trek on the corridor, keep in mind that might be a lot of walking for your kiddos— it may be a good idea to split those extensive, outdoor spaces into two separate outings.
There are various pieces of art located along the corridor's many trails, some with inspirational themes.
Atlanta BeltLine: Art on the BeltLine
Featuring the largest public art display in the South, Art on the Atlanta BeltLine is a great way to introduce your children to art. Unlike art museums and galleries that may require children to be quiet and on their best behavior, children on the BeltLine can run free and enjoy the gorgeous murals, sculptures, and other pieces of art that dot the trails with enthusiasm and energy. Kids can choose their favorite pieces of art, created by local, national, and even international artists, appreciate the time and skill it takes to create these pieces, and maybe be inspired to one day create their own public displays of art. Not only are there murals and sculptures along 12 miles of the corridor, there's a performance component, called BeltLine Flow, featuring pop-up experiences, immersive creations, and other events.
Another whimsical way to add art appreciation to your family's trip to the BeltLine? Try to find the Tiny Doors ATL's tiny doors, a colorful one on Westside Trail, as well as others at various spots along the corridor. These doors are miniature masterpieces and located at Freedom Parkway (near Old Fourth Ward Skatepark), Krog Street Tunnel, and other beloved Atlanta neighborhood hot spots. Note: The not-so-tiny door that was at the Eastside Trail has now been moved to the Edge OTB apartment complex in Inman Park.
The Eastside Trail weaves directly through Ponce City Market and is a great spot to take a break.
Atlanta BeltLine: Ponce City Market and Illuminarium
My children and I LOVE Ponce City Market (PCM) because there's always so much going on at this intown shopping/dining/entertainment mecca. The Eastside Trail literally runs right through PCM, offering the perfect respite for tired kids (and adults) to grab a meal and drink and maybe do a little shopping along the way. The food hall offers a huge amount of culinary choice for any picky eaters in the group, as well as tasty treats from King of Pops, Batter cookie dough counter, and Collier Candy. And a shop like Rhen's Nest Toy Shop is a great way to find a gift for good behavior along the corridor.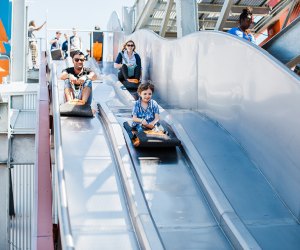 Skyline Park has a ton of awesome rides, all located atop Ponce City Market's rooftop attraction. Photo courtesy Skyline Park
But the truly great reason to bring children to Ponce during a visit on the Atlanta BeltLine is Skyline Park —a rooftop, vintage-style boardwalk with attractions including mini golf, carnival games, and rides. There's always something happening on The Roof, including kid-friendly events like trick or treating, so always check the events page and get family tickets to visit Skyline Park to have fun looking out over all of Atlanta.
Illuminarium is a magical attraction for all ages. Also located on the Eastside Trail, this cinematic experience takes you out of Atlanta and puts you into the colorful African plains, among wild animals in a mind-boggling, full-sensory experience.
Be prepared to grab one or five tasty treats when you wander into Ponce City Market's food hall.
Atlanta BeltLine: Tour Time
Depending how old your children are, taking an outdoor tour is a great way to explore the Atlanta BeltLine. Organized bike tours, for kids ages 13 and older, take place on the Westside Trail, last about 2.5 hours, and are free! Riders should be capable of biking about nine miles with several stops included along the way. Interested participants can either bring their own bikes and helmets or rent bikes (at an additional cost).
Younger children or those who prefer to keep their feet on the ground can join a walking tour of the Atlanta BeltLine Arborteum, a massive horiculture collection along the corridor. Led by a Trees Atlanta docent, this free tour tells about the history of the BeltLine, with a focus on the native trees, plants, grasses along the way. Find out the walking tour schedule, as well as how to register (drop-ins are not allowed) by visiting the Trees Atlanta website.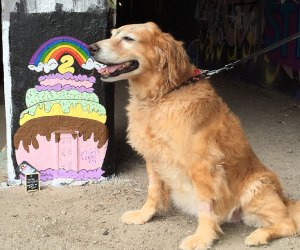 Before our beloved dog Archie passed away a few years ago, we took him on a walk to discover ATL Tiny Doors, like the Krog Street Tunnel one.
Atlanta BeltLine is always a fun place to take kids because it's a creative spot to get outside and see, close up, what makes Atlanta such a wonderful place to live in.
All photos taken by author unless otherwise noted.