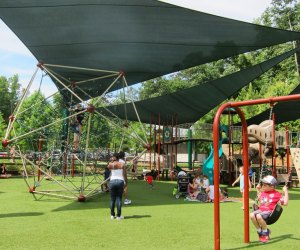 10 Amazing Playgrounds in the Atlanta Area for Kids and Families
There's nothing like a carefree stroll to your neighborhood playground, where you and your children know the lay of the land and the kids who visit there. But the combination of cooler weather and seemingly boundless acres of greenspace in metro Atlanta make for backpack-worthy adventures that can keep a family occupied for hours.
We've compiled a list of some of the best parks to visit, so pack that backpack and discover something new. And while you're at it, check out our roundup of Atlanta attractions that offer FREE admission for kids.
Great Playgrounds in Atlanta for Kids
Due to the evolving nature of COVID-19, it's a good idea to check in with local offices to make sure your destination playground is open. It's also a good idea to take care of bathroom needs before heading out: Many public restrooms at parks and playgrounds remain temporarily closed.
This 30-acre riverside park feels like a bit of Switzerland in Atlanta. The playground is loaded with play structures including rocking animals, swings, a spider climbing tower, a separate area for toddlers and features synthetic grass that stays cool year-round as well as sunshades to keep all metal bars cool in the hottest of months. The surrounding park features rows of wooden porch swings overlooking epic views of the river, covered picnic pavilions with provisions for grilling, a massive fire pit, and a boat dock that attracts both novice and professional fishermen. A seasonal outfitter shop also offers stand-up paddleboard, kayak, and canoe rentals.
This Buckhead mainstay is a longtime favorite among families in the area. The playground shoulders a slope of the park which is full of outdoor activities including a walking trail that snakes around the golf course and baseball field. Walking distance from the playground there's a working horse farm, tennis courts, an outdoor amphitheater that (seasonally) hosts some of the biggest acts in the nation, as well as more walking trails and an arts center. The playground has recently been renovated, and upgrades include a climbing structure, an observation tower, a sensory tunnel, musical equipment, long slides, toddler playhouses, and shade structures.
RELATED: Day Trips Near Atlanta for Georgia Families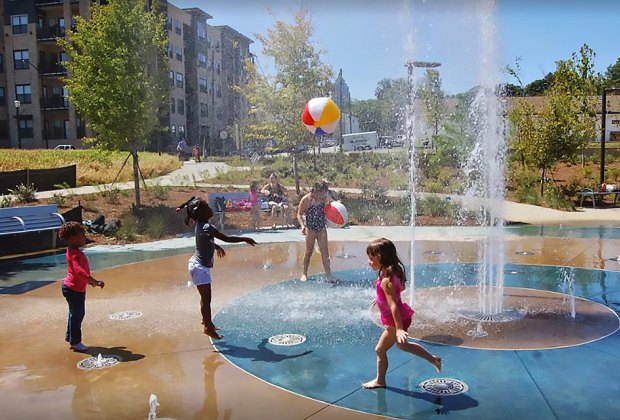 Cool down in the splash pad at Historic Fourth Ward Park and Playground. Photo courtesy of the park
This park and its environs are rapidly becoming known as the "Central Park" of Atlanta, the most optimal outdoor area for people watching. This Atlanta playground is one of several situated along The Beltline—the sprawling paved pedestrian walkway, bicycle, and rollerblade trail that loops around Atlanta's urban hub. The Beltline is chock full of parks, attractions, eateries, restaurants, and bars. This playground features an adjacent "sprayground" for kids to splash around in hotter months. Playground equipment includes swings shaped like large bowls, a ropes course connected to a trampoline, a reverse slide, and a rock climbing rope. There's also a skate park where younger kids can watch older ones and thrill-seekers can catch some serious air.
The playground is considered one of the best in East Cobb and also known to be dog-friendly. There are two distinct play areas, one with a ramp to accommodate wheelchairs as well as several play structures and equipment for toddlers and preschool-age children including swings, slides, monkey bars, and climbing structures. The park is known for its spacious layout and numerous surrounding walking trails. There's also an adjacent creek for kids to splash around in and an open grassy area for families can spread out with picnic blankets. The park has recently started hosting socially distanced "Sunday Fundays" where families can bring picnic lunches and listen to free live music outdoors.
RELATED: Pumpkin Patches Near Atlanta for Fall Family Fun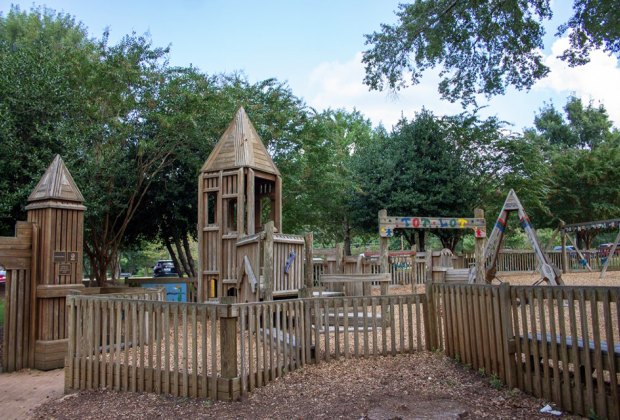 Kids can engage in imaginative play at Wills Park Playground. Photo courtesy of Wills Park
This playground set in vast Wills Park is known as one of the biggest and most well-maintained in Alpharetta. There are three distinct areas at this playground near Atlanta—Wacky World, featuring a mock wooden fairytale kingdom that inspires imaginative play; the Yellow Playground for younger children; and the Purple Playground which offers more shade during hotter summer months. In the summer, families visiting the park can cool off with a dip at nearby Wills Park Pool, a spacious, clean, and family-friendly public pool with splash pads, slides, and dedicated swim lanes. Entrance fees run about $8 per person and children younger than 3 are FREE.
This is one of the largest playgrounds in Dunwoody, featuring several play areas separated for older and younger children, with several sets of monkey bars, slides, swings, and a babbling brook where kids can dip their feet. There are shaded picnic areas, perfect for the weekly "Food Truck Thursdays," where rows of food trucks offer visitors a host of dining choices and reason to escape from cooking at home. The park hosts frequent festivals and outdoor movie nights and is also home to aerial adventure park TreeTop Quest, which features a self-guided obstacle course with some 12 ziplines. Reservations for TreeTop Quest must be made in advance.
This park is located just west of downtown Smyrna and features play structures for kids of all ages. It was recently outfitted with new plastic and metal play equipment to inspire creativity and exploration among children. There are climbing walls for going up and over, boulders to climb, and a large spider web structure. The toddler play area has smaller swings and slides. Kids delight over the telescope and train structures, and most of the playground is shaded with giant umbrellas. The colorful playscapes allow for climbing, swinging, or sliding.
This park is set among 120 acres of greenspace in the heart of downtown Acworth. The playground features a 25-foot tower, climbing structures, and a spider climbing net. Much of the playground is shaded, and the area around the swings features rubber flooring for a smooth landing. Visitors to Acworth can enjoy touring the historic downtown area and admire restored buildings that date from the early 1800s. Also worth the trip to Acworth: Lake Allatoona is a clean, well-kept lake that's becoming a top destination for kayakers and boaters.
9. Kidzstock Park — Woodstock
Known for its favorable cost of living and general liveability, Woodstock is becoming a top neighborhood for families with young children. Kidzstock is a popular local playground where children can live out their fairy tale fantasies with wooden castles and towers featuring stairs, a climbing rope, climbing wall, slides, and more. There's also a bouncy bridge and a large wooden ship on which children can play. A city-theme section for toddlers features storefronts, a train, and a car wash.
This in-town park features two separate playgrounds suitable for both older and younger kids. A pirate-ship play area and tree house encourage kids to climb and slide. There's a community garden adjacent to the park where families can adopt a plot of land to grow plants. There is also a basketball court and a large green area with benches and covered picnic pavilions. The surrounding area of Mason Mill Park features a 120-acre forest known to have some of the best hiking and biking trails in DeKalb County.