Zipping Across the Best Atlanta Zipline and Ropes Courses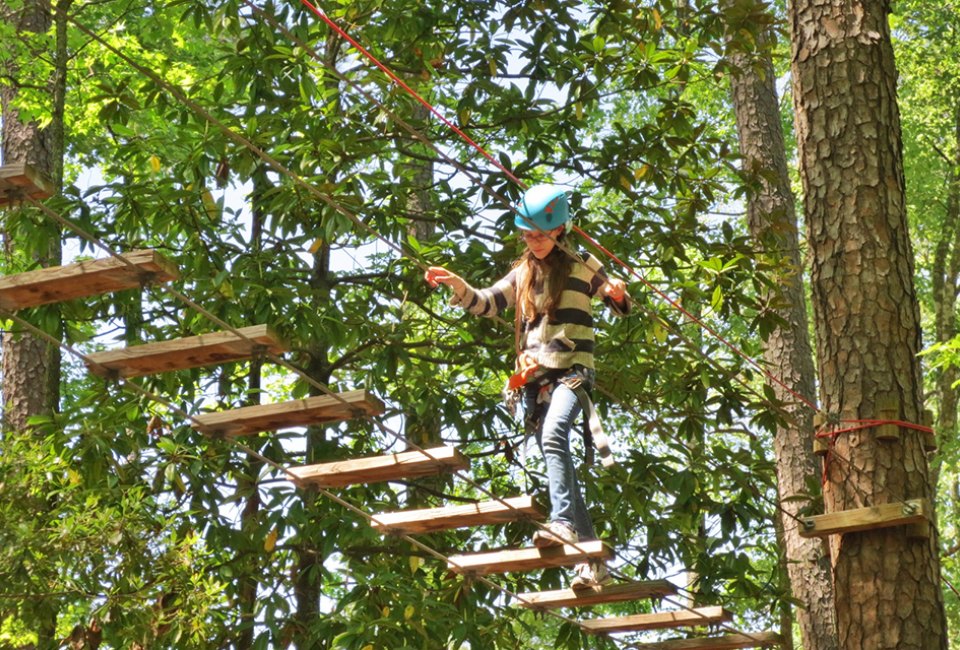 3/11/22
- By
Rebecca Ruffin Leffler
Looking for a great family activity to get you out of your comfort zone? Imagine soaring among a tree canopy on an Atlanta zipline or ropes course. Everyone will get a good workout and have fun while improving gross motor skills, balance, and concentration. An added benefit of the ropes course and zipline is the adrenaline rush and boost of self-confidence that completing an Atlanta zipline or ropes course provides.
Whether your family consists of novices or experienced thrill seekers, check out our list of Atlanta ziplines and ropes courses in the area. (Don't worry if the weather isn't cooperative, we've included several indoor places as well.) Book reservations to ensure availability and make sure your group meets any age, height, or weight requirements. Wear sturdy sneakers and save time by completing waivers online.
For more fun ideas this spring, check out our Spring Fun Guide, as well as our Outdoor Activities Guide for Atlanta Kids.
Atlanta Zipline and Ropes Courses: Outdoors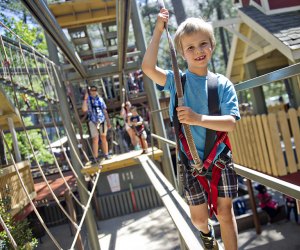 SkyHike and Geyser Towers at Stone Mountain Park is a fun attraction for visitors.
Head to Stone Mountain Park with two uniquely different ropes course options: SkyHike and Geyser Towers. Test problem-solving skills with a quarter-mile of obstacles at SkyHike, which includes three trails that harnessed participants, who meet the 44-inch height requirement, choose based on their comfort levels. Timed tickets are required and cost $5 as an add-on to the General Attractions Pass.
Geyser Towers is a harness-free activity that allows anyone at least 32 inches tall to trek across rope tunnels and climbing towers. Beware! Without warning, geysers spew water 35 feet in the air! Kids 32-40 inches tall must be accompanied by someone age 16 or over. The cost is included in the General Attractions Pass.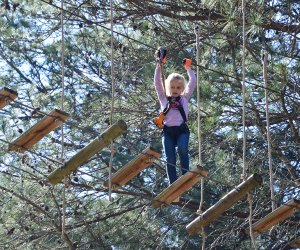 During a visit to Brook Run Park, head to Treetop Quest for more adventures. Photo by Bill Leffler
Treetop Quest provides a fun Atlanta zipline outing without a long car ride. The Dunwoody location at Brook Run Park offers four separate course levels with multiple ziplines and 60 obstacles; the Gwinnett location offers five levels of zipline courses with 120 obstacles. At both locations, kids ages 7 and up can participate in the first three levels, and if they don't like obstacles, one course consists of only ziplines. Prices range between $22 to $57 for a 2.5-hour session, so kids can repeat courses multiple times. You can also purchase season passes.
After visiting the various animals at Zoo Atlanta, kids can pretend to be monkeys, sloths, and other tree-dwelling animals. Treetop Trail is an aerial playground that provides two course levels with 22 challenges including beams, ladders, and bridges. Kids under 48 inches must be accompanied by an adult. The price is $11.95 for members and $14.95 for non-members, not including zoo admission.

Screaming Eagle Adventures at Amicalola Falls State Park offers stunning views.
Kids 8 years old and up can participate in the first two levels of guided tours with sky high suspension bridges and up to nine ziplines (ranging from 75 to 1000 feet long). For the ultimate challenge, adventure seekers ages 10 and up can continue to Level 3 for a total 4-hour zipline tour with more suspension bridges (one that's 250 feet high!) and ziplines (the longest spanning 2,000 feet!). Prices range from $29 to $99, not including the $5 park parking fee. While at the park, visit the 729-foot Amicalola Falls, the third largest cascading falls in the Eastern United States. Add 3D Archery to your day and plan to stay at the cabins or lodge inside the park.
While connecting with the outdoors at the Chattahoochee Nature Center (CNC), add an Atlanta zipline tour for an all-encompassing view of the 127-acre grounds. Kids ages 6 and up can glide along four ziplines and face over 25 challenge elements on the Aerial Adventure Tour. For those age 8 and older, the Eco Zipline Canopy Tour provides 12 challenges and seven ziplines, including two that soar 500 feet over Beaver Pond! Prices range between $39 to $49, not including CNC admission.
In 2012, Historic Banning Mills earned the Guinness World Record for "World's Largest and Longest Zipline Canopy Tour" with almost 10 miles of ziplines (including one that is 3,400 feet long). Don't be intimidated— guides secure you into a harness, provide a 30-minute lesson, and accompany you throughout the course. Regardless of experience, everyone ages 8 and up begins at Level 1. Participants ages 10 and up can progress to Levels 2 and 3, zipping along the Snake Creek Gorge and soaring at 60 miles per hour on the 1,500-foot Big Daddy Zipline. Want more adrenaline surges? Add the Flight of the Falcon Zipline with an 80-foot-high challenge course or a 100-foot free fall. Extreme enthusiasts can continue to Level 4 or participate in a full-day or two-day zip. Prices range from $29.99 to $519. Not sure your child is ready for a zipline? Try the Crazy Squirrel Aerial Course instead! Historic Banning Mills offers horseback riding, ATV tours, and a climbing wall.
If you're in the Helen area, book a guided zipline adventure at Unicoi State Park. With three zipline courses, courageous kids age 8 and older can participate in both Level 1 and 2 courses; and more adventurous families with kids over age 10 can opt for Level 3, including suspension bridges and 19 ziplines (several spanning over the lake). The cost is $39 to $99, not including the $5 parking pass. Free photo included.
The 1,000-acre park provides alternative activities if some family members don't want to zipline. Hike, mountain bike, paddleboard, or swim at Unicoi Beach, take an archery or air gun course. With all those activities, you might decide to eat a meal or even spend the night at the Unicoi Lodge before heading home.

TreeTop Adventure & Ziplines at Callaway Gardens offers five zipline courses. Photo by Bill Leffler
Callaway Gardens provides a jam-packed getaway with miles of bicycle trails, the Cecil B. Day Butterfly Center, and a plethora of activities at Robin Lake Beach. At TreeTop Adventure & Ziplines, enjoy five ziplines: Discovery Course is available for anyone over 54 inches; Lake Course is for those wanting something more challenging with five longer ziplines (three of which go over Mountain Creek Lake); Saplings Course is for children 36-60 inches with 10 obstacles, a zip swing, and a zipline. Fees range from $15 to $65, not including Gardens admission.
Zip over to Alabama on a zipline tour from Whitewater Express. Starting at the Chattahoochee RiverWalk in downtown Columbus, experienced guides take thrill-seekers age 10 and over above the Chattahoochee River to Phenix City. After soaring on another zipline in Alabama, participants fly 1,100 feet across the river back into Georgia. Costs range from $24.95 to $119.95. Make a weekend of your time in Columbus —add a whitewater rafting trip, bike along the river walk, and tour the National Infantry Museum near Fort Benning.
Combine a mountain getaway with a zipline adventure —anyone over the age of 10 can take a guided two-hour zipline tour. Featuring 13 ziplines (ranging from 150 to 1,100 feet in length), two towers, and three sky bridges, visitors test physical strength and bravery. If that sounds too daunting, try the one-hour zipline tour that completes half of the course. A 45-minute Kid Zip is offered for kids ages 6 to 9 with adult supervision. If your crew wants an obstacle course, head to the company's sister company, Blue Ridge Adventure Park, six miles away. Participants have 90 minutes to complete the three-level course reaching heights of 15 to 50 feet off the ground.
Atlanta Zipline

and Ropes Courses: Indoors

Adventure Air Sports features one of the largest Ninja obstacle courses in Atlanta, kids propel their bodies on the overhead rope ladders, balance steps, flying circus trapeze, and other challenges. Not requiring a harness, this Atlanta zipline allows kids to glide 50 feet and plunge into the foam pit 15 feet below! Admission prices range from $12 to $40 with options for hourly or all-day play. You can save money by purchasing one of the monthly membership options.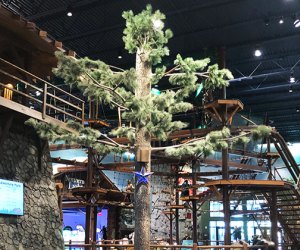 Great Wolf Lodge in LaGrange has an epic indoors ropes course. Photo by Melanie Preis
If you think Great Wolf Lodge only offers water slides, think again. The 93,000-square-foot LaGrange location includes many non-water activities such as a climbing wall, mini golf, and bowling. The Howlers Peak Ropes Course extends the indoor fun with cargo nets, tightropes, and rope ladders for unaccompanied kids, 48 inches and up. If you don't purchase a Wolf Pass, the ropes course is an additional $14.99 for one climb or $19.95 for an entire day of unlimited climbs.
Main Event – Atlanta, Alpharetta, and Suwanee
In addition to bowling, laser tag, and virtual reality experiences, Main Event offers an indoor gravity ropes course for anyone 46 inches and taller. While harnessed, walk across balance beams, ladders, and slacklines high above the arcade area. All You Can Play tickets cost $14.99 before noon and $19.99 after noon. If you work up an appetite, visit the full-service restaurant onsite.
Your kids won't be bored with the 12,000-foot indoor Ninja Warrior Course featuring a 14-foot warped wall at Nitro Zone. Younger kids under 56 inches tall can test themselves with 10 obstacles on the Ninja Junior Course. The multi-storied Rope Maze adds additional fun and can hold 200 people at one time. Unlimited Action Zone tickets are $25.
Urban Air Adventure Park challenges kids at least 48 inches on the Ropes Course and allows them to fly high above on the Sky Rider. Children at least 41 inches tall can race against others on the Warrior Course. With a host of adventures including a climbing wall, balance beam challenge, and dodgeball, your family will experience the perfect day. Prices vary by location, and monthly memberships are available.
Unless noted, photos courtesy of the venues