An Alpine Adventure Awaits in Helen, Georgia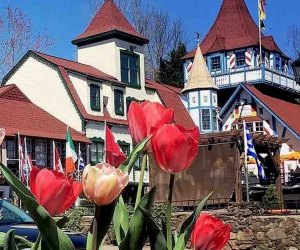 9/12/21
- By
Rebecca Ruffin Leffler
Families, tired of the same scenery as travel plans remain in flux, should try something unique: a Bavarian-style village right here in Georgia! Head to the town of Helen, Georgia, tucked in the mountains and only 90 miles from Atlanta.
Featuring high pitched roofs, half-timbered exteriors, and wooden balconies spilling over with flowers, Helen, Georgia reinvented itself from a dying lumber town to a major tourist destination. Today, it is home to the longest-running Oktoberfest celebration in the country and welcomes over 1 million visitors annually. With numerous shops, restaurants, and activities, Helen can be a bit overwhelming. Let our guide below show you the best family-friendly activities for your visit.
Looking for more ideas of events to do this fall? Check out our Atlanta Fall Fun Guide for some great activities. You will also love getting the scoop about great Atlanta fall festivals and enjoying the cooler weather at Atlanta newest, largest park, Westside Park. Never miss any info about Atlanta happenings by subscribing to our newsletter here.

Shoot the 'Hooch by tubing on the Chattahoochee River.
A Visit to Helen, Georgia: Tube on the Chattahoochee
In the summer months, tubing down the Chattahoochee River is a must-do activity while in Helen. Two outfitters, Cool River Tubing and Helen Tubing offer similar pricing and hours for the standard 2-hour float. However, Cool River also offers a shorter, 1-hour trip that may be good for smaller children.
Shuttles take guests to the drop-in site north of the town. After getting on the water, families can tie tubes together with the provided straps. The river is shallow most of the way (depending on rainfall) and renting a push stick can prove helpful to get unstuck from some of the rocks. The trip features scenery, plenty of shade, and a respite from a hot day. Continuing through the main part of town on your tube, listen to the live music from the restaurants and receive friendly waves from patrons. Both companies offer lockers and changing rooms when your trip is complete. For additional fun, both tubing companies offer water slide parks where prices are independent of the rafting trip.

The Georgia Mountain Coaster uses natural topographical inclines and declines to create one amazing ride.
Helen, Georgia: Ride the Georgia Mountain Coaster
This first alpine coaster in the state, Georgia Mountain Coaster just opened in 2019. Unlike a roller coaster, alpine coasters take advantage of the natural, hilly terrain so the tracks remain close to the ground instead of suspended high above. Additionally, the driver controls the speed with a lever, allowing for a less intense adventure for little ones.
Each cart can hold up to two people, but the driver must be age 16 or older. After buckling in, the coaster slowly ascends up the side of the beautiful mountain. Enjoy the view while you can because once you get to the top, the speedy descent winds around curves, hills, and a couple of loops. Although the total ride is only a few minutes long (with half spent going uphill), you can purchase a second trip for half price.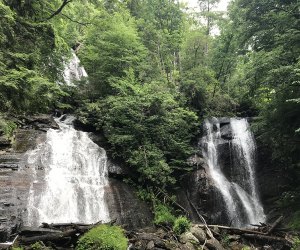 Take a trip to the beautiful Ruby Falls.
A Visit to Helen, Georgia:​ Hike to Anna Ruby Falls
Just a few miles north of Helen lies Anna Ruby Falls in the Chattahoochee Forest Recreation Area. Admission is $5 per person for ages 16 and over. Park at the visitor center to begin the paved, stroller-friendly 0.4-mile trail that follows Smith Creek. About halfway, you'll cross a wooden bridge, which provides a perfect spot for photos. Continue the trail uphill to the base of the falls where a couple of overlooks provide breathtaking views of the double falls plummeting from two separate creeks.
A Visit to Helen, Georgia:​ Zipline at Unicoi State Park
Near Anna Ruby Falls is Unicoi State Park, which provides ziplining activities. Kids ages 8 and above can try Levels 1 and 2. But the granddaddy of them all is Level 3, which combines all 19 ziplines (one is a half-mile long) and takes 4 hours to complete. Kids ages 10 and up, with a minimum weight of 90 pounds, can try this one. Unicoi also offers fishing, paddleboarding, and archery. If time allows, stroll around the 53-acre lake and check out the barrel drum cabins built in the 1960s. Admission to the park is $5 per vehicle.

The Hardman Farm State Historic Site is a step back in history, originally built in 1870.
A Visit to Helen, Georgia:​ Explore the Hardman Heritage Trail
On the south side of Helen, take the flat 1-mile Hardman Heritage Trail. With signs detailing the area's history, the paved trail follows the Chattahoochee River past Nora Mill and ends at the Hardman Farm Historic Site. Built back in 1870, the palatial mansion and outbuildings face the Nacoochee Indian Mound. For a fee, you can take a self-guided tour.

The main sqaure is not to be missed!
A Visit to Helen, Georgia:​ Attend a Festival
As you may have guessed, Oktoberfest is a BIG deal in Helen. Kicking off with a parade in September, Helen's Oktoberfest runs the remaining weekends in September and every day from September 30 – November 7. Located at the Festhalle, all ages are welcome and children under age 6 get in free. Festivities include German bands, food, beer (for the adults), and plenty of dancing. The event features a second "kids only" dance floor to separate them from raucous partygoers.
Christkindlmarkt takes place on the last weekend of November and first weekend of December. Resembling the Christmas markets in Germany, you can find gifts for everyone on your list. The annual Lighting of the Village occurs the evening before on at Riverside Park.
The Helen to the Atlantic Hot Air Balloon Race and Festival typically happens in June. As the oldest long-distance balloon race in the South, the first hot air balloon team crossing I-95 wins. Additionally, many of the 30 balloons are on display and offer tethered rides for guests.

Troll Tavern serves authentic German fare, including bratwurst, knockwurst, weinerschnitzel, and more.
A Visit to Helen, Georgia:​ Eat, Shop, and Stay
It's no surprise that authentic German food prevails in Helen. For every kind of bratwurst under the sun, head to Hofbrauhaus where the wait staff wears lederhosen and dirndls. Other popular German food spots include Cafe International and The Troll Tavern, both located near the bridge in the main part of town. All three restaurants offer outdoor and indoor seating, American fare, and children's menus as well. For lighter food, order sandwiches from Hofer's Bakery & Café or Betty's Country Store. You can eat there or take it to go for a picnic at Anna Ruby Falls or Unicoi State Park.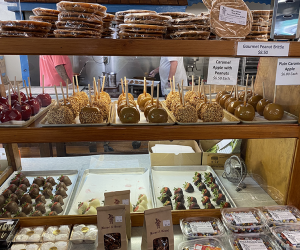 We will take one of everything from Hansel and Gretel Candy Kitchen
Helen is small enough to be walkable, just like a real European village. Although most of the shopping consists of stores selling souvenirs, and clothing, as well as pretzels and ice cream, a few specialty stores exist. Don't miss a stop at Hansel and Gretel Candy Kitchen —you'll find truffles, caramel apples, fudge, taffy, and other sweets sure to delight kids.
You can easily make Helen a day trip from Atlanta, but if you want to extend your visit, the town offers a variety of accommodations. You can book a national hotel chain such as Holiday Inn Express, Fairfield Inn, and Hampton Inn or stay at one of the local inns. If you need more space, Lorelay Resort offers one- and two-bedroom condos and their 10-acre grounds include a swimming pool, tennis courts, playground, and grills. If you want to stay further from town, check out the rooms, cabins, and campsites at Unicoi State Park & Lodge.
Photos by Bill Leffler