Tasty Restaurants Open on Christmas in Atlanta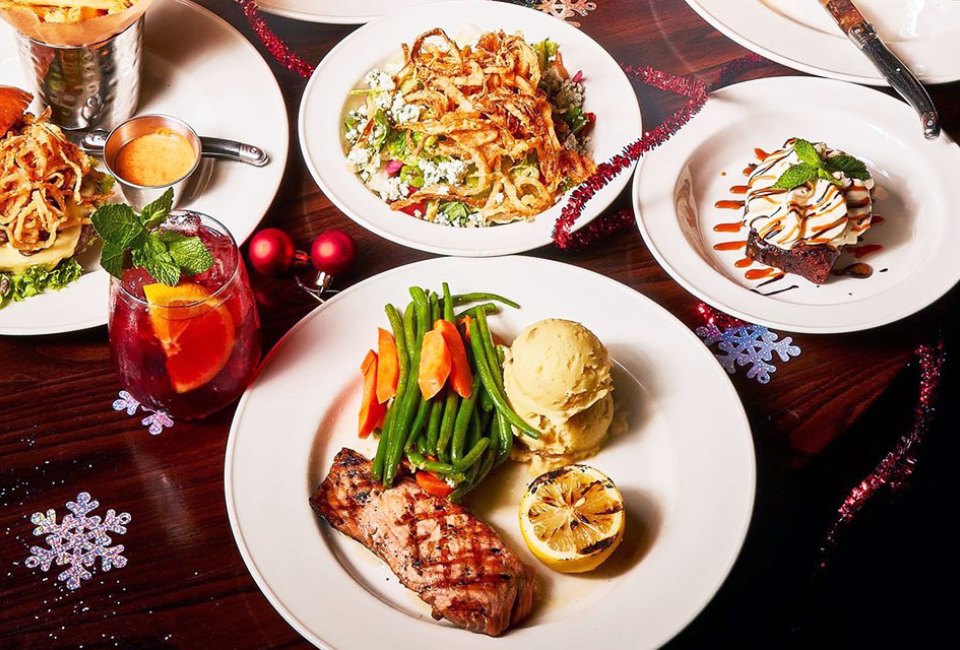 12/16/22
- By
Rebecca Ruffin Leffler
It's obvious that a lot of preparation goes into a successful Christmas. After trimming the tree, sending out holiday cards, wrapping gifts, and setting out cookies for Santa on Christmas Eve, the last thing many parents want to do is prepare a Christmas meal. Instead, give yourself the ultimate Christmas gift of relaxation by going out to Atlanta restaurants open on Christmas.
Whether you're looking for a casual breakfast, a fancy dinner, or something in between, our list of restaurants open on Christmas will help you find something to please everyone in the family. Since you're not spending time cooking, enjoy that time to check out Dazzling Holiday and Christmas Lights in Atlanta or just drive around Atlanta neighborhoods with awesome residential holiday lights.
Make sure to confirm plans with restaurants beforehand, especially as some location hours vary. And don't forget to bring a smile, patience, and a nice tip as labor shortages can cause slower service.
Restaurants Open on Christmas in Atlanta
On Christmas Day guests choose from McCormick & Schmick's regular menu or its prix fix special holiday menu, which features items such as seafood-stuffed salmon and filet mignon. Open 11am-9pm, reservations recommended.
Benihana - Buckhead and Alpharetta
Want to see a performance on Christmas Day? Benihana chefs prepare a delicious meal in front of awed customers on the hibachi grill. The kid's menu features chicken tenders, chicken tempura, hibachi steak, chicken, or shrimp. The staff can take a photo of your family, which can be downloaded at home. Open 11am-11pm, reservations required.
Head over to Denny's anytime after 7am for the all-day breakfast; lunch and dinner items available later in the day. Kid's menu choices include birthday cake pancakes, chicken tenders, and mac n' cheese. Those with bigger appetites enjoy the country-fried steak dinner, patty melts, and more.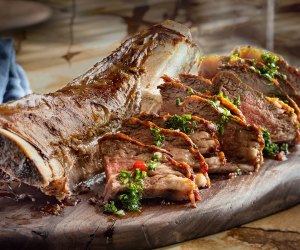 Dig into delicious, Brazilian-style steakhouse fare at Fogo de Chão this Christmas.
Want a steakhouse with a twist? Try the prix fixe, all-you-can-eat Brazilian churrasco experience from 11am–10:30pm. Waiters carve various spit-roasted meats on skewers at the table. Salads, cheeses, and stews accompany side dishes of polenta, cheese bread, and caramelized bananas. For kids 7-12 years old, meals are half the adult price; ages 6 and under dine free. Open 11am-9pm, reservations recommended.
Beginning at 11am, Hard Rock Cafe offers a holiday menu —the two-course dinner is $33.95 per person and the three-course dinner is $38.95. Main course offerings include burgers, grilled salmon, baby back ribs, and New York strip steak, and dessert is a holiday brownie. Reservations suggested.

For a delicious meal in a casual, fun atmosphere plan a Christmas outing to IHOP. Photo by the author
IHOP - Various locations
Who can resist IHOP's seasonal menu with thick and fluffy strawberry banana French toast and a gingersnap milkshake? Order breakfast burritos, omelets, burgers, chicken strips, and more. Treat the extended family, at 2-10pm, as certain menu items are value priced at $6! Not all IHOPs are open, so confirm opening hours with the location nearest you.

'Tis the season at Kona Grill! Join Kona Grill for Christmas Eve and Christmas Day dinner.
Kona Grill is open 10am–10pm on Christmas Day. Features for Christmas include filet with lobster cream, honey-glazed ham, and macadamia nut turkey. The kid's selection is turkey and gravy, mac and cheese and green beans for $16. Reservations recommended.
Featured on the Food Network, Marietta Diner offers a massive menu. In addition to serving breakfast 24/7, the diner offers lunch fare, as well as heavier dinner entrees including seafood, steak, and Greek specialties. Leave room for a slice of the seven-layer desserts made by the owner's mother!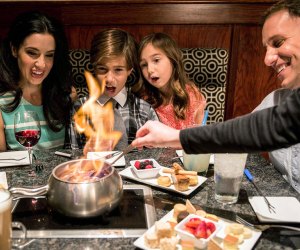 Dip into fondue for Christmas at the Melting Pot.
Melting Pot - Midtown, Roswell, Duluth, Kennesaw
The Melting Pot offers a four-course dinner for two for $106 on Christmas Day 4-9pm. Start by dipping apples, vegetables, and bread into a cheese sauce. After the salad course, families cook two proteins in a delicious broth sauce at the table. And for dessert, choose one of six chocolate sauces to dip fruit and pound cake pieces. An a la carte menu, kid's menu, and gluten-free options are available. Reservations suggested.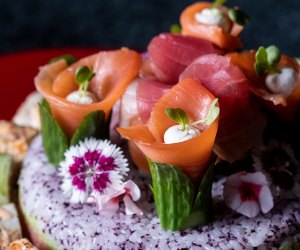 Imagine this pretty appetizer for your Christmas dinner at Nakato?!
Family-run since 1972, Nakato offers an option to dine at standard tables or the hibachi grill from 3-9pm. Menu options include sushi, seafood, noodles, and hotpot dishes, and entrees on the kid's menu include a choice of salad or soup, steamed rice, noodles, and vegetables. Reservations suggested.
Located inside the elegant Four Seasons Hotel, Park 75 is offering a Christmas Day brunch 11am-3pm. The elegant buffet includes a breakfast station and seafood station (with caviar). The price is $155 per adult and $77 for kids ages 5-12. Reservations required.
The family-friendly Italian eatery is open 11am-8pm, serving its regular menu. The kid's menu features spaghetti, ravioli, and mac and cheese. Don't forget to finish the meal with cannoli or cheesecake. Reservations suggested.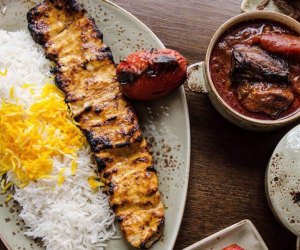 Come to Rumi's Kitchen for Christmas and enjoy fresh, healthy food, Persian hospitality, and a loving atmosphere.
Experience authentic Persian food at Rumi's Kitchen 11:30am-10pm, where each meal starts with sabzi (a plate of flat bread with herbs, goat cheese, and walnuts). In addition to falafel and stuffed grape leaves, the restaurant offers various kabobs and other Middle Eastern specialties. Reservations required.
Opening at noon, each location of the steakhouse offers the regular menu of premium steaks and seafood. Additionally, guests can order the four-course prix fixe menu with a choice between salad and lobster bisque, an entrée, a side, and bread pudding. The kid's menu includes beverage, entrée, side, and ice cream. Prices vary. Reservations required.
STK - Downtown
Opening at 10am, STK features a Christmas special of prime rib with fingerling potatoes, green beans, shallots, and black truffle sauce for $79 a person. Reservations recommended.
The St. Regis Hotel is ready for visitors and diners to enjoy its holiday decor. Photo by Rebecca Leffler
Book the Christmas brunch experience at St. Regis Hotel from 11am-3:30pm where Santa, Mrs. Claus, and the elves are on site. In addition to the delicious holiday buffet, families enjoy the house jazz band. The cost is $185 for adults and $75 for children ages 3-10. Prepaid reservations are required.
Tuk Tuk Thai Food Loft is open on Christmas 5pm-10pm. A three-wheeled tuk tuk greets you in the elevator lobby. Plan to share several of the small plates for a sampling of Thai street food, including noodles and curry dishes. Reservations suggested.
Waffle House is always open! Let your kids indulge in the classic, chocolate, pecan, or peanut butter waffles. Other favorites on the all-day breakfast menu include omelets, hash browns, and bacon. Lunch and dinner menus include everything from burgers and sandwiches to country ham and and pork chop plates.
Unless noted, photos courtesy of the restaurants and hotels.