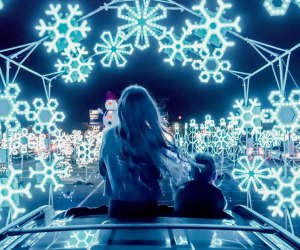 Holiday Light Shows: Drive-Thru and Drive-By Christmas Displays in Atlanta for 2020
All this time at home might have some benefit after all: Just look outside at some of Atlanta's Christmas light displays. If they are not up already, Atlanta and the suburbs soon will be lit with holiday spirit and all the lights, colors, sights, and sounds that go with it.
Whether you are in metro Atlanta or live OTP (that's Outside the Perimeter for you newbies), these homes and shows are worth the trip.
We've done our research and compiled a list of some of the best neighborhoods to take in the illuminations of the season. We've also added some of Atlanta's best holiday light shows as well.
So put on your best ugly Christmas sweater, load up a small evening family picnic and head out for some old-fashioned holiday entertainment from the comfort of your own car. Some destinations even offer seasonal tunes to get you and yours into the spirit.
FYI: Most homes turn on the lights at sundown and stay lit until about 11pm. Seasonal displays often continue through New Year's Eve. But we need to remind you: These are all private homes. While owners expect sightseers, don't touch any displays or enter private property. Also, try not to get too noisy: Almost all of these homes are located on residential streets. Consider bringing items or money for donation, as some homes collect for charity.
As always, Sign up for our FREE newsletters to get posts like this delivered to your inbox.
We remind you in this COVID-19 environment to keep your family and others safe by wearing masks and /or maintaining social distancing measures. If a location appears too crowded, try using the "nearby" search feature on our event calendar to find other exciting options.
Holiday Lights in Acworth, Georgia
The Hranicky family welcomes visitors yearly to their Hrockin Hranicky Christmas Lights show at 3848 Rivers Run Trace NW. Visitors can tune in to 107.7FM to add some festive music in their car. The display is scheduled to run through January 1, from 6 to10pm nightly. Donations of pet food and supplies are welcome at the Snoopy Doghouse display on behalf of Angels Among Us animal rescue.

4220 Tivoli Way in Alpharetta is a sight to see. Just get there early; neighborhood gates close at 9pm nightly.
Holiday Lights in Alpharetta, Georgia
This trendy neighborhood north of Atlanta is highlighted by 4220 Tivoli Way. Homeowners put on a light display Thursdays through Sundays synchronized with the radio station 89.9FM. The neighborhood is gated, but permits cars to come through to see the show. Be advised: Gates close at 9pm, so arrive early. The show ends on December 22.
Holiday Lights in Atlantic Station, Atlanta
This hip city neighborhood, home to shops and loft-style apartments, is all done up for the holiday season. The lighted Christmas tree anchors the community's celebration, but don't miss the twinkling lights and giant lighted ornaments that adorn the walkways. Dreaming of a white Christmas in a southern city? Atlantic Station features artificial snow falling down from above.
Holiday Lights in Cumming, Georgia
This requires a trip from downtown Atlanta, but visitors are sure to be thrilled by the lights display in the AsheBrooke subdivision. Don't miss 7020 Cole Court, whose synchronized display is said to be worth the journey. Cumming is also noted for its Night of Lights display for charity, which occurs in early December each year.
RELATED: Top Holiday Toys on Kids' 2020 Wish Lists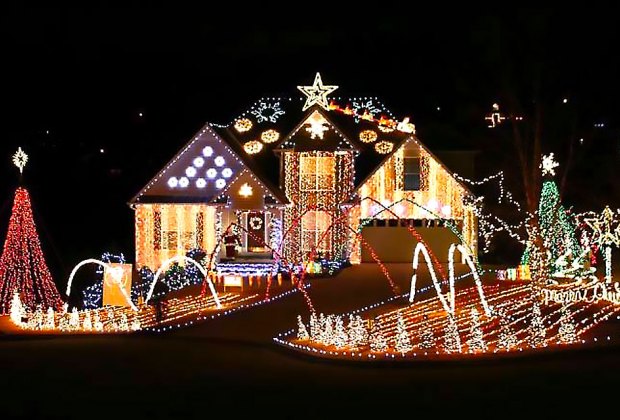 One glimpse and you'll know why 224 Oliver Overlook has been voted one of the best-decorated houses in the country.
Holiday Lights in Dallas, Georgia
Homeowners here go all out, making a visit to 224 Oliver Overlook, west of the city, a must-do during the holiday season. Thrill to dazzling strings of lights that envelope the house, attached garage, and outdoor trees. 224 Oliver Overlook has been voted one of the best-decorated homes in the country.
Holiday Lights in Decatur, Georgia
The city's annual Decorate Decatur contest inspires residents of the neighborhood in East Atlanta to go all out during the holidays. A simple walk through the village will bring the season to life as homeowners and businesses both participate. After sampling the lights, enjoy marshmallows and hot chocolate in the city square.
RELATED: Elf on the Shelf Ideas for Silly Holiday Fun

Drive by 2929 Mockingbird Circle, Duluth's Christmas House, for a dose of holiday cheer.
Holiday Lights in Duluth, Georgia
Duluth's Christmas House at 2929 Mockingbird Circle is one of the holiday mainstays in this town just north of Atlanta. So many seasonal figures pack the lawn it's almost difficult to find the house behind all the lights.
Holiday Lights in Kennesaw, Georgia
The home at 1045 Peace Drive NW in the Calumet West neighborhood of Kennesaw is sure to dazzle passersby with its assortment of seasonal bulbs. Visitors can donate to the nonprofit Children's Healthcare of Atlanta.
Holiday Lights in Lawrenceville, Georgia
The homeowners of 371 Amberwood Drive spare no cost in lighting up the block with their fully illuminated home. Visitors' donations benefit nonprofit Daffy's Pet Soup Kitchen. Other houses in the neighborhood feature inflatables, Santa and Mrs. Claus, and more in a celebration locals call Christmas on Amberwood.
Holiday Lights in Marietta, Georgia
Santa's sleigh and reindeer are among the focal points of this vast light display at 4161 Bolingbrook Drive. The home beckons visitors with thousands of lights that ignite the warm feeling of Christmas, even for a Grinch.
Holiday Lights in Powder Springs, Georgia
The family home at 5268 Seamus Way is worth the drive during the Christmas season. It features a lawn full of thousands of lights and festive nativity scenes.
Holiday Lights in Sandy Springs, Georgia
The north Atlanta neighborhood home at 6960 Hunters Knoll features a peppy light display with music to boot. The home features some 48 channels of lights synchronized to cheerful holiday tunes. Visitors are welcome to tune to 88.3FM on their car radios to listen in. As the home is situated on a dead-end street, the family welcomes visitors to park at the end of the street and watch the show.
Other Places to View Holiday Lights in the Atlanta Area
Marietta
One of the largest drive-through animated light shows in the country, Candy Rush takes over Six Flags White Water in Marietta, featuring hundreds of interactive displays and millions of animated lights guests can enjoy from their own vehicles.
Atlanta
Visitors can explore the 30 acres of the Atlanta Botanical Garden all done up in seasonal lights. The full garden of exhibits is open for exploring, including several larger-than-life characters from the summer exhibit Alice in Wonderland. Garden Nights, Holiday Nights is open daily through January 11, including Christmas Eve, Christmas Day, and New Year's Day.
Woodstock
The annual event at Hobgood Park in Woodstock features a walk-through Christmas light display with hundreds of thousands of lights, concessions, a visit from Santa, and more. The festivities begin December 3 and run through December 23, starting at around 6pm.
Marietta
Kids will thrill to this drive-through holiday light show that also features a petting zoo, train rides, and pony rides. Cars are $10 through New Year's Eve, and Santa is on site on Fridays, Saturdays, and Sundays.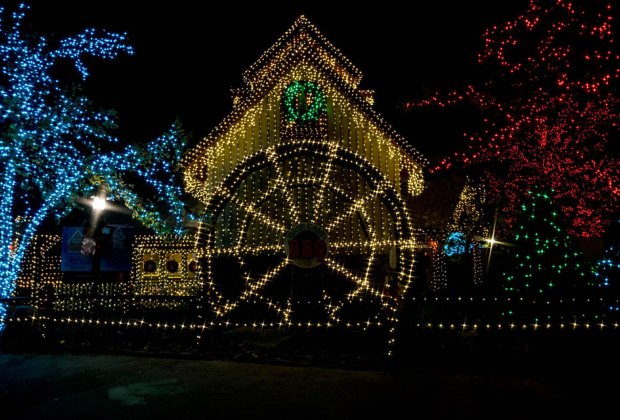 Enjoy the magic of a Stone Mountain Christmas.
Stone Mountain
Stone Mountain Park celebrates the season with music, live performances, visits from seasonal celebrities, and, of course, lights. Each evening begins with the lighting of the Enchanted Christmas Tree followed by a Christmas parade.
Photos courtesy of the houses/venues
Writer James Smith contributed to this post, which was updated in November 2020.