Spectacular Neighborhood Holiday Lights and Christmas Lights in Atlanta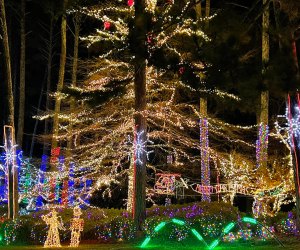 12/9/22
- By
Melanie Preis
We in Atlanta know how to decorate for the holidays, and that obsession reaches an apex with Christmas lights. Neighborhood Christmas lights in Atlanta mean an all-out explosion of intricate designs, clever themes, and surging electricity bills. Some of these dizzying, dazzling homes can even be seen from overhead flights!
Residential holiday lights include houses that feature a walking tour through their front yards; other houses welcome families to drive by and tune specific radio frequencies to their synchronized Christmas lights; and some houses are a part of an entire neighborhood that creates a collective attraction! In fact, enjoy Christmas lights AND do charitable work —some of the homes mentioned below are part of Cobb EMC's Christmas lights map, where you can visit each home, vote for your favorite, and then the utility company awards the top three winners $500 each as donations to the charities of the winners' choosing.
We've assembled the brightest, most elaborate holiday and Christmas lights in Atlanta to knock your seasonal socks off!
Note: Most homes run Christmas lights around 6-10pm. Remember, these are all private homes—homeowners expect sightseers, but don't touch any displays, enter private property, block neighboring driveways, and show up after hours. Consider bringing items or money for donations, as many homes collect funds for charities close to their hearts.
Visit 3699 Autumn View Drive in Acworth for holiday fun.
Holiday & Christmas Lights: Acworth
3699 Autumn View Drive
Wear your sunglasses at night when you head to the Smoot Family Christmas Show. Located at 3699 Autumn View Drive, the Smoots do their darndest to make sure onlookers have a wonderful holiday experience. Visitors can sync radios, dim headlights, and enjoy the show...they may even get hot chocolate and cookies on Saturdays! All donations go to the Lupus Foundation, Georgia Chapter.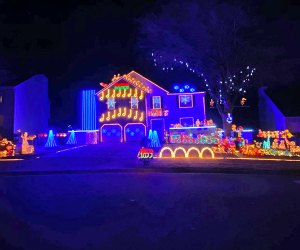 Hrockin Hranicky Christmas Lights shine in glorious holiday fashion to welcome visitors and raise awareness of Angels Among Us animal rescue.
3848 Rivers Run Trace NW
The Hranicky family welcomes visitors yearly to their Hrockin Hranicky Christmas Lights show in Acworth. Visitors can sync radios to add festive music in their car. The display runs 6-10pm nightly. Donations of money, pet food, and supplies are accepted on behalf of Angels Among Us animal rescue.
Holiday & Christmas Lights: Kennesaw
1510 Ben King Road
Lights of Joy features more than 850,000 Christmas lights! This Kennesaw attraction is a walk-through display; depending on the schedule, visitors may watch performances from local bands and choirs. The home accepts donations. Running until Sunday, January 1, 2023 6-11pm
2008 Palladium Drive
Get rockin' and rollin' at Riley's Rockin' Christmas! This drive-by light display is synchronized to 55 minutes of holiday music (tune to 101.3FM). Check the display schedule to see when the animated and static shows take place and bring a donation, which goes to the Children's Burn Foundation. Running until December 31, 2022
Holiday & Christmas Lights: East Cobb
2994 Clary Hill Court
Making the East Cobb and Roswell communities proud, the Fox Family Christmas Light Display is back again this year! The home is located at 2994 Clary Hill Court in Roswell, and welcomes visitors nightly 6-10pm. The drive-by attraction is set to music! Donations accepted for Children's Healthcare of Atlanta and Holy Transfiguration Greek Orthodox Church.
770 Fox Hollow Parkway
2022 is the final year to enjoy this amazing light show! Lane Lights at 770 Fox Hollow Pkwy in Marietta has attracted visitors for 13 years who love that the synchronized light show on 107.7FM lasts an hour. Running nightly through December 26, 2022; Sunday-Thursday 6-9:30pm and Friday-Saturday 6-10pm

Invasion of the Hanukkah inflatables in Dunwoody!
Holiday & Christmas Lights: Dunwoody
Springfield Drive
Who says Christmas lights are the only thing to look at this holiday season? Head to Springfield Drive in Dunwoody and witness Hanukkah in inflatable form! The entire front yard is covered in festive inflatables, including a huge section just devoted to Star Wars.
RELATED: Dazzling Holiday and Christmas Light Drive-Thrus in Atlanta
Holiday & Christmas Lights: Cumming
Kelly Mill Road and Bethelview Road
The Ashebrooke subdivision in Cumming is an entire neighborhood of awe-inspiring lights! They invite the public for their annual Night of Lights, which is scheduled for Sunday, December 18, 2022 starting at 6pm. Make sure to drive slow and catch all the homes as the streets will be directed into a one-way traffic pattern.

Get your fill of holiday lights in Stone Mountain at 1833 Smokerise Summit!
Holiday & Christmas Lights: Stone Mountain
1833 Smokerise Summit
A Whole Lot of Christmas awaits at 1833 Smokerise Summit in Stone Mountain. For more than 25 years, these homeowners have been creating the stuff of Christmas dreams. Stop by to see the "Christmas shark" among other wonderful lights. Donations are given to Make-a-Wish Foundation. Nightly 5:30-11pm

The Portwood family offers character nights, featuring reindeer, snowmen, and more.
Holiday & Christmas Lights: Hiram
20 Valley Drive
The Portwood Family Christmas Lights are so much more than just lights—visitors are treated to character nights, a snow machine, and even hot chocolate on certain nights! Their sock drive, to support the Paulding County Sheriff's Cops For Kids program, runs until Friday, December 9. The Christmas lights run Sunday-Thursday, 6-10pm, and Friday-Saturday, 6-11pm
Holiday & Christmas Lights: Lawrenceville
371 Amberwood Drive
These homeowners spare no cost in lighting up the block with their fully illuminated home and inflatables. The display accepts donations, which helps to keep their Christmas lights up and running. Other houses in the neighborhood also feature inflatables, Santa and Mrs. Claus, and more in a celebration locals call Christmas on Amberwood. Nightly 6:30-10pm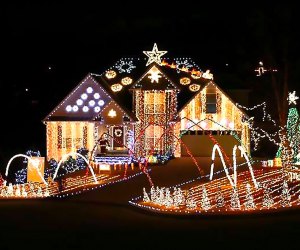 224 Oliver Overlook has been voted one of the best decorated houses in the country!
Holiday & Christmas Lights: Dallas
224 Oliver Overlook
Homeowners go all out, making a visit to 224 Oliver Overlook, west of Dallas, Georgia, a must-do during the holiday season. Spectators see dazzling strings of lights that envelope the house, attached garage, and outdoor trees. This house has been voted one of the best decorated homes in the country! Sunday-Thursday 6-11pm and Friday-Saturday 6-10pm
18 Riverwood Landing
Visitors to 18 Riverwood Landing in Dallas get to see two houses lit up for the season, both with an amazing light show set to 99.1FM, plus Paulding County's tallest residential lighted mega tree at 36 feet tall. The Atkinson and Rowell families join together to create the display. Nightly 5:30-9pm (Sunday-Thursday) and 5:30-10pm (Friday-Saturday) through December 31, 2022
Holiday & Christmas Lights: Powder Springs
5268 Seamus Way
The Woodruff family home is worth the drive during the Christmas season. The holiday home features a TON of Christmas lights, inflatables, and special effects. The show, synchronized to holiday music, is broadcast on 102.1FM.
Holiday & Christmas Lights: Stockbridge
1408 Hemphill Road
This Giganti-Deer Synchornized Light Show in Stockbridge provides free 3D glasses to kids on Saturday nights! Visitors drive through to see the lights and set to music on 98.1FM. The homeowners accept donations for both the upkeep of their holiday light show and for Woodlands School Teacher Appreciation. Nightly Thursday-Friday 6-9pm and Saturday nights 6-10pm through December 24, 2022
Holiday & Christmas Lights: Fayetteville
165 Stafford Court
Folks who drive by 165 Stafford Court in Fayetteville are treated to a rockin' synchronized holiday light show by Burton Christmas Lights. Folks should tune into 101.9FM to full enjoy the spectacle. Fun fact: The same house puts on a Halloween light show in October! Nightly Sunday-Thursday 6-9:30pm and Friday-Saturday 6-10pm through December 25, 2022
Photos courtesy of the families/venues
Writers Dana Shemesh, James Smith, and Elsa Simcik contributed to this post.