Decatur with Kids: 25 Best Things To Do in Decatur, GA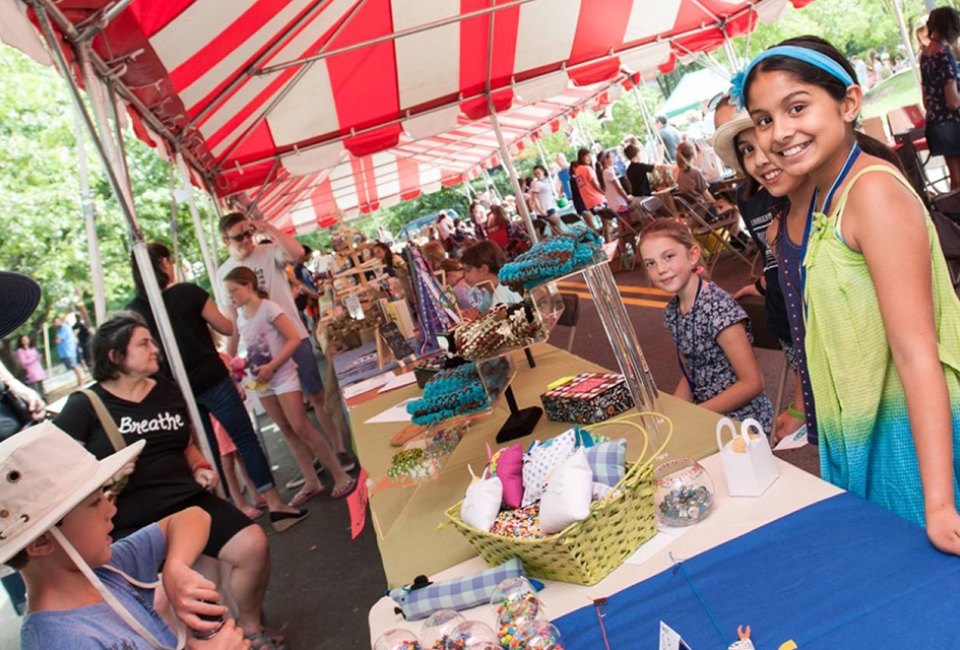 4/9/23
- By
Rachel Foster
Decatur, GA is one of the most popular cities to visit in our area. This family-friendly, Atlanta city features awesome activities for kids, including indoor and outdoor events that are sure to bring a smile to everyone's faces. Decatur is loaded with wonderful amenities, including great schools, colleges, and libraries; lush parks, fields, and tree-lined streets; a lively downtown square; an accessible MARTA station; fun neighborhood festivals and holidays (Halloween in Oakhurst is a must); and much more. Our guide to Decatur, GA will help your family create beautiful memories that last a lifetime!
We've got 25 spots to visit during your visit to Decatur, filling your day with non-stop smiles and activities.
Check out even more ideas to explore the city with our 3-Day Atlanta Itinerary from a Local Mom and get ready for warmer months with Swimming Lakes and Beaches Near Atlanta.
Fun Things to Do in Decatur with Kids
Otherwise known as The Square, Decatur Square is the heart of the downtown area. This walkable, 15-block district features many of the shops and restaurants mentioned on this list below. As well, The Square hosts many outdoor concerts, festivals, and events that come to the area.
Step into this beloved shop at The Square and find shelves filled with brightly colored books. Inviting covers and illustrations capture the imagination of young readers. Experience storytime or curl up in a comfy nook to get lost in the pages of a new book. Bonus: Little Shop of Stories hosts awesome birthday parties for kids!
Bring the kids to Glenlake Park for a day full of outdoor fun! This 17-acre park includes picnic pavilion, lighted tennis courts, restrooms, fields, basketball court, playground, dog park, Glenlake Pool, and more.
This is the perfect spring event to unleash your child's imagination and creativity. Participants learn about art, enjoy the exhibits, try their hand at new and exciting forms of expression, and top it all off with bouncy castle fun.

Enjoy popular activities at Stone Mountain Park, like riding the train around the base of the mountain.
Although not technically in Decatur, Stone Mountain Park is a very short drive away. Enjoy seasonal fun, recreational activities, hands on learning, and outdoor experiences. This must-see Atlanta attraction offers free Stone Mountain Park Pre-K Passes for kids (ages 3-5) when you register by the noted date.
6. Lake Claire Park
Georgia's spring sunshine is best enjoyed at an activity-filled playground. Watch the kids climb, slide, and burn off all that extra energy at Lake Claire Park.
See a unique array of fresh, locally grown fruits and vegetables, as well as homemade baked goods, jams and jellies, meats, cheeses, and other artisanal products.
In search of a unique shopping experience that kids will love? There's so much to see and do with arts, crafts, and more at Clubhouse Kid and Craft. Shelves are filled with unique toys and puzzles that you won't find anywhere else but here in Decatur.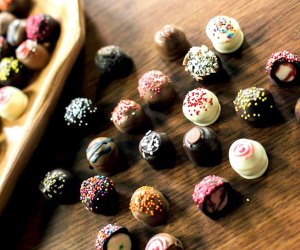 Stock up on delicious treats at Greene's Fine Foods.
So much yum to choose from —enjoy candies, chocolates, nuts, and more. Plus, store shelves are packed with fun and unique toys for kids of all ages.
This nine-acre neighborhood facility includes a lighted baseball field, picnic pavilion, restrooms, basketball court, playground, walking trails, parking, and more. The McKoy Pool and McKoy Skate Park are on site for more family fun!
Decatur is a bibliophile's dream! Brave + Kind sells kids, young adult, and some adult books. This thoughtfully curated collection features intentionally diverse, inclusive, artful stories for "the humans we want to raise and be in this world."
Babies and young kids love the music classes at Music Together of Decatur. Sing songs, play musical instruments, dance, and act silly at these wonderful classes that inspire even the youngest musicians.

Visit the animals at Little Creek Horse Farm and Park.
Unusual Activities in Decatur
Everyone loves pony rides and petting zoos. Check Little Creek's website for seasonal activities and events!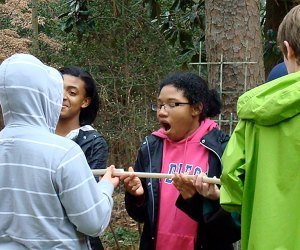 Take part in interactive programming at Woodlands Garden to learn about nature.
Learn about nature at this urban sanctuary. Visitors can enjoy quiet moments at Woodlands Garden to appreciate plants, trees, and surrounding animals.
This all-ages community makerspace is the perfect place to feel empowered while learning new skills. Imaginative kids, teens, and adults get to work creating incredible things in an encouraging atmosphere.
Obviously this one is for your four-legged kids! Bring your pooch to Oakhurst Dog Park, located next to the Boys & Girls Club in Decatur, for socialization, outdoor fun, and lots of sniffing.
17. Decatur Ghost Tours
In search of Decatur's otherworldly spirits? Take your pick from several ghost tours that take visitors through the eerie haunted spots of Decatur. This would probably be a better activity for older kids and teens who enjoy getting close to the undead.
This playground is located at First Christian Church of Decatur and is open to kids who love a good outdoor experience. This community park features many toys given by families, which kids can play with free of charge.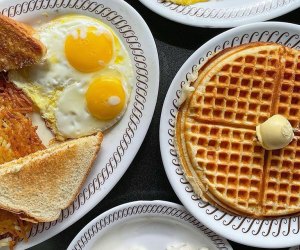 After indulging in a waffle breakfast, explore the Waffle House Museum.
If your kids love the food from Waffle House, show them where it all started by visiting the Waffle House Museum, filled with memorabilia from the last 60 years of its existence.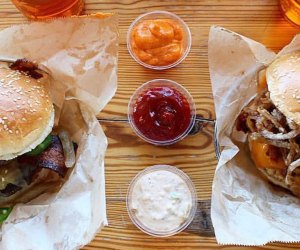 Kids will devour the burgers at Farm Burger Decatur.
Kid-Friendly Eateries & Restaurants in Decatur
Lenox cupcakes are as beautiful as they are delicious. Flavors include key lime, salted caramel, red velvet, and so much more.
Everyone is welcome to come enjoy locally sourced food made with fresh ingredients.
You haven't had a real doughnut until you've had a Revolution doughnut. This Decatur bakery makes all of its dough, glazes, and fillings from scratch, as well as vegan and gluten-free options.
Enjoy breakfast, lunch, or dessert served with a side of simple, Southern hospitality.
This long-time, Decatur favorite serves delicious Greek pizza and food, with plenty of menu options for every member of your family.
The finest ingredients go into making delicious, house-made sorbet and ice cream. Every member of your crew is sure to find a flavor they love!
Photos by events and businesses
Click Here to Sign Up!
i